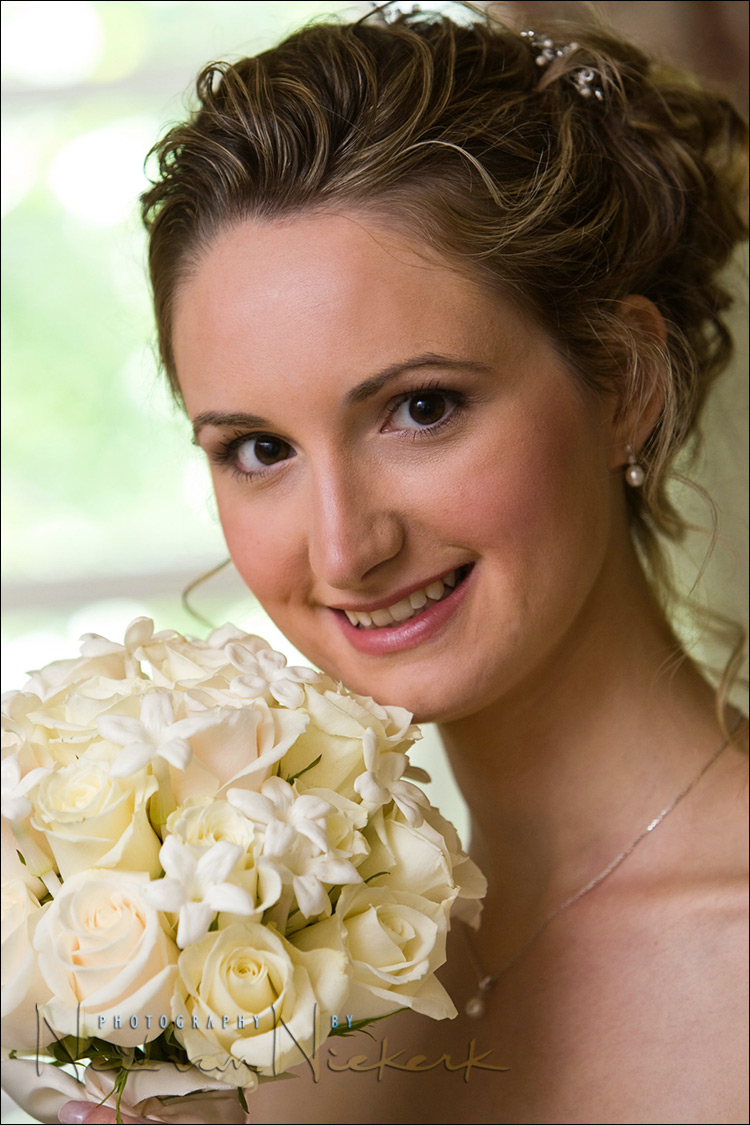 Directional light from your on-camera bounce flash
Most often when photographers start using their flashguns out of the directly-forward position, they move the flash head to point 45' or 90' upward. The idea here is to bounce flash off the ceiling. Even though this is an improvement in most cases over using the flashgun pointing directly forward, this is also most often not ideal. We can improve on this.
If we consider how studio lights are set up, we'll rarely see a light source directly overhead of our subject. Top lighting just isn't as flattering as light coming in from an angle to the subject. And in the same way, why would we want to bounce flash directly overhead of our subjects?
The subtitle of this post should be: You don't really need that Lightsphere .
(Or whatever is the flavor of light modifier for this particular month.)
We need to consider the direction of our light carefully. This is one of the areas in which we can really set ourselves apart as photographers – by carefully choosing the direction our light falls onto our subject, we can control the mood of the photograph completely.
We have to think of the actual area that we're bouncing light off, as our light source – and not of the flashgun as our light source.
---
---
Looking at this, we can see that the direction of light came from slightly behind the subject to the camera's left. The light falling on the bride was from a single on-camera speedlight.
A very important point here is that there is there is no light coming from 'camera's viewpoint'.  In other words, from our viewpoint (which is the camera's viewpoint), there is no light coming from directly forward.  Therefore, instead of a flat even light, we have directional light. Light is coming in from the side, and creating that interplay between light and shade that creates shape and gives dimension to our subjects. The exact way that flash was bounced here, was by pointing the flashhead 45' swiveled to the camera's left, and tilted about 30' up.
To stop any direct flash falling onto the bride, I blocked the strobe with my left hand. This way I shielded the light from her, and the light from the flashgun fell onto the wall to the camera's left, and slightly behind where she was sitting.  So in effect, our light source is coming from above and slightly behind our bride. This way we're mimicking the effect that a large softbox would've given us.  It is crucial here that we see that the light was not bounced on the ceiling, or even behind us.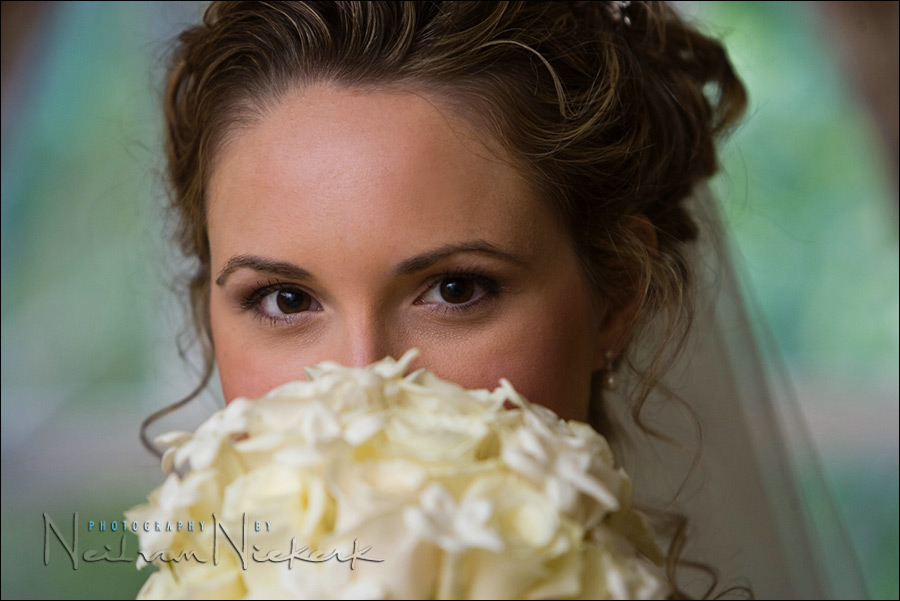 Another very important point here to remember is, if your subject can see any part of your flashhead, then you are indeed getting direct flash. Or at least a measure of direct flash. Most often this is not flattering. The entire reason why we are bouncing flash, is to create softer light. And direct light from your flashgun will most often not be flattering and negate the quality of light we're trying to achieve.
Bouncing the light on the ceiling would've given darker eye-sockets and that 'raccoon eyes' effect. Bouncing light behind us, would've given us much softer light from our flashgun than direct flash would've given us – but this would've produced light that is too flat.
Any off-the-shelf light modifier would've thrown too much forward, spilling directly on the bride's face. That direct light would've been unflattering.
No flash modifier was used, aside from my hand blocking light. That introduces a color cast, so since then, I've started using the black foamie thing as my choice of on-camera light modifier to get this quality of light.
On-camera flash modifier – the black foamie thing
Camera settings & photo gear (or equivalents) used
1/100  @  f/3.5  @  500 ISO;  TTL bounce flash  (1st image)
1/250  @  f/3.5  @  500 ISO;  TTL bounce flash  (2nd image)
Related articles