review: Best light modifiers for on-camera flash
Many of the tutorials and articles on the Tangents blog deals with getting the best from your on-camera flash. My approach has always been one of – what technique would give me the best light? Of course, there are so many different scenarios we could find ourselves in – so we have to adapt to where we are, and what we want to achieve.
With on-camera flash, I've always pushed back against the idea of there being a single do-everything device that will make your flash photography look better. Specifically with light and lighting, We need to be aware of where we are, and then adapt to get the best results. It really is up to us as creative photographers, to either take control or to adapt.
This is the main motif in my book, Direction and Quality of Light – once we understand and see this underlying principle of lighting – that it is all about the direction and quality of light – we have much more range in our abilities as photographers. And that has been my approach to using on-camera flash as well – I want good clean light.
Over time there has been many requests for a comparative review of the various on-camera flash modifiers on the market. So I decided to use a representative selection of them, and show the results from them in a very specific environment – bounce flash indoors. Keep in mind that I did not edit the photos of Adrienne, so that you'd have an idea of how much glare there is on her skin with some of the modifiers.
The on-camera light modifiers that I compare for indoor bounce flash, are:
– Rogue Flashbender
– Gary Fong Lightsphere
– Magmod
– Spinlight (which has since been discontinued)
– small softbox
– plastic diffuser cup
The focus of this video review is limited to just that scenario then. We don't look at how these flash modifiers perform outdoors, or in venues where there isn't much of anything to bounce flash off. The caveat of course is that we might just surprise ourselves when we find out how effective bare speedlight bounce flash is indoors in cavernous areas: high-ISO bounce flash photography.
Still, there is a huge amount of curiosity about how these flash modifiers compare and how well they fare against each other. Check out the video, and follow the linked articles for more.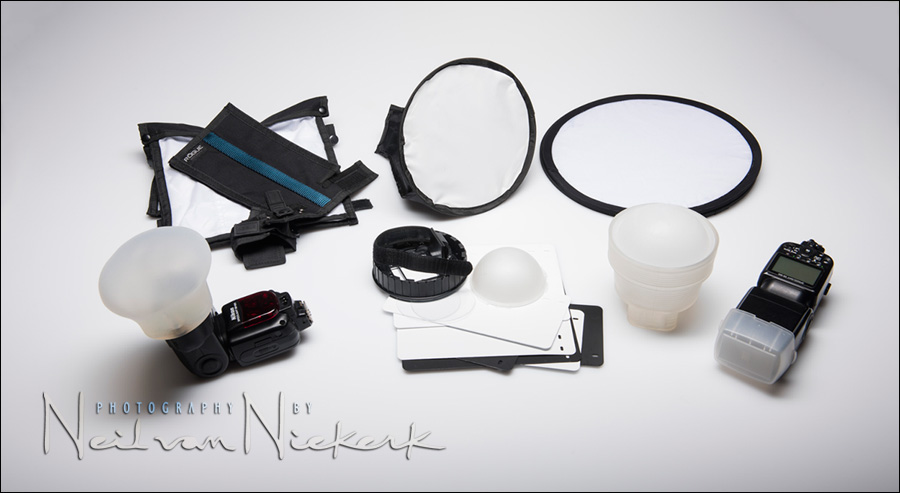 Summary
Long-time readers of the Tangents blog will already have a clear idea of where this was headed – the moment you throw light forward from your flash with one of these light modifiers, there is direct flash – and this affects the look of your photograph, and also limits your results. It comes down to this – you have to put thought into your lighting and how you use flash. There is no short-cut here that any $50 device will solve for you. It really is up to you to control your light.
[ For more videos, follow me on Vimeo / YouTube ]
---
---
On-camera flash modifier – the black foamie thing
Related articles
A little bit of homework
How do you think these light modifiers would compare to each other outdoors or in a scenario where there is nothing to bounce light off?

Bouncing the flash off non-white surfaces
When I bounce my flash off colored surfaces, then I rely on the latitude of the RAW file to give me enough to work with to adjust the color balance. Most often though, the surfaces available to us are warm tones, and then adjusting the Kelvin setting gives us good enough results in-camera already.
Here are examples where I bounced off non-white surfaces, including brickwork and wood panels, and some info on how I handled it in post:
With Blue or Red surfaces, you will most likely have a discontinuous spectrum if you bounce your flash off that.  So for those instances, and times when there is nothing to bounce your flash off: