choosing your shutter speed when using flash
A question that I was asked via email, that I thought would be of interest to everyone:
When using ambient light, I understand that you set your exposure using the camera's manual mode, then use flash to fill in. My question, when your shutter speed goes below that usually used hand-held, do you count on the speed of the flash to produce a sharp image or go to tripod or monopod? Or, increase either ISO or f-stop until you reach and acceptable shutter speed?
This is entirely correct in that I usually increase my ISO or open my aperture, to get a high enough shutter speed for sharper images. I can count on the flash freezing the action when I am shooting in lower light levels, and my ambient light is around 3 stops or more under-exposed. This means the (TTL) flash will be the dominant light source, and the short duration of the flash will freeze the action
But when we get to situations in low light where we are using flash in nearly the same amount that the available light is, then we can't rely on flash to freeze the action.  I prefer not to use a tripod for my wedding photography, since it slows me down for the style that I work in.
I thought this might be a good opportunity to run through some examples again, and look at how we'd approach these scenarios.  Then we can see what effect the flash might have on giving us sharper images .. or not. In other words, let's see where flash would help freeze movement.
camera settings: 1/300th @ f4 @ 500 ISO
First, let's start off with a scenario where flash is just a delicate touch of fill-flash to help lift the shadows. As you can see here, the available light is just gorgeous. I purposely turned the bride and flower girl away from the sun coming through the trees in the late afternoon. This way the light falling on them from the camera's point of view, is very soft.  So I just needed a touch of fill-flash (around -3 EV) to help lift any shadows.
It is obvious that in this instance, the flash would have no effect on freezing the subject since it is the merest hint of light. Therefore the actual shutter speed we choose; and how carefully we hold the camera and lens; and how still our subjects are .. all these will be the deciding factors on how sharp the image will be.
Similarly here, where the bride wanted a photograph of the bridal party during some air time … I needed a fast shutter speed to freeze the action.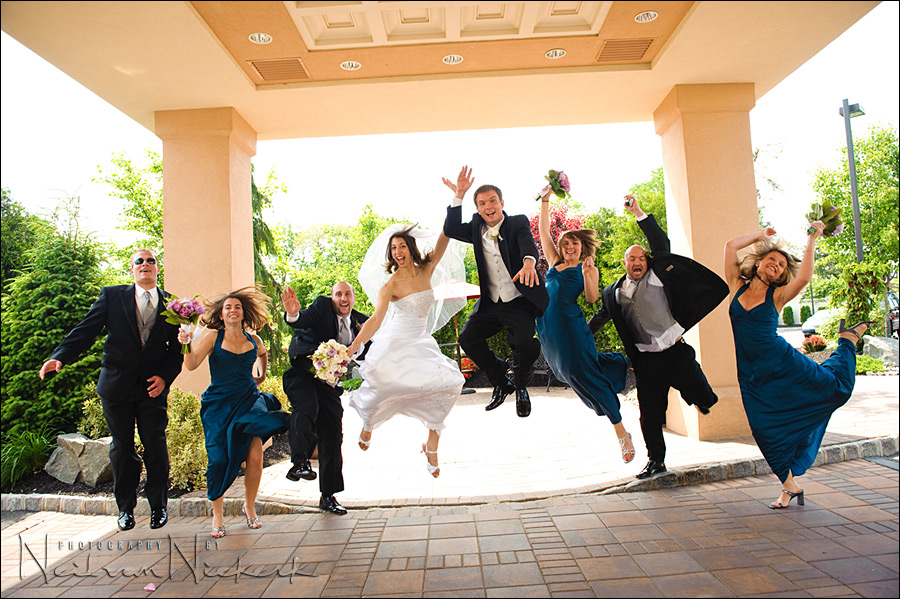 1/500th @ f4.5 @ 640 ISO .. lens set to 24mm
I choose the ISO such that I could get a fast shutter speed. I did go into high-speed sync mode .. which implies that I would lose range on my flash. But I could accept that, since I just wanted a touch of fill-flash again. So with this example too, the actual shutter speed that I choose will determine how sharp my image will be.
However, it becomes slightly more involved when we use flash when the light levels are low …
With weddings and portraits on location, I am most often also intent on having the available light be visible in the final image, to give us context and help retain some of the ambiance and mood of the place. To do so, is a matter of juggling shutter speed, aperture and ISO.
When the ambient light is brighter in the background, and there is very little light on the subjects, then we can easily drop our shutter speeds to get the background to register.
Here for example, a photograph of wedding guests at an after-party at a night club in the Bahamas. (Yes, my job truly doesn't suck.)
First, a test shot to show the light levels that existed without flash ..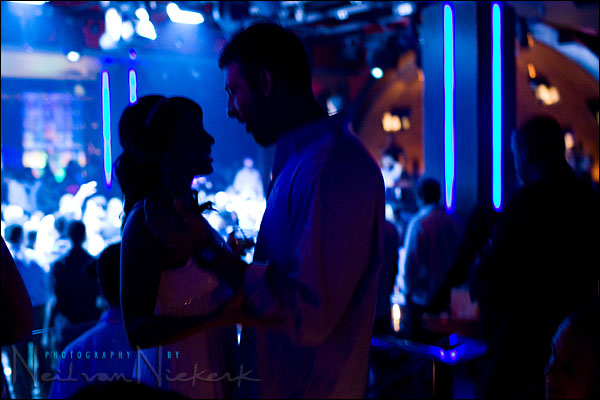 This was taken at 1/15th @ f2 @ 1600 ISO … very low light levels.
And this meant I could (or rather, had to) drop the shutter speed low, and open the aperture and raise the ISO, in order to get the ambient light to appear in the image.
In the area we were, the light falling on the guests were low … and this allowed me to go with such a slow shutter speed and still get sharp photos. The flash did all the work here in freezing movement, and I could easily get sharp candid images of the guests as they were dancing and having fun.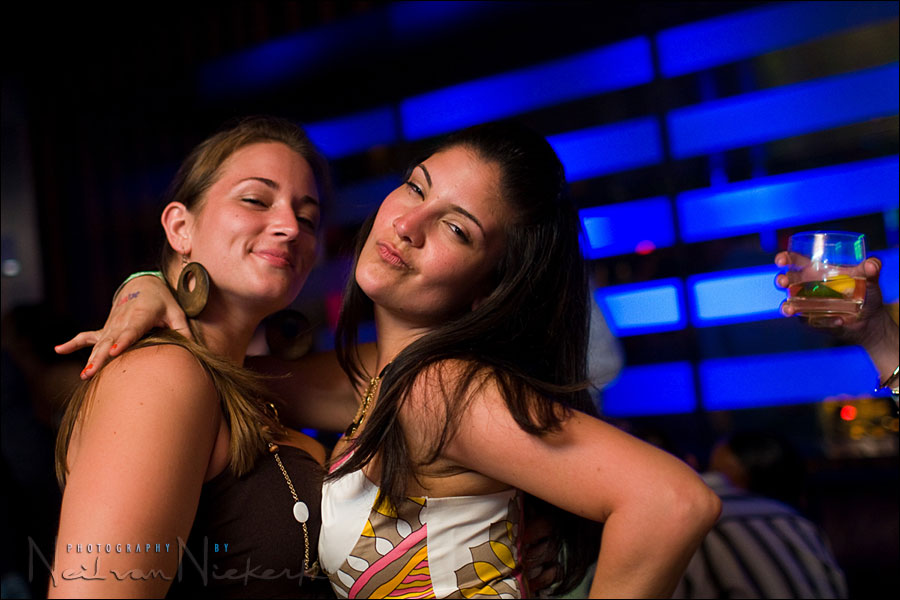 camera settings: 1/20th @ f1.8 @ 1600 ISO .. TTL flash +0.3 EV
The situation can be reversed though .. with our subjects in relatively brighter light, such as this example.  Here there was a videographer adding light from the side, and therefore I needed a higher shutter speed or else there would be too much subject movement (for my taste), in the final image.
1/250th @ f1.4 @ 2000 ISO .. Nikon D700 and Nikon 85mm f1.4
I had a very high shutter speed here for a photograph indoors at a wedding, but this was specifically so that the video light didn't cause subject smear as they danced. I could freeze the action with my choice of shutter speed.
I bounced my flash over my right shoulder, with the flash gelled with a 1/2 CTS gel to help counter the change in WB from the videographer's light.
Then there is the possible scenario where we have low light levels, and our subject is lit by the available light .. and we have to use flash. I don't have anything in my immediate archives that I can think of that would illustrate this .. but this is a situation we'd have to be very careful not to get camera shake or have the subject move too much during exposure.
As an aside to all this – sometimes a high shutter speed isn't because we want to eliminate subject movement or camera shake .. but because we want a better balance between ambient light and flash.
Camera settings: 1/300th @ f4.5 @ 800 ISO .. flash set to +1.3 EV
With this example of the portrait of the bride, she is very much static in the frame.
Here I wanted to retain some detail of the garden outside. When I want to balance a bright background (lit by ambient light), with my subject which is lit predominantly by flash … then the best place to be in terms of my shutter speed, is maximum flash sync.