using direct fill-flash from your on-camera speedlight
Here's a question that comes up often in emails I receive:  Do I use a diffuser of some kind outdoors or do I just use direct flash, with the flash in the straight ahead position.
The simple answer is that yes, outdoors I most often shoot with my speedlight straight-on with no diffuser or light modifier, especially if I only use my speedlight for fill-flash.
But then again, the answer is not quite that simple – so let's take this back a few steps:

Shooting with your on-camera flash in a straight-ahead position while indoors is possibly the worst way to use flash.  We are far better off creating softer directional light by bouncing off a wall or other surfaces.
In this example from a wedding I photographed recently, the flash is both diffuse and directional.  And it should be noted that even though the flash used here was an on-camera speedlight, there is no light coming directly from the camera's viewpoint.
.
This would be ideal the ideal way to use flash outdoors as well, and where I am able to, I do use off-camera lighting that is diffuse.
For example:
Here I  used a Quantum T5D-R in wireless TTL mode and with the Q-flash in a Westcott Apollo softbox, creating a very pleasant fill-flash.  The Q-flash (with Quantum 2×2 battery) and the softbox was held up high by my assistant.
.

In this example, I bounced my on-camera speedlight into a reflector that my assistant was holding up – and this once again, gave me soft but directional light.
So where I can, I do try to use soft directional flash outdoors, but quite often there are compromises of some kind to deal with.  There might not be a handy surface to bounce flash off, or perhaps the available light may be too bright to allow me to bounce light effectively off outside surfaces.  Or I might be without an assistant.
When I am working outside and I only have my on-camera speedlight to help me with less-than-ideal available light … and I have these above-mentioned limitations … then I accept the compromise of direct on-camera flash.
Since I can't bounce flash off the clouds – although I have seen photographers apparently try that, strangely enough – I accept that straight-on flash is all that I have at my disposal at the time.  BUT, when working with subjects outside, I will try and position them such that the ambient light is fairly even (or pleasant looking) light on them … and then I use fill-flash to lift the shadow areas.
So in that case, I am using just a touch of fill-flash, and the flash is barely noticeable.   Therefore the fact that it is direct flash barely detracts from the overall image.
I very rarely use a diffuser of any kind when I shoot outside with direct flash (as fill-flash).  The reason is that we only get softer light by creating a (much) larger light source.  And plonking on a Stofen on the front of the flash does NOT create a larger light source.  Similarly, pretty much every light modifier that is attached to the speedlight and used directly, will not create a much larger light source than direct flash.  It is therefore just a simpler way to use the flash direct – straight-on and without a diffuser – and dial my flash compensation way down to around -2EV or -3EV.
more examples from engagement photo sessions
My settings:
1/250th @ f5 @ 500 ISO – manual exposure mode.
On-camera TTL flash, dialed down to -2EV.
As you can see, I carefully placed my subjects in open shade and I used un-diffused direct on-camera flash to lift any shadow areas just a touch.  It does not look like direct flash, because the flash was dialed way down … and the flash exposure rides on top of correct exposure for the available light.  ie .. the flash just sweetens the scene a bit.
.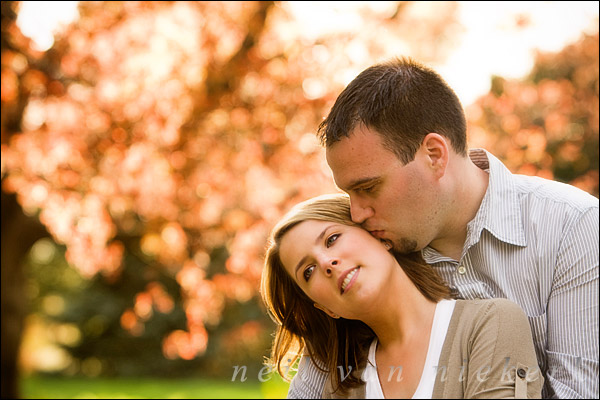 My settings:
1/320th @ f4 @ 500 ISO – manual exposure mode.
On-camera TTL flash, dialed down to -3EV.
Once again, I made sure I had even light on my couple by having them turn away from the sunlight, ie  I  placed my subjects in open shade.  And similarly to the previous example, I used undiffused direct on-camera flash to lift any shadow areas just a touch.
.
Why -3EV here and -2EV in the previous example?  Purely whim. No real reason aside from that.
You see, since the flash is just a soft 'touch' of fill-flash, the exact value isn't of that great an importance.  The fill-flash just rides on top of correct ambient exposure.  And THAT is key here – that my available light exposure is correct.  In both these examples (and in every other example on this website), I shot in manual exposure mode.  It really is the only way to achieve consistency in exposure, and achieve consistently correct exposure.  Trust me on this one.
Here's one more example to show that using direct flash like this as fill-flash, and that getting these results aren't merely flukes:
My settings:
1/250th @ f4 @ 800 ISO – manual exposure mode.
On-camera TTL flash, dialed down to -3EV.
.
Now, what about those times when flash isn't merely delicate fill light ?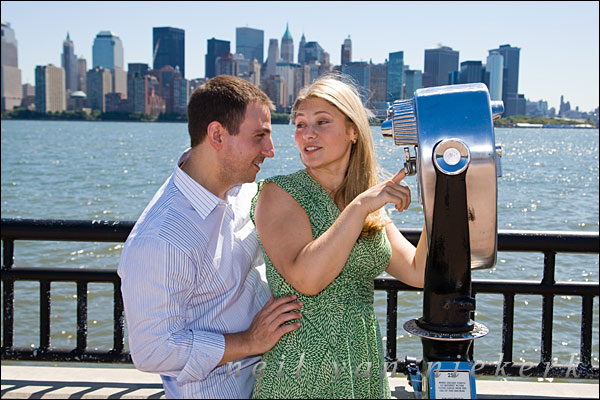 My settings:
1/250th @ f7.1 @ 200 ISO – manual exposure mode.
On-camera TTL flash, dialed up a touch to +0.3EV.
As I mentioned earlier – using the speedlight for a touch of fill-flash means that the direct flash is barely noticeable.  However, if I have to use flash as a main source of light, then the flash is noticeable – but not necessarily objectionable.  And I'm of the opinion that using a flash modifier on a speedlight would barely have made a difference … except cut down on my speedlight's power.  And few flash modifiers offer a substantially larger light source over that of the speedlight's flash head – and therefore to my mind, using a flash modifier outdoors isn't often of much use.
In the image above you can see that flash was used, in that there is a distinct flash shadow – but this was a slight compromise on this photo shoot, since I knew I would be moving around a lot.  And therefore when I had to lift the shadow areas to that of the brighter sunlit areas of the scene, I knew I would have to use more than just a hint of fill-flash.
So yes, I do use direct on-camera flash when shooting outdoors.   But even then I take care in how I use flash, and specifically how I use flash in relation to my available light.