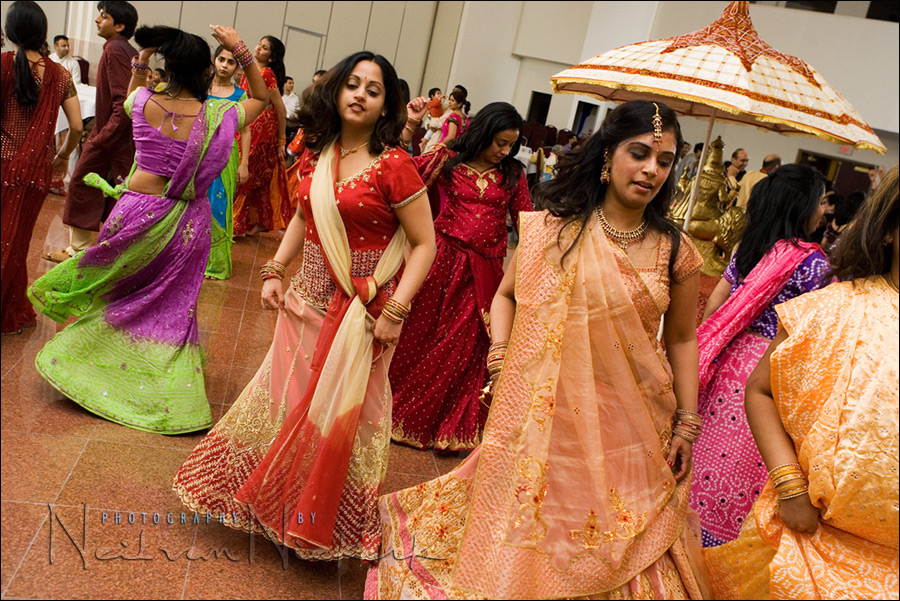 Photography: Finding the light
I've been so inspired by the various photographers at seminars and magazine articles, telling everyone to just look for the light and to find the light.
So many photographers just use available light, and make the rest of us who aren't blessed with perfect light like they have in la-la-land, feel so inadequate. It is our failing as photographers if we can't find the light and use it properly. I felt I had to rise up to this and push myself as a photographer, and just look for the light.  It is there to be found!
Inspired like that, I approached this very colorful Hindu wedding (April 2006), with a fresh mindset …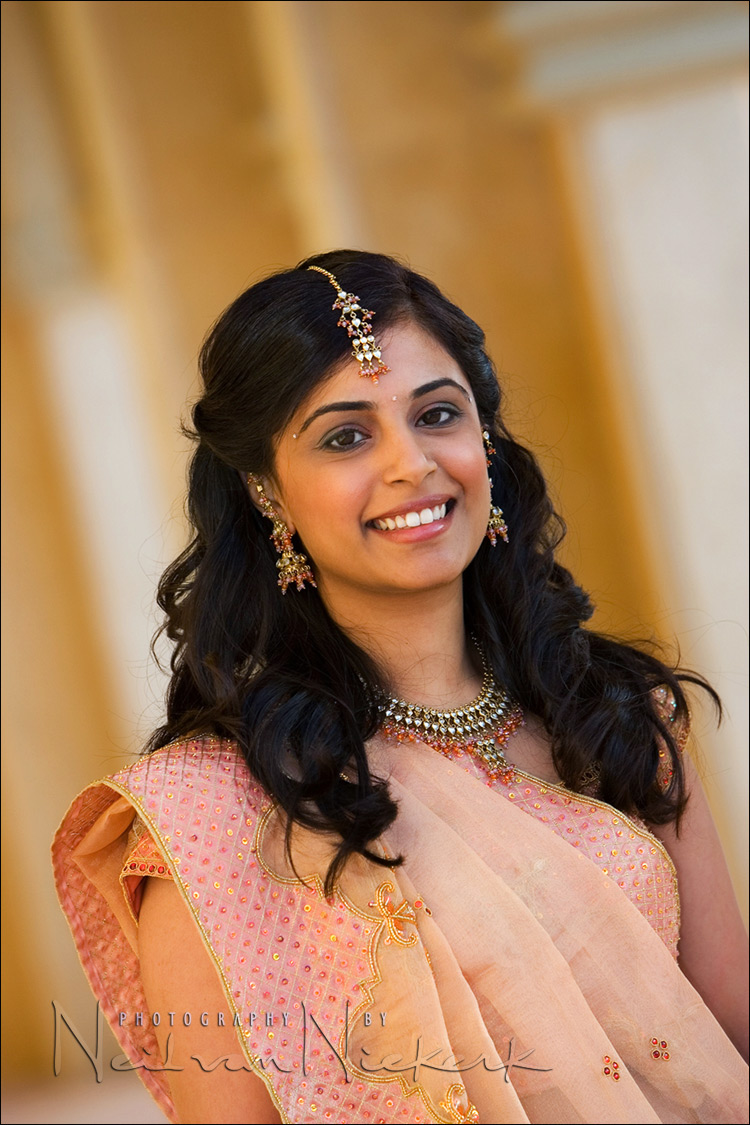 Photographing portraits of the couple and family members were done outside the temple. The temple the late afternoon light was incredibly harsh, so for the portraits, I moved the bride (and others) into the open shade between the pillars in the front. The strong vertical lines behind them helped to make the simple portraits more striking.
Well, I was happy at this point. I was able to get lovely portraits using the light and the setting … but walking inside of the room where the guests were going to dance, my heart sank.
The ceiling was high, with only fluorescent lights, which meant the light was top-heavy and dim.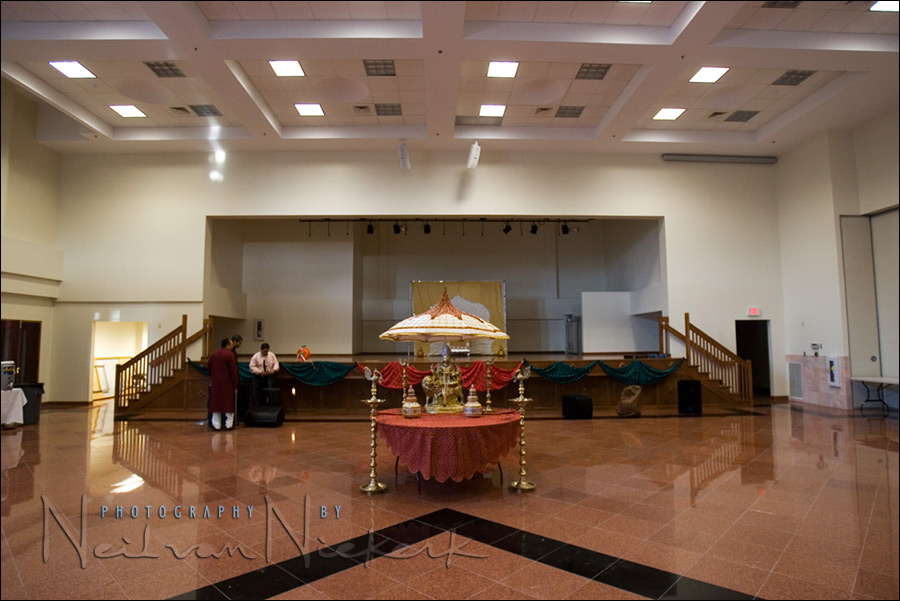 Light levels were low – 1/60th @ f2.8 @ 1600 iso.
Hmmm .. just not enough to stop action. And the client wouldn't be too happy with hundreds of impressionistic color smears for photographs.
But .. I just had to look for the light.
Nevermind that this is a dimly-lit New Jersey room, and not a brightly lit la-la-land venue.
This would be MY failing for not looking for the light,
and finding the light,
and finally .. getting to USE the light.
I scoured the place … and .. sure enough .. there it was .. light!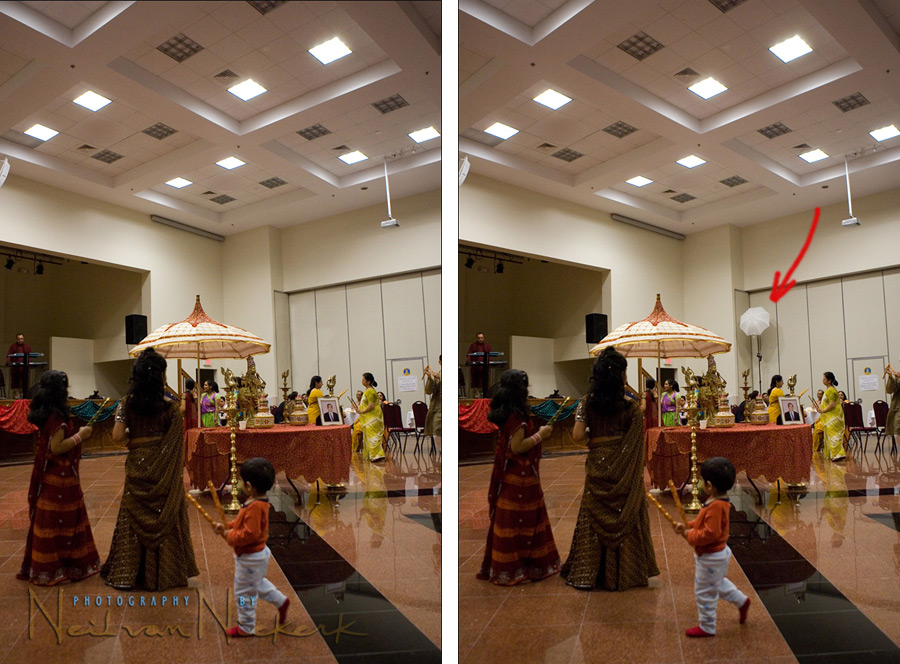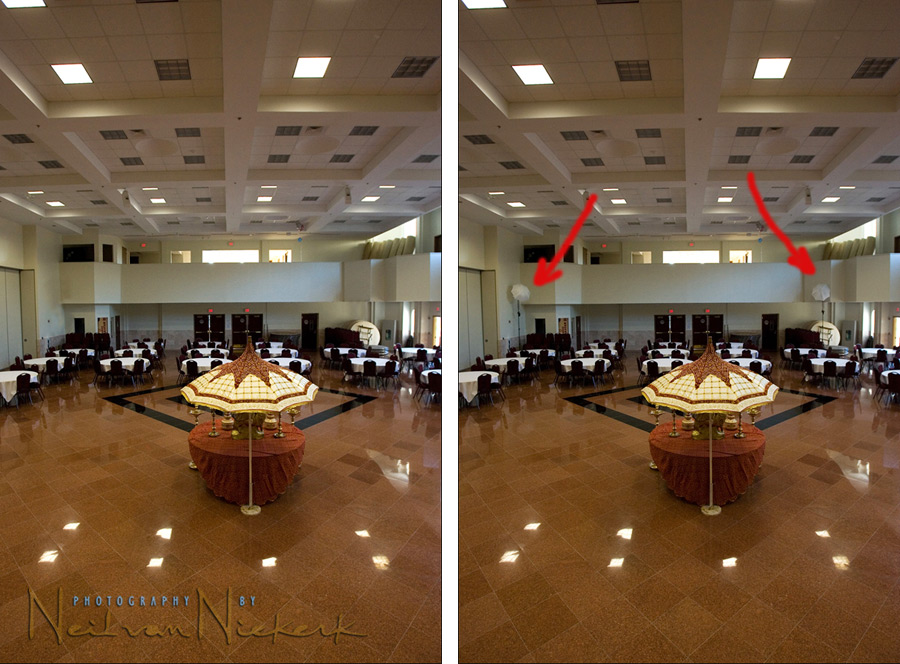 But .. was it available light?
I looked around .. and sure.\, no one else was using it.
It was available! I could use the light!
I saw it and found it, and now I could use it!
And boy! Am I impressed! Just look at the light! Look at the colors pop!
People were dancing around me, and I could stop the action if I chose to, and have faces recognizable. The bride would be able to recognize herself and her friends and family.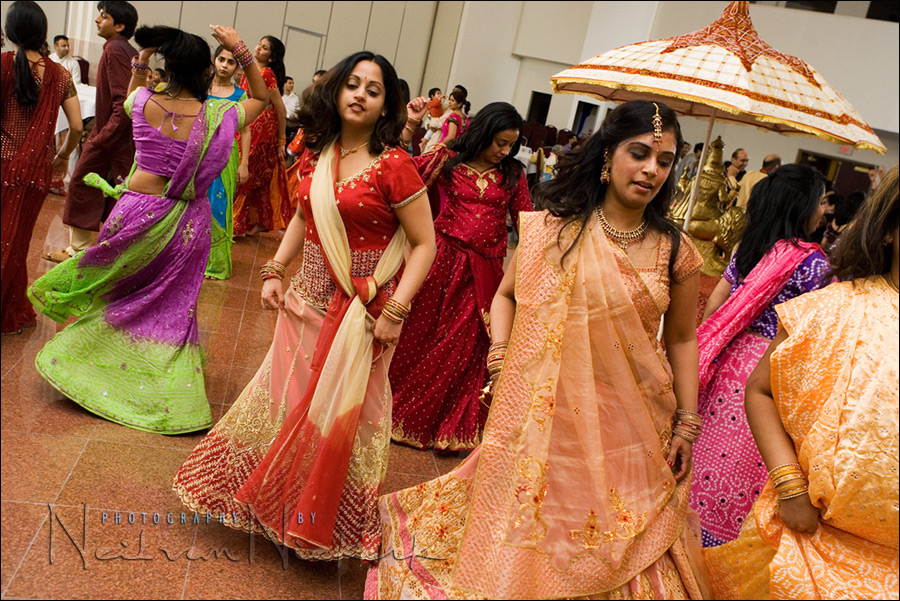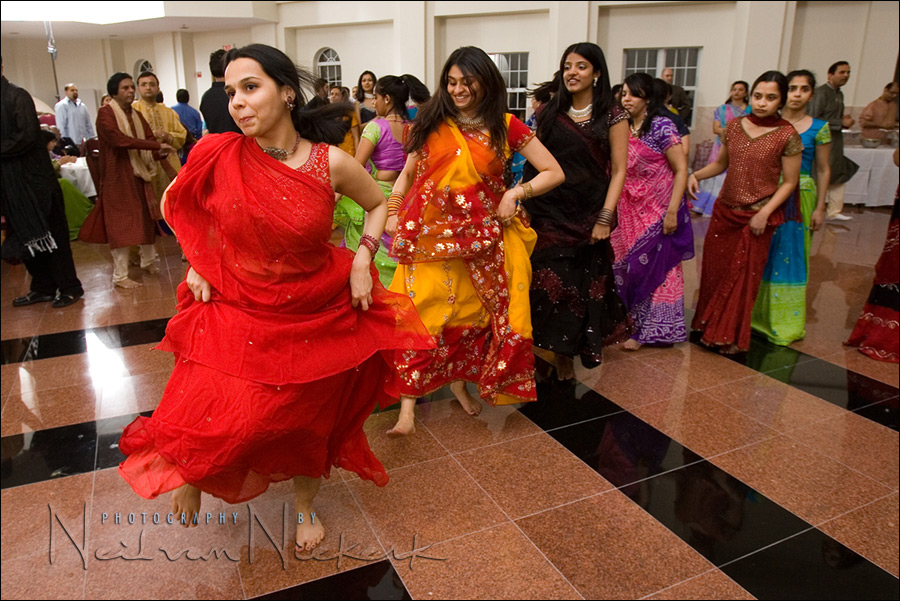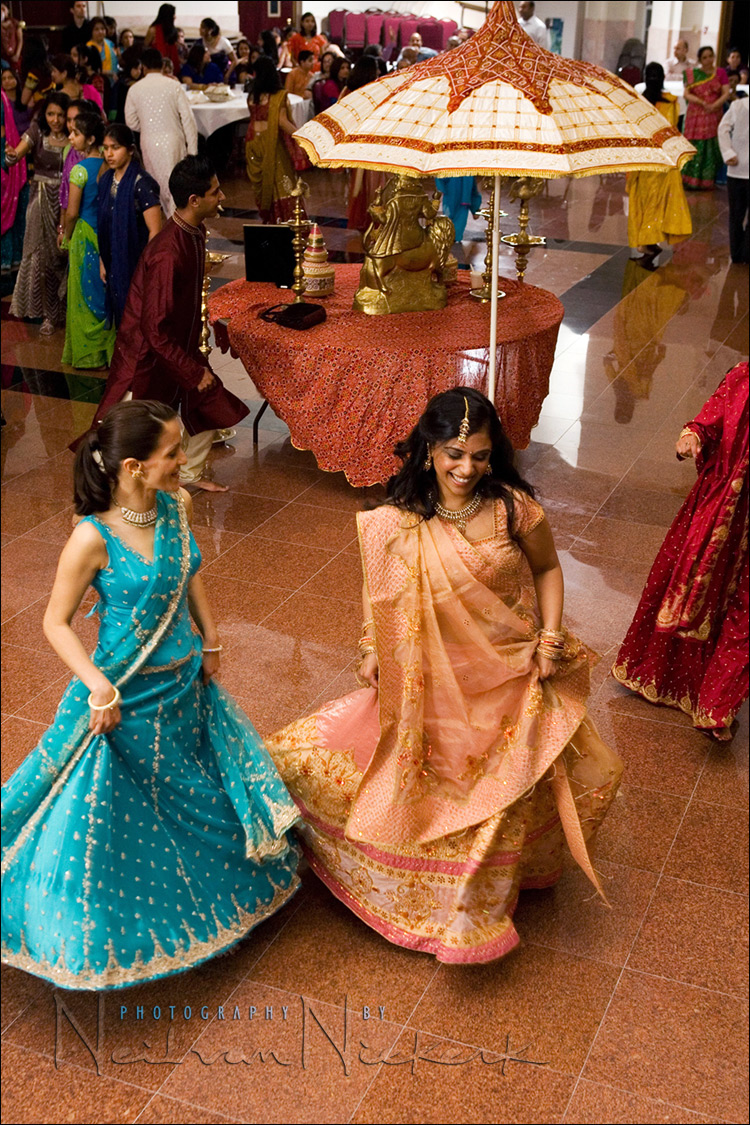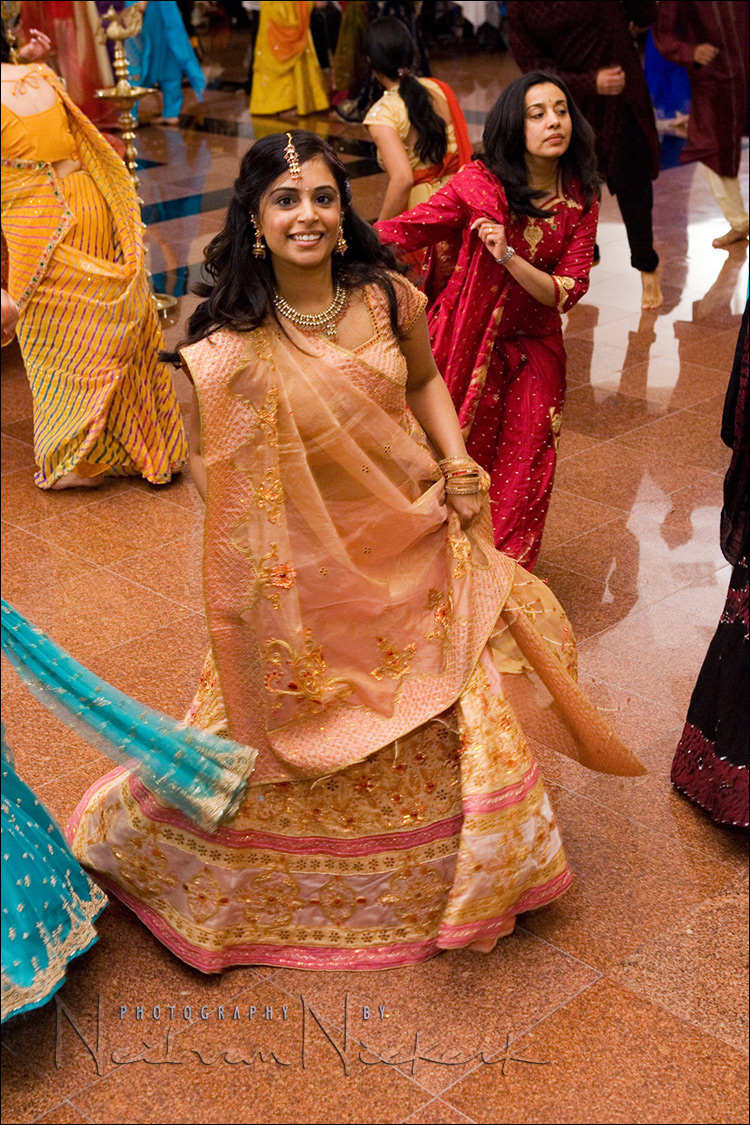 Finally
So, a genuine thank you to everyone here who inspired me so to rise above my own inadequacies as a photographer, and just frikkin LOOK for the light.
Thank you, thank you, thank you.
Technical info:
The additional strobes that I put up in the corners of the room, were Quantum T2 strobes. They were powered by Quantum 2×2 batteries, and triggered by Quantum 4i radio slaves. The stands are Red-Wing stands. These strobes were run in manual mode, and at 2/3rd stops down from full output, to ensure consistency in exposures in faster sequences of shots.
I also used an on-camera flash which was turned around and slightly bent backwards, with a Stofen with the top cut open. This meant that most of the light from my on-camera strobe was thrown upwards and slightly back .. but because of the Stofen, enough light spilled forward, to ensure there were no raccoon eyes, and that the lighting was as even as I could make it under the circumstances.
Exposure info .. all shots at 1/125th, and 800 iso.
The aperture varied between f4 and f5.0
The on-camera flash was in TTL mode, and bounced behind me. The FEC varied from +0.3 to -1.0 EV, as needed.
Related articles
The origin of this article
This was first posted in April '06 on the Digital Wedding Forum, as a tongue-in-cheek reaction – or caustic response then, if you will – against the numerous articles and seminars where we photographers are urged to "just look for the light".
What triggered me to write this article in the first place, was that there seems to be a trend where use of flash is disdained in favor of only using available light. As if it is always that simple.
This article was also published in the Sept 2006 issue of Rangefinder magazine.