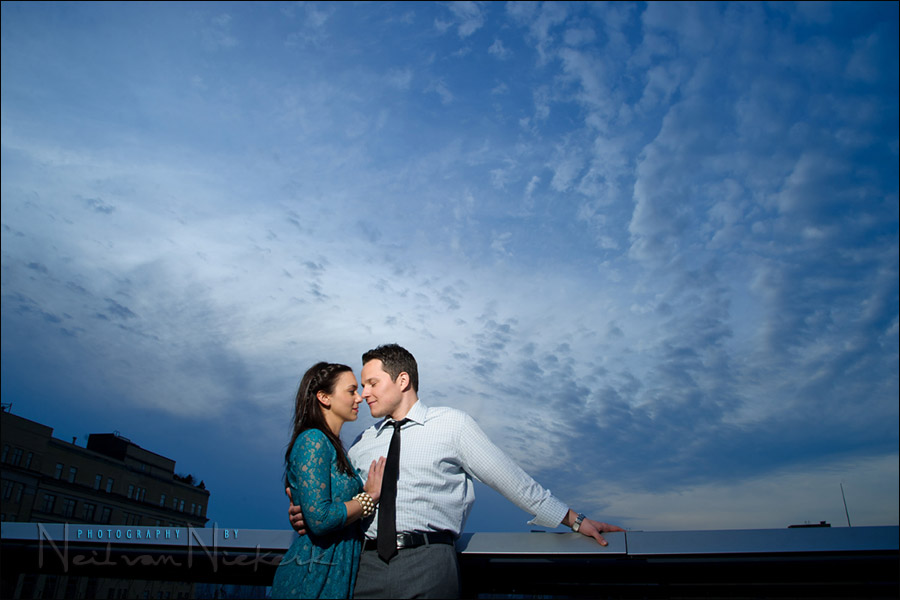 Flash photography technique – Turning day into night
During the photo session with a couple, Laura & Todd, I wanted to add some variety to the images from the urban setting we were in. The sky had been overcast, but started to clear later on, leaving wispy clouds. Just perfect for a dramatic sky as the background. Of course, it is impossible to get your subject AND a bright sky equally well exposed without resorting to graduated filters or additional lighting, ie, flash. The technique with off-camera flash is quite straight-forward …
The first thing I did was get my basic exposure for the sky.  Zeroing out the needle works fairly well unless the sun is in the frame. A test shot at 1/250 @ f11 @ 200 ISO showed that I had detail in the sky. Of course, there was a reason I was at max sync speed – it is our sweet spot when using flash in bright light.
The sky had a nice pattern to it, but the colors were too neutral. It needed something more. So I checked what the sky would look like if I set my WB to 3850K (knowing I could gel my speedlight with a 1/2 CTS gel).
Aah, now we're getting somewhere.
Still working at 1/250 @ f11 @ 200 ISO, I knew that the single speedlight wouldn't be able to push enough light out if diffused with a softbox. It had to be direct, undiffused, off-camera flash.
I had my assistant hold the light nearly above me, but to my right and behind me. The reason was so that the light on Laura's face wouldn't leave a hard shadow of her nose across her cheek or mouth.
Since my exposure settings was chosen for me, by how I wanted the background exposed, I had to add f11 @ 200 ISO worth of flash on my subjects.
The simplest would be to use manual flash, and to use it at full power.
Using the distance shown on the back of the Nikon SB-900, I had my assistant hold the speedlight (up on a monopod) at about that distance. If I had used a Canon 580EX II, I would've placed the speedlight on my camera to see the distance scale. Slightly more cumbersome route, but the distance I need to hold the flash away from my subject, will be revealed.
For more on this: a tutorial on how manual flash exposure is affected by distance, and choice of settings.
Finally, I used the PocketWizard TT5 units and AC3 controller, to trigger the off-camera flash. I had the AC3 set to manual and full power.)
With the off-camera speedlight gelled with a 1/2 CTS gel, and my WB set to 3850K, the color balance for my couple was just fine, but the sky shifted to a more dramatic shade of blue.
You can buy gels through these affiliate links: A few easy & logical steps to get to the final sequence of images.
More images from this photo session in New York
Photo gear (or equivalents) used during this photo session