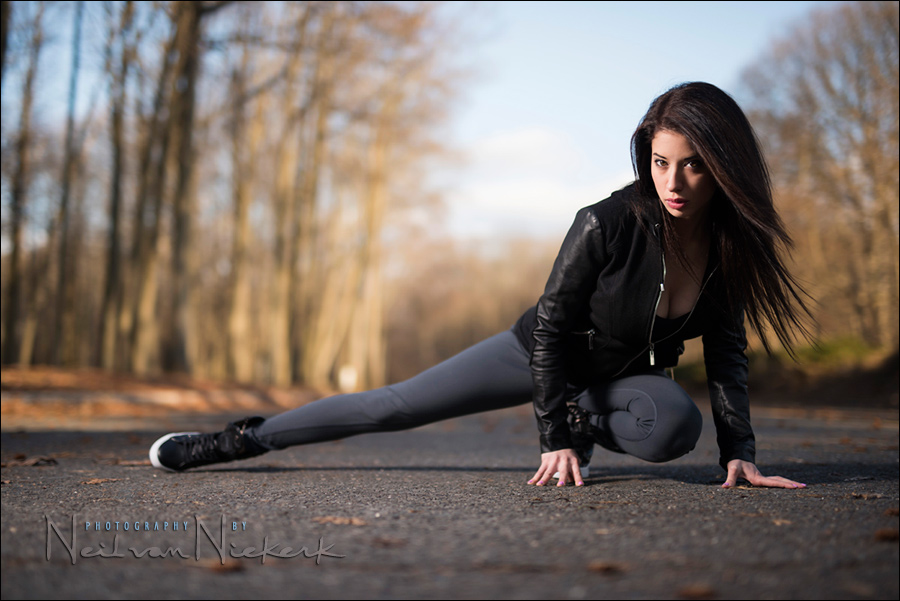 High-speed flash sync (HSS) with the Profoto B1 flash
The already impressive Profoto B1 flash (B&H / Amazon) became even more awesome in Dec 2014 when high-speed flash sync (HSS) capability was added through a firmware update.
The photo above was taken at 1/2000 @ f/1.4 @ 100 ISO. I wanted that super-shallow depth-of-field, and I wanted the light to be more flattering than you'd get from a bare speedlight. In this case, I used a Profoto RFi 1'×3′ softbox (affiliate), with the Profoto B1. (I kept both baffles on the softbox.)
The summary: it works! But there are a few minor limitations or quirks though that you have to be aware of. (More about this in the summary at the end of this article.)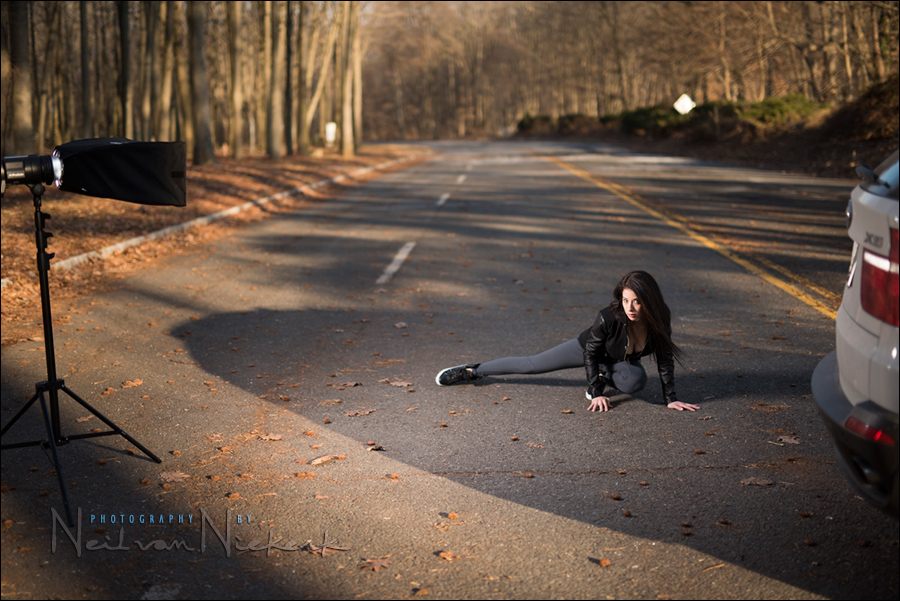 For the photo of Melanie at the start of this article, I didn't want any of the dappled sunlight on her. I just wanted the light from the softbox & Profoto B1 on her. Crouching down low in the middle of the road, my car shaded the sunlight.
I used the Sigma 50mm f/1.4 DG here, since I knew I'd get crisp images, even wide open. Check out the review: Sigma 50mm f/1.4 ART lens to see just how well it performs.
Camera settings & photo gear (or equivalents) used
1/2000  @  f/1.4  @  100 ISO  … with Profoto B1 off-camera flash
The winter sun coming through the barren trees next to the side of the road, made for a stark backdrop. I wanted that f/1.4 aperture again to isolate her from what could've been visual clutter at a smaller aperture. Here I pulled the power down on the Profoto B1 to level 8 so I wouldn't over-expose. I had to pull the light a bit further back to make sure the flash exposure was good.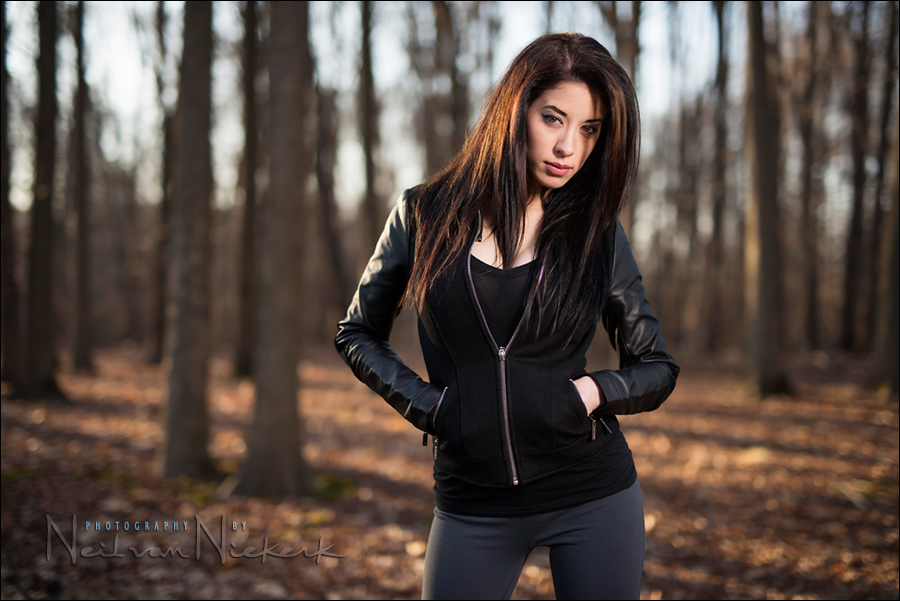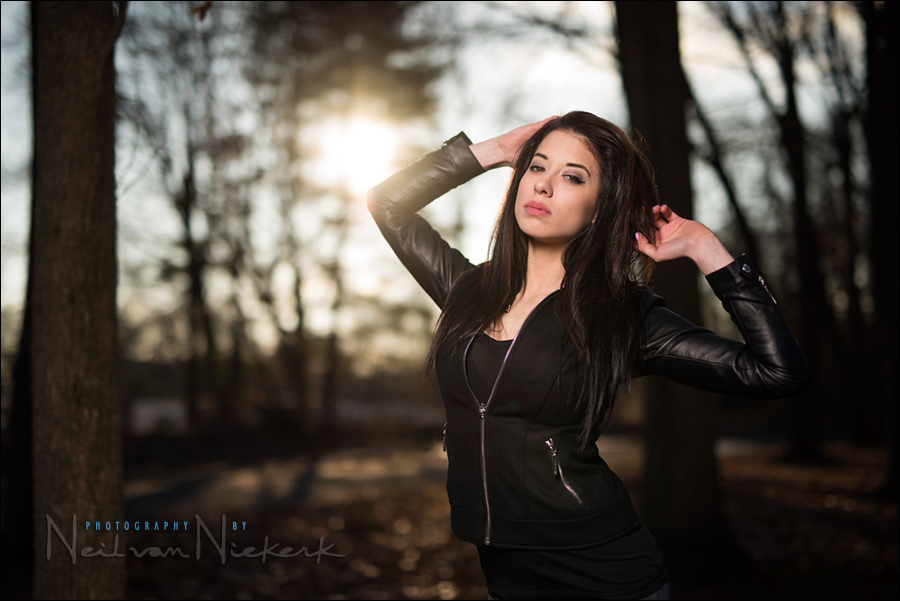 Summary
The Profoto B1 is now a formidable portable light source for any photographer who shoots on location. There are a few quirks with the Profoto B1 in high-speed flash sync:
HSS is only available over a 2 stop range. (From power level 8 to 10.)
there is a slight color shift as the shutter speed is increased.
there is an initial 2-stop light loss as the flash goes into HSS mode. However, this means only a 1-stop loss in practice. (The reasoning behind this is left as a bit of homework at the end of this article.)
during repeated tests, I occasionally noticed that the flash exposure was slightly uneven at the long edges of the frame. (This is for the image left-to-right in vertical position / top and bottom edges when in horizontal position.) This has very little effect in practice, especially when shooting on location where you would actually use HSS.
Even with these few limitations and things you'd have to adjust for, the Profoto B1 500Ws AirTTL flash (affiliate) has now been improved to the point where it truly is an exceptional on-location light.
Related articles
A little bit of homework
As one would expect from a flash that goes in to high-speed flash sync, there is a linear change in output as the shutter speed is pushed up. For every stop over 1/500th and up, the output drops by a stop. This is discussed thoroughly in the high-speed flash sync tutorial, and in my book, Off-Camera Flash Photography.
With the Profoto B1, there is an approximate 2-stop light loss initially as the flash goes into HSS mode. Just as you go from 1/250th to 1/500. (Or whatever your camera's max flash sync speed might be.)
However, this actually means only a 1-stop loss in practice. The homework part – figure out why a 2 stop light loss only means 1 stop change when used on location with bright ambient light?