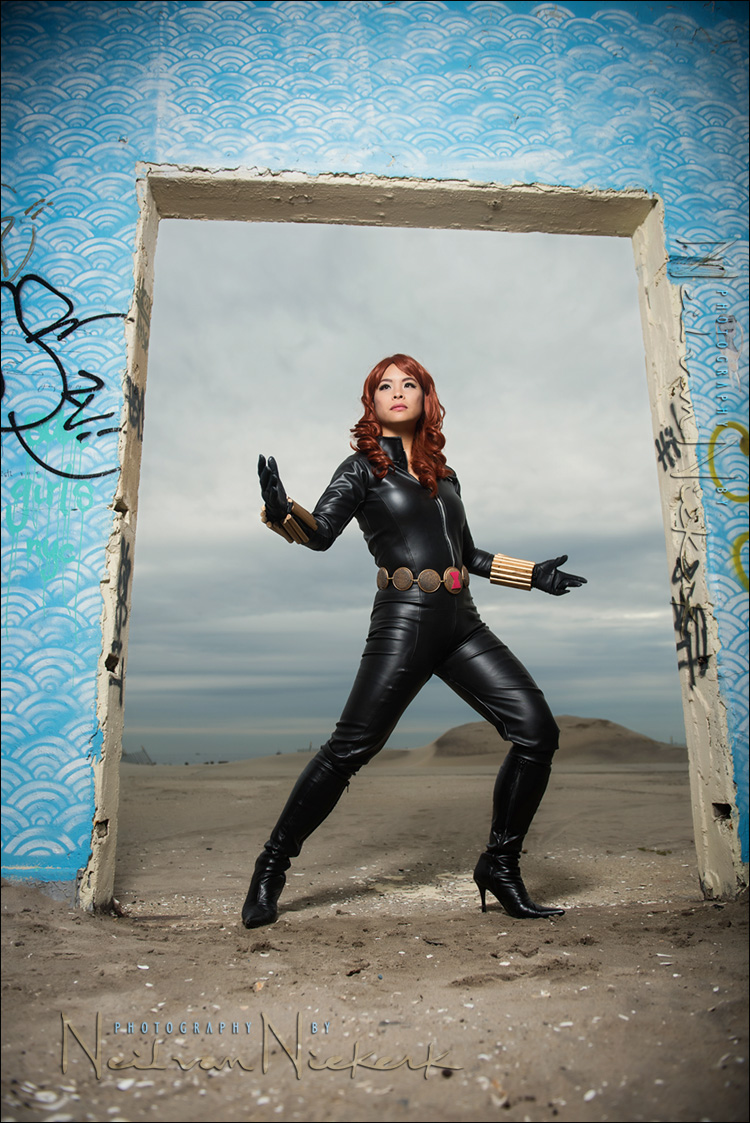 Progression of an idea in a photo session – cosplayer, Ger Tysk
For me, there's always some anxiety before a photo session – especially when you have the opportunity to photograph someone quite unusual and photogenic like Ger Tysk, a cosplayer. (She also creates cosplay outfits for others, and has published a book on Cosplay.) Her latest outfit is Black Widow (from Marvel.) Now, the stressful part before a photo session like this, is that there is the pressure of having a great opportunity, and then having to create a photo series that is worthy of the moment. Even if you don't quite reach the peak of the Epic scale, you still want to have photos that look inspired and interesting. You know, something worthy of the effort and time and opportunity.
I can pretty much guarantee you now that when you see an interesting or striking photograph that someone created (as opposed to a pure  photojournalistic moment), it's usually not success on a first try. Very often there is a series of images and attempts before an idea comes together.
I was armed with some serious gear – Nikon D810 (affiliate) and  Profoto B1 TTL flash (B&H / Amazon) . So really, if there is any limitation here, it would be myself. Everything was in place – a supremely photogenic subject, an interesting location a friend showed me, as well as some serious gear. Now it is up to me, as the photographer to pull something out of this mix that looks stunning. And that is where the pressure comes in. Time to look around, explore ideas and figure something out.
I'm quite proud of the final photograph from this part of the location, but it didn't just immediately come together. There was a thought-process and various attempts and dead-ends before it looked like yes! this is it!
So I want to step you through parts of this photo session to show how fell into place.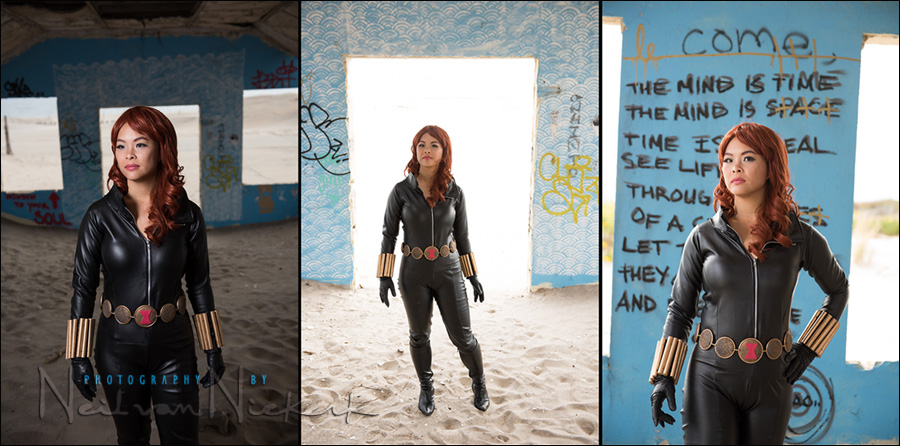 Three of the various test shots:
– The first was shot deeper inside this vacant place. Exposing for the outside left the interior too dark.
– Moving closer to the doorway and using the available light, looked too bland. Not that exceptional. I still didn't *use* the location.
– In using some of the (cosmic) graffiti, it still was about the graffiti. Nothing really happening there.
In the photo below, adding off-camera flash to add more dynamic light, didn't improve things either.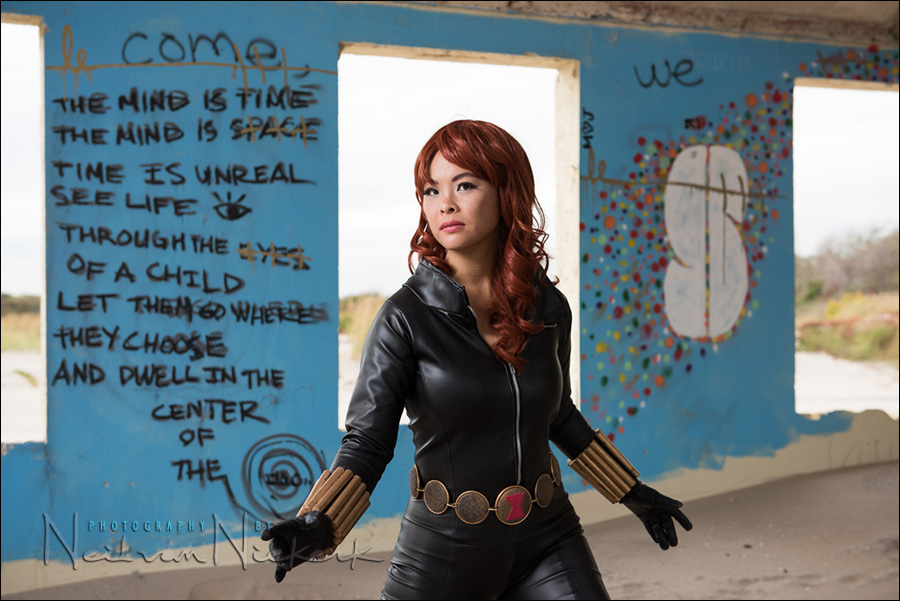 So I went back to the doorway.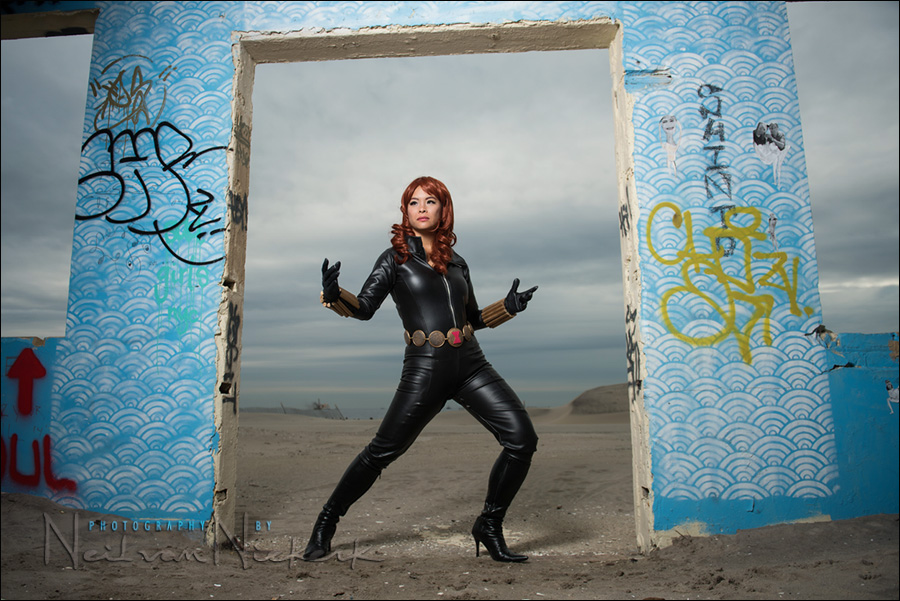 Now it started to look more interesting, but the graffiti was still too distracting.
Going for a lower viewpoint with the zoom set to 24mm, made the composition more simple and more dynamic. And there we have one of the images I was happy with, as shown at the top. Eye-catching!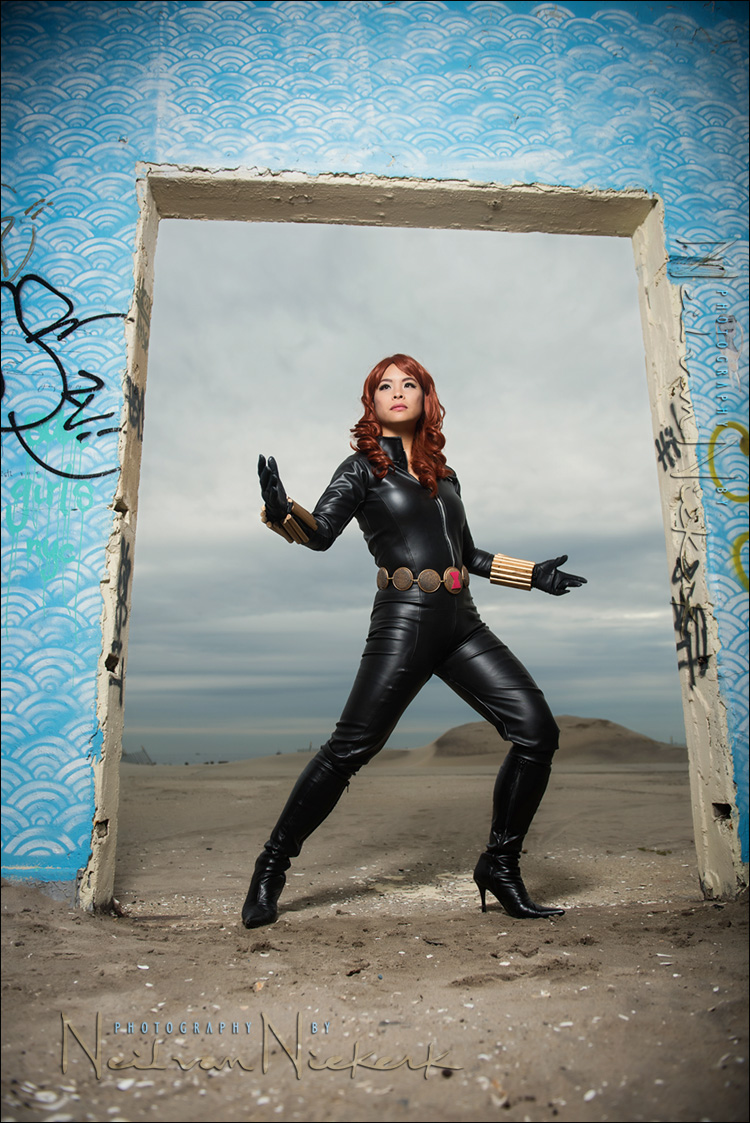 Camera settings
1/250 @ f/3.5 @ 100 ISO … manual off-camera flash.
One thing that should immediately jump out is that the aperture was quite wide. Unusual for a bright day outside, especially when it is obvious that I exposed for the sky, and used flash to expose correctly for Ger Tysk.
The obvious way of doing this is to use a neutral density (ND) filter. In this case, I used the B+W 3-stop ND Filter (affiliate). This dropped the ambient light and flash by 3 stops, and gave me much more shallow depth-of-field. It defocused the background just enough to help pull attention to our subject.
I used the Profoto B1 flash (affiliate) in a Profoto RFi 1'×3′ softbox (affiliate). I find this narrow stripbox invaluable on location when shooting single subjects or couples. It is easy to carry around, but slender enough to put in a car's trunk or carry through doorways and windows.
I set the Profoto B1 to maximum output for this series, to work with the flash at this distance.
I had to change the monopod I use because of the Profoto being heavier than a speedlight. I wanted my assistant to be able to just hold the monopod upright, without having to continually hoist it up high. Less fatiguing for them, and it also gives me more consistent light from shot to shot without the light wavering around a bit.  The tallest monopod I could find, was the 75″ tall Gitzo GM3551 monopod (affiliate). Tall enough to have the light at a proper height, and being a monopod, simple enough to carry around.
And that, kids, is how I met your … how it all came together for this part of the photo session.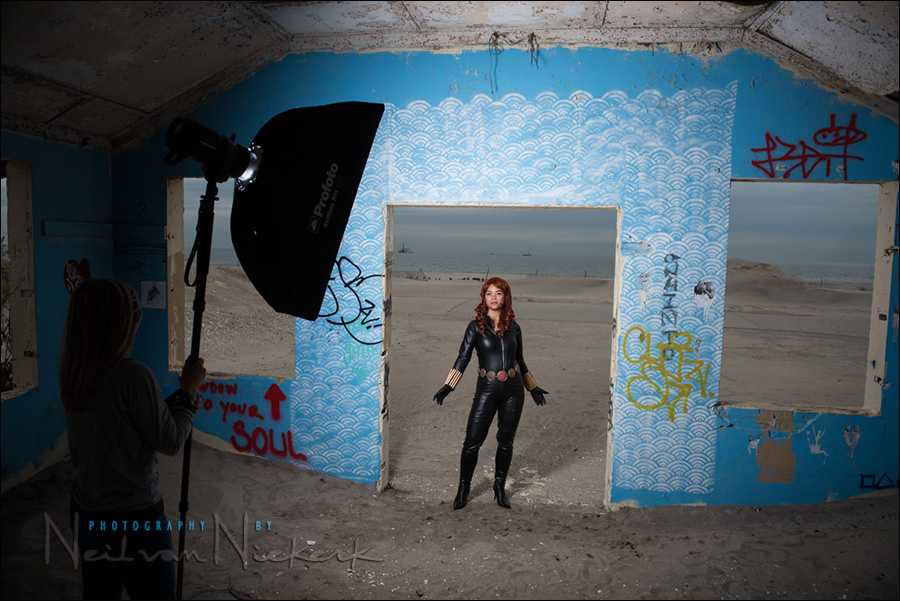 Photo gear (or equivalents) used during this photo session
Related articles