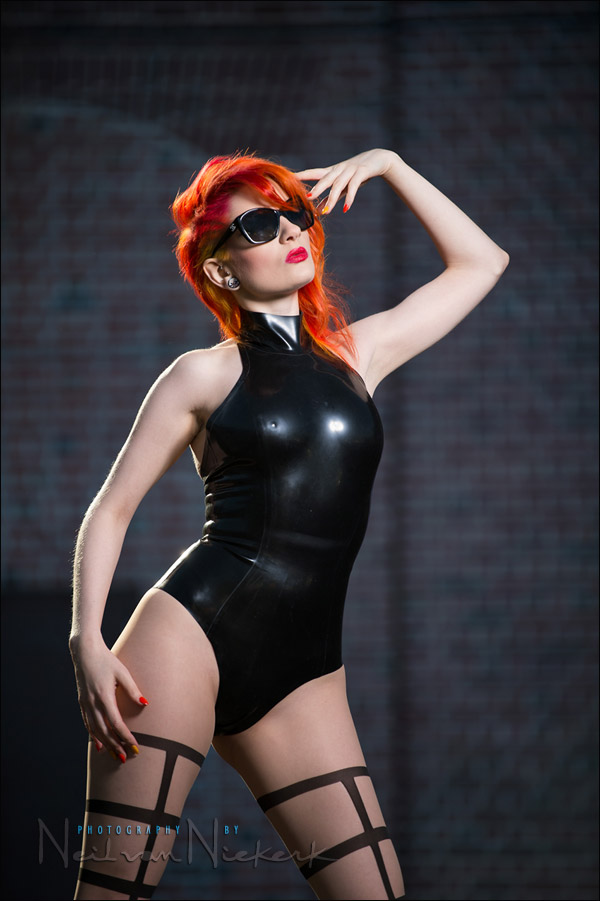 Using a neutral density (ND) filter to control DoF with flash
When working in bright sunlight with flash units that can't go into high-speed flash sync, we have a ceiling in terms of our shutter speed / aperture combination. The shutter speed limitation then would be our maximum flash sync speed. The bright daylight would then imply a small aperture – most likely around f/11
Why f/11 ? The Sunny 16 Rule dictates that in bright sunlight, we're most likely working at 1/100 @ f/16 @ 100 ISO. This translates into a handy short-cut of: 1/200 @ f/11 @ 100 ISO, where 1/200 is the maximum flash sync speed of many cameras. I use Nikons so my max flash sync speed is 1/250 hence that is where I normally operate when using flash in bright light.
In this bright light, to get to wider apertures for a shallower depth-of-field, we need to cut the amount of light. We can do this with a Neutral Density filter (affiliate).
The first concern is usually that the ND filter cuts the flash, but this isn't a particular problem, since the ND filter cuts flash and ambient light by equal amounts. So if we have 1/200 @ f/11 and then add a 3-stop ND filter, we end up with f/4 which is much wider than f/11 and gives us better control over our DoF. A 3-stop ND filter is usually denoted as an .9 ND filter, where 0.3 is a stop, and hence 0.1 is a third of a stop. A Neutral Density filter that is marked as 3.0 will therefore be a 10-stop ND filter.
As a side comment, please note that shallow depth-of-field is not the same as 'bokeh'. With the recent photo shoot with Ulorin Vex, I decided that it might be as good an opportunity as any to see how a Neutral Density filter affects the results.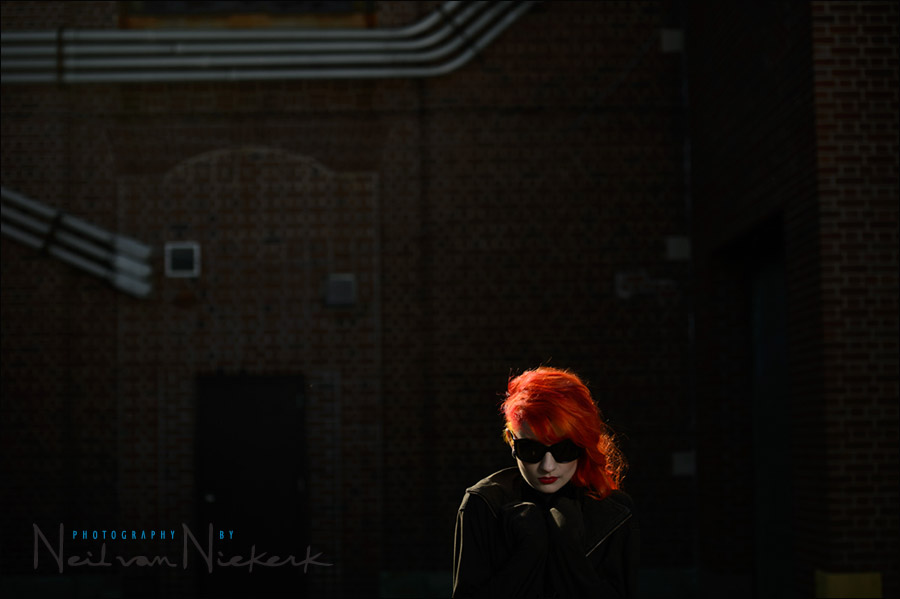 Working outdoors at this old warehouse, I needed a baseline exposure. I based this on the sunlight on her hair in the late afternoon. A few test shots showed that good settings would be: 1/250 @ f/8 @ 100 ISO. Just a stop off from Sunny 16. It's still a good guideline. With the ND filter killing three stops of light, we will end up at f/2.8 which is great. The neutral density filter that I used here: B+W (3 stop) ND Neutral Density filter – 77mm (affiliate) For this test shot, there was some flash, but not enough for correct exposure. Here is the lighting setup. You can see part of the two lights that were used: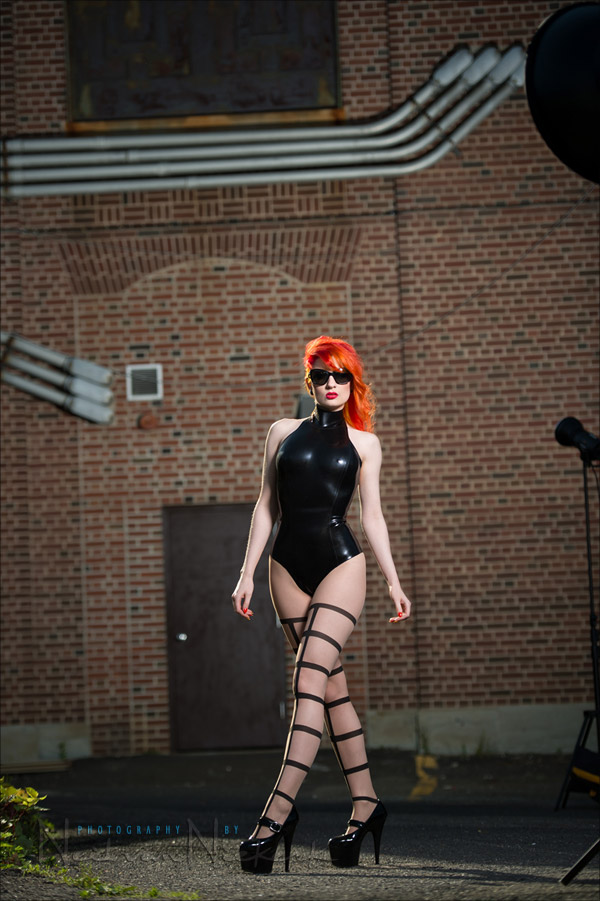 There were two Profoto D1 Air 500 Ws studio lights (affiliate), driven by the Profoto BatPac portable battery (affiliate). The main light on Ulorin Vex was via a Profoto D1 studio light, modified by a Profoto beauty dish with a 22″ sock (affiliate).
If the Profoto B1 flash (affiliate) had been available at the time, then I could easily have circumvented much of this by going to High-Speed Flash Sync (HSS).
---
If I didn't add some light to the building, the background would've gone black, similar to the test shot shown above.  I did this with the second Profoto D1 500 Ws Monolight that had a Profoto 7″ Reflector on it. Using both lights like this, it looked … okay. It lacked something. With Ulorin Vex's dramatic latex outfit, I had to bring in a little more drama with the lighting. So I added a blue gel to the flash in the rear that was lighting up the building. You can see the blue gel on the flash here, held in place with gaffer tape. The blue tint to the background immediately gave it a more other-wordly look.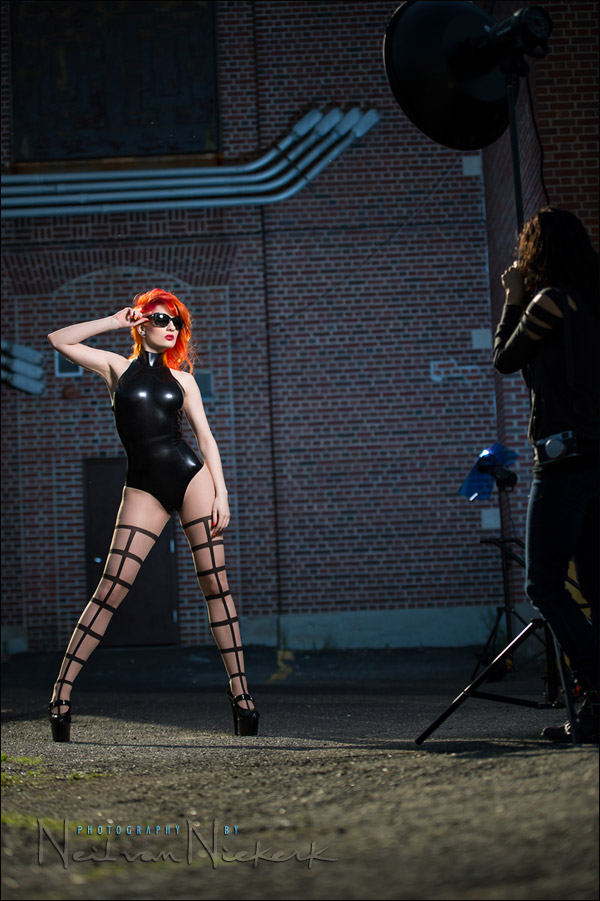 A comparison to show the effect of the blue-gelled background versus no light on the background.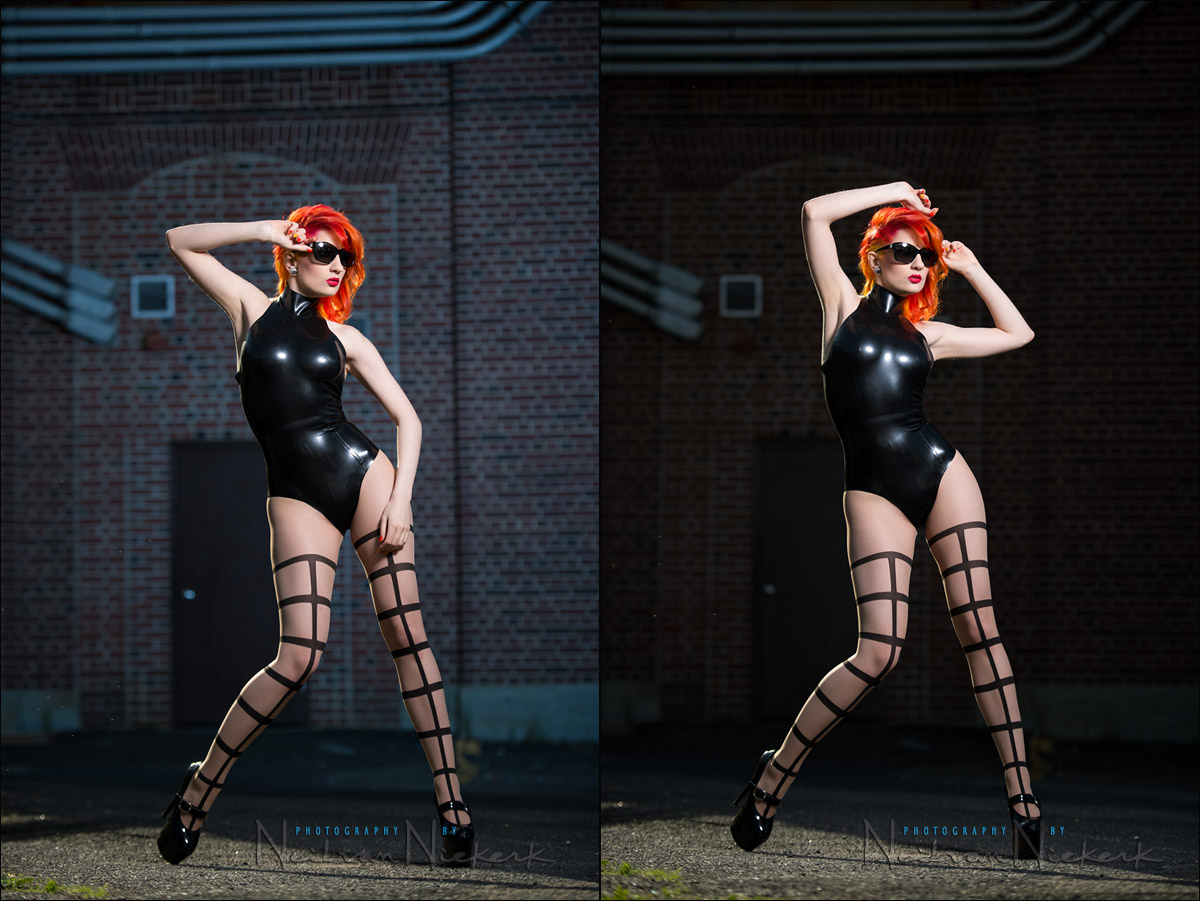 With the aperture at f/2.8 due to the ND filter, I tried various compositions by zooming in and out.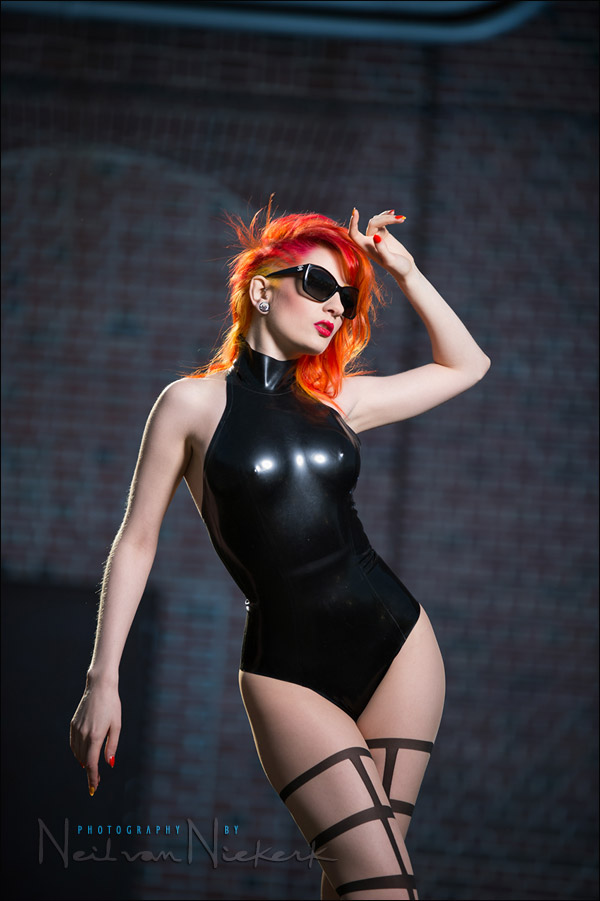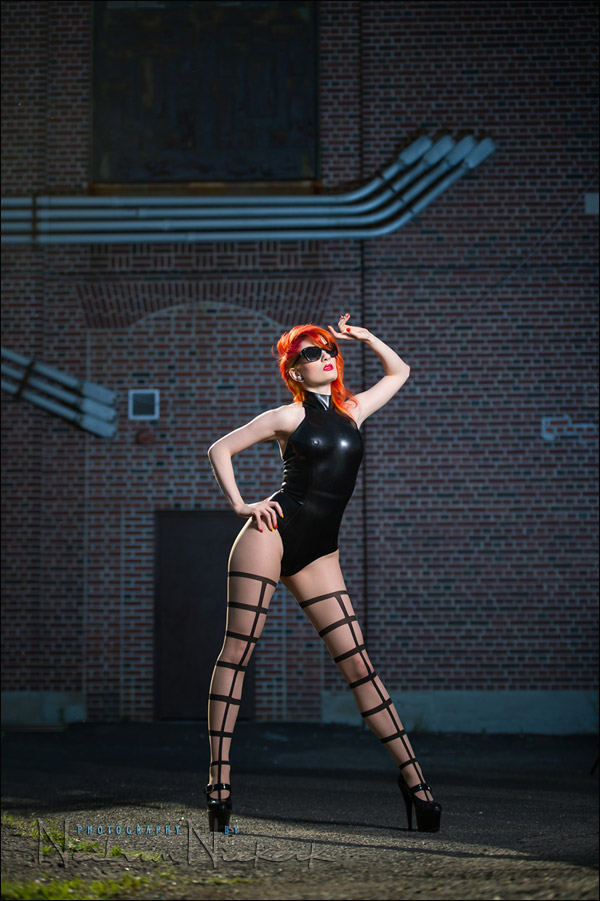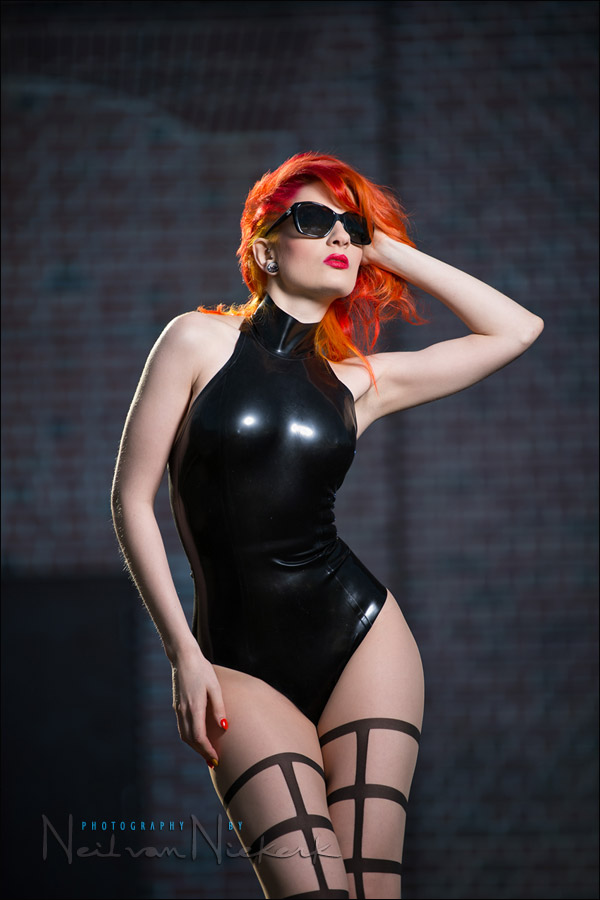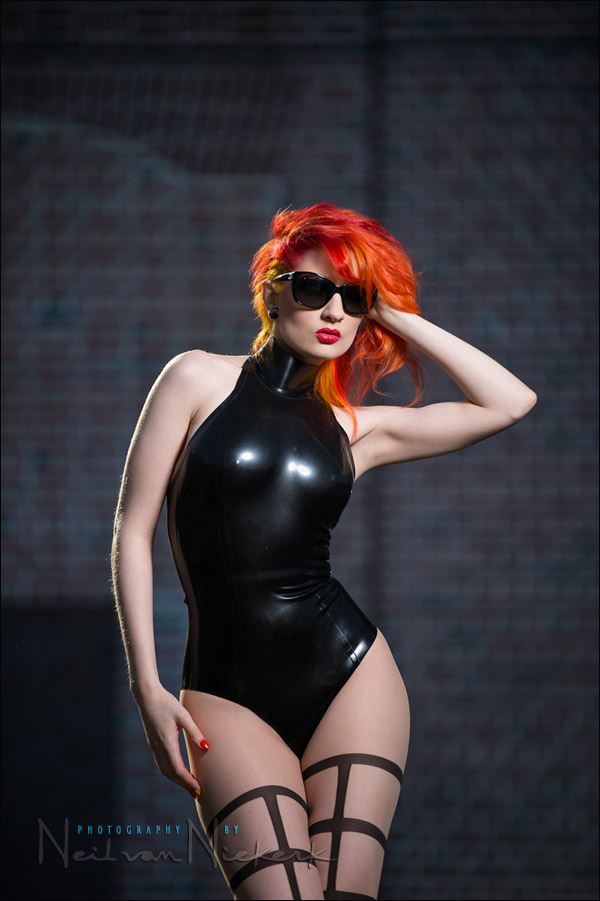 All camera settings at this point were: 1/250 @ f/2.8 @ 100 ISO Let's compare what f/2.8 (using the ND filter) looks like against the "normal" f/8 that I would've had to use. Remember, the base exposure was decided by the sunlight on her hair. The rim-light you see on her arms and body is from the sunlight as well. Perfectly balanced. Right-click and select "open image in new tab" to see these comparison images larger.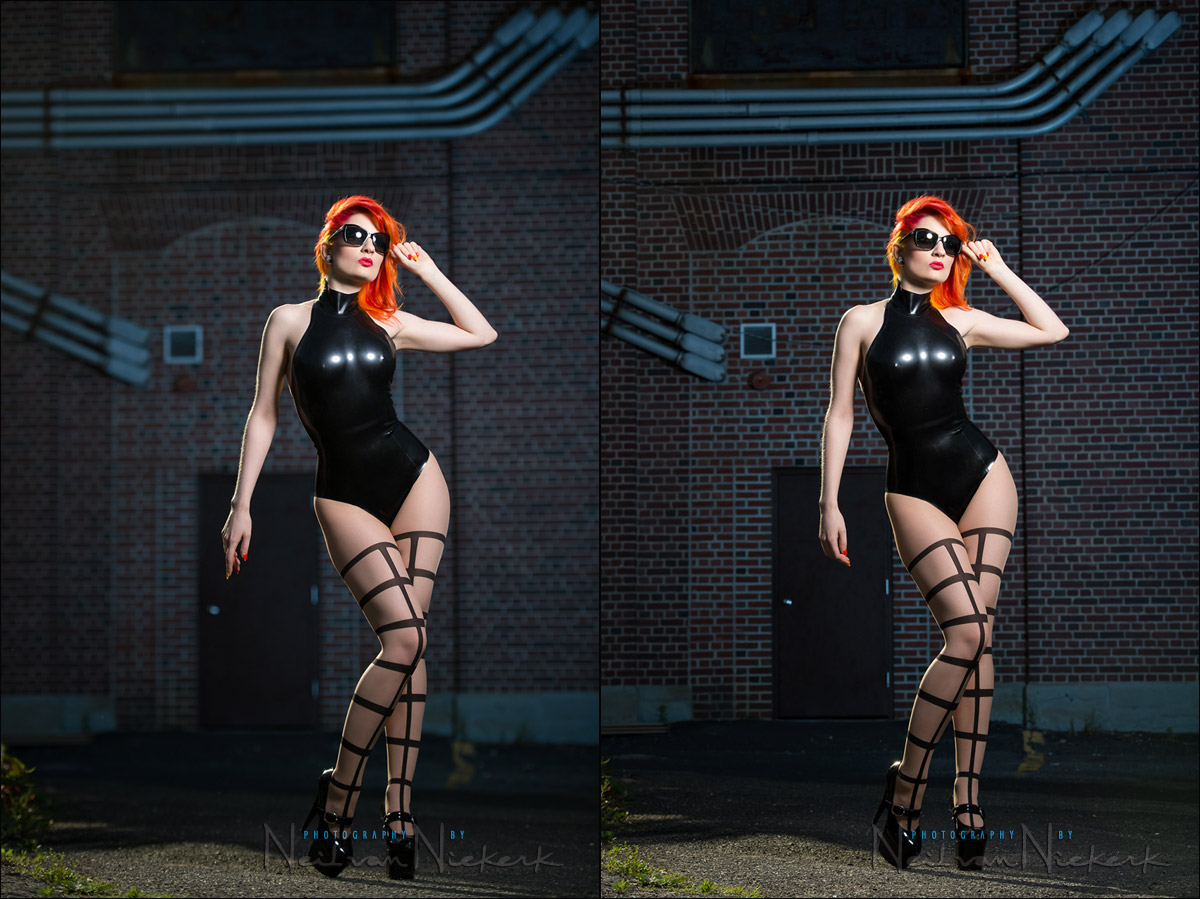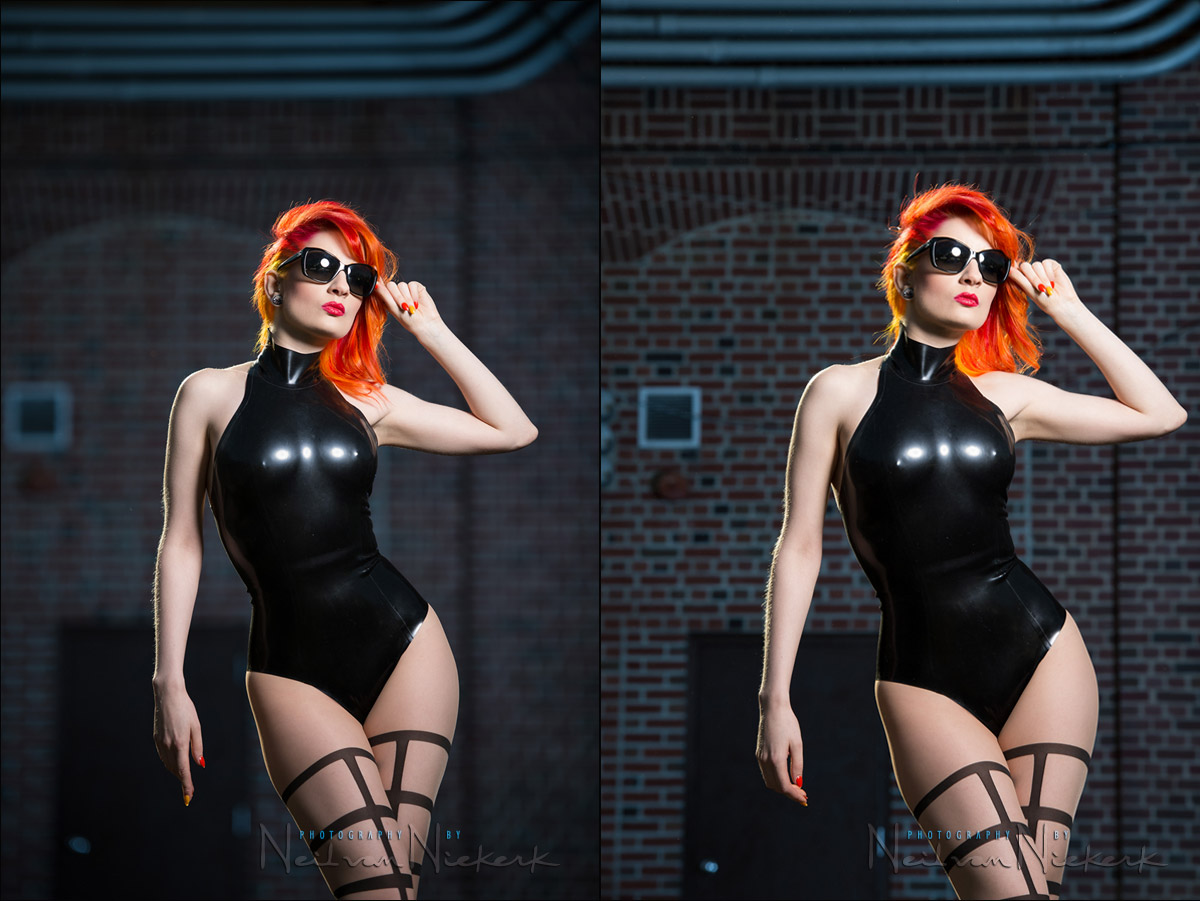 The difference in how that 3 stops change in aperture looks, is quite noticeable. Some may prefer the more pronounced background, and for some scenarios it would be the better choice, but here, imho, the shallow depth-of-field works much better. With the sun adding the rim-light, the shallow depth-of-field makes the separation even more pronounced. (Again, right-click and "open image in new tab" to see these comparison images larger.)
The technique in using a Neutral Density Filter
find your basic exposure
add enough flash to balance the shadowed areas with the brighter sunlit areas.
add the ND filter
change your aperture accordingly to get shallow depth-of-field.
if you run out of apertures, raise your ISO a notch. In other words, if you should end up at f/2 by your calculations, and your lens is only an f/2.8 then raise your ISO by stop to get to f/2.8
if you can't count your aperture settings yet, then simply count the camera clicks.
That really is the gist of it. Slap the ND filter on, change your settings accordingly, and there you have it … shallower depth-of-field when using flash units that can't go to high-speed flash sync. When using flashes that can go to high-speed flash sync, there is a penalty to be paid in terms of loss of effective power / range. Then a ND filter would still be very useful in using your speedlight in bright sunlight. We'll cover this in future articles.
Photo gear (or equivalents) used in this photo session
Nikon D4
Profoto 7″ Reflector for Profoto Flash Heads
Related articles
A little bit of homework
I mentioned that you could raise the ISO if we ran out of apertures:

If you run out of apertures, raise your ISO a notch. In other words, if you should end up at f/2 by your calculations, and your lens is only an f/2.8 then raise your ISO by stop to get to f/2.8

Why didn't I mention the possibility of lowering the shutter speed? What would be the implication?

A comment that was posted on Facebook, stated / asked:

What happened to just turning the power down? and if you need reduction get some elcheapo ND gels and put them on the flash instead of darkening your viewfinder and making your photos fuzzy with filters over the lens.

What would happen in this specific situation of I had turned the power down? And what would happen if I put an ND filter on the flash?