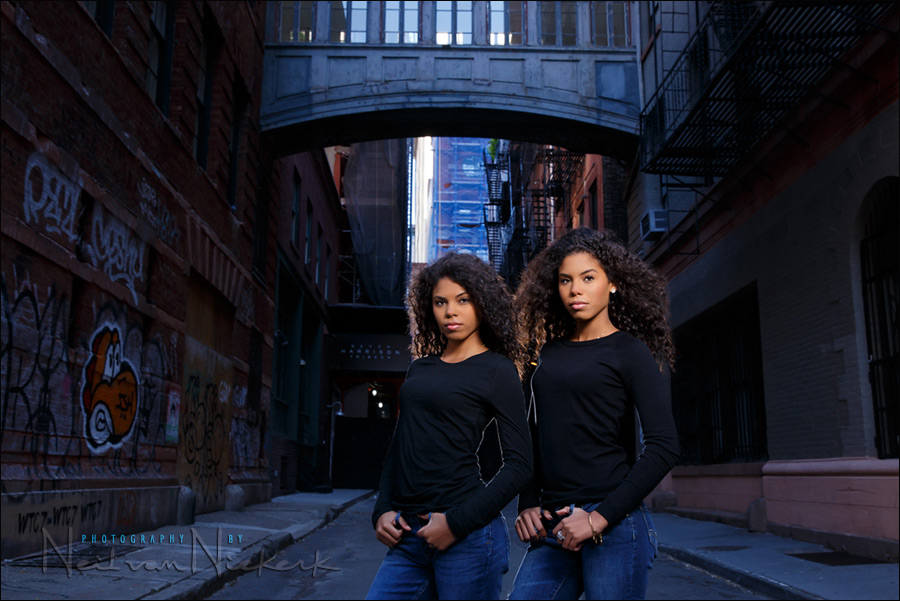 Controlling off-camera flash with a gridded stripbox / softbox
With this photo session of Carina and Carolina, (yes, they are twins), I decided to start off with a landmark spot in New York – Staple Street. That bridge walkway between the two buildings, and this surprising alley has somehow become a landmark. Yet, it works. That walkway makes a perfect frame at the top of photographs.With the tall buildings in Manhattan, you usually get brighter areas or sky towards the top, or you get more buildings in the background. But here, you get that neat visual border. Nice!
Shooting on this late Fall day, in the shadows, the colors went muted and cold. The background turns to bluer hues because I decided to use flash for my lighting – and I didn't want to be bothered with gelling my flashes somehow to match the very cold tones. In this case though, their black tops and blue jeans very much fit the colors and hues here … which makes their faces pop out even more in the final image.
These two photogenic girls are naturals at posing and take direction extremely well – making this one of those shoots the subjects (and setting) really help carry it to give a set of images that are eye-catching.
More about the lighting and the setup: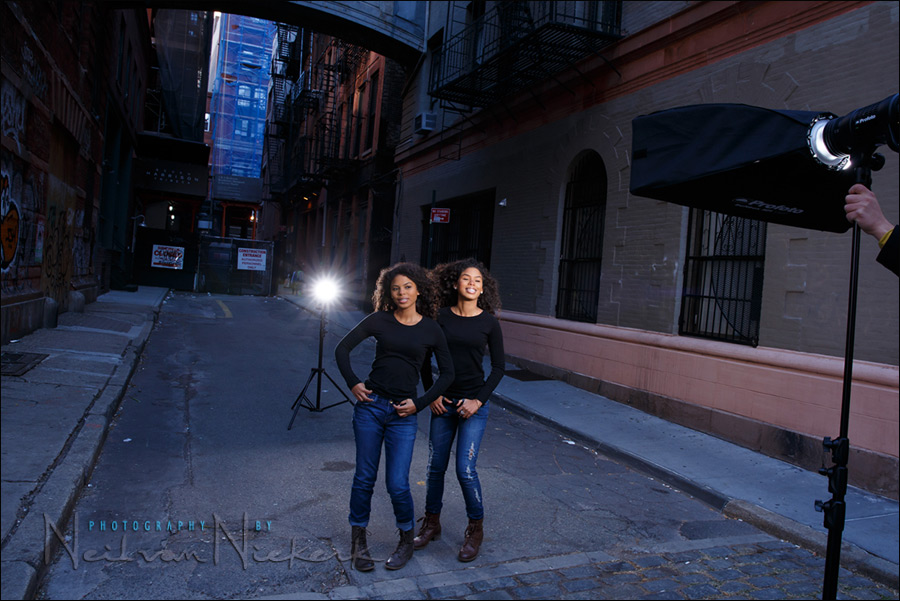 Best light modifier for off-camera flash – gridded softbox / stripbox
I think most photographers, when they start off with off-camera lighting, and move beyond a bare speedlight, tend to go towards umbrellas and soft boxes. Certainly good obvious choices, and we do need these tools in our lighting arsenal. Specifically, an umbrella is so easy to set up and inexpensive, that it should really be the first light modifier we buy. But stepping further out from that, where the magic lies, is when we can control our light to a great degree, even on location. The wonderful thing about the smaller gridded softbox / stripbox, is that you can really control where the light falls … and how the light falls off. Much more so than you can with a regular softbox, or a beauty dish with a sock.
With this shoot, I wanted a portable light modifier that gives soft light, but which I can control how the light is spread. When I'm using more than just a speedlight (and a softbox) on location, I usually vary it up between a Profoto beauty dish (affiliate) and a Profoto RFi 1'×3′ softbox (affiliate).
As you can see from that photo session with the Modern Gypsies, the beauty dish with a sock throws a fairly wide beam, and it becomes tougher to control the light, or feather the light how you want it. A gridded stripbox takes care of that. Feathering the light with a gridded stripbox gives you quite remarkable control over the light, and how it is spread … while remaining soft enough. By the way, the grid is often called an egg-crate, if you want to search for more info.
camera settings: 1/125 @ f/8 @ 800 ISO
---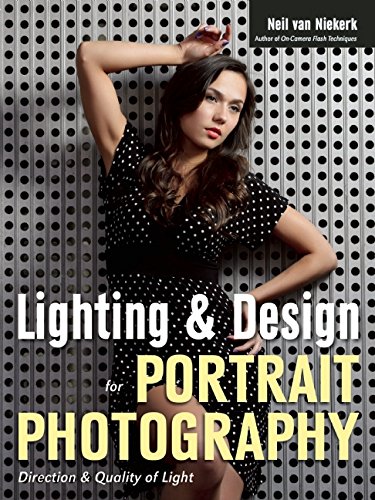 Lighting & Design for Portrait Photography
Lighting & Design is a follow-up of sorts to Direction & Quality of Light. It's a slightly eclectic mix, discussing the thought-process with various scenarios shooting portraits. The examples use available light, bounce flash, off-camera flash as well as studio lighting.
The idea is that in every one of the 60 sections, there is something to be learnt and applied, regardless of your level as a photographer or where you shoot – all shaped to form a cohesive narrative arc throughout the book.
You can either purchase a copy via Amazon USA or Amazon UK. The book will also available on the Apple iBook Store, and Amazon Kindle.
---
Recommended gridded softboxes for speedlights
Staying with Profoto gear, one option is the Profoto RFi dual-speedlight Speedring (affiliate). Then the larger soft boxes (not just Profoto brand), that use a speed-ring, can be used. So if you want to get an accessory that allows more juice than a single speedlight, and also allows you to use more serious light modifiers, then check out the Profoto RFi Speedlight Speedring. It is very sturdy, as you'd expect from Profoto.
Equipment used during this photo session
Related articles