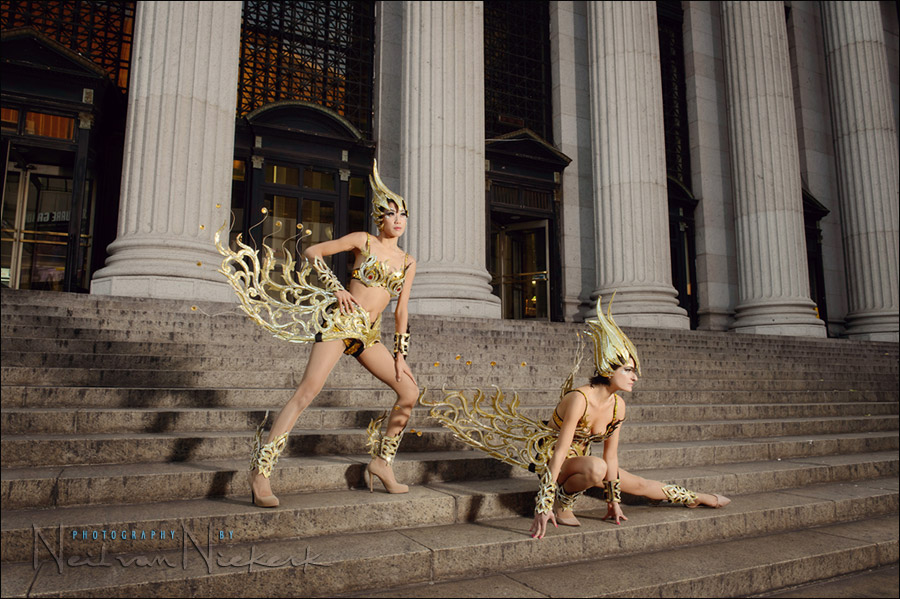 Photo session – Modern Gypsies – golden birds
Another series from the recent publicity photo session with the Modern Gypsies, with two of the girls in costume, as golden birds. With costumes this detailed and complex, I wanted a simpler background. One that didn't intrude, and somehow complemented the subjects. Classic architecture!
Here are the behind-the-scenes images to how we came to some killer photographs for them …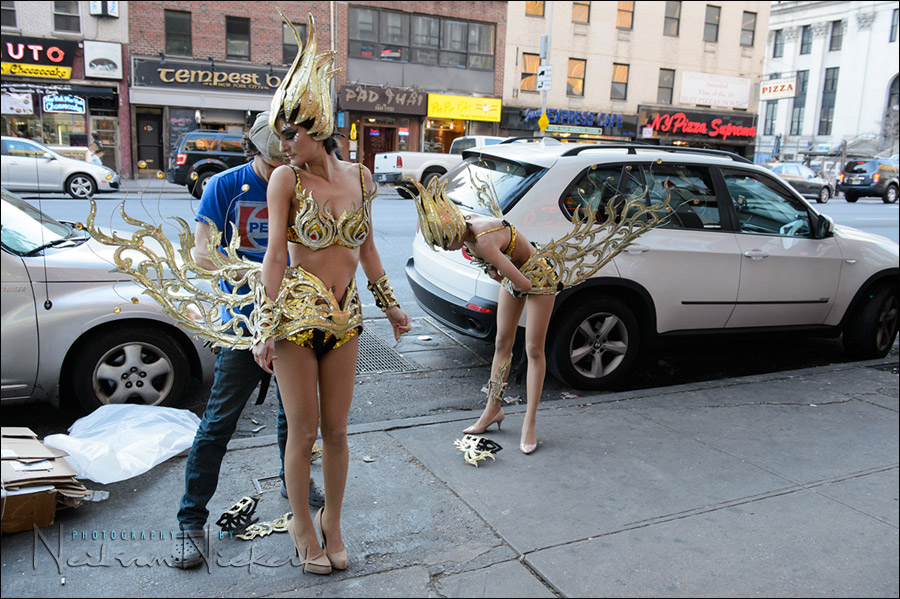 We started half a block away from where we were going to shoot, getting ready in the street. This of course gets a lot of attention from the passersby on this busy Manhattan Street. But on this day, there was a distraction of people loudly arguing and shoving each other two shop-fronts away. Interesting how something like the two girls getting ready in these costumes, aren't the most interesting thing happening right there and then.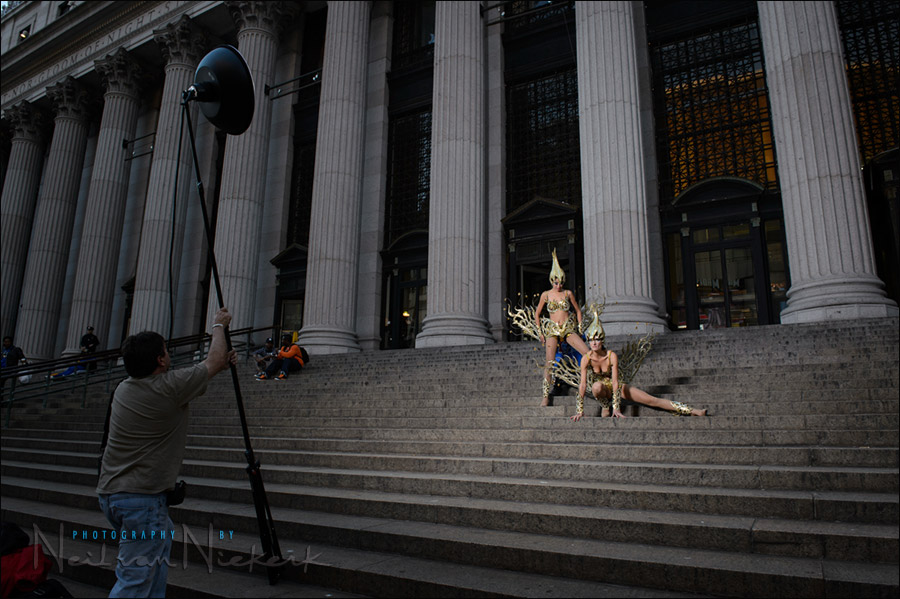 On the steps of the post office – the destination I had in mind for this part of the photo session.
The lighting was the portable and trustworthy Profoto Acute B2 600 Ws powerpack  (affiliate) with a Profoto beauty dish (affiliate) and a sock over the beauty dish.
For comparison, here is the available light shot so you can see the effect of the flash.
The photograph, pretty much straight out of camera, except for a slight tweak of the color balance.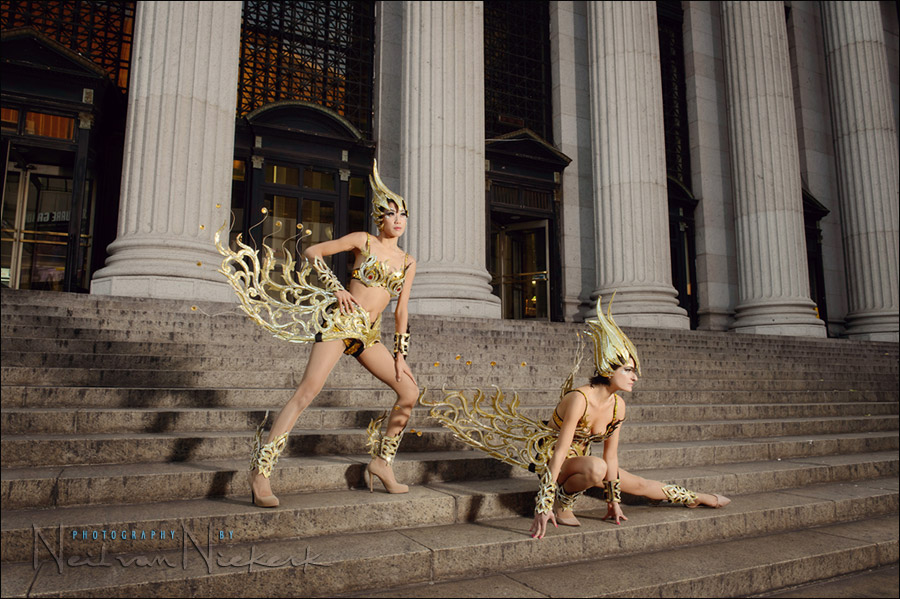 camera settings: 1/100 @ f/8 @ 800 ISO
Since the theme is Golden Birds, I wanted the final photograph to be much warmer than the neutral image. So I snazzed it up in post-processing, using a Photoshop filter.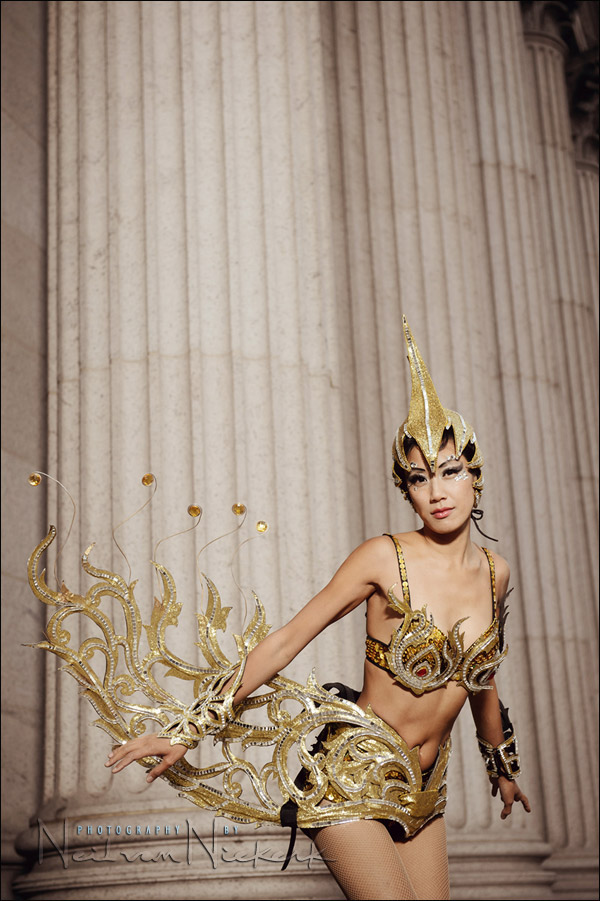 I also did closer-up shots of each of the two performers. Again, the image was post-processed to give it a really warm tone.
camera settings:  1/160 @ f/4.0 @ 800 ISO
And for comparison, the photo without lighting from the Profoto setup, and the photograph un-processed.
Photo gear (or equivalents) used in this photo session
More of this photo session
More info about the Modern Gypsies
A little bit of homework
Why did my assistant pull back the flash and point it slightly upward, instead of directly at the subjects?