Photo session – Modern Gypsies – stilt-walking showgirl
On the same day that we did the Silver Birds photo session with the Modern Gypsies, we did a few other setups, including this one where Irene was on stilts … as a showgirl. Since the photos are meant for their promotional material, we needed to make the images vibrant.
We scouted around a warehouse district of Brooklyn, looking for interesting backgrounds. I felt that this huge mural would make a colorful background compared to the bright white costume.
Still working with the usual Profoto Acute B2 600 Ws powerpack (affiliate) with a Profoto beauty dish (affiliate) for our lighting. Lots of juice in a very portable arrangement, and easy to set up.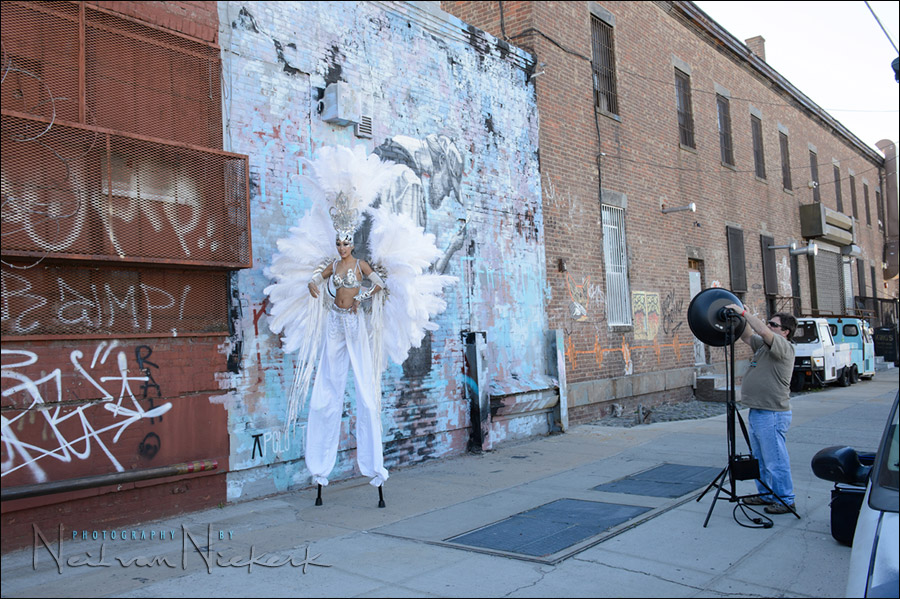 Setting up. Here you can get an idea of just how tall Irene was on those stilts. Fortunately, the Manfrotto 1004BAC tall light-stand (affiliate) goes as high as 12 feet. I didn't want the light to come from below her – I dislike horror movie lighting. So the light still had to come in from an appropriately high angle.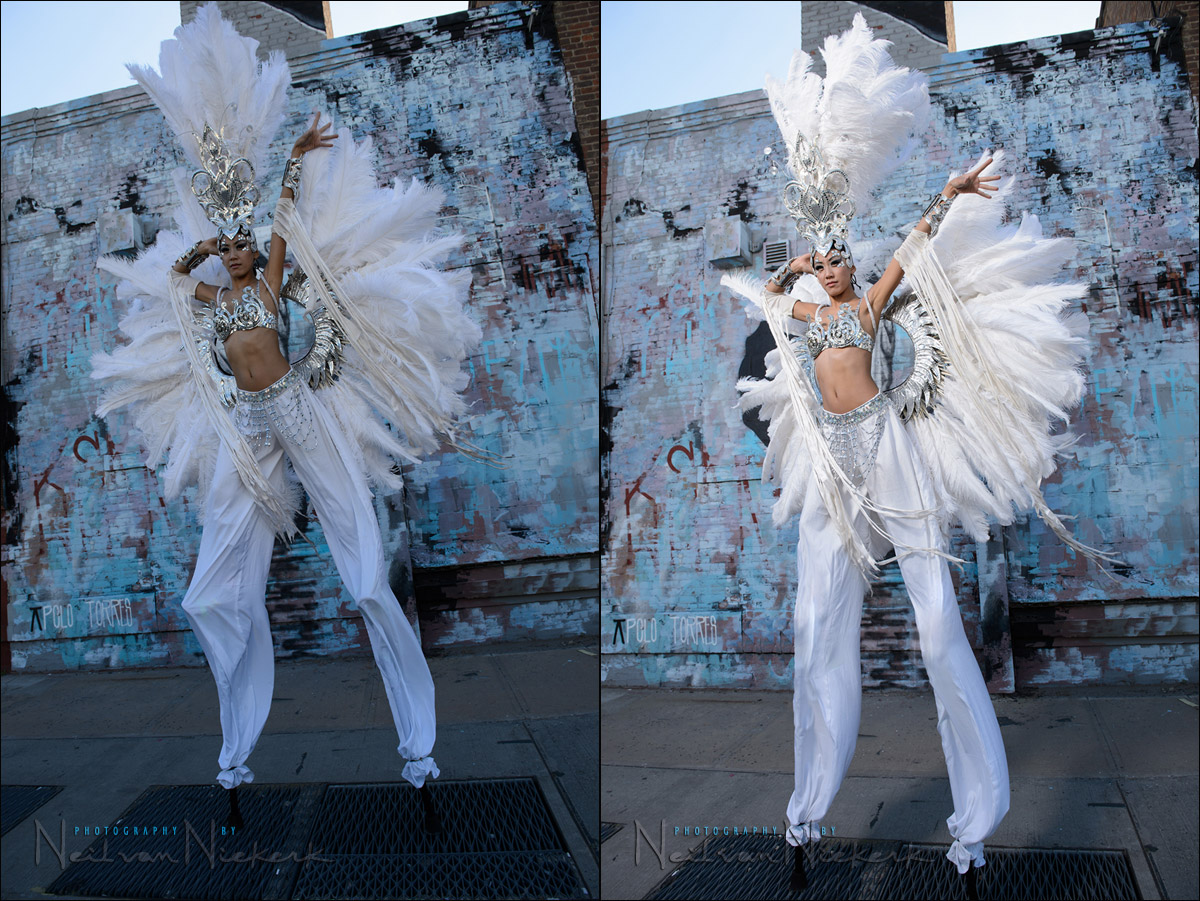 Camera settings: 1/250 @ f/5.6 @ 200 ISO
I intentionally under-exposed the available light so that the flash would make the image pop. The main image here was over-exposed by 2/3rds of a stop because I asked Irene to move forward and I didn't adjust the power on the Profoto. It was easy enough to pull the exposure down on the RAW file with no detriment to the final image.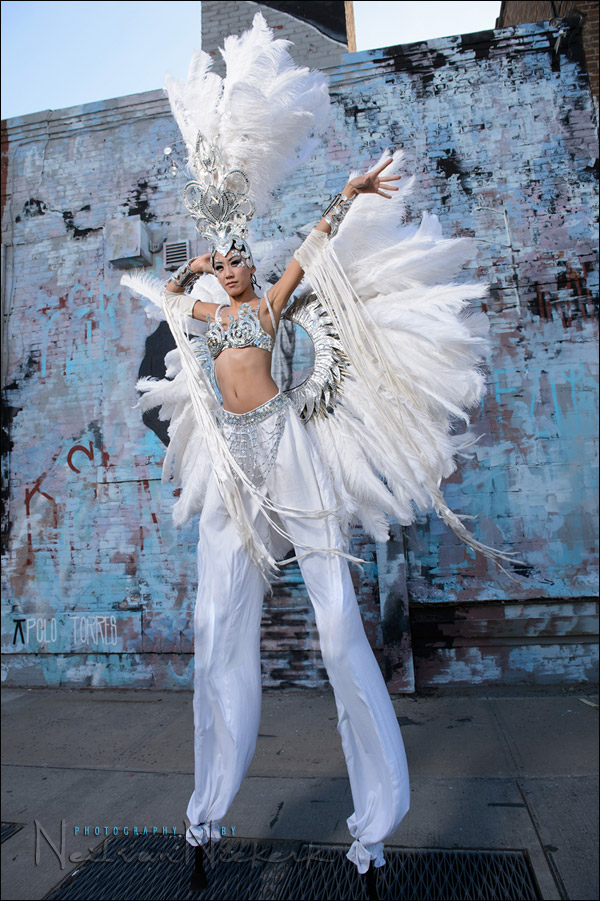 I felt that even though this background was complementary, we didn't really get a sense of Irene's height on the stilts in the final images.
So we moved around the corner and shot down the sidewalk. The sun-drenched look (along with the differently scaled architecture), gave a completely different look to the images.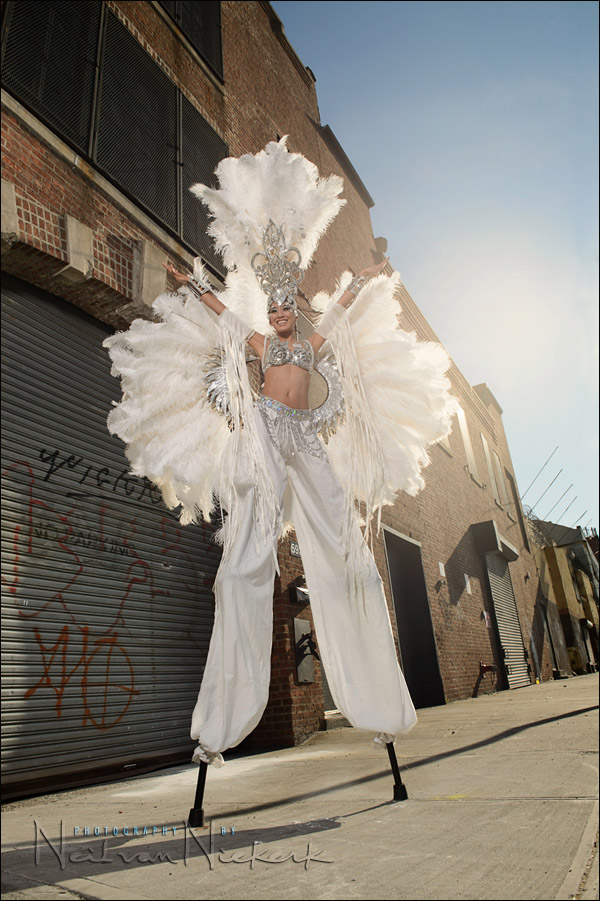 Camera settings: 1/250 @ f/5.6 @ 100 ISO
The comparison photo to show the effect of the lighting.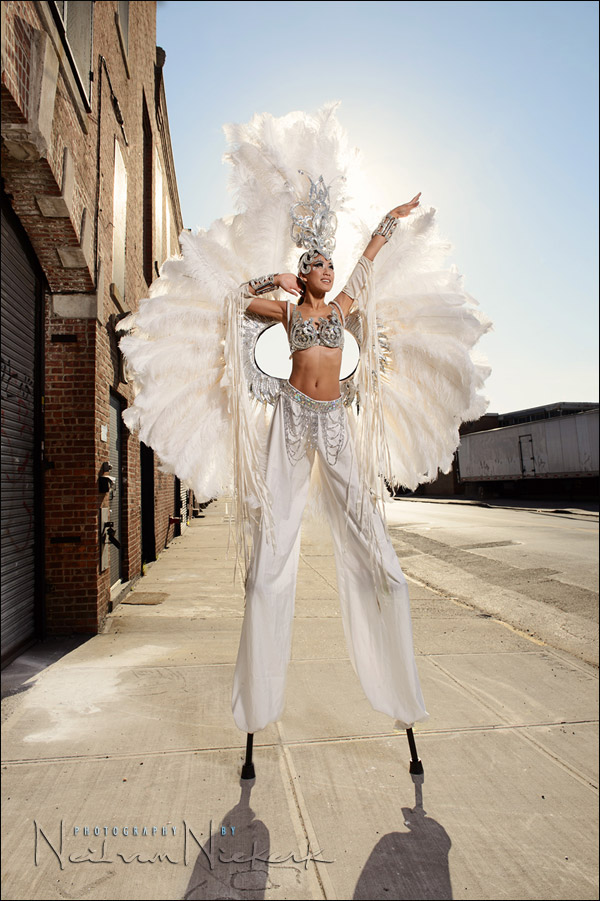 I do love this lighting setup – the Profoto Acute B2 600 Ws powerpack (affiliate), with a Profoto beauty dish (affiliate) (and a 22″ sock over the beauty dish.) The recycle time is fast, and it isn't a problem to dump enough light to match the sun on a bright day.
And if you were wondering just how Irene got her head-gear on … this is how we went about it. Peter Salo, who helped me on the day, steadying Irene backwards.
Photo gear (or equivalents) used in this photo session
The rest of this photo session
More info about the Modern Gypsies