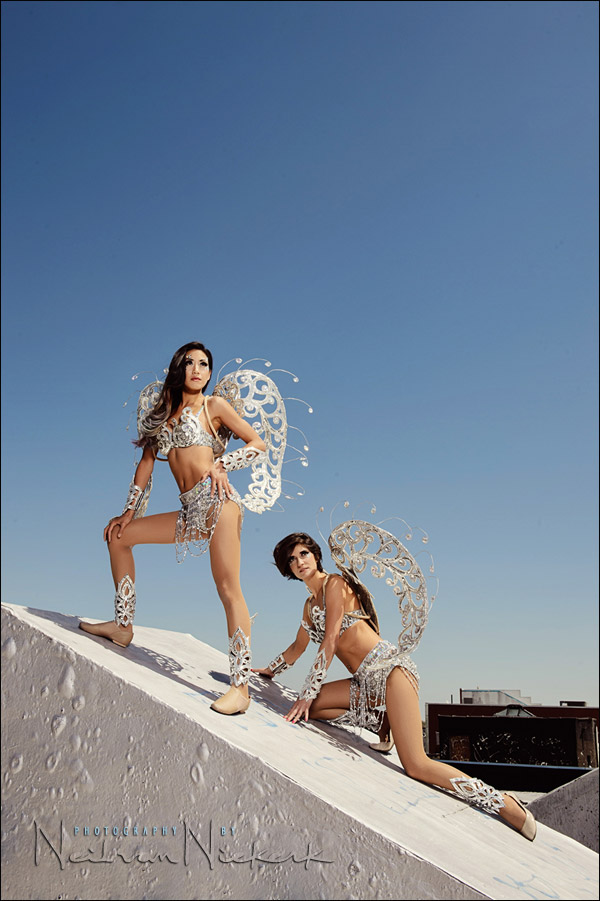 Photo session – Modern Gypsies – Silver Birds
Regular followers of Tangents, and everyone who has a copy of my book, off-camera flash, should be familiar with the Modern Gypsies. They are a performance group in Brooklyn and I count myself fortunate that I sometimes get to collaborate with them on promotional photos for them. It's always exciting to work with inspiringly creative people. At the start of the month, we got together for another series of photo shoots, of which this is the first of the four. I'll post the other sections in follow-up articles.
The theme here – Silver Birds. This silver-painted rooftop in Brooklyn, and the expansive blue sky seemed to work work well as complementary colors.
The sun is brutally bright, so I knew I'd need take along powerful off-camera flash. For ease of use, and for portability, I went with the usual Profoto Acute B2 600 Ws powerpack (affiliate) with a Profoto beauty dish (affiliate) and a  22″ sock (affiliate) over the beauty dish.
With that setup, I was able to easily pump out Sunny 16 kind of flash – 1/250 @ f11 @ 100 ISO. Those are the settings for all the images here. I varied the power of the AcuteB powerpack between full-power and half a stop down from full power for these images. The way the Profoto beauty dish clamps on, is super-easy. Fast.
The image at the top of the article was warmed up in post. Here is the neutral version of that photo.
The pull-back shot while prepping. My friend, Peter Salo, was helping (and Instagramming) on the day. Michael Saab, the driving force behind the Modern Gypsies, is in the blue T-shirt – aka PinkMan.
An initial setup which didn't quite work because of the steep slant to this doorway's roof. But it shows the huge difference the additional lighting makes, in comparison to the ambient-light only shot.
I would love to try this again with a more New York / Gothic building, and a dramatic sky. The sky was so clear blue here that it looks like a studio backdrop. That said, the quality of lighting from the beauty dish (with the sock), is just so much better than hard direct speedlight would've given.
Photo gear (or equivalents) used in this photo session
The rest of this photo session
More info about the Modern Gypsies