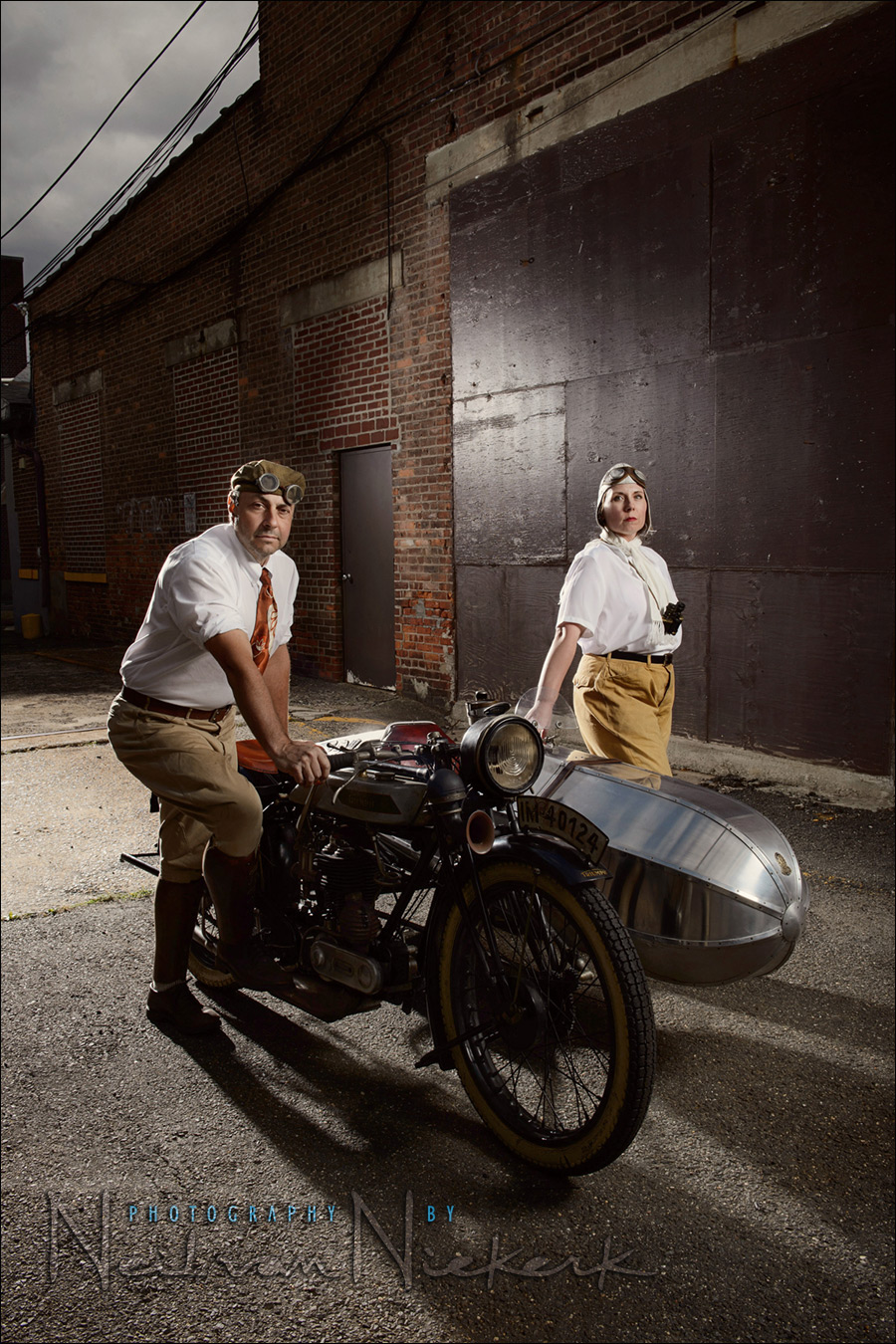 Photographing a vintage motorbike on location with Profoto lighting gear
I'm getting to meet so many people while photographing interesting subjects for my next book, 60 Portraits, that I was bound to meet some truly interesting characters. John collects vintage … oh, everything. Most impressive in a way, is John's workshop where he maintains his two vintage era motorbikes and a Model A Ford. The tools in his workshop are all authentic to the era … and they work. The way John describes it, it actually makes sense in the way he maintains  everything with hand-tools and lathes and such.
His one motorbike is from WW1 era, and the other is this 1928 German-built Triumph. The sidecar was made by Hindenburg Metalworks. Yup, the zeppelin guys. John's friend, Barbara, frequently accompanies him to shows and rallies, and came along for this photo shoot. After all, there is a side-car!
I photographed a few sequences of John and Barbara with this motorbike, using different setups. I liked this dramatic series the most, with the light from behind casting a shadow in front of them. I wanted the light to etch the frame of the motorbike and side-car, without revealing too much detail – I wanted this to be a portrait of John and Barbara. However, I took a number of other images, where the motorbike is better lit. Just to have the variety. Such a unique opportunity doesn't come along that often, so I had to make sure I got variety in the images.
Now, the techie details about the photograph:
camera settings were 1/250 @ f/14 @ 200 ISO
As always, the pull-back shot to show the lighting setup …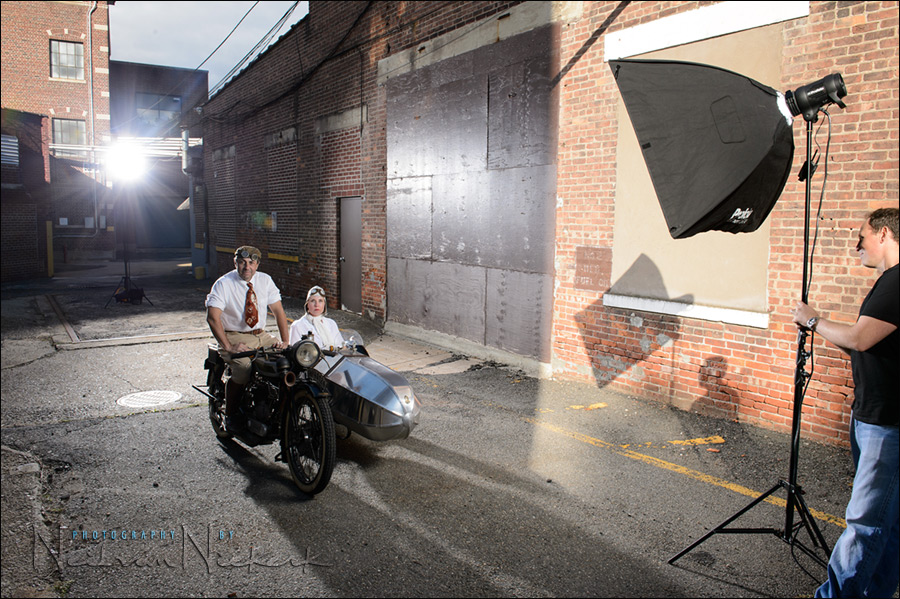 The light from behind was from a Profoto 50 degree Magnum Reflector (affiliate), because I needed a big light behind them. I needed the light out of shot, but strong enough to cast enough light on them to create that shadow in the front. The Magnum Reflector concentrates the beam. I even used it in some shots for flare.
This photo session was before the Profoto B1 TTL flash  (B&H / Amazon) was released, so I had to rely on a Profoto D1 studio head, and the portable battery pack, and the Acute B2 power pack. (It would've been so much easier with two B1 flashes!)
The Profoto 50 degree Magnum Reflector (affiliate) was mounted on a Profoto Acute B2 600 Ws powerpack (affiliate), which is a nicely self-contained powerful light giving 600 Ws of juice.
The light in the front is Profoto D1 Air 500 Ws studio light (affiliate) mounted in a Profoto RFi 3'x4′ softbox (affiliate). This creates a large soft light on them. The Profoto D1 unit was powered by a Profoto BatPac portable battery (affiliate). This main light came from camera-right, and not from the camera's point of view. This helps maintain the dramatic quality of the light, and not flatten it out.
The pull-back shot was taken at 1/125 @ f/11 @ 200 ISO, so there is nearly two stops more available light in this image than the one at the top.

And just for comparison, a test shot at 1/250 @ f/11 @ 200 ISO to show that the two flashes were doing all the work in terms of lighting my subjects. And that is how I wanted it.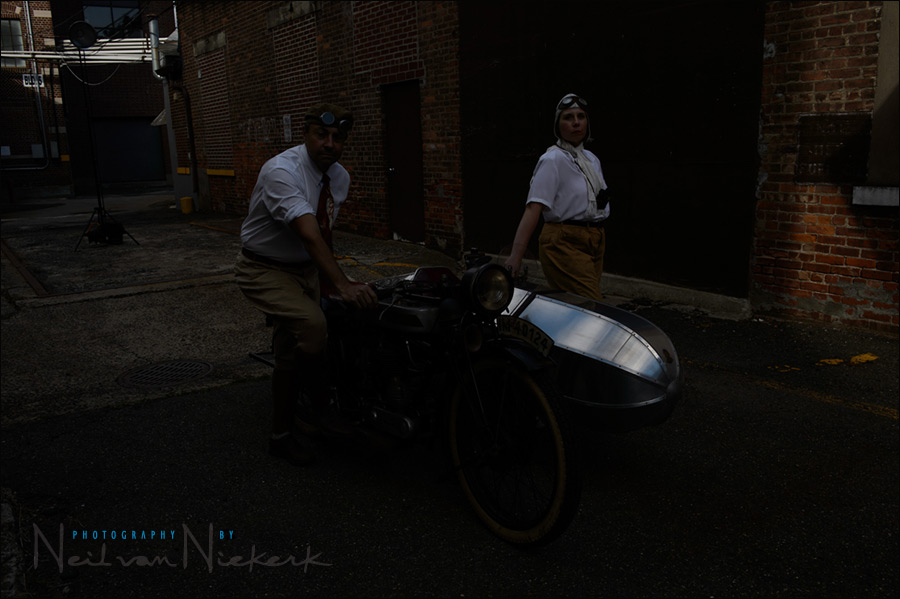 For a few images in this sequence, I allowed the lens to flare. Because the light in the background was so strong, I had to use my hand on the edge of the lens to control the amount of flare. I had to shoot and check a number of times, until I had a few images where the flare wasn't too over-powering.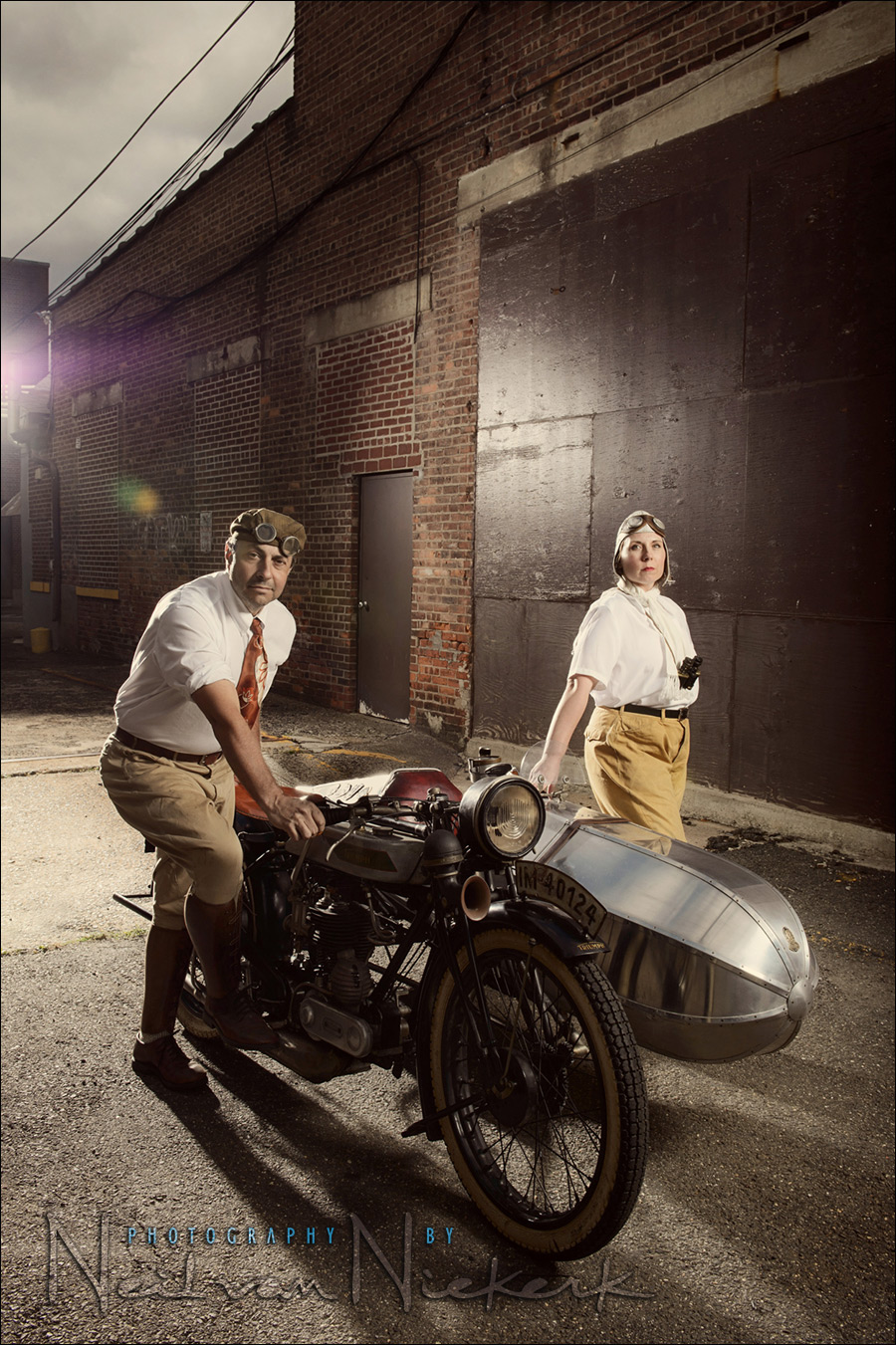 In terms of the processing, I ran one of the HDR filters in Nik's collection, and reduced the opacity. That gave both the main images a certain crispness and brought out some shadow detail. Then I used the RadLab filters to add a Vintage flavor, via one of the presets I created in RadLab:
Camera settings & gear info
Related articles