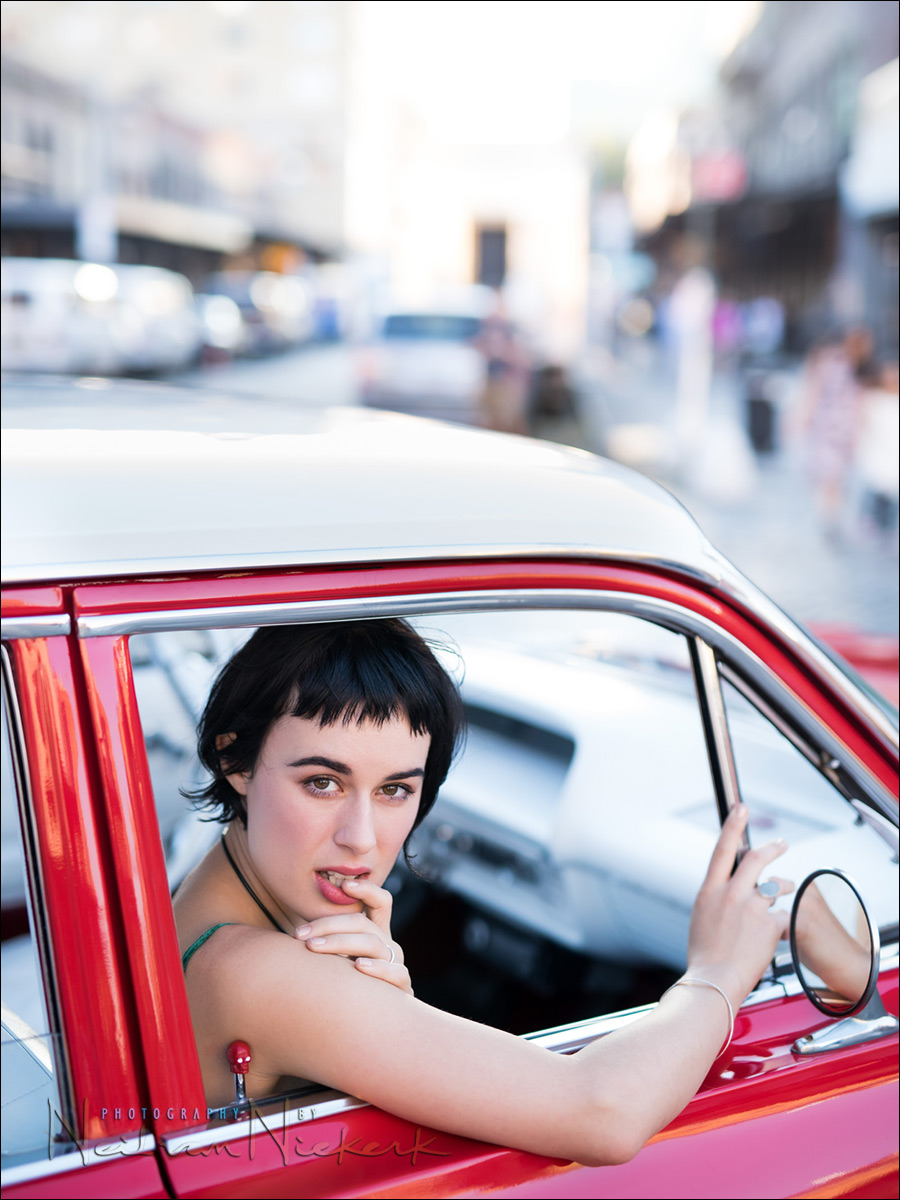 review: Sigma 50mm f/1.4 ART lens
The moment you hold the Sigma 50mm f/1.4 ART lens (affiliate) in your hand, you know it is a serious lens. It is hefty. It feels like quality. It just feels like they took craftsman-like care in designing and manufacturing this lens!
Sigma has somehow turned their image around from being just a third-party lens-manufacturer, to a company that needs to be taken seriously for quality optics. It started with the Sigma 35mm f/1.4 ART lens, which proved to be a spectacular lens! (Here is my review: Sigma 35mm f/1.4 DG HMS art lens.)
There's been an incredible buzz around this lens – the Sigma 50mm f/1.4 ART lens. The initial reviews are unanimously impressed with this lens' optical performance. Right up there with the very best. When the 50mm lens was first announced the rumored price was around $1,500 but with its official release, it came in at a relatively moderate $949.00 … but for that price, we'd expect a truly quality optic.
The good news – it really is all that! I would heartily recommend this lens.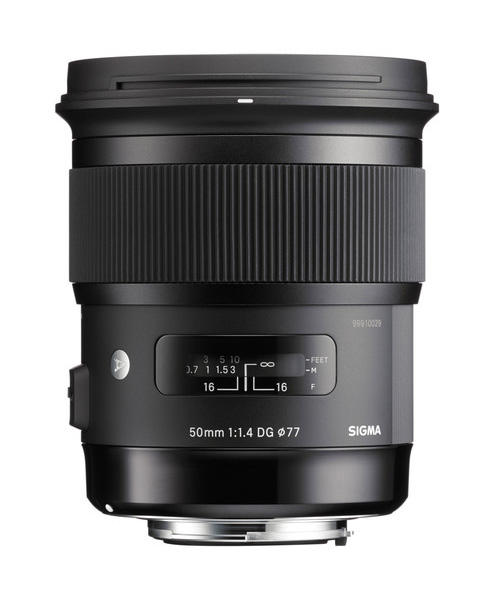 sharpness of the Sigma 50mm f/1.4 ART lens
To test the Sigma 50mm lens (Nikon version), I compared it against Nikon AF-S 50mm f/1.4G and the Nikon AF-S 58mm f/1.4G (affiliate). When I first tested the Nikon 58mm lens, I liked it. Here's my review: Nikon 58mm f/1.4G lens. The image quality was a slight improvement over the Nikon 50mm lens. But it is an expensive lens at $1,700 so I thought it would be a good complement to this review, with the Sigma coming in half-way in price between the Nikon 50mm and 58mm lenses.
Yes, I will do a follow-up review comparing the Canon version against the Canon 50mm f/1.4 and Canon 50mm f/1.2L
While shooting images for the review of the Nikon D750 camera, and also shooting images for the article on full-frame vs crop-sensor comparison, I took numerous photos of Glass Olive , a New York model.  I also took photographs specifically to see how the Sigma 50mm f/1.4 ART fared at widest aperture … and I consistently came up against the Sigma completely out-performing the other two lenses.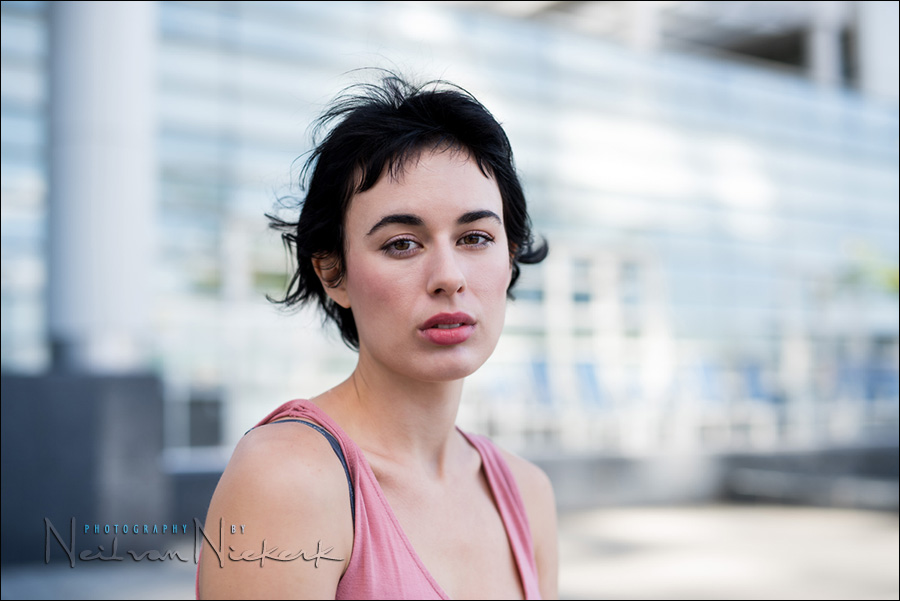 These 100% crops of images shot with the various lenses, with the camera on a tripod, are typical of the results. I found I could easily pick out the Sigma images while flipping through the numerous photos, simply by how sharp the images were when viewed at full resolution.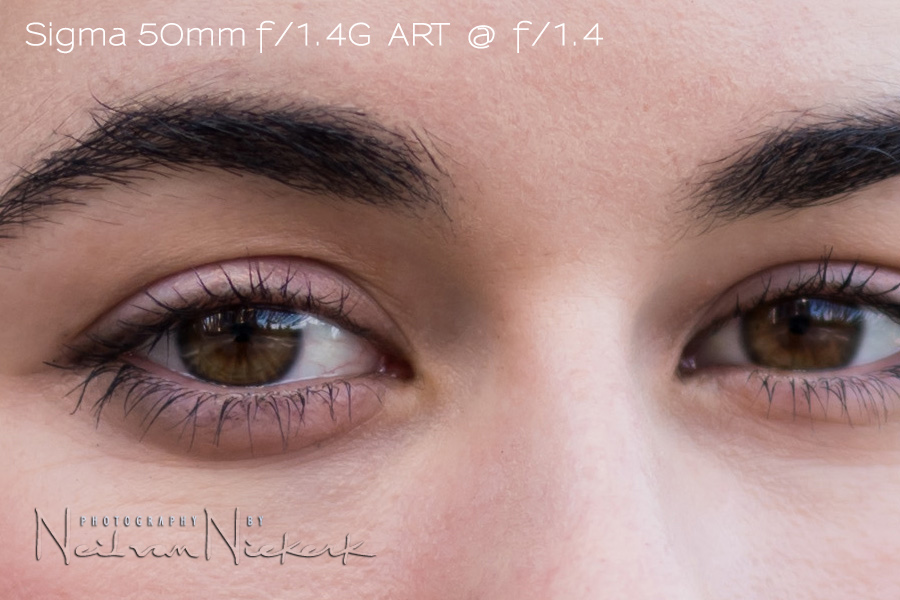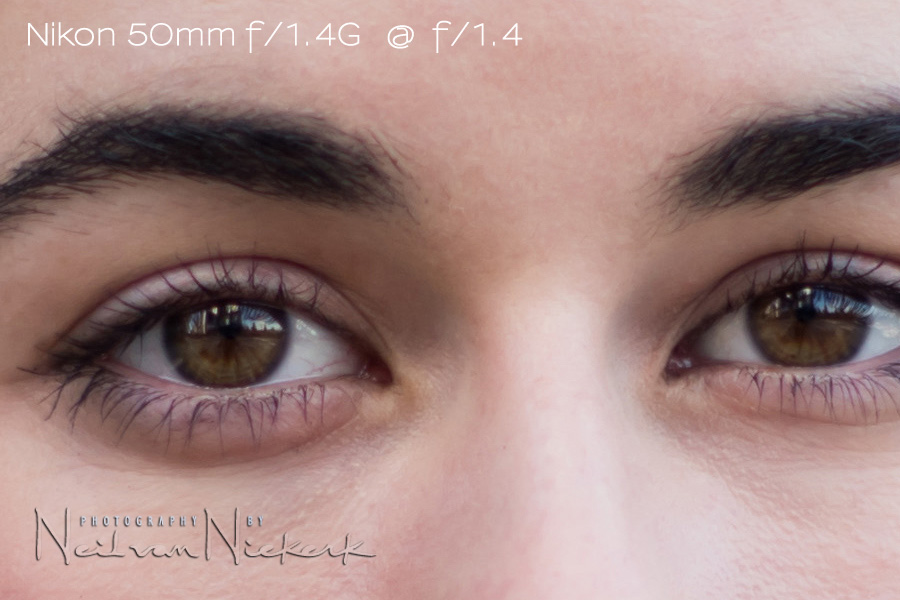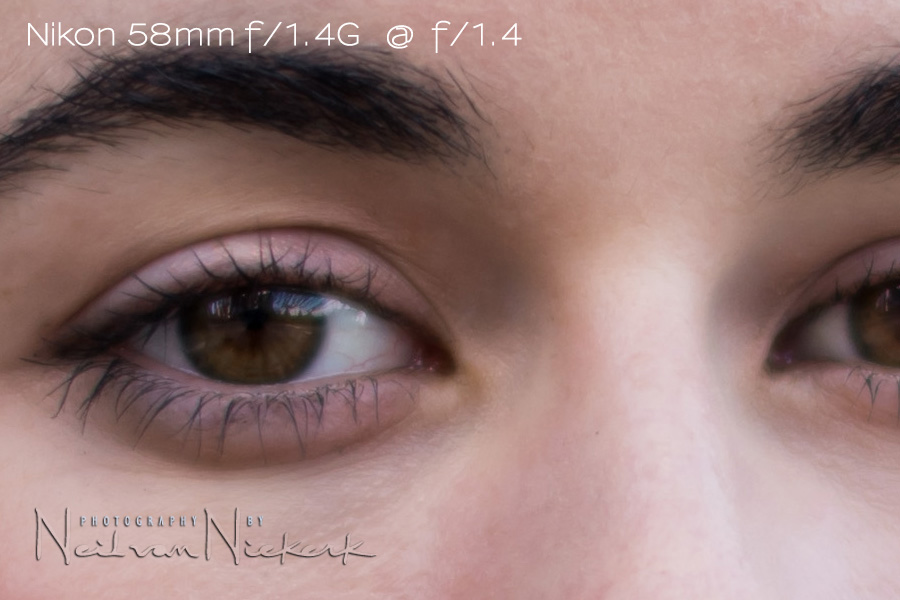 The Nikon AF-S 50mm f/1.4G and the Nikon AF-S 58mm f/1.4G (affiliate) had about equal sharpness, with the 58mm sometimes displaying this slight haziness. Neither were as sharp as the  Sigma 50mm f/1.4 ART lens (affiliate) at the wider apertures. Noticeably so!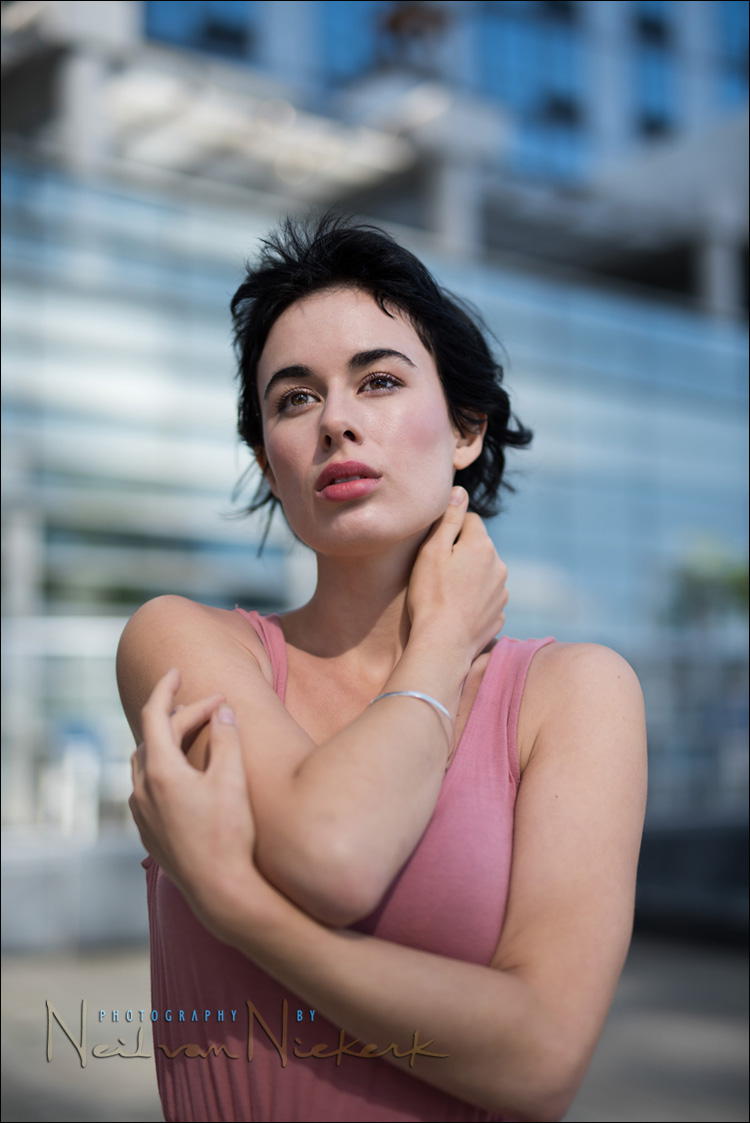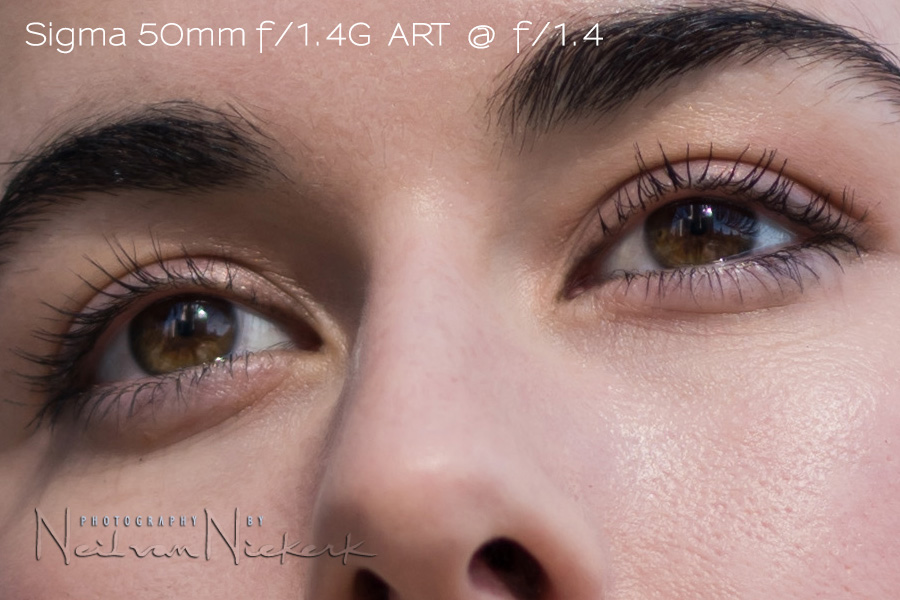 Sequence after sequence, shot at various places, with the Sigma giving razor-sharp images at f/1.4
Edge-to-edge sharpness of the Sigma f/1.4 ART lens
The images above all showed superb central sharpness, but a lens also has to show excellent edge-to-edge sharpness to be impressive.
For these, I had to resort to photographing walls. Really, as uninteresting a subject as a wall might be, it is about the best option when you want to shoot a flat subject to see edge-to-edge sharpness. Again, I shot numerous sequences at various wide and wide-ish apertures, with consistently results like this – the Sigma beat the other two lenses hands down!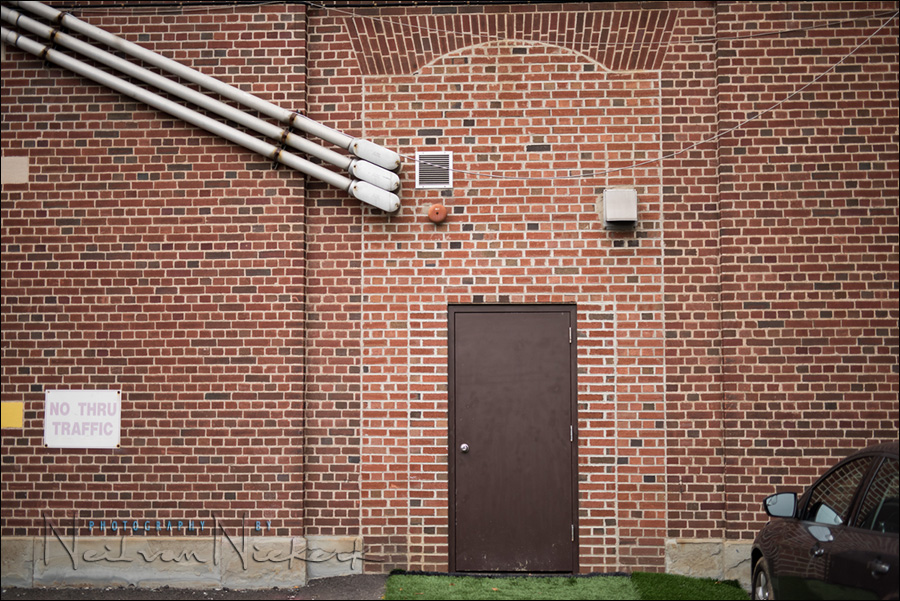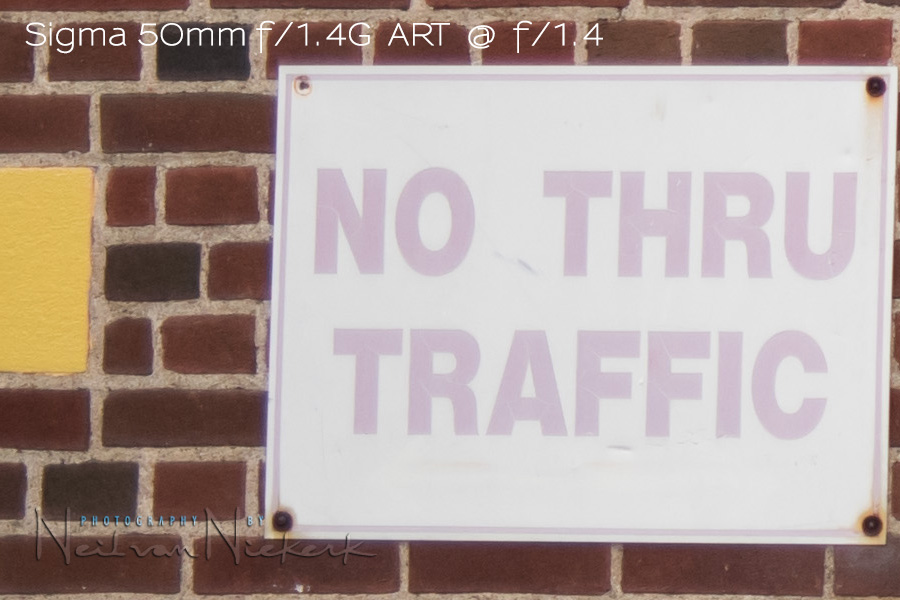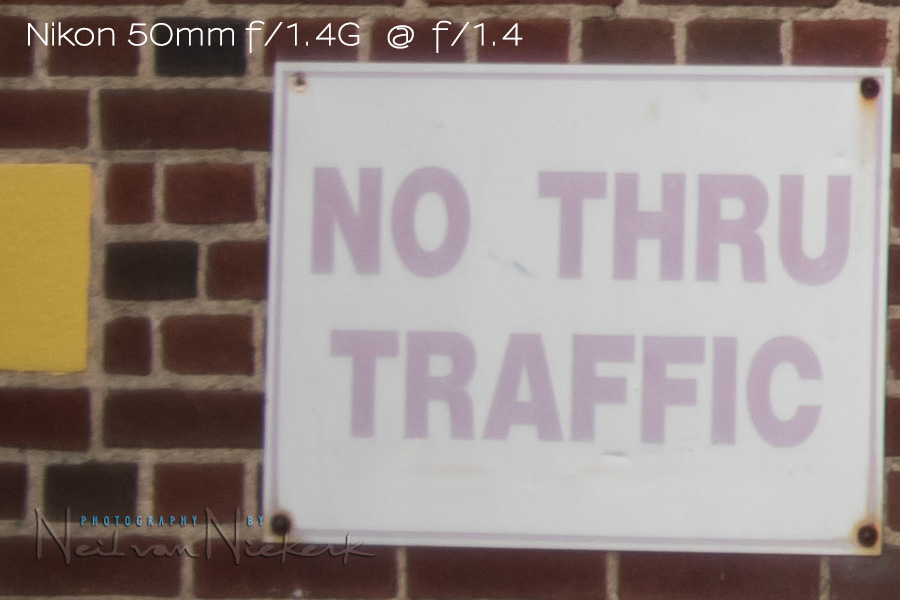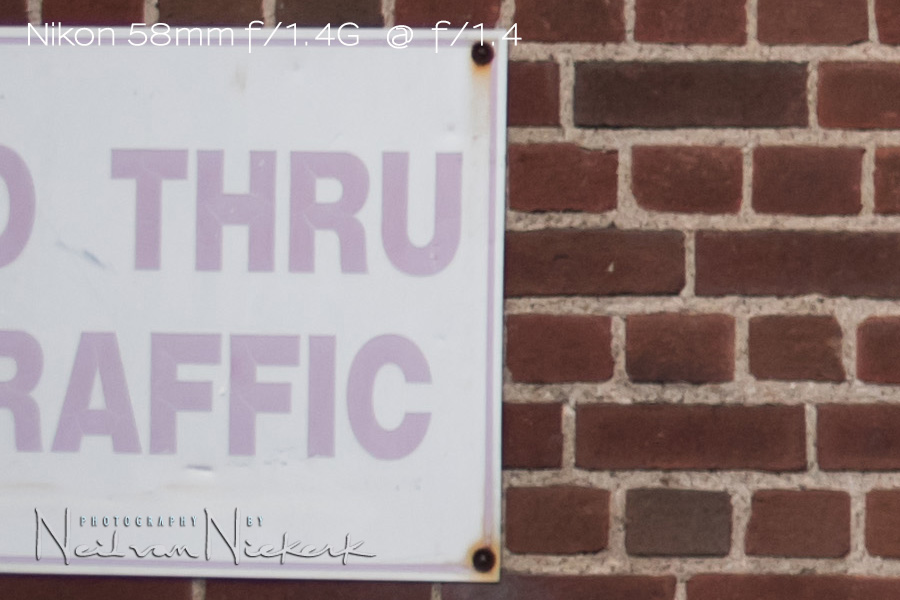 Bokeh of the Sigma f/1.4 ART lens
Before we go any further, a few notes:
With that out of the way, I have to say the Sigma lens shows decent bokeh, but not as smooth as the Nikon 58mm. Better than the Nikon 50mm. Ultimately though, nothing that significant. I shot numerous sequences trying to show the difference, but there wasn't much that really stood out. I wouldn't make a decision on this lens purely on bokeh. The difference is marginal in real-world shooting.
This 50% crop of one sequence with an out-of-focus chain-link fence, will give you an idea of how the bokeh compares at f/1.4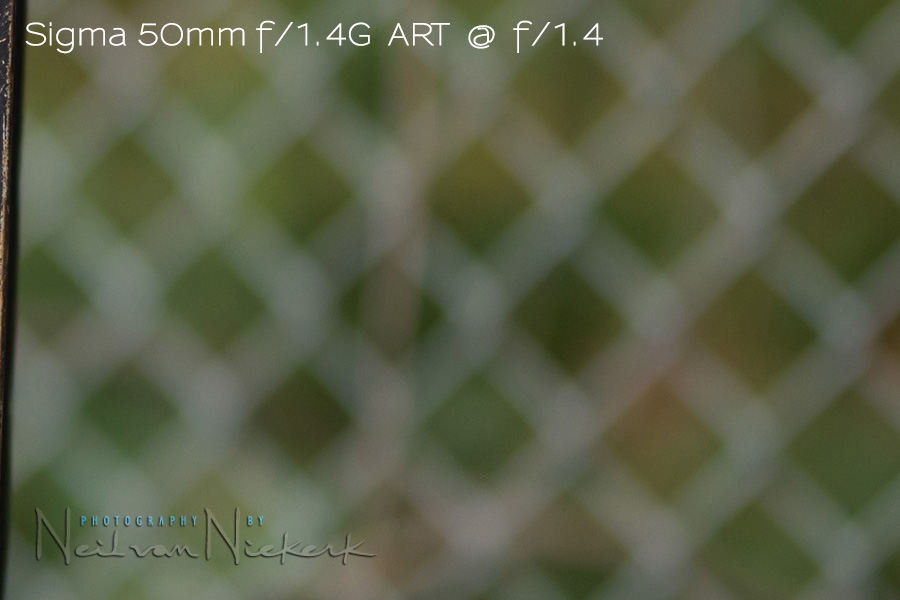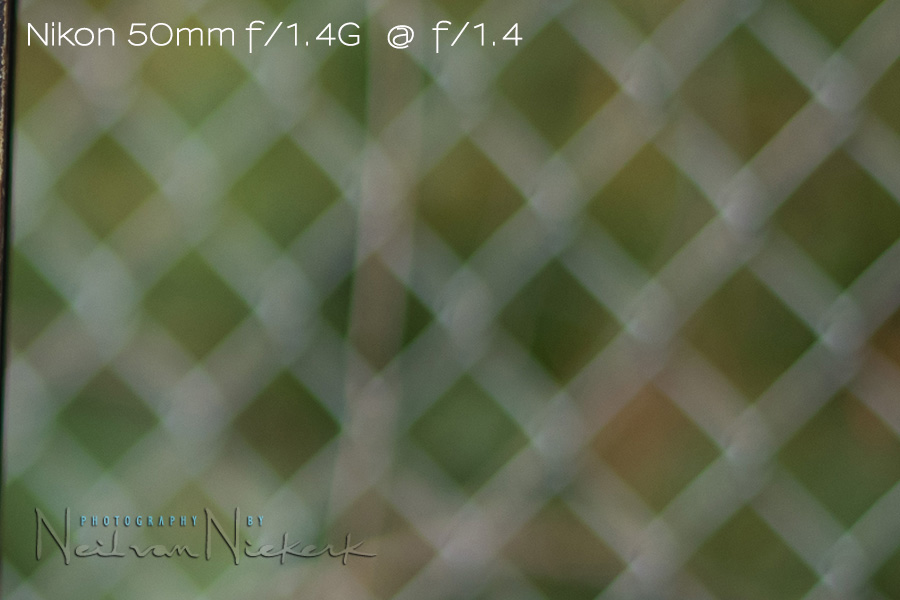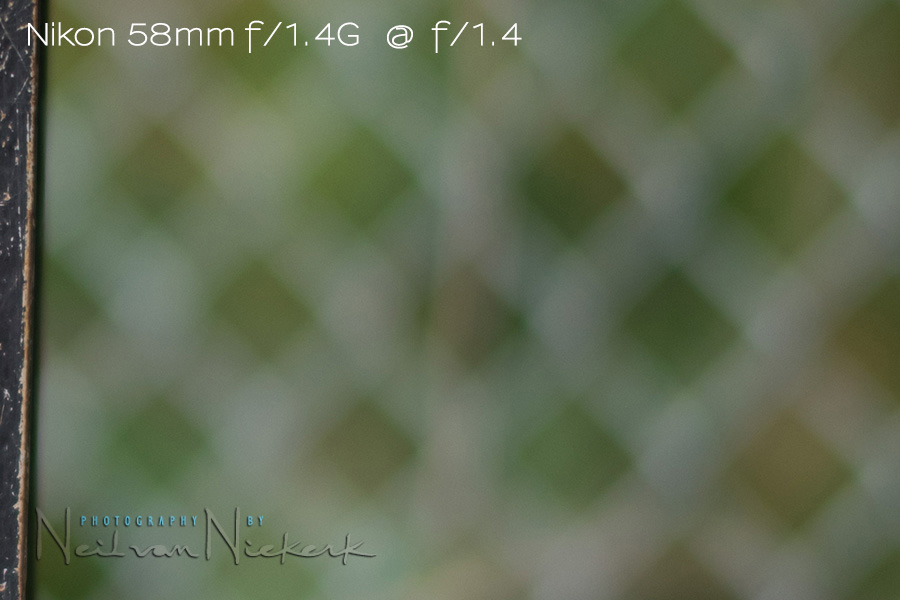 Summary
With all these positives for the lens – are there any negatives? With various images that I shot wide-open, it looked like the Sigma was consistently a third of a stop UNDER the other two lenses. By f/2.8 the exposures were identical to my eye. But wide-open, the Sigma images were a touch darker. This makes me think that it might be closer to an f/1.6 lens wide open. But for me, this isn't of any real significance compared to the stellar optical performance otherwise.
Let's get back to the sharpness of this lens. It's seriously good! The Sigma 50mm f/1.4 ART lens consistently nailed the focus, and was consistent in its impressive sharpness.
I would unreservedly recommend it.
Here is a follow-up review comparing the Canon version against the Canon 50mm f/1.4 and Canon 50mm f/1.2L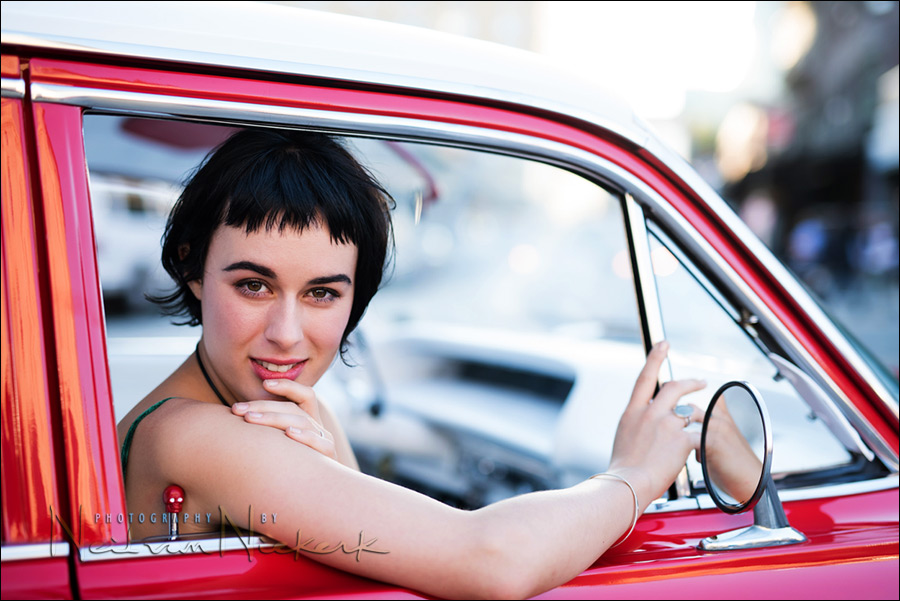 Details for this, and the photo at the top:
Purchase the Sigma 50mm f/1.4 ART lens
Sigma 50mm f/1.4 ART for Canon:  B&H  /  Amazon
Sigma 50mm f/1.4 ART for Nikon:  B&H  /  Amazon
Related articles