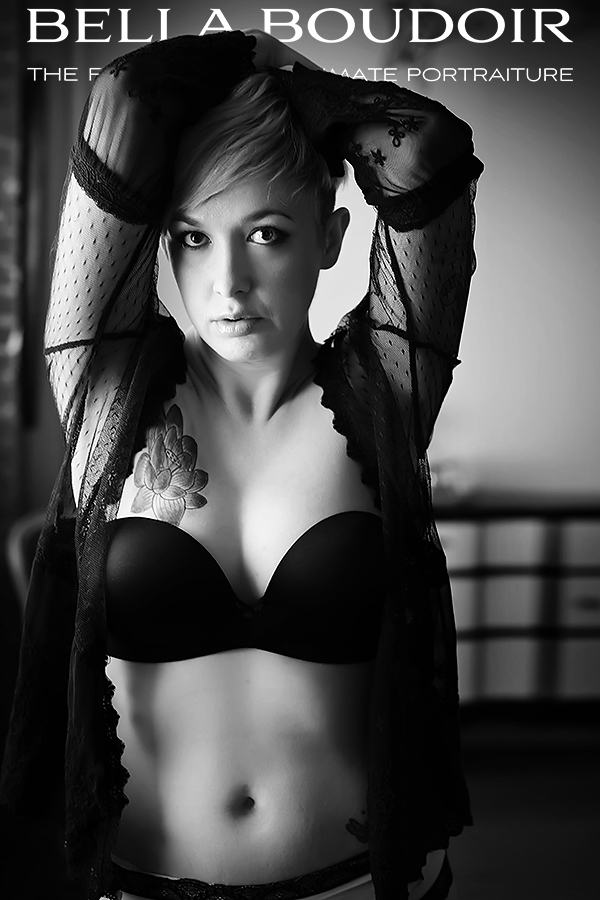 Boudoir photography with the 50mm lens
With shooting space often times so tight for boudoir photo sessions, there is the temptation to use a 50mm lens for tighter headshots on a full-frame D-SLR. Instead of stepping back a bit and using an 85mm lens or longer, a bit of visual laziness comes into play, and we rely on the 50mm lens too much. It really is too short a focal length for a tight portrait. I think many photographers are even too in love with their 50mm lenses, and use it without thought of how this would distort someone's face when used too close to their subjects.
I totally understand the need for compromise. Quite often the angle we need to shoot from, dictates a shorter-than-ideal focal length – whether because of the shape of the room, or the direction of the light. This still doesn't make the 50mm a good lens to shoot tight portraits with. A longer focal length would still give you more flattering results.
The example photographs in this article are by Petra Herrmann, Kansas City boudoir photographer. She used a 50mm lens for these images, but kept to half-length as the closest distance to photograph her subject. The 50mm really is more of an environmental portrait type lens, rather than a tight portrait lens.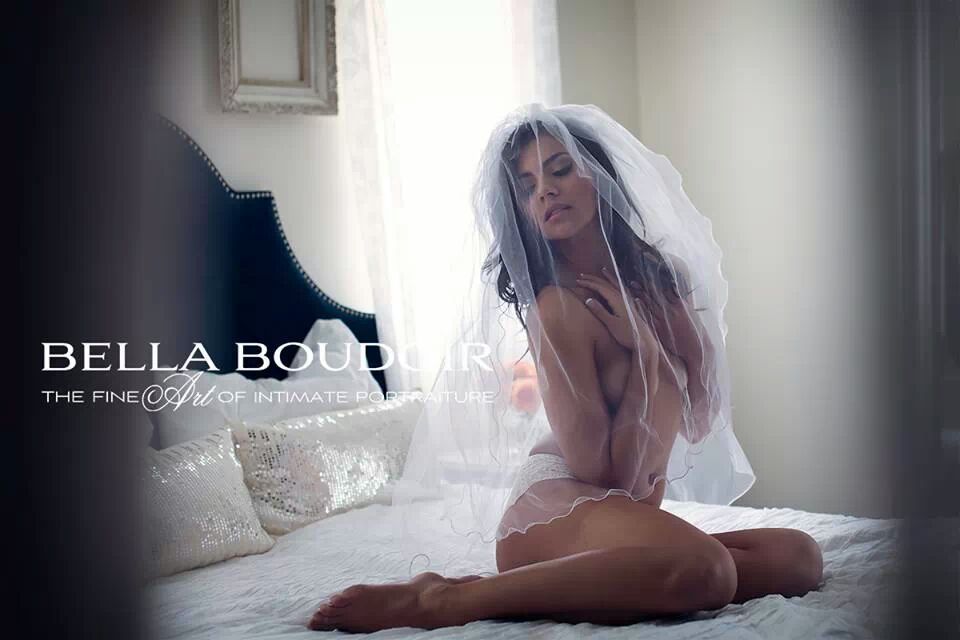 On a crop-sensor camera, the dangers of using a 50mm lens as a portrait lens is reduced. Because of the crop factor of the specific camera, it forces a different perspective, similar to that if a short telephoto lens had been used on a full-frame (FF) camera. So the rest of the discussion here relates more to how the 50mm lens behaves on a FF camera, but users of crop-sensor cameras will find this relevant.
Now, before we delve deeper into this, some disclaimers to head off a few obvious arguments:
– yes, a 50mm lens can be used effectively,
– yes, wider lenses provide interesting angles and perspective,
– and I'm even aware of Bill Brandt's work,
– yes, I am all for individualistic style,
– and yes, I know Suicide Girls style of photography,
– yes, I know my favorite pin-up photographer, Robert Alvarado, mostly uses a 24-70
For all that, here is the basic problem in using the 50mm lens as a tight portrait lens – it is just too short for what is attempted.
Advice for choice of lens for boudoir photography
– Fall out of love with your 50mm lens. Use it when it is appropriate.
– Use a longer focal length for tighter portraits. Start with an 85mm lens.
– Even then, ideally use the 85mm lens for a loose portrait, rather than a really tight portrait.
– Use a 100mm / 105mm macro lens for portraits.
– For tighter portraits, also consider a 70-200mm lens rather than a 24-70mm lens.
– When you do use a 24-70mm lens, try it at the longer focal lengths first.
So please, for the love of all that is good on this planet, fall out love with your 50mm lens as the best lens for tight portraits. Rather pull out some other lenses better suited for portraits and specifically, boudoir photography!
Again, the example photographs in this article are by Petra Herrmann, Kansas City boudoir photographer.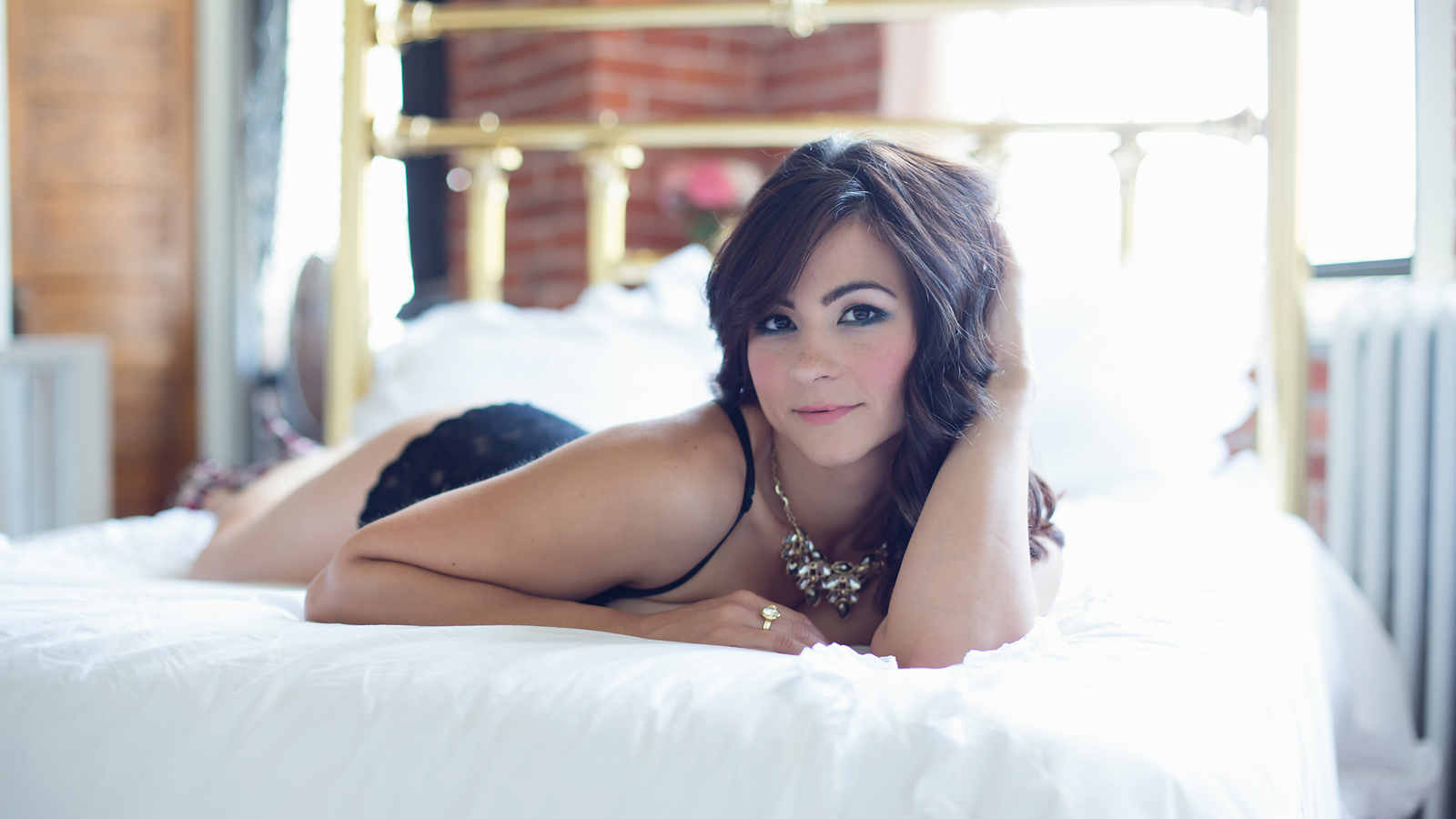 Related articles
---
Books on Boudoir Photography
---