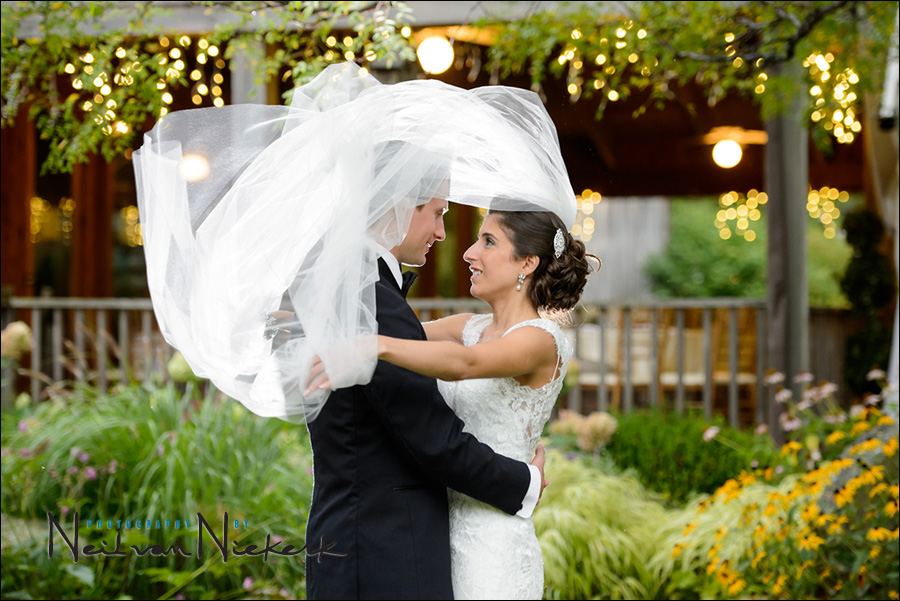 Using the Profoto B1 portable flash at a wedding
With wedding photography, there are nearly inevitably time-constraints. It is therefore imperative that you, as the wedding photographer, are able to keep everything running as smoothly as possible on your side. Which implies that it is important that you (and your equipment) are adaptable. And it is also hugely important that your gear is easy to set up, and very reliable.
Karissa and Rory's wedding was the first where I pulled out the Profoto B1 battery powered flash (B&H / Amazon). I'm even more impressed with it now, than I was when I first tested it for my review of the Profoto B1 flash.
When using additional lighting, you ideally need a few things from your lights:
– power! 
– and yet, a delicateness to the light when necessary.
– speed of use is essential.
At 500Ws, the Profoto B1 dumps sunlight-levels of light, but you can pull it down 8 stops, to where the light can be used in subtle ways.
With off-camera flash, I'm mostly working with a specific distance, and then manual flash makes sense. The  Profoto B1 (affiliate) offers TTL as well, and this might seem superfluous to some. But it really makes it easier and faster to get to correct exposure. You can do an initial exposure via the TTL mode, and then switch to Manual if your exposure is correct. This gives you the speed of TTL flash, and the consistency of Manual flash.
Here are more images from this wedding, with examples shot with the Profoto B1, as well as other images using various types of light ….
---
---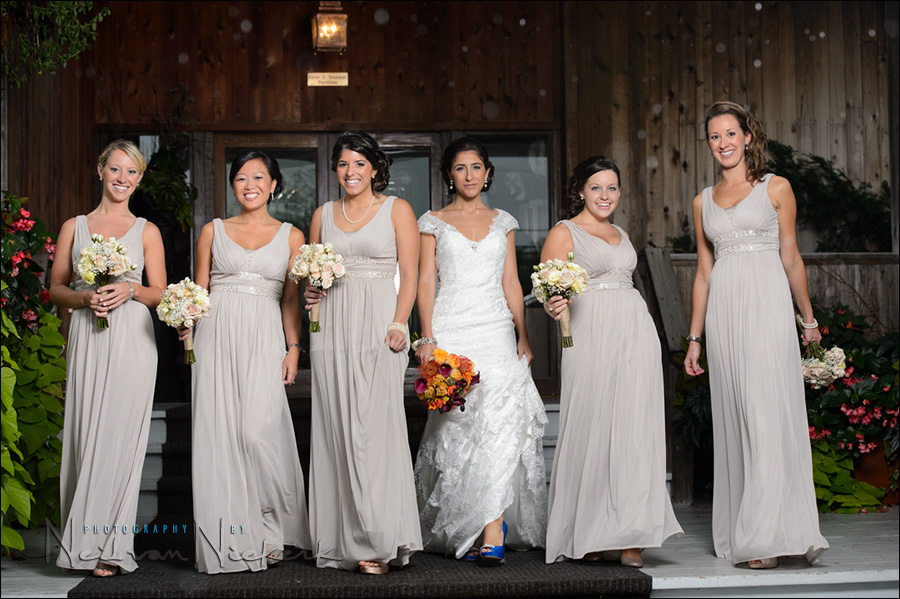 1/250  @  f/5.6 @  800 ISO  … 70-200mm f/2.8
Since it was raining for most of the day, I had to do the photos of the bridal party, and of the families, under the front porch of the reception venue. There wasn't anywhere else we could work, without being crowded inside.
This meant that I set the Profoto B1 on a tall light-stand in front of the entrance of the venue, diffused with a white shoot-through umbrella.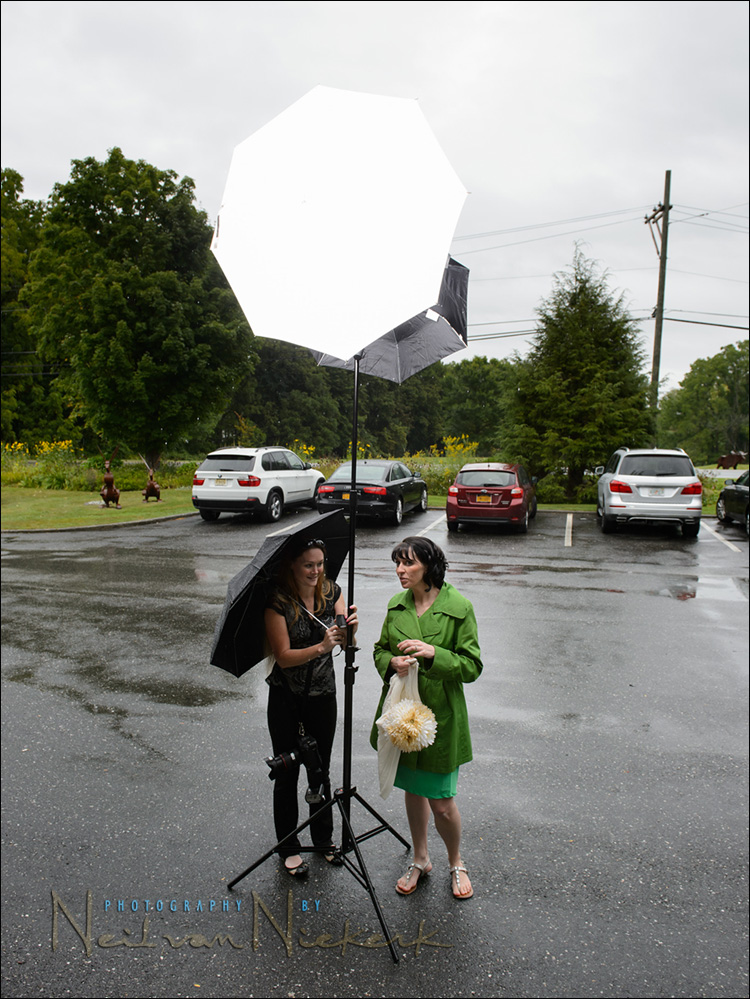 The setup: Profoto B1 with a shoot-through umbrella. The black umbrella that you see there, was gaffer taped to the B1, to make sure it didn't get (much) rain.
Funny how that works – trying to baby a brand-new $2000 flash, while running around in the rain with two Nikon D4 bodies and two f/2.8 zooms, getting soaked. But that's not unusual to use my cameras in the rain, as in this rainy-day wedding. Fortunately, the rain wasn't monsoon-like heavy. Just a steady drizzly downpour. After a while though, I did look bedraggled and soaked through.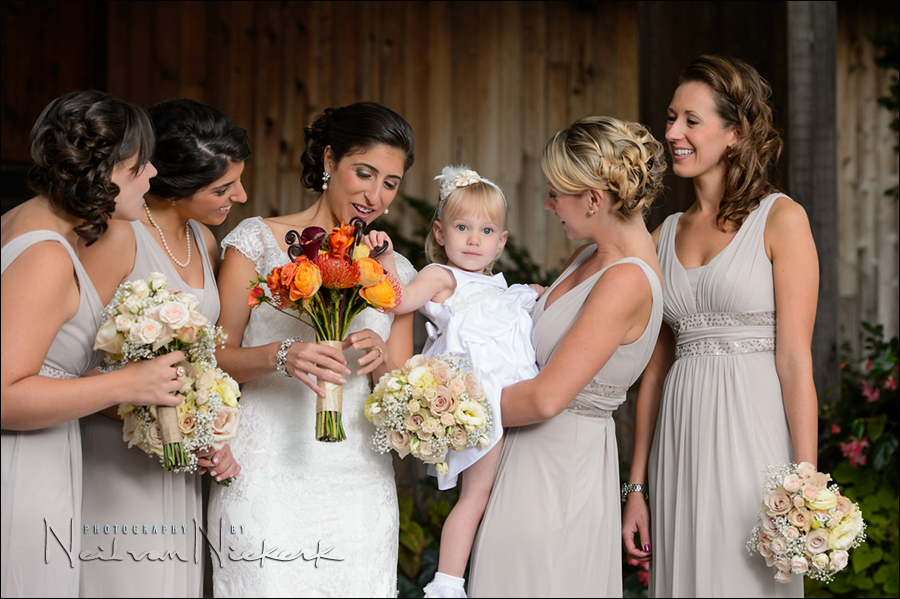 1/250 @ f/5 @ 800 ISO  … 70-200mm f/2.8
The longer lens gave me the reach for these photos where the bridal party (or families) interact.
I had the Profoto set to about 1/4 power (if I recall correctly). This meant that I could fire the frames quite quickly, and not wait for it to recycle like I would've had to do with speed lights. The B1 just kept motoring on.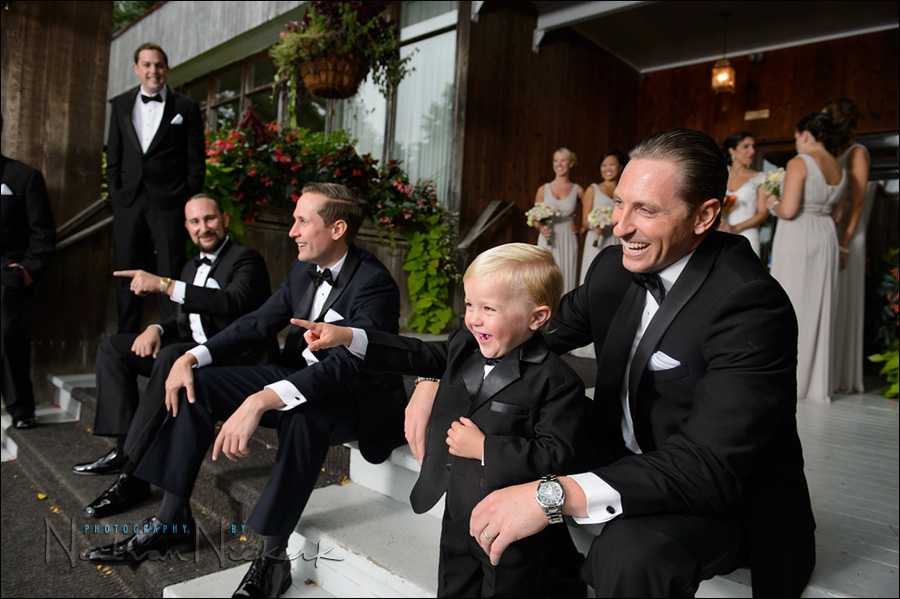 1/250 @ f/5 @ 800 ISO … 24-70mm f/2.8 @ 24mm
With the off-camera light parallel to the group, I am free to move about, and still have the light evenly spread to everyone in the frame.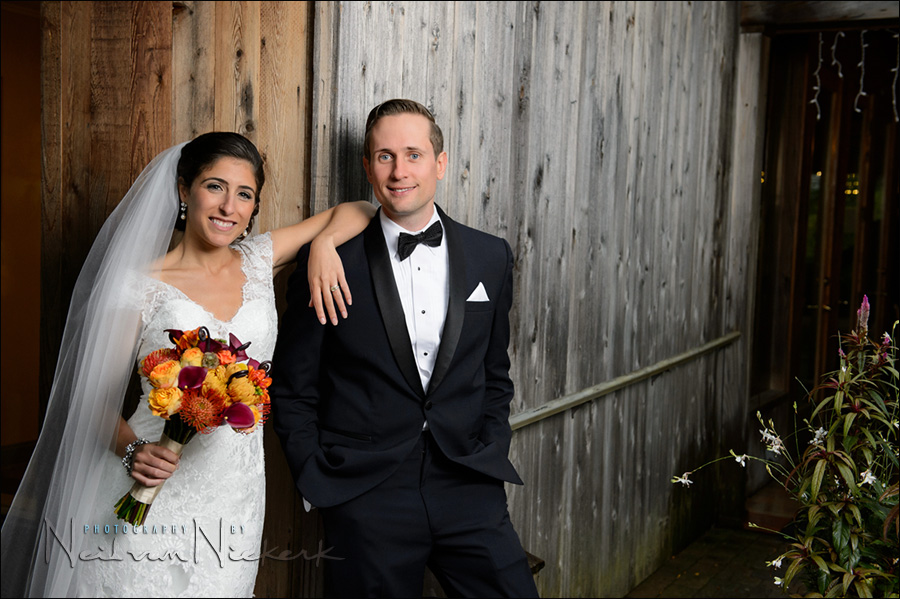 1/250 @ f/5 @ 1600 ISO … 24-70mm f/2.8 @ 50mm
After the ceremony, we took a few more portraits of the couple. I had my assistant hold up the Profoto B1 on a monopod here, so we could move fast. The light was still diffused through a white shoot-through umbrella.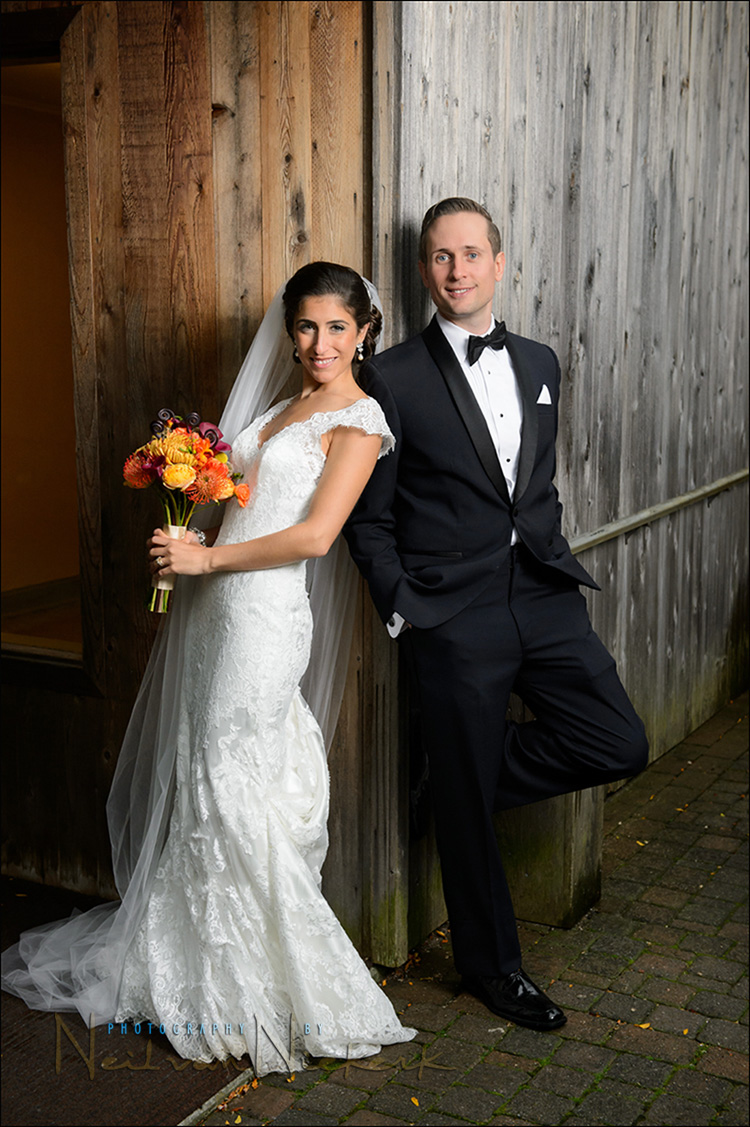 1/250 @ f/5 @ 1600 ISO … 24-70mm f/2.8 @ 50mm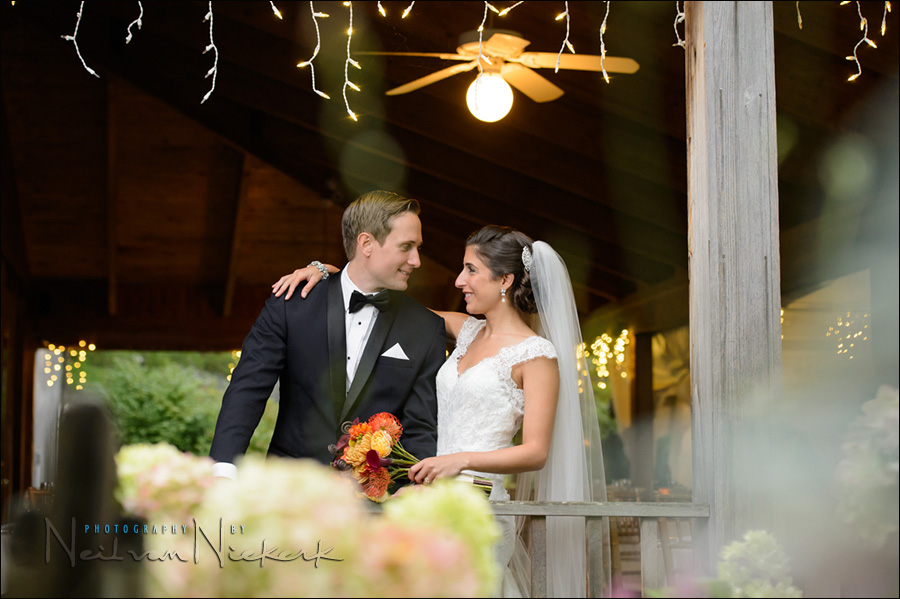 1/160 @ f/4 @ 1600 ISO … 70-200mm f/2.8
Still with the B1 on a monopod, and the white shoot-through umbrella attached. I had her hold it closer to the B&G (to camera left), just out of the frame. Just that touch of light to clean up the light on the couple, without being overpowering and noticeable.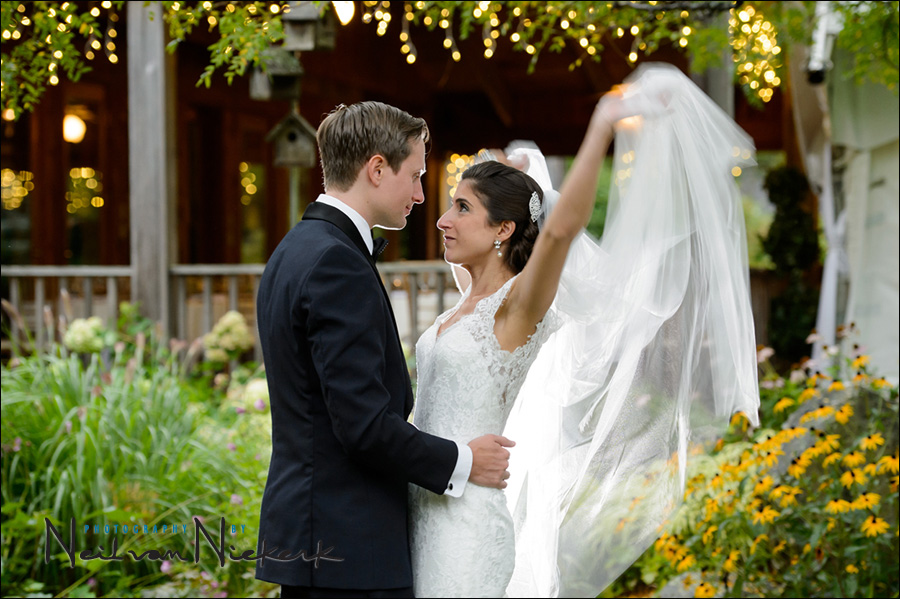 1/125 @ f/4 @ 1600 ISO … 70-200mm f/2.8
I had my assistant crouch behind them for several sequences where Karissa threw her veil around them. The flash was direct, and dialed down to minimum. I fired these at 10 frames-per-second on the Nikon D4, and the Profoto kept up.
For this type of low ambient light levels, the direct flash was a bit too powerful. So I will have to find a way of diffusing the B1 for these type of photos, or use a speedlight with a diffuser like usual. Still, I really like the effect.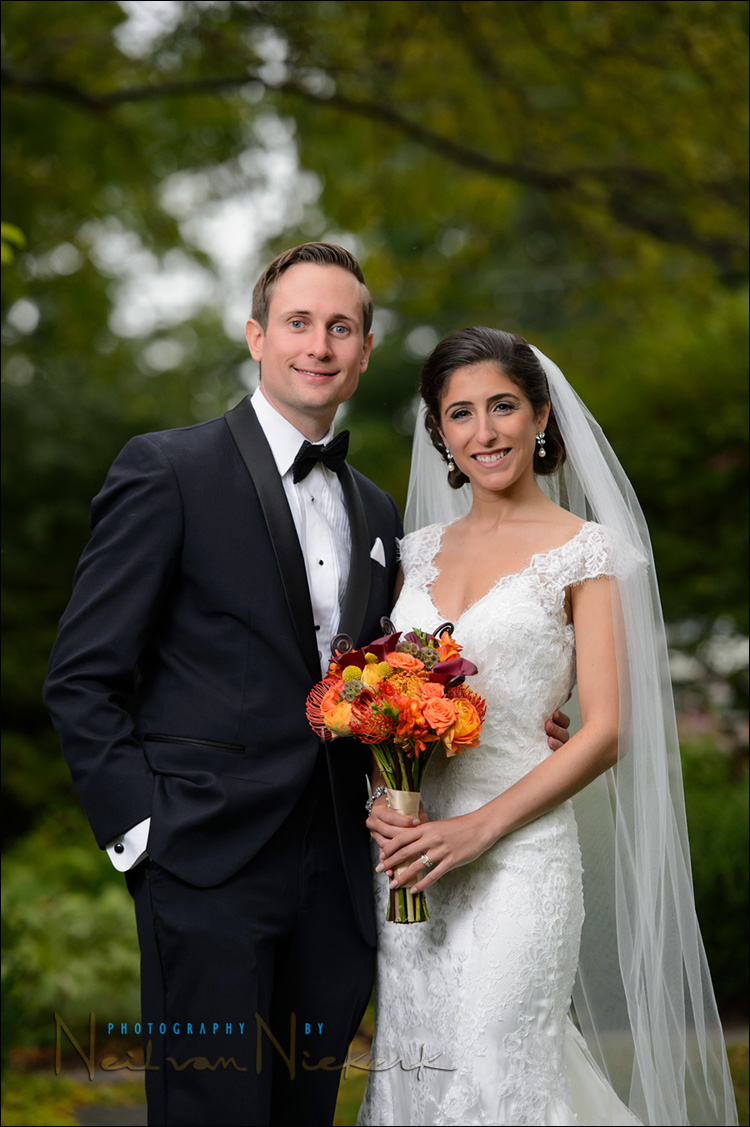 1/160 @ f/3.5 @ 1600 ISO … 70-200mm f/2.8
Just before we headed back to cocktail hour, I wanted a few more traditional poses. The light outside was fading, but the background looked wonderfully muted. Using the B1 (on the monopod) with the shoot-through umbrella still, the light from the flash looked great. Clean, open light. And it was easy to adjust!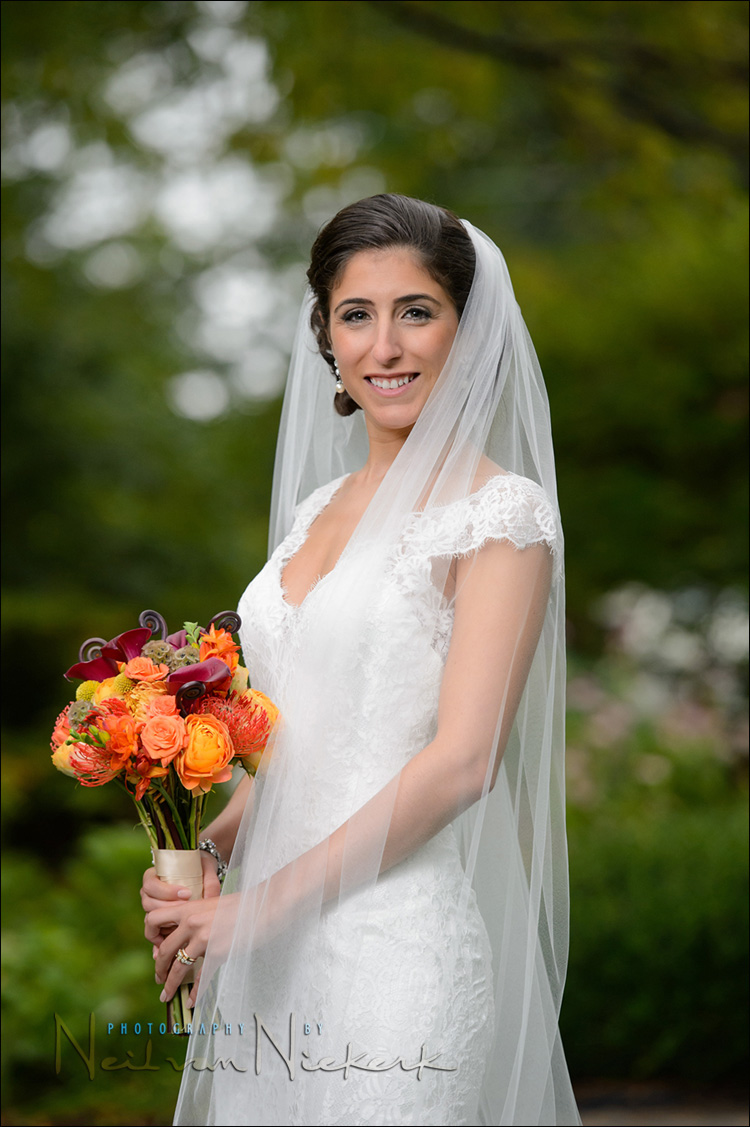 1/160 @ f/4 @ 1600 ISO … 70-200mm f/2.8
And here is the available light shot to show how much the flash lifted the exposure, and cleaned up the light.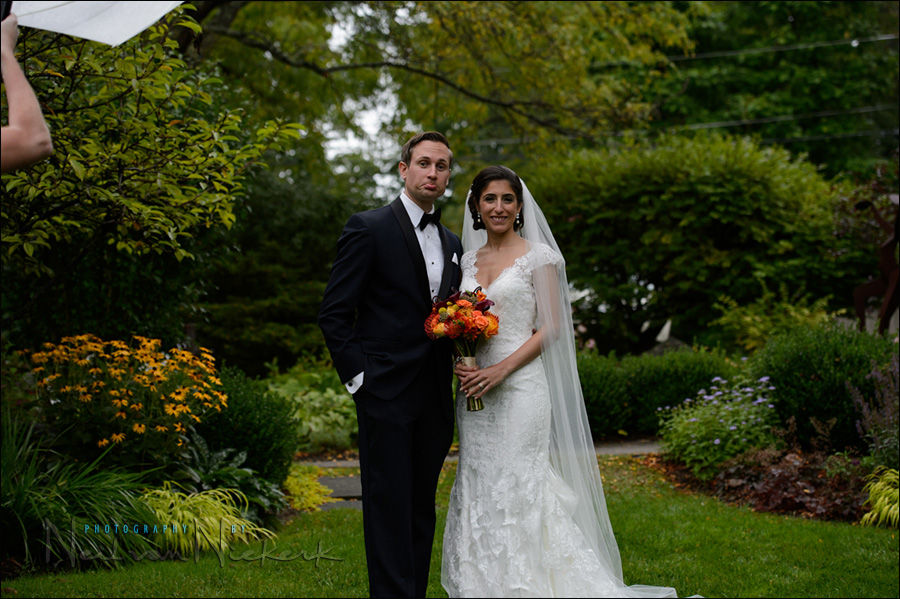 Using a variety of lighting during the rest of the wedding day
Now as much as I love the Profoto B1 – and because of it I'm now carrying fewer speedlites to weddings – it would be completely unrealistic to think the B1 is a do-all lighting solution. Anyone who regularly follows this website, will know that I am a strong believer in having a flexible philosophy regarding lighting. Whatever looks best, or works best in a situation.
Available light where necessary. Or on-camera bounce flash. Or direct on-camera fill-flash. Or video light. It varies as best fits the specific situation, and whatever looks and works the best.
So similar to the article – adapting the use of light & flash photography – which discussed a fluidly adaptable approach to lighting, let's have a look at the options I used during this wedding.
1.)  Available light
I'm perplexed by the photographers who have the automatic response: "available light always looks better". How could that "always" possibly be true? Additional lighting can really add pizzazz to a photo when the available light is flat. For example: the photos of the model, Olena, in this article: off-camera flash for that extra bit of drama.
However, when the available light is great, there's no real need to fuss with additional lighting. Use what you have.
And sometimes, additional lighting just isn't practical, such as when walking backwards in the middle of a main road, while the rain is coming down …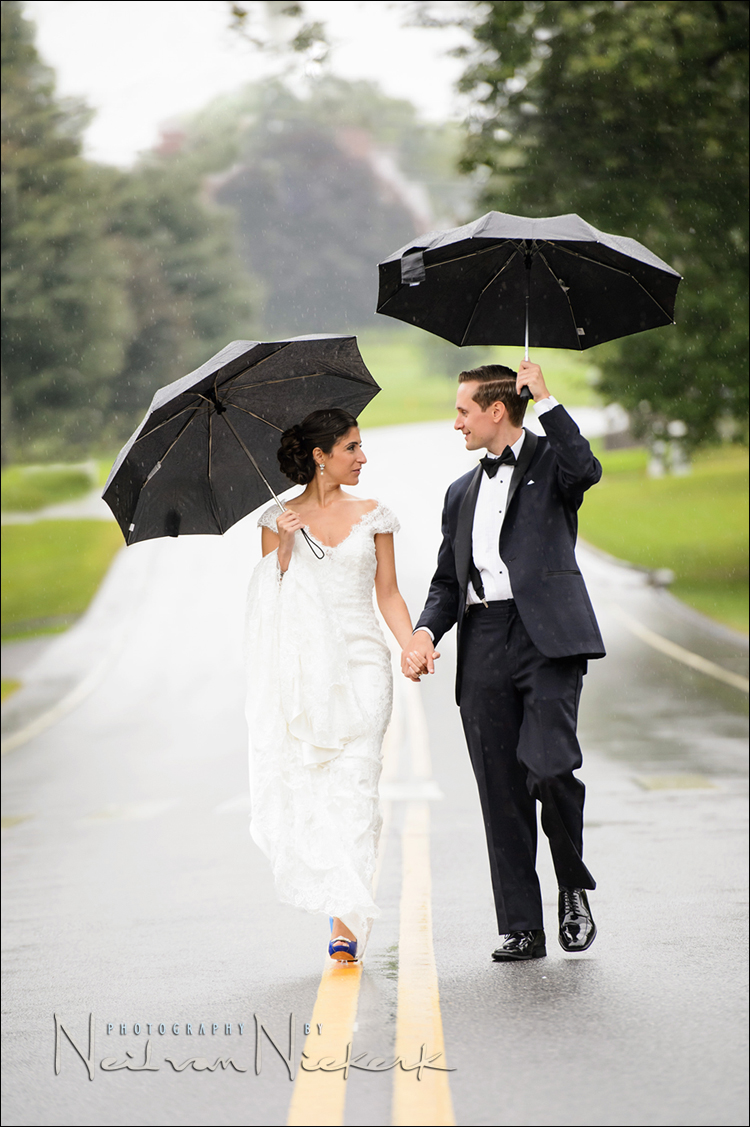 1/500 @ f/4 @ 1600 ISO  … 70-200mm f/2.8
We cautiously went out to the main road, and when the road was clear, stepped in for a few romantic portraits in the rain. Again, no umbrella for me. I'm just happy the couple were fine with going out in the rain, and getting a wider range with the romantic portraits.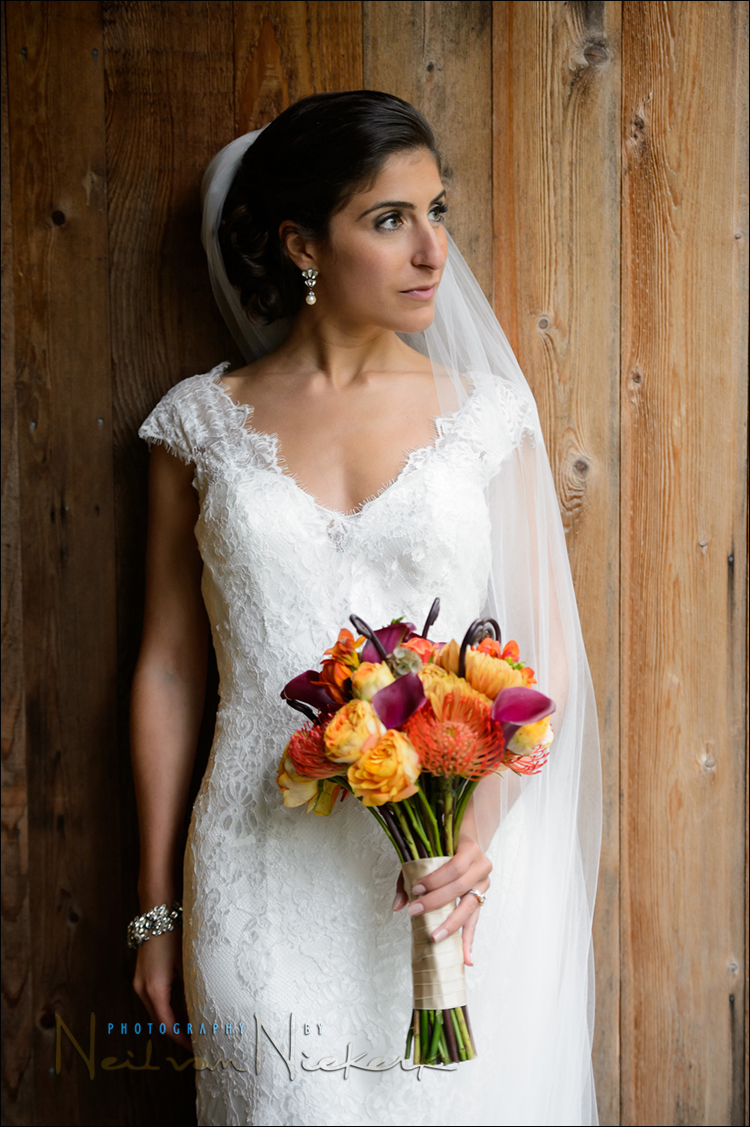 1/80 @ f/2.8 @ 1600 ISO  … 70-200mm f/2.8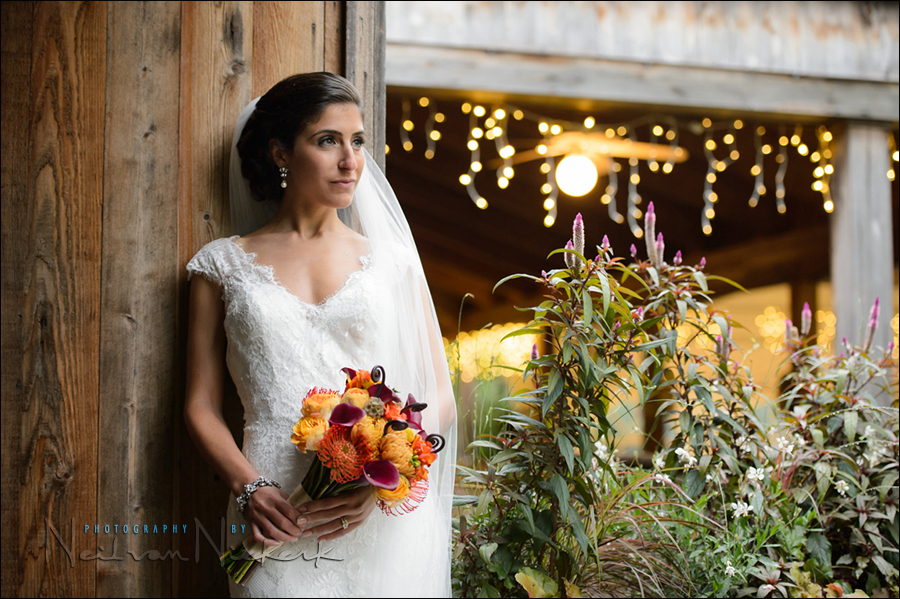 1/100 @ f/2.8 @ 1600 ISO  … 70-200mm f/2.8
Posing Karissa half-way into this building's entrance, I knew I would get dramatic light on her.  (The rain had subsided by now.)
related articles
2.)  On-camera bounce flash
It's no secret that I am a huge fan of directional light from your on-camera flash, when there are bounce-able surfaces indoors. Or even outdoors. With the bride's prep and the groom's prep, I rely heavily on on-camera bounce flash to give me soft, directional light.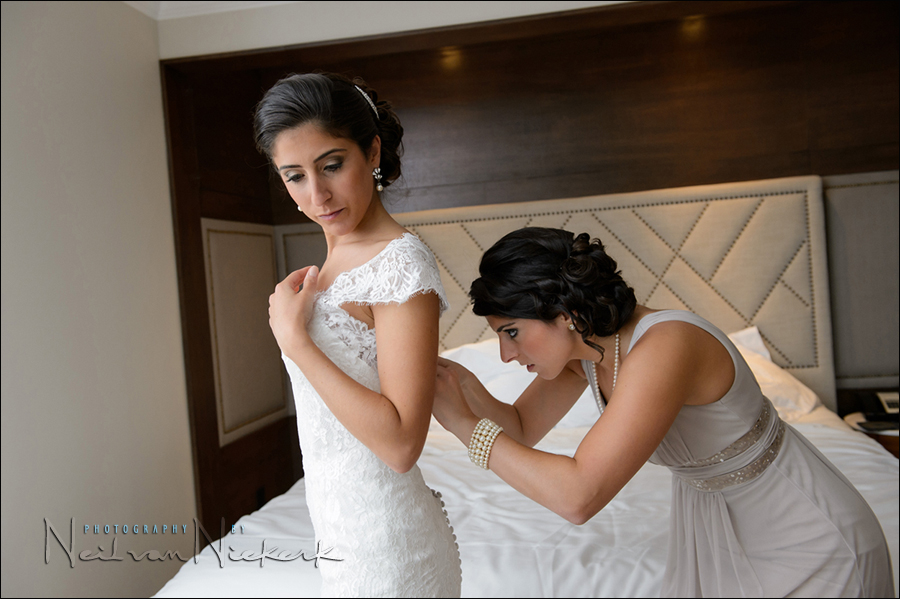 1/200 @ f/4.5 @ 1600 ISO  … 24-70mm f/2.8
There was a fair amount of available light in this room, but a touch of directional bounce flash gave me a more controlled light. I still had to use the local adjustments brush to bring up more detail on the bridesmaid's face.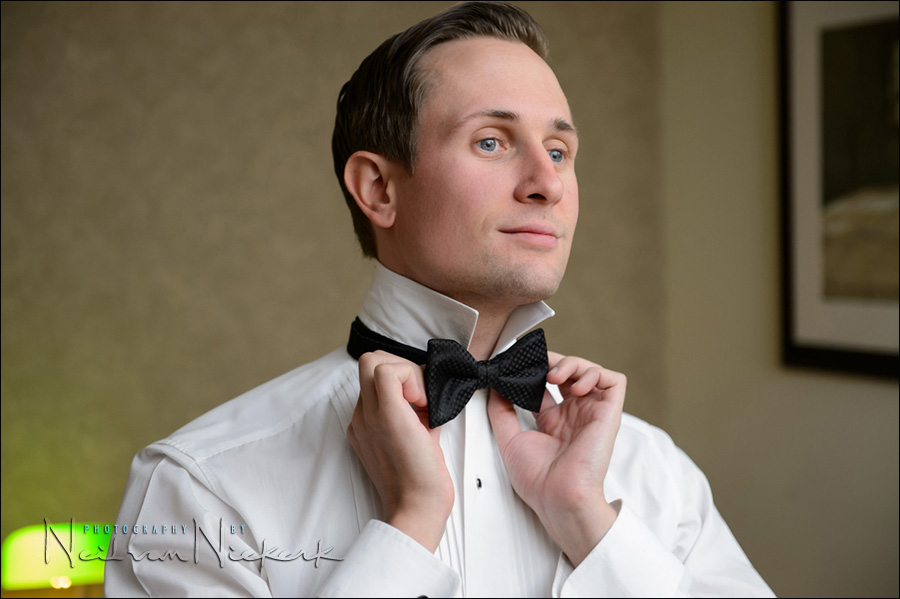 1/200 @ f/3.5 @ 1600 ISO  … 24-70mm f/2.8
With the window to my right, the fall-off from the window-light was too dramatic, and I used bounce flash here to lift the contrast. But I still wanted to keep that directional quality to the light. Black foamie thing to the rescue.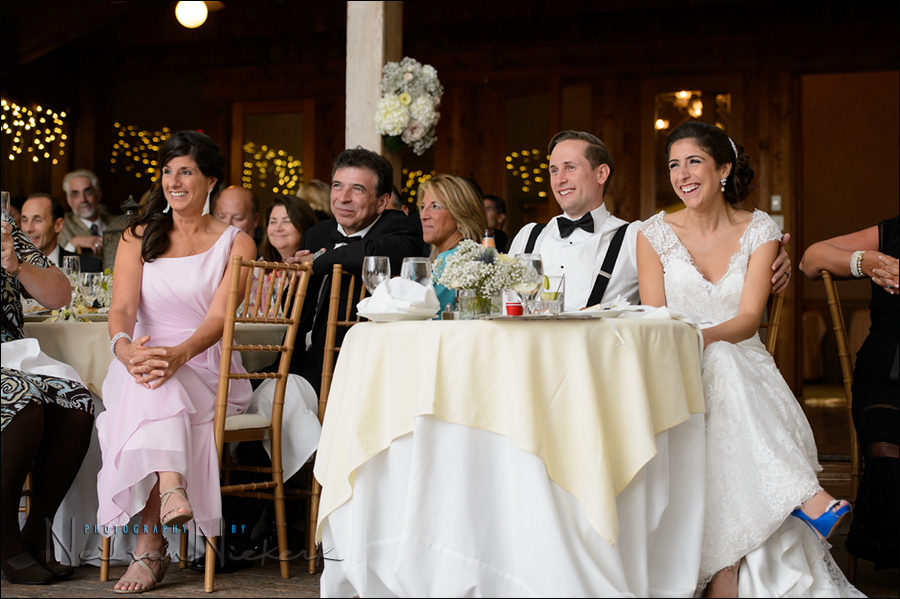 1/100 @ f/4 @ 2000 ISO  … 70-200mm f/2.8
The reception was in the marquee tent, so bounce flash was super-easy and gave a good spread of light.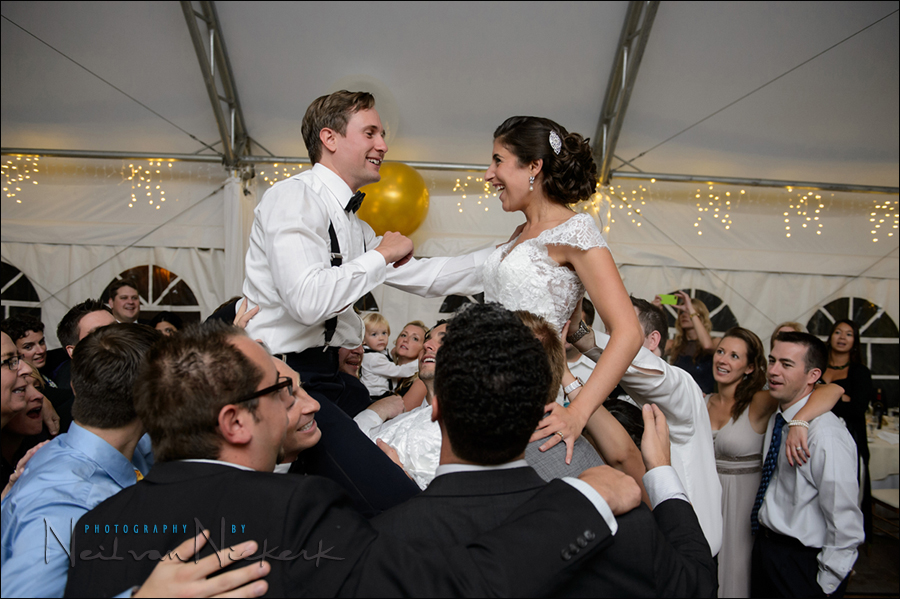 1/125 @ f/3.5 @ 200 ISO  … 24-70mm f/2.8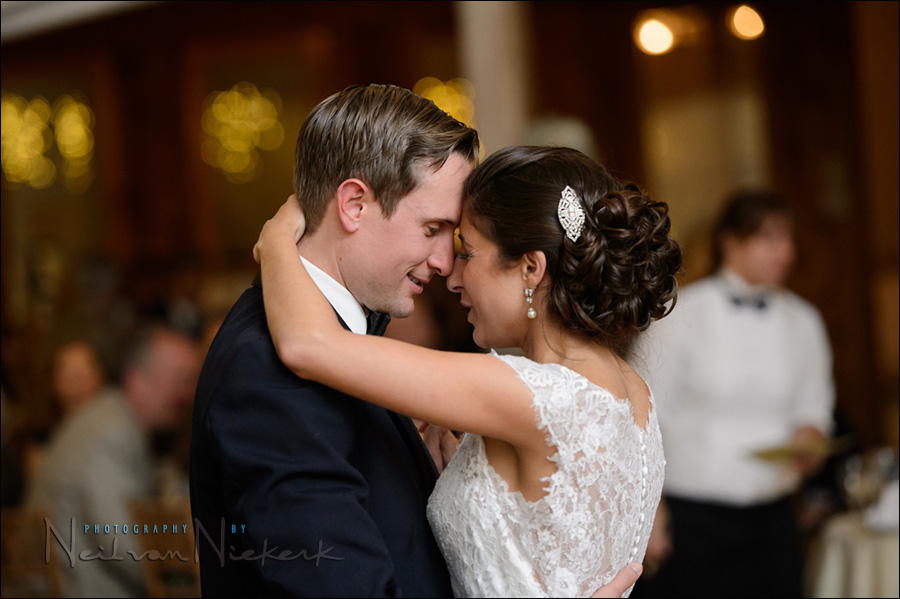 1/100 @ f/2.8 @ 2000 ISO  … 70-200mm f/2.8
For the photos during the wedding reception, I had a 1/2 CTS gel on my flash to bring the WB of the flash closer to that of the ambient light in the marquee tent.
Related articles
On-camera flash modifier – the black foamie thing
Gelling your flash
Since I frequently gel my flashguns to turn the WB of my flash much warmer (usually for Incandescent light), I use these gels that I cut up and tape to the top of my speedlight's head. One of these sheets (which aren't expensive), will give you a lifetime supply of these filters. For me, these gels are an invaluable part of flash photography.
Tape the gels down on your lens hood when not using the gels.
3.)  Direct on-camera fill-flash
With overcast days, the light comes from all directions, but can be top-heavy. Then it often helps to nudge the available light with a bit of fill-flash from your on-camera speedlight.
The idea here is that the fill-flash is just a touch of on-camera TTL fill-flash. It's not the same as you would deal with fixing a hard sunlight problem with flash. So you have to dial your flash exposure compensation down, because you are exposing correctly for the ambient light.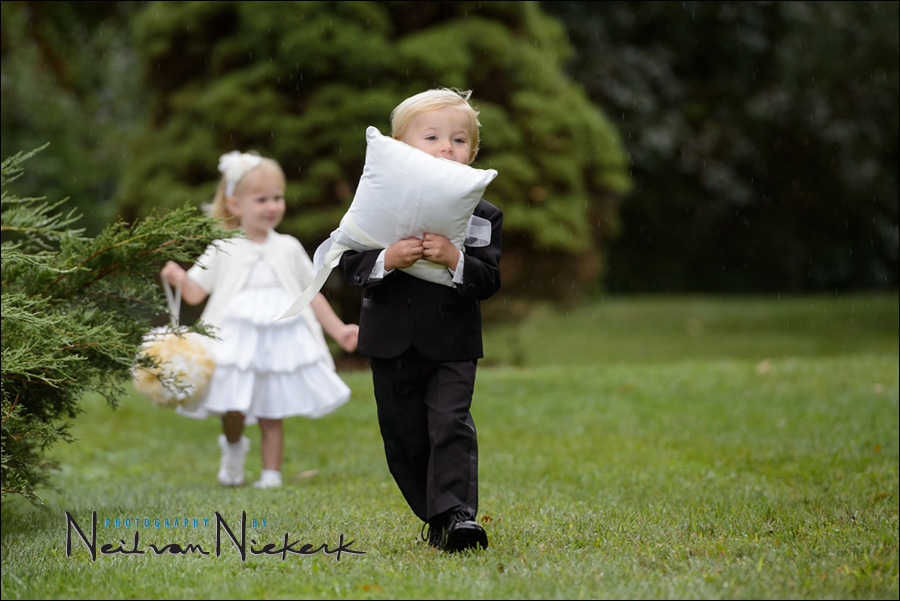 1/400 @ f/4 @ 1250 ISO … 70-200mm f/2.8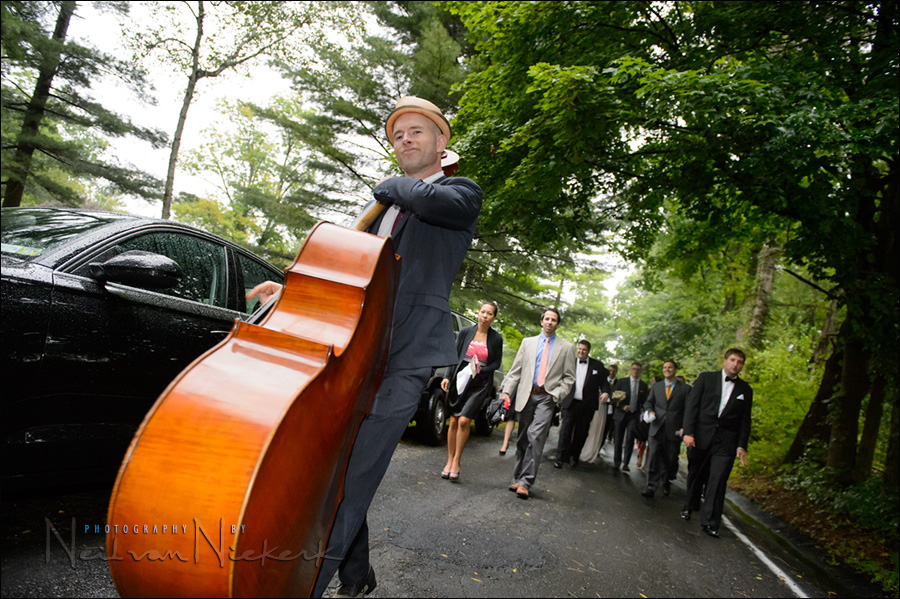 1/200 @ f4.0 @ 3200 ISO … 24-70mm f/2.8
There was a New Orleans style Jazz Band which lead the wedding guests back to the reception after the wedding ceremony at the lake. It was getting darker then, and with this being a rainy day and us under the canopy of trees, I had to bump up my ISO quite high. Still, a touch of fill-flash to brighten up anyone in the foreground.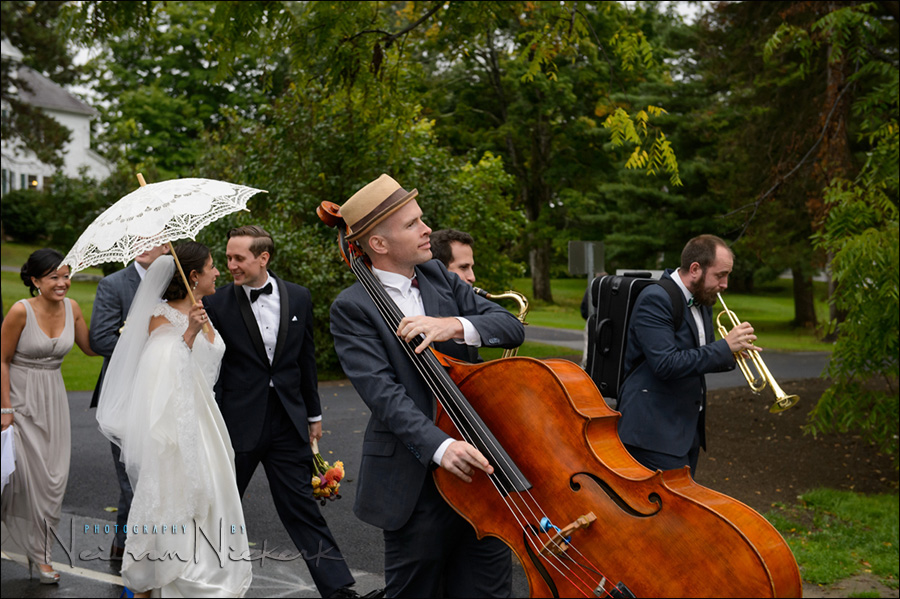 1/250 @ f4.5 @ 1600 ISO … 24-70mm f/2.8
Related articles
4.)  Video light
Photographing the band playing during cocktail hour, I tried one test shot with bounce flash, but I already knew what would happen – the entire room would light up. Perfect exposure but the mood is lost.
I keep an LED video light (affiliate) with me in my bag at all times. What makes it so versatile, is that the video light's White Balance can be changed anywhere between Daylight and Incandescent.
I had my assistant hold the light for me for various photos of the band members. My assistant would highlight whoever I wanted to photograph, so that there was this type of spotlight on them. This lighting retained the mood, but gave me camera settings that were useful, unlike the available light that was there.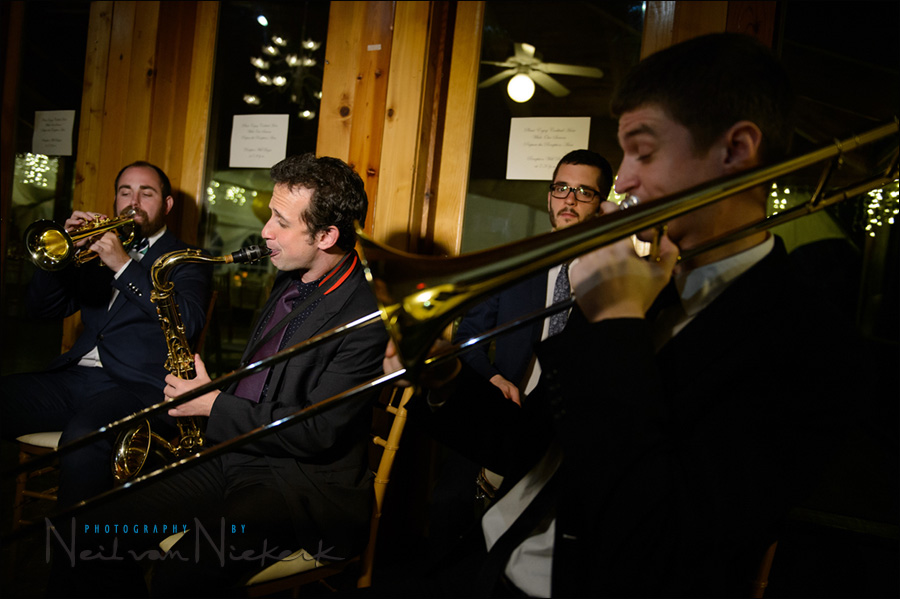 1/160 @ f/2.8 @ 1600 ISO … 24-70mm f/2.8
Related links
5.)  Diverse available / found light
At the end of the wedding ceremony, Karissa and Rory, and their guests, sent off with wish lanterns. Challenging to photograph! The light from the flames were very low, but flash would've destroyed the mood entirely. I decided to just use the light that was there. More than 50% of the frames I shot were un-usable due to camera shake or gross under-exposure. The light was only enough to photograph by when closer to someone lighting it, or holding up the wish lantern. But the images that worked, looked amazing!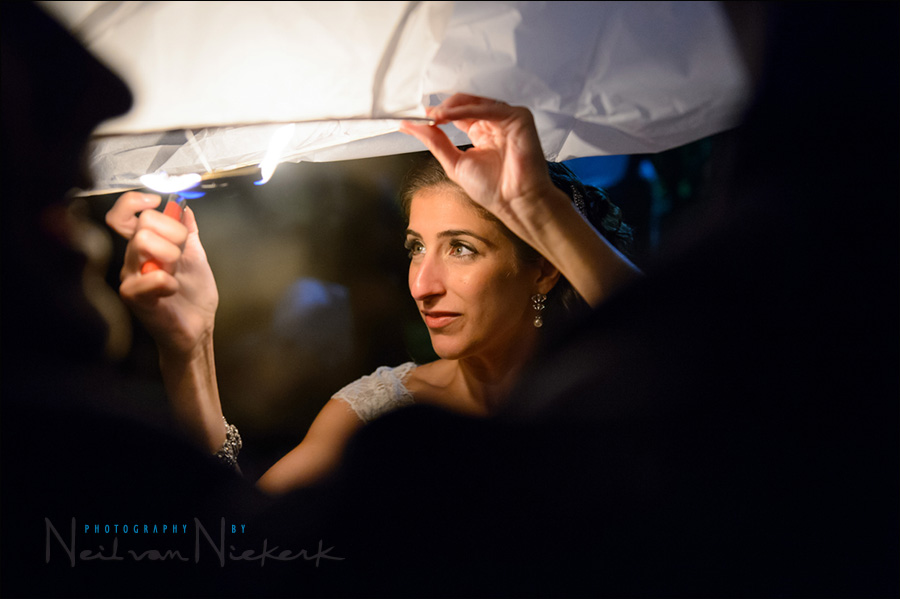 1/60  @  f/2.8  @  5,000 ISO … 24-70mm f/2.8
The White Balance here is still very warm, but this is as much as the WB slider would go down.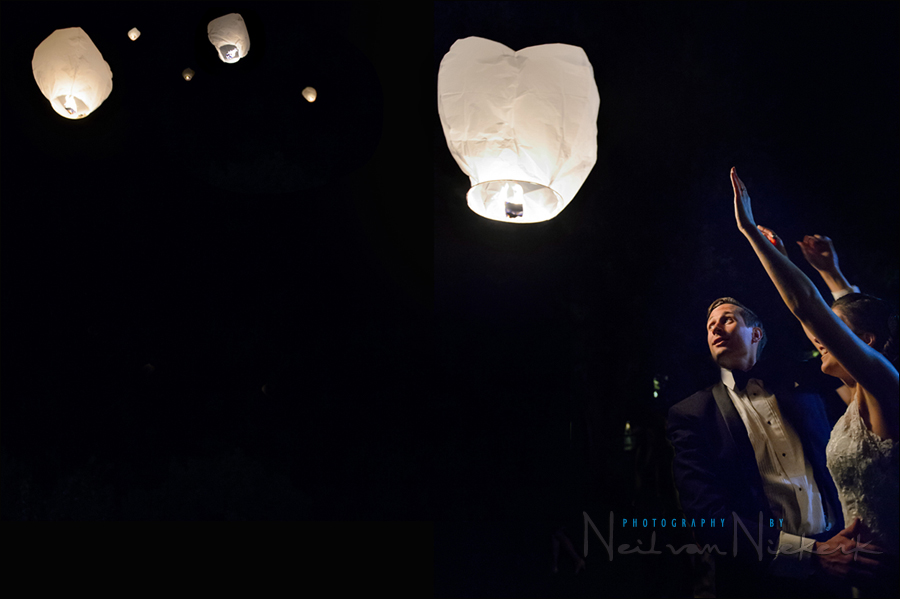 1/60  @  f/2.8  @  5,000 ISO … 24-70mm f/2.8
This photo was a vertical shot originally. (The right-hand side.) But I wondered how this would work as a horizontal if I pulled in wish lanterns from other frames that weren't so successful. I ended up really liking this composite!
Related articles
Photo gear or equivalents) used during this wedding