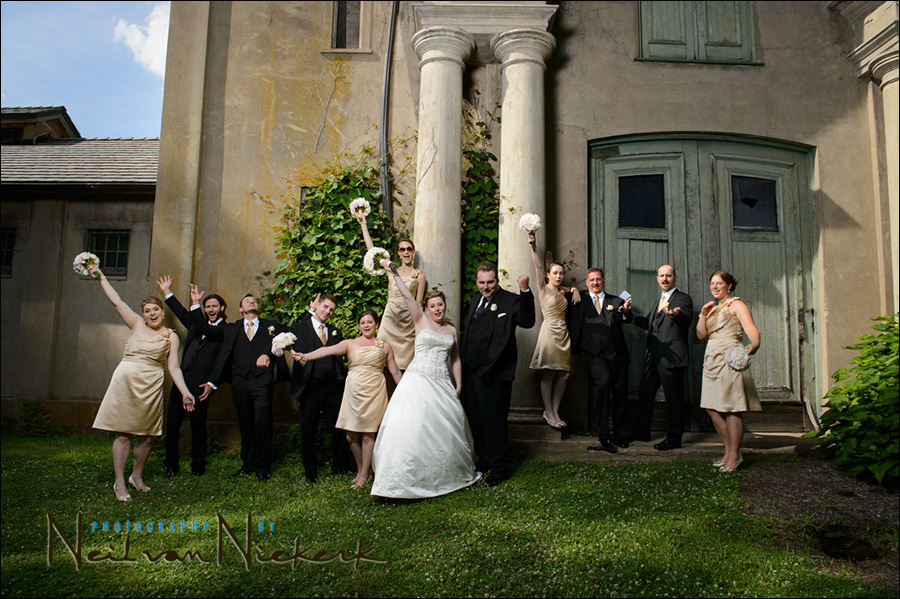 Wedding photography lighting – Shooting in partial sunlight & shade
I strongly believe that when you have the ability to control a photo session, that you pick your battles. You don't have to try and make everything work. Set up portrait shots in light that favors you. Of course, off-camera flash really helps you in being able to pick where you want that light that favors you.
Solid advice that I adhere to, is to not have a person or a group of people half in the sun, half in shade. It's a recipe for disaster, or a tough battle to fight, lighting wise. But then, slightly amneding Sean Connery's immortal words in The Untouchables, "Don't bring a knife to a gun-fight." When you have enough light to match the sun, then it is possible to pull something out of that challenging situation!
I like using speedlights for additional light, but I also have my Profoto AcuteB2 600R Power Pack (affiliate), in the trunk of my car … just in case I need something more than a knife. But really, if the Profoto B1 flash (review article), had been available for Nikon at the time, it would've been the Profoto B1 that I would've pulled out for 500 Ws of easily portable light!
I really liked this building as a backdrop, but at this time of the day, half the facade was in sun, and half in shade. And this is where having a really powerful flash on location, is very very handy. I can dump sunlight levels of light (through a softbox!) to match the sunlit areas, and match the exposure levels.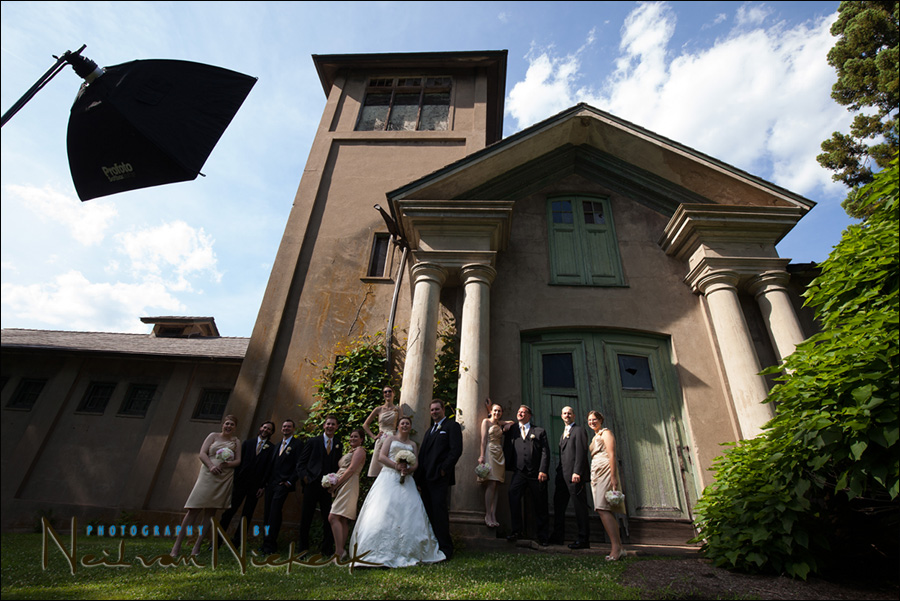 The pull-back shot shows how the light was positioned. The softbox is a fairly unwieldy (for location), Profoto 3′ x 4′ RFi Softbox (affiliate). I use it with just the outer baffle in situations like this where I need to dump a lot of light, but still want it to look soft. (The dappled light in the foreground is from the sunlight filtering through the trees.)
In the final image (at the top), the light on the left-hand side does look different than the hard sunlight on the right-hand side. With more time (and an infinitely patient bridal party), it would be possible to match the quality in light more exactly, but I am happy with this compromise – it looks great!
---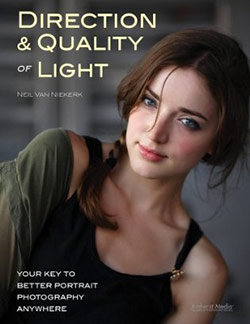 Direction & Quality of Light
I wanted to distill the essence of what we, as photographers, work with – light! Before we can truly grasp on-camera flash and off-camera flash, and really, any kind of photography, we have to be aware of the direction and quality of light. We need to observe the light that we have, and then decide how best to use it, or enhance it.
With this book, I try my best to share those "aha!" moments with you, and I do believe this book can make a difference to your photography.
The book is available on Amazon USA and Amazon UK, or can be ordered through Barnes & Nobles and other bookstores. The book is also available on the Apple iBook Store, as well as Amazon Kindle.
---
Photo gear & equivalents used (& what I should've been using)
Related articles
A little bit of homework
My camera settings were:  1/250 @ f/8 @ 100 ISO
If you regularly visit the Tangents blog, then you know the recipe off by heart by now – how did I get to these settings? And what was my Profoto flash set to?