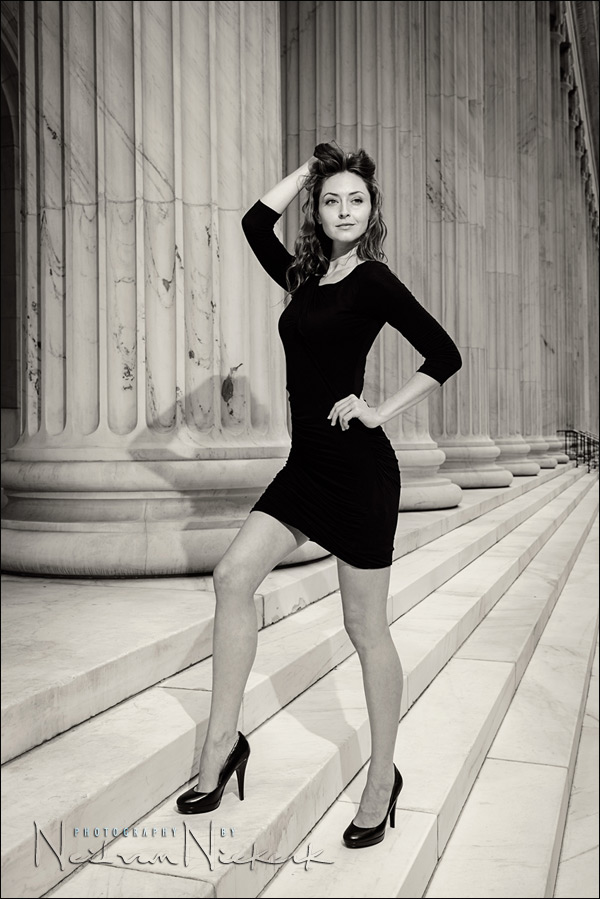 Flash photography tip – Adding flash to ambient light
When I saw the beautiful architecture of the Court House in Denver, CO, I knew that I wanted to use this as a backdrop for part of the mini photography workshop in Denver. In terms of composition, the imposing pillars and leading lines of the steps would simultaneously make a simple and classic background. Our model, Elizabeth, fortunately had this simple, yet elegant black dress as part of her wardrobe. For me, this photo comes together with the way the model (with her own style and styling), and the chosen location, complements each other.
That's all a long way to say that I really like this image.
So while "having some kind of idea what you want to do" at the start of a photo session, is always a help, the success of any resulting photographs are most often a result of all the other choices coming together as well – posing, composition and lighting.
The composition is fairly straight-forward. But do notice that I shot slightly upwards towards her, to accentuate her legs. Shooting down would've created a strange fore-shortening effect. The focal length on the zoom lens was 38mm – wide-ish. If you're photographing people with a wide lens, it is best to shoot from belly-button height with the camera – exactly where an old twin-lens reflex camera would've been held. This way you're not shooting down, nor shooting up. So spatial distortion is minimized.
Then there's also that touch of serendipity which brings some unexpected magic. In this image, her shadow was what helped pull the image together. Suddenly it isn't just soft lighting – now it looks like a bit of sunshine sneaking through a thin layer of clouds. And the image pops!
To get that dramatic light on her, we used undiffused off camera flash. In other words – hard direct off-camera speedlight. Since this is a small light source, you have to be very specific in posing your subject. Posing "into the light" usually works best. You have to be careful though not to get weird shadows, but to have the light from the bare flash still be flattering.
The way the shadow fell behind her, was an accidental little bonus. I'll take it when it comes.
The camera settings were: 1/250 @ f/5.6 @ 100 ISO … TTL flash, off-camera.
But let's have a look at how we got to those settings:
---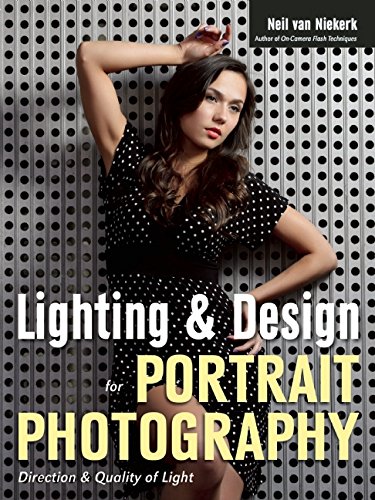 Lighting & Design for Portrait Photography
Lighting & Design is a follow-up of sorts to Direction & Quality of Light. It's a slightly eclectic mix, discussing the thought-process with various scenarios shooting portraits. The examples use available light, bounce flash, off-camera flash as well as studio lighting.
The idea is that in every one of the 60 sections, there is something to be learnt and applied, regardless of your level as a photographer or where you shoot – all shaped to form a cohesive narrative arc throughout the book.
You can either purchase a copy via Amazon USA or Amazon UK. The book will also available on the Apple iBook Store, and Amazon Kindle.
---
Now as much as photographers want to know the settings, I do feel that most often, there isn't any real info in just the numbers, so let's step through the decision making along the way. Just exactly how I chose those specific settings.
The next two images are versions at: 1/250 @ f/4 @ 100 ISO
1st image: TTL flash, off-camera.  2nd image: available light only.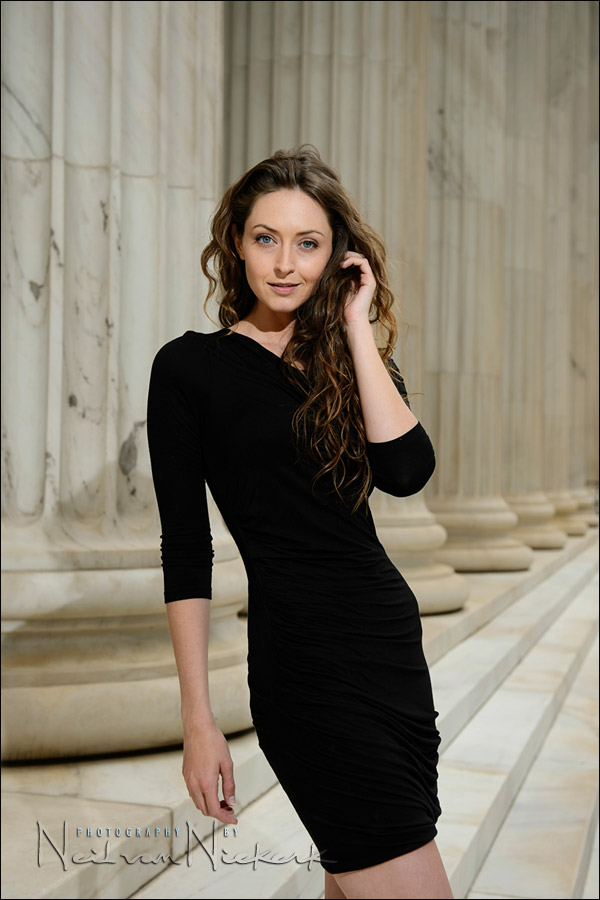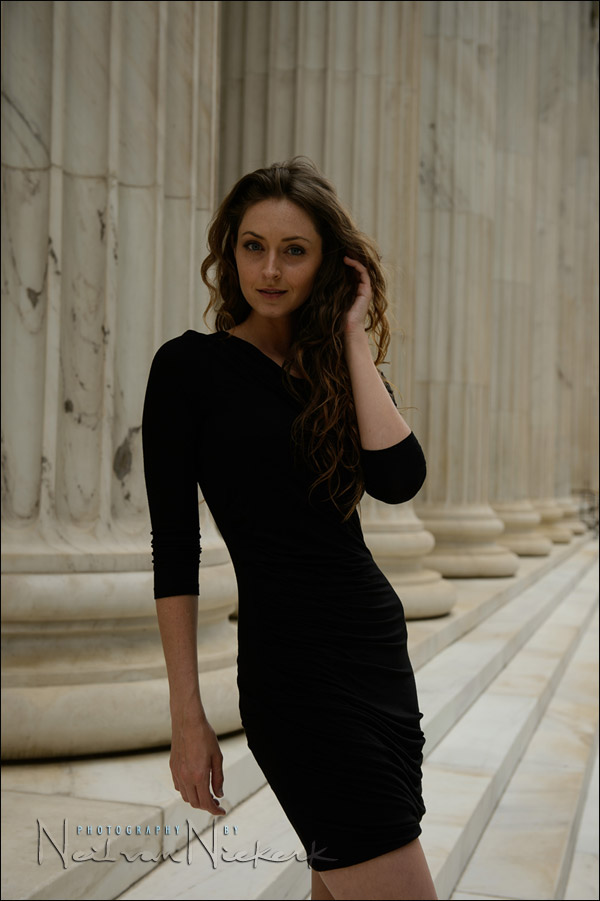 Deciding on specific camera and flash settings
In the previous two photos – why the change from f/4 to f/5.6 and how was the decision made?
Ultimately, the photographs look slightly different in terms of how the flash and ambient was balanced, but there's no wrong or right.
Here's a sequence that I shot specifically for comparison. All are at 1/250 @ 100 ISO, but I varied the aperture from f/2.8 to f/4 to f/5.6 to f/8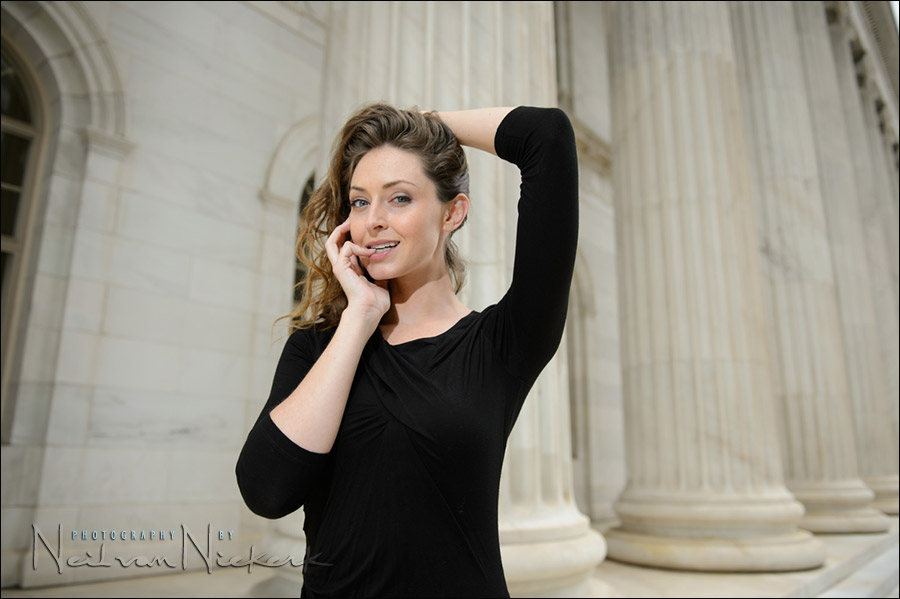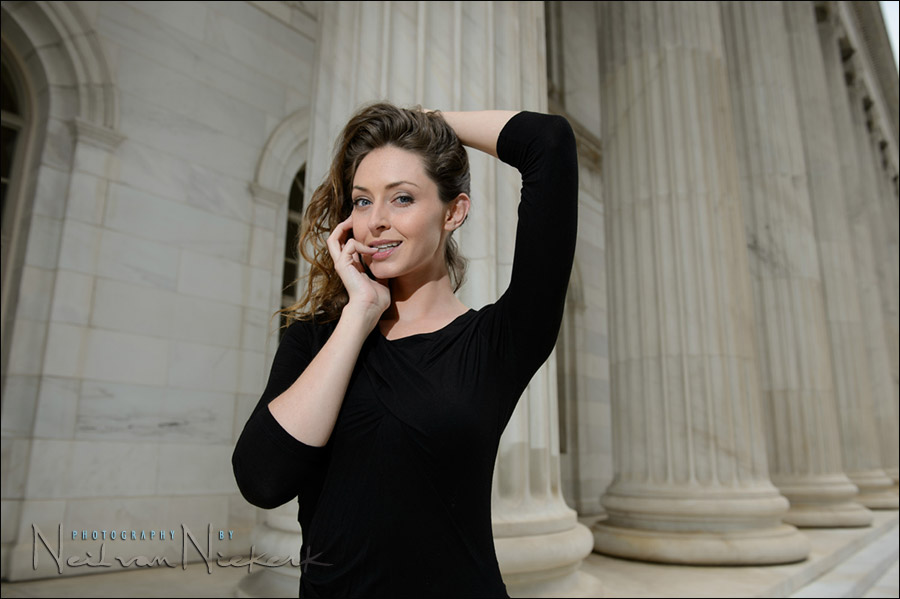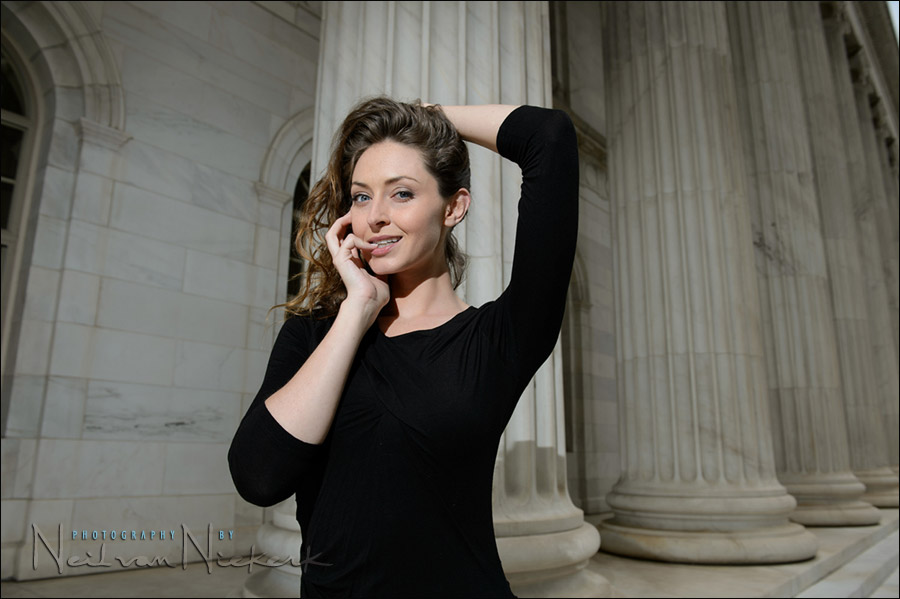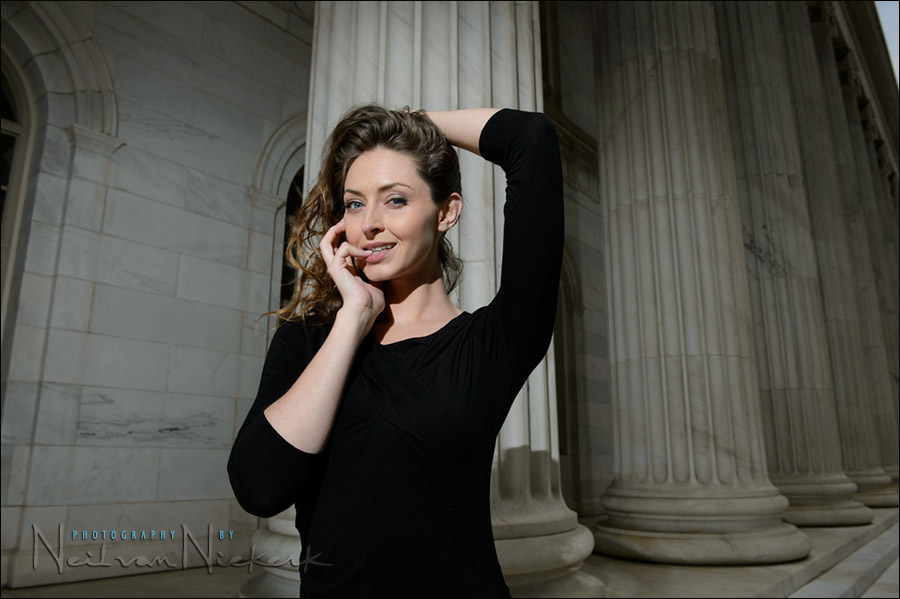 I had to pull down the f/2.8 exposure by 1/3rd stop in post and I had to pull up the f/8 exposure by 1/3rd stop in post. But you clearly see the difference here in how the change in aperture affected the ambient light. Since it is TTL flash, the flash followed, giving me (approximately) correct exposure. An easy, fast way to shoot.
So really, the decision on my camera settings, hinged on how dark I wanted my ambient light to appear in the image. I had choices. All of them good  choices. It now becomes an artistic decision which I want to try.
The more dramatic effect is usually the more interesting choice.
Related articles
Photo gear (and equivalents) used in this photo session
A little bit of homework
With manual flash, what would've happened if I had changed my aperture between those 4 settings?  f/2.8 to f/8
If I had decided to change my shutter speed, what would the consequence be? (Work through the range of settings.)
"aperture controls flash exposure / shutter speed controls ambient" 
That's the usual mantra. Why did it not apply here?