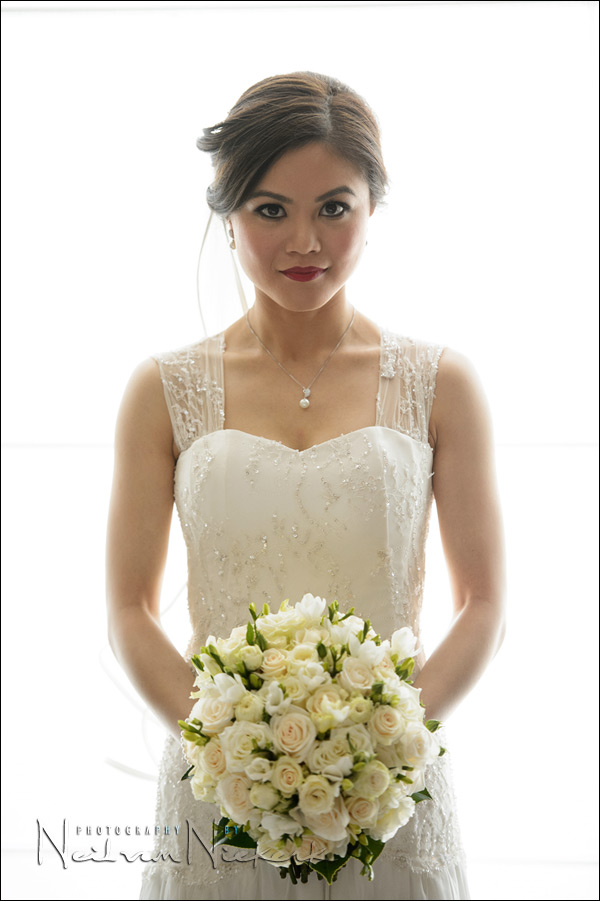 Under-exposure / Over-exposure vs. exposing correctly
When I posted this photograph of Peiwen & Eric's wedding in Melbourne, Australia, on Facebook, someone asked the question: how much did I over-expose this photo by?
We have to be very clear with our terminology regarding over-exposure and under-exposure. This photograph is not over-exposed. It is exposed correctly! Did my camera's light-meter jump all the way to the right-hand side? Yes, it surely did. Does it matter? No, it does not. Why not? Because I exposed correctly. Not under, not over, but correctly.
This photograph (which is ambient light only), is exposed correctly … because my subject, the bride, is exposed correctly. This is a key concept – we have to expose correctly for our subjects. Even if you decide to turn your subject into a silhouette, the decision was still very specific about how you wanted to expose for your subject.
If you are a landscape photographer, then most likely your entire scene is your subject. If you are a portrait photographer, then invariably, your subject is what you need to expose for correctly.
However, if you want to balance your subject which is shaded, in relation to a much brighter background, then you're going to have to use additional lighting to expose correctly for your subject. But working with just the available light, you will invariably aim to expose correctly for your subject.

If I had metered off the bride's white dress and just zero'd my camera's metering needle, then … ok, let's do this home-work style and step through some questions.
If I had metered off the bride's white dress, and just zero'd my camera's needle, what would the image be like?
if I had used center-weighted or evaluative metering while my camera is in an Auto mode such as Aperture Priority or Program mode, what would the image look like directly out of the camera?
How would I meter correctly for this?
Well, here's the tutorial:  exposure metering for the bride's dress
But they key here is that we are not "over-exposing" the dress. We are exposing correctly. We are definitely pulling the exposure up from what the camera is telling us, but this is not over-exposure. This is exposing correctly.
It seems like pedantic insistence on how the words are used, but it isn't mere semantics. Using the correct phrasing / wording here, is key to understanding this.
We are exposing correctly when we pull the exposure up for the white dress. By pulling the exposure up to where it needs to be, we are exposing correctly. It's not the same as over-exposing.
The same thought-process holds true for darker toned subjects. But in reverse, of course.
---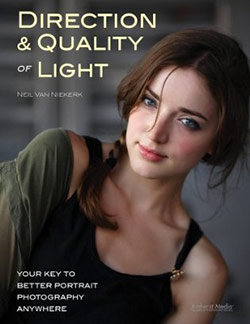 Direction & Quality of Light
I wanted to distill the essence of what we, as photographers, work with – light! Before we can truly grasp on-camera flash and off-camera flash, and really, any kind of photography, we have to be aware of the direction and quality of light. We need to observe the light that we have, and then decide how best to use it, or enhance it.
With this book, I try my best to share those "aha!" moments with you, and I do believe this book can make a difference to your photography.
The book is available on Amazon USA and Amazon UK, or can be ordered through Barnes & Nobles and other bookstores. The book is also available on the Apple iBook Store, as well as Amazon Kindle.
---
Getting it right in camera
Now, as much as I like to get it "right in camera" – the reality is that we are shooting in an uncontrolled environment the moment we step out of a studio. This "getting it right in camera" thing – I am slightly purist about this, but only slightly because the real world kicks in. There's only so far you can go in camera towards what is correct and looks great.
Here is the straight-out-of-camera version.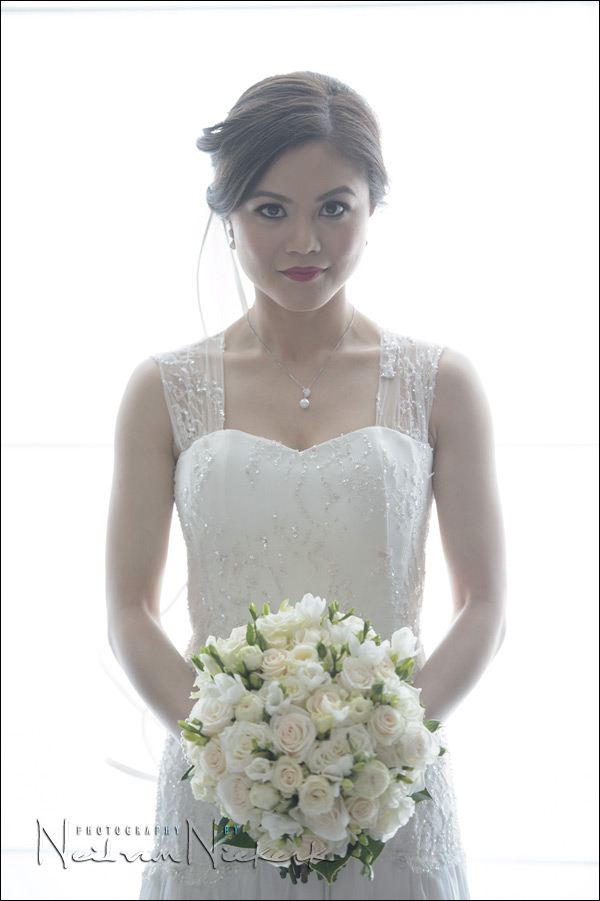 The essential adjustments I made to the RAW file:
– change the White Balance,
– increase the Contrast,
– adjust the Black Point, pulling it down to expand the tonal range.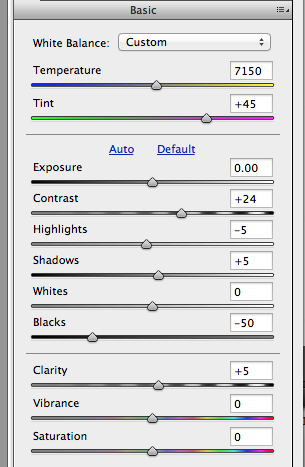 Because of lens flare – which is inevitable to some extent because of the strong back-lighting – the image is more flat than I really like. The contrast is too low and the image appears desaturated. This isn't something we could really get right while taking the photo. The best we can aim for is "pretty damn close", and then we finesse it as part of our general RAW workflow. Yes, RAW. Why RAW? Because: RAW vs JPG – the final discussion.
So while my White Balance is admittedly off, it isn't of much concern, because fussing over exactly correct color balance at the time would've been a waste of time – I could just as well finesse the WB / color balance as part of my workflow, while adjusting the image. I'd rather not waste time with this while shooting, but rather concentrate on ideas and moments. The important stuff.
So really, as with this instance, and so many others we deal with daily, there isn't a chance of nailing it perfectly in camera. It has nothing to do with the photographer's ability. It has everything to do with real world limitations.
Related articles