Exposure metering – expose for your subject !
In preparation for a review of the Fuji X-100 camera, I met up with Anelisa to see how this little camera performed during an actual photo shoot. The image above was one of the photographs we ended up with. Now, there is something specific about it that I wanted to explain in a separate article, instead of it being glossed over deeper inside a camera review.
The composition is simple – I do like my compositions fairly central, it seems. Similarly, the lighting is simplicity itself – all available light. There were two main sources of light – the light inside the shopping mall entrance; and some very strong back-lighting flooding the place.
While the technique here hinged on specific exposure for the available light, there are a few crucial ideas here that I'd like to underline:

1. Expose for your subject, not the scene. I had to decide on my camera settings, and couldn't just leave this to the camera. Therefore it was imperative that I shoot in manual exposure mode.
Since I was only using available light, I didn't have the option of exposing for my background and then using flash to lift my subject to the correct exposure.
2. With ambient light only, you have to consider the ambient light carefully, and decide how you want to position your subject in relation to the available light. There is a related article on this topic: direction of the light – using found light.
3. You have to recognize the tonal values of the entire scene – this will allow you to pre-vizualise the image.
Here is a reference image, where I brought the exposure down so that the background showed more.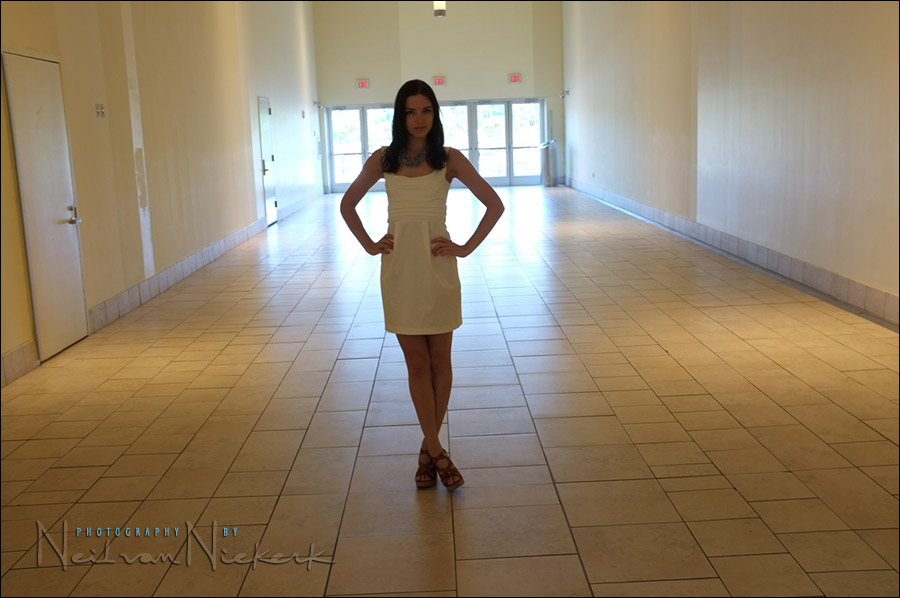 It will also give you an idea of the truly bland setting we were working in. But there was distinct potential here!
In this instance, I knew that if I had Anelisa turned with her back to the bright background – then the light on her face and body would be quite even. I saw that the light coming in from the back was so bright in comparison, that I immediately knew it would blow out, creating that halo effect around her. A first test shot showed that I was on my way to  what I wanted.
Two or three images later, I had what I wanted in terms of exposure – now it was just a matter of directing Anelisa in how I wanted her to pose. The video tutorial on using video lights, will give you some insight in how I would normally direct a model in a studio setting. In this case though, we were trying to shoot surreptitiously in a shopping mall, so we shot just a few images before we moved on.
Back to the image that I wanted  – here is the un-edited image, straight out of the RAW converter. I only adjusted the WB a bit, and also straightened the image a touch. I wanted the image that warm.
To sweeten the final image a bit more, I did a quick edit and removed the part of the door frames that were still visible. Just for comparison, here is the final image again. It should be clear just how little part Photoshop played in the final image. I just erased a few spots in the background. The halo effect existed because of the available light, and how I posed Anelisa in relation to the available light.
Finally, this photograph hinges entirely on recognizing the potential in a place,
and pre-visualizing what the light would do, depending on your exposure metering and camera settings.
Related articles on available light photography
---