A recent thread on the Flick group on flash photography techniques dealt with exposure metering .. and the questions revolved around  understanding your camera's built in meter.  One of the group members, Arnold Gallardo (Zeroneg1), replied with a lucid explanation on exposure metering, relating it to the Zone System in a clear understandable way, using images from my blogs.  I'd like to present this article by Arnold Gallardo as the latest guest spot on this blog.
I might not have such a specific linear approach to metering any more during the actual shoot, since with practice it becomes near instinctive .. but this analyzing of a few images might make an interesting outside perspective to the thought-process in exposure metering.
Zones of Light – an approach to exposure metering using the Zone System
a guest post by Arnold Gallardo
We all have made a picture where we didn't get the representation we wanted it was either too dark or too light or not quite there in terms of how we wanted the camera to capture the scene or how it imparts an emotional element to the image.  Then we realize how professionals do it 'so easily' when thinking about well exposed and composed images. Well, a Pro would have developed an innate sense of tonal placement and tonal awareness that has been developed through experience as well as 'seeing' and not just looking and solving things on the fly.
Okay let us talk about tonal placement and what does that term really mean?
Let's look at a series of images from a recent workshop: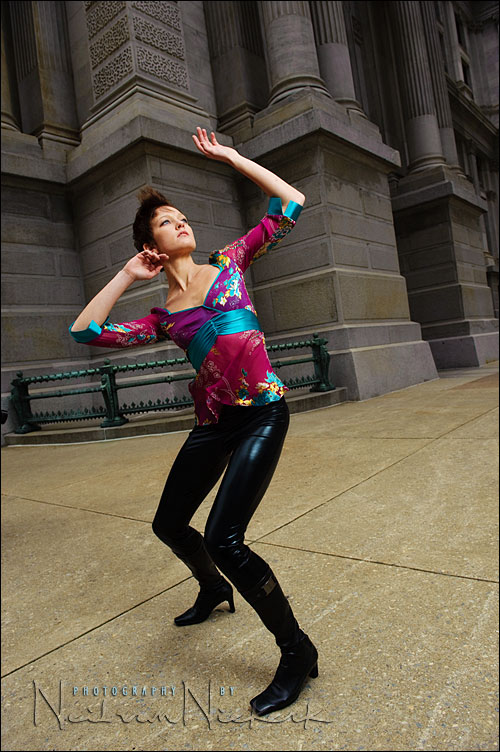 In simple terms, tonal placement is the willful and deliberate exposure changes so that the desired shade or tone in a scene is altered or rendered the way the photographer wishes it to be.  This could mean a whole area or section of the scene is altered or a specific part only is affected.  Tonal awareness is something else and it is an innate ability to look out into a real world scene, and instantly recognize how the lighting in that scene would affect a photograph if it were exposed in a certain way. This is just being aware really of how dark and how light things are relative to each other and how the 'light behaves' in the scene.  Is it directional', diffused or it is bright or specular?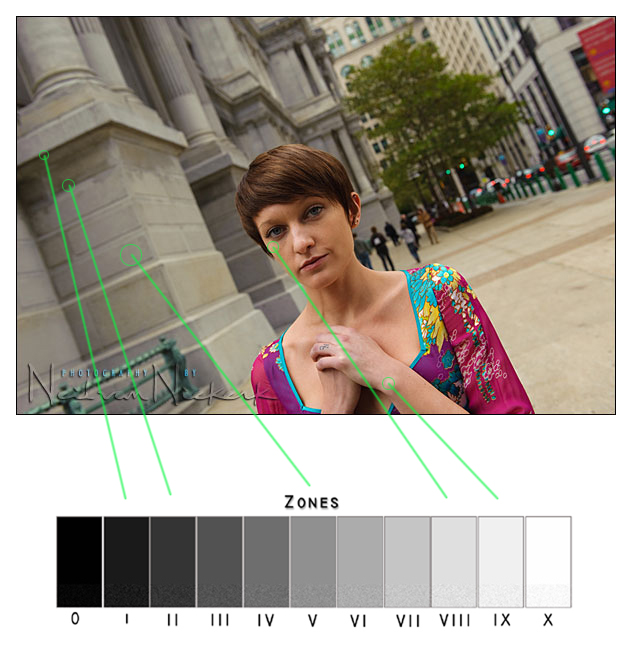 In this image Neil took a reference shot to confirm how the tones in the scene registers in the camera.  This includes the important parts of the scene that would be included and in this case, the building on the background (left) as the beautiful model's hair and skin tones as well as her striking wardrobe.  Notice how the background is relatively bright.  Although the model can be seen in the image she does not really 'pop out' in the image and actually quite blends in to the background. By taking a test image, Neil already has considered how to tackle this problem, so let's analyze the process …
Look at the model's highlighted skin and how close that is to the building's tone.  So what's the solution?  You can either lighten the background but then the model would lighten as well.  Darkening the background would be an easier approach but yes the model would darken too.  The solution is to take control of the 'important tones' in the scene.  So what's the easiest way to develop this 'tonal sense'?
The Zone System
Ansel Adams developed the Zone System as a way to control the limitations of his film (as well as prints) in capturing the kind of image that wants.  The key word here is 'want' because you can actually have the kid of tonality that you like (within limits) in an image if you plan ahead as well as analyze it well .. and also have the available resources to pull it off.   Ansel Adams divided the tonalities in an image into 11 Zones.
Zone V-Your most important Zone.
The camera meter sees Zone V which is the middle gray also known as 18% gray because it reflects back 18% of the light falling on it. Remember the light meter 'sees' nothing but this tone.  The newer segmented ('Evaluative' or 'Matrix' ) light metering systems aim to get beyond this limitation by breaking up the scene and analyzing each section or area and judging if that is an important area to consider for the overall exposure or not.  Segmented light metering systems still does not know which area in the scene is most important to you, it can only guess based on its database of previously taken images (converted into an equation or algorithm).  You must still decide which tones can be ignored and which tones can be compromised.
Zone VII-VIII are the highlighted texture zone which are the most 'important highlights' like a wedding gown details like lace and ribbon patterns or more commonly the textures on a white towel or subtle undulations on clouds.
Zone III are the detailed shadows areas.  This mainly would be charcoal darkness but with visible details and patterns.  In practice this would be a dark tie with design or dark tuxedo embroidery.  This could also be black rocks and stones with discernible features.
This means you expose for the most important tones in your scene.  This is why just following the meter blindly would lead to wrong tones being captured.  This is why most professionals use Manual Mode because they can place the tones on a sliding scale by changing the shutter and aperture and the ISO, or a combination of any of those.
.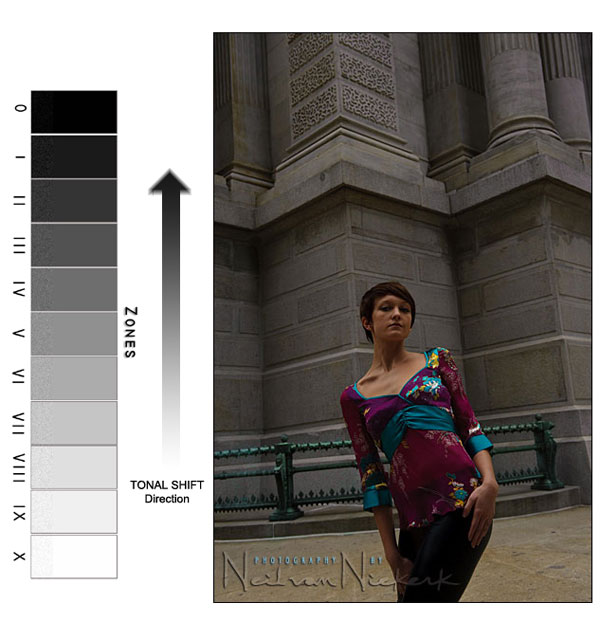 In this image Neil underexposed the background so that it would create contrast and 'drama' as well as have it fade into the background because dark objects always seem to recede back into the background.  What he did here is to 'push' the Zone VII-VIII (highlighted textures with detail) down by 2 stops (-2.0) so they now became Zone IV-V which is much darker.  Note that when he 'underexposed' everything else is 'pulled down' with it – the bright ground is now a grayish yellow tone as well as the model's clothing.  This part is Neil taking care of the background's tonality so it would not blend with the model and has some sculptural element to it and not just a building.  Also notice the perspective chosen.
Naturally, the model's skin tone also became dark and she just lost all her definition.  Since the model is the subject and the most important part of the image, she must be made 'alive' and 'vibrant' with life.  The solution now is to take care of the tonalities in her skin, hair and clothing.  Neil's solution to this is to use a portable softbox to illuminate the model, to bring her 'out of the shadows' and make her 'pop out'.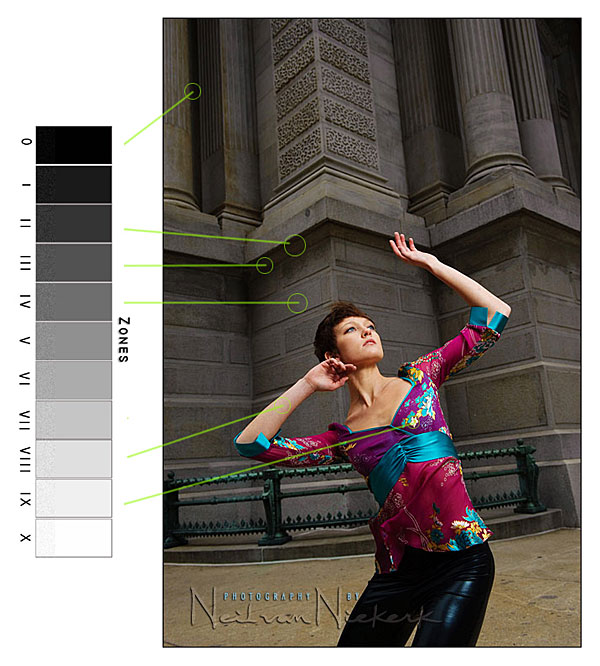 Look at how she just is totally separated from the background and seems to exist on her own space.  All this by 'placing tones' by dealing with separate parts of the scene through exposure changes and lighting control by dealing with the background first through underexposure and lighting the foreground subject through the portable softbox.
What Neil actually did for the model is to bring out her Zone IV and V and even Zone III tones and push them UP to Zones VII and Zone V to Zone VI.  Also look at her pants, there is detail in those so he pushed the Zone II's into Zone III-IV.  Nice contrast too with the ground creating an outline and leads up to her torso.  Her pose and gaze also counts in the way it leads the eyes where to look.  All of this however would not have looked good if the lighting and 'tonal placement' is off and did not work together..

This whole metering thing and 18% gray is even more complicated if you use Matrix Metering or Evaluative Metering.  Overall however it still if prudent to be able to place your tones.  Basically what you do is if you have time, spot meter the most important tone in the scene.
To fully use the Zone System, it is better to Spot Meter, (if not using Center Weighted), since Matrix complicates this because it also checks its database of stored images to compare with the scene you are looking at and judges accordingly.
On some newer D-SLRs the AF indicator also plays an important part in determining your 'most important tone' because the metering system weighs the exposure toward where the AF indicator is placed.
All of this means you have to meter the most important area you want to have in the image.  The Zone VIII and Zone III are the ones you need to have but sometimes due to lighting conditions the number of stops you can capture gets either expanded or contracted.  This is where you must decide if you would augment the existing scene with flash or change the dynamic range with filter (ND filter/Polarizer/Soft FX filters) or expose it as it is.
If you scene is flat you have to create contrast, this is done by either using filters or using flash to overpower the sun.  Also when there is too much contrast you can then either use fill flash to 'Brighten up' the shadows areas to push them towards Zone IV from Zone II or Zone III or by using filter like an ND filter to compress the tones.
So after metering you must evaluate what kind of scene do you have, is it flat, normal or contrasty.  How the scene is captured and metered would depend on your lens as well as in your camera. Different cameras have different dynamic and tonal range depending on the ISO and lens used.
All of this is shifting where the existing tones on the scene are placed.  This are controlled by your aperture and shutter speed as well as any flash or filter you use.  Essentially you should consider the existing tones in the scene as being on a sliding scale of Zones where you can move the tones UP or DOWN depending you how you expose them.  Your 'baseline' would always be the Zone V or middle gray. Some people meter only the 'textured highlights' and 'detailed shadows' and extrapolate the middle gray based on the Zone VII-VIII and Zone III placement on the scene.
These tones and how they are rendered can also be altered in Photoshop using the CURVES and LEVELS but that has a limit. You do want you most important tones to fall closer to Zone V (middle gray) than outwards to Zone IX and Zone II because it is harder to recover those tones even if you shoot RAW.  Shooting in RAW could only save you so much, therefore proper exposure is still preferable to doing everything in post-production.

Finally the workflow is:
1)  meter the most important tones you desire and ignore the others.
2)  evaluate the scene before you based on the meter readings. Which tonality is more important than the others?
3)  decidehow you will expose the most important tones in the scene.  Will you WEIGH or LEAN your exposure towards the 'Textured Highlights or towards the 'Detailed Shadows'?  Deciding on this depends on your exposure and your camera and lens.

The work flow for spot metering :
1)  Look at the scene with your eyes.
Now, just by looking you already know which parts of the scene before you, must have proper tone capture.
2)  Meter the most important tones, based on the above evaluation.
This means you meter the 'textured highlights' (Zone VII-VIII), middle tone (Zone V) or middle gray,as well as the 'detailed shadows' (Zone III) and anything in between.  When you meter each section, the meter would tell you the exposure.  Take a note of each tone, plus their exposure values.  They would be different for each tone.
3)  Once you have 'evaluated' each important tone, you will now evaluate how much dynamic range or f/stop difference there is between the 'textured highlight' and the 'detailed shadows'.  This f/stop difference would tell you if the scene and the tones you are trying to capture would be.
4)  You expose for the most important Zones – so you basically expose for Zone V based on your reading for Zone III and Zone VII-VIII.  This is why this becomes a sliding scale because if you expose a little more, the tones on the scene would shift and slide along with your exposure.
Essentially all this means is that you're doing the Zone V exposure for another Zone, eg  Zone VI-VIII.  This is the placement.  How do you do a Zone V exposure for a Zone VII-VIII area?   With B&W film, by overexposing for 1.7 to 2 stops (+1.7/+2.0).  Alternatively you can do a Zone V exposure for a Zone III area by underexposing for 2 stops (-2.0).   The subtle tones in between the Zones are handled by your camera's 1/3 f/stop setting instead of having it change f/stops say by 1/2 when you change it.   This is much easier form the old days when you can only change 1/3 to full stops.
You are using the 'Zone V exposure' for another Zone because that is the only tone that the camera meter in spot or center-weighted actually just sees.  It doesn't know that your subject is a white gown or a back tuxedo or a red shoe or a blue dress.

Finger Rule:
a)  Contrasty:  (Five Fingers)  There is a five stop range between 'textured highlights' and 'detailed shadows'.
Contrasty scenes have sharp shadow outlines that can be traced.
b)  Normal:  (Four Fingers)  There is a four stop range between 'textured highlights' and 'detailed shadows'.  Normalscenes have visible but diffuse and soft shadows.
c)  Flat:  (Three fingers)  Three stop difference between 'textured highlight' and 'detailed shadows'.  Flat scenes have shadows with little or no definition and form.
Now the 'textured highlights' and the 'detailed shadows' areas that you pick would be the ones you feel that are important and not necessarily be the only 'textured highlights' and 'detailed shadows' in the scene.  They must be the the 'textured highlights' and 'detailed shadows' that you care about – the ones that are important to you.
4)  You expose for the most important Zones – so you basically expose for Zone V based on your reading for Zone III and Zone VII-VIII.  This is why this becomes a sliding scale because if you expose a little more, the tones on the scene would shift and slide along with your exposure.
If you are comfortable with evaluative/matrix metering instead you can also change the tones in manual mode by changing your shutter/aperture combination after making a test exposure and shifting your exposure through changing your shutter speed or f/stop.
This is why flash use is there for it to augment the existing lighting for you to be in charge of the final image rather than being limited by existing light and ambient light quality.  Make everything work for you!

Here are some more examples of tonal placement: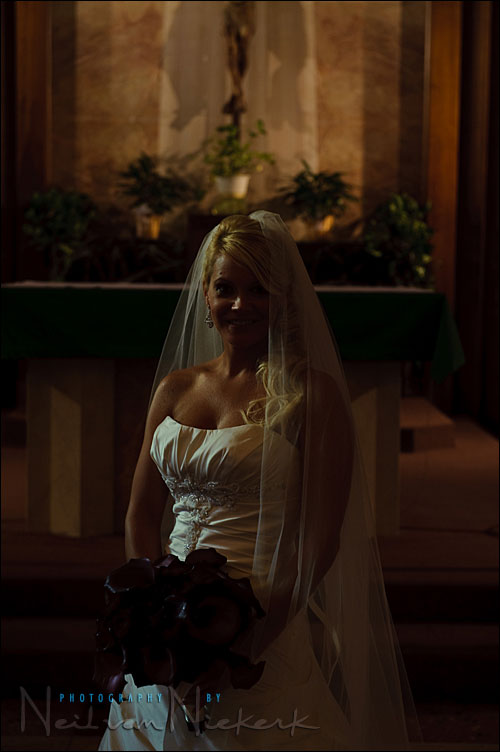 Background tone test shot as well as evaluation. Now look at how Neil took care of the tones in this image.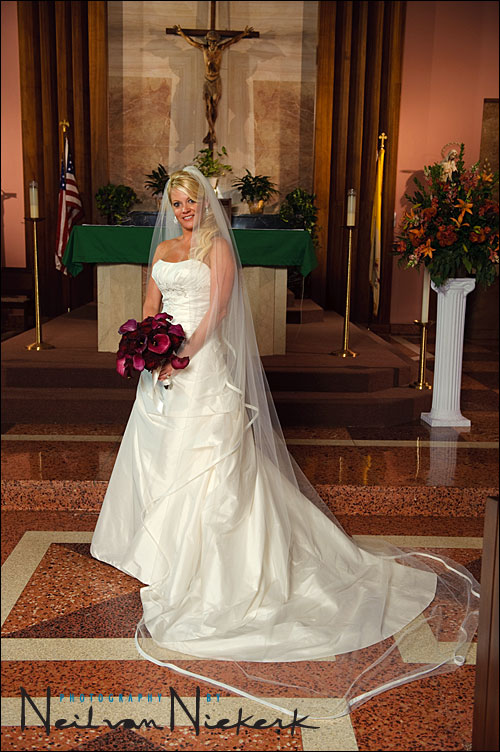 Notice that the tones in the altar behind are quite close to the final image from the 'test shot' with no flash. All Neil had to do is to handle the bride's tones now by pushing the Zones up by augmenting the existing ambient lighting with a powerful flash creating a very diffuse light.
.
Here we see the same approach: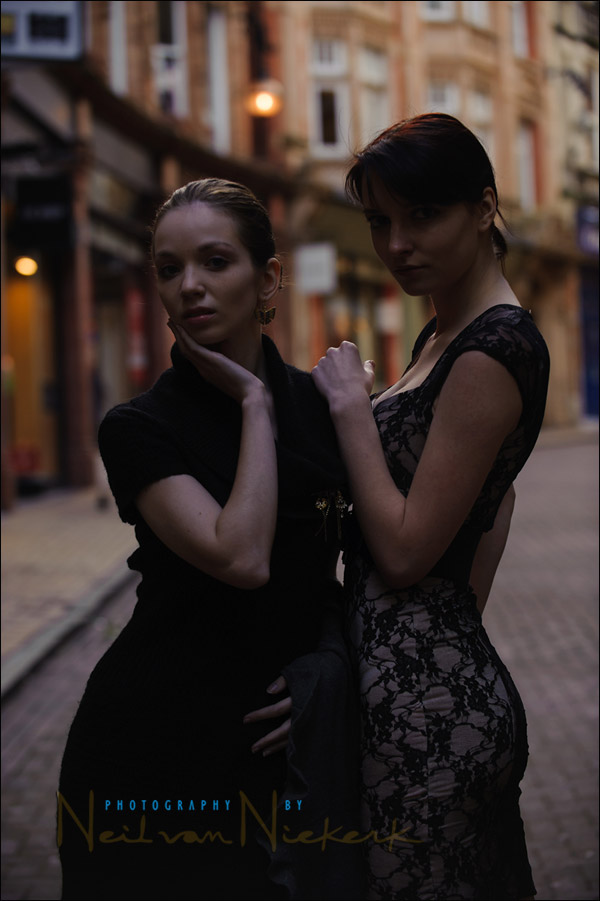 Neil 'tests' and properly exposes for the background as well as check how much this exposure for the background affects the models. He then again brings then 'out of the shadows' by using flash to stand out the models and isolate them creating this: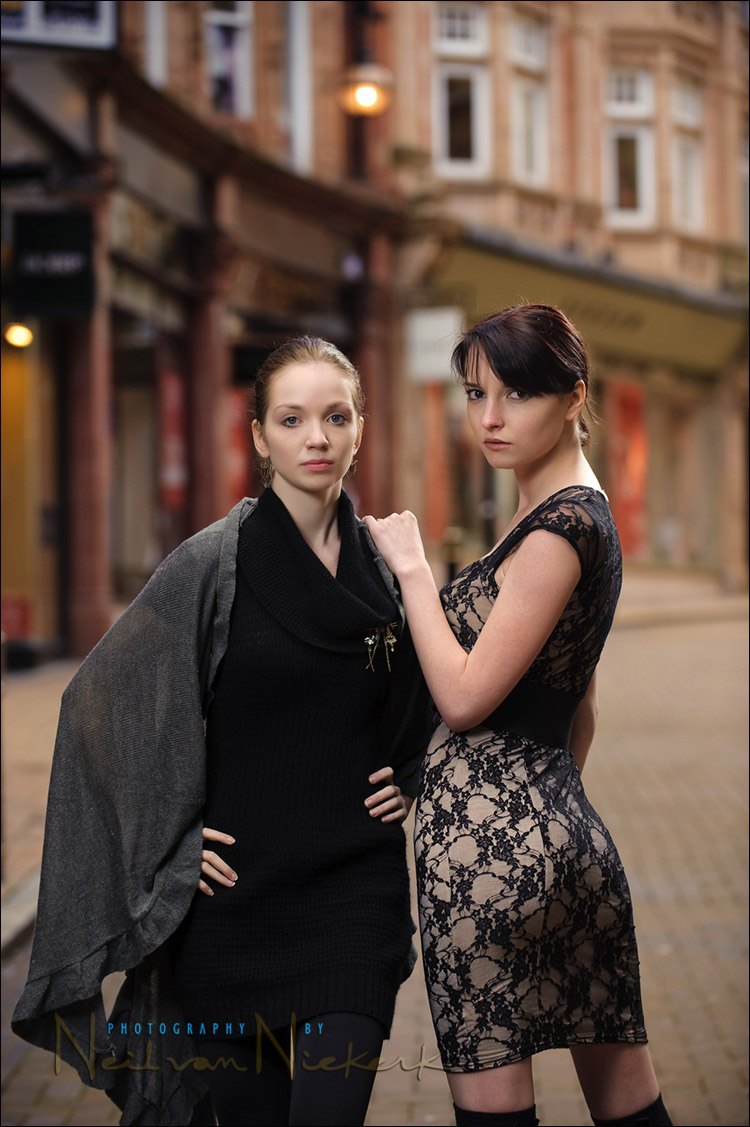 In all of these examples, note how much the tonal placement helps by seeing the Zones on a sliding scale by manipulating exposure and adding to the existing light and making it your own and actually 'owning it'.  Whether this is done though exposure (always preferable to do this in camera) or post-processing, it is all about tonal manipulation and control.  If you develop this way of thinking, you would no longer feel limited by existing light that is available to you but work around it as well as make it work for you through the Zones of light.