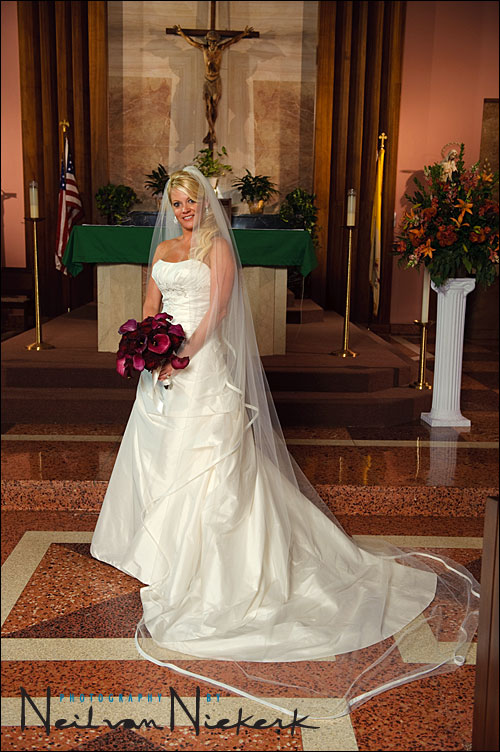 lighting and photographing the wedding formals
With this, the first in a loose series on lighting and photographing the family formals at weddings, I would like to show that with a simple approach it is possible to get clean results that work every time.
In lighting the formals, I don't try to get all Rembrandt, but prefer a fairly flat way of lighting everyone.  I keep the lighting static for all the images, whether I am photographing one person or twenty.  With time usually being a real constraint during the wedding day, there simply isn't the opportunity to play around too much with the lighting .. and I find a simple predictable way of lighting works best.
Before we get to the actual gear I use, let's start off with exposure metering for flash.
Because I work with off-camera lighting, and everyone is static in relation to the lights, it is much much simpler to work with manual flash.  With TTL flash there is the chance (or risk, if you will), of exposure varying from image to image.  This will slow your post-production workflow down as you now have to correct exposure for individual images.  In the end it is just simpler to work with manual flash in this instance.
You can work with a flash meter, however, I use the histogram with as much accuracy by metering for the brightest relevant tone – the white dress.  Since the lighting setup is straight-forward and the lighting pattern quite even, metering for the flash exposure is pretty simple as well.
The flash exposure is chosen for a specific aperture and ISO – we need enough depth-of-field, and f5.6 is good for a small group of people in line with each other.   For our ISO setting, we need as low as possible to get the best results – the best color reproduction and contrast, and as little amount of digital noise as we can tolerate .. and on modern D-SLRs an ISO of 400 gives very good results indeed, and can even be considered a low ISO setting.
But these settings also need to be chosen in relation to our available light .. and for the image above, here is the available light only shot: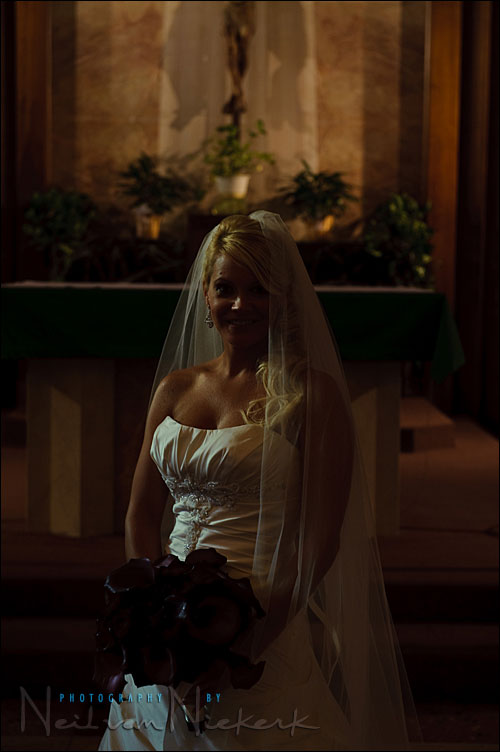 With this image you can see how much light there was in the background .. and also that there was a slight amount of available light coming from a window somewhere.  So we'll choose a shutter speed where enough of the background registers, but the amount of light falling on our bride from the window doesn't cause an uneven lighting pattern on her.
For the image at the top, the final choice of settings were 1/100th @ f5.6 @ 400 ISO.
Normally I would consider 1/100th of a second shutter speed to be fairly low when working with available light.  However, the risk of camera shake is nearly eliminated here because the flash completely dominates as the light source.  This allows me to comfortably work without a tripod.
gelling your flash for Tungsten / Incandescent light
Since the lighting in churches are predominantly Tungsten, I usually gel my flash either with a full CTS or a 1/2 CTS as in the example above.  This helps bring my flash's white balance to match the existing light, and not give a discordant color cast. I use these gels that I cut up and tape to the top of my speedlight's head. One of these sheets (which aren't expensive), will give you a lifetime supply of these filters.  If you use flash indoors where Tungsten lighting dominates, then these filters are an invaluable part of flash photography.
You can buy gels through these affiliate links: The Full CTS will bring your flash WB down to around 2900K, more or less neutralizing the look of the Tungsten light.  The 1/2 CTS will bring your flash WB to around 3800K, which will leave your backgrounds still with a touch of the warmth of Tungsten lighting.
The equipment:
For the portrait above, and for small groups of up to 8 or 9 people, I most often just use one flashgun with a 60″ umbrella.  This large light source gives me even enough coverage for a small group.  When just using the one light (and 60″ umbrella), I keep the light off-center from my position, but not by much since I want even coverage for everyone in the group.  With larger groups I use two of these set-ups, evenly spaced.
You will also notice that lighting with regard to short lighting / broad lighting, isn't a specific concern here.
I prefer using the Quantum flashguns here, since they are workhorses with which I've never experienced over-heating.  I can just keep on shooting without a thought to my flashguns.  You can certainly achieve similar results with a speedlight, but you might have to fire at a slower more steady rate.   Since a speedlight would most likely work at (or close to) full power here, there is a chance of over-heating the speedlight.  And you would also have to fire slower to make sure that the flash recycles properly between shots.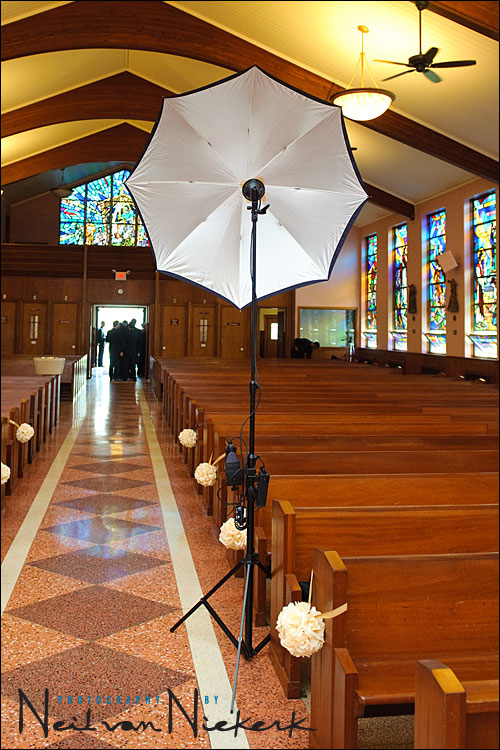 The radio transmitter is the industry standard Pocket Wizard – in this case the Plus II.  As mentioned earlier, I don't need TTL metering here, and actually don't want it.  I need the simplicity and predictability of manual flash.
A close-up of the Quantum flash and battery pack, as shown in a previous thread.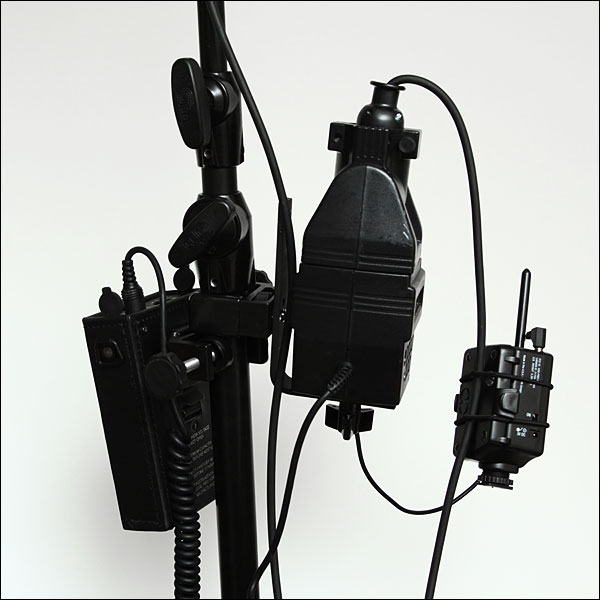 And to end off this section, here's an example of a group as photographed using two of the Q-flashes, each with a 60″ umbrella.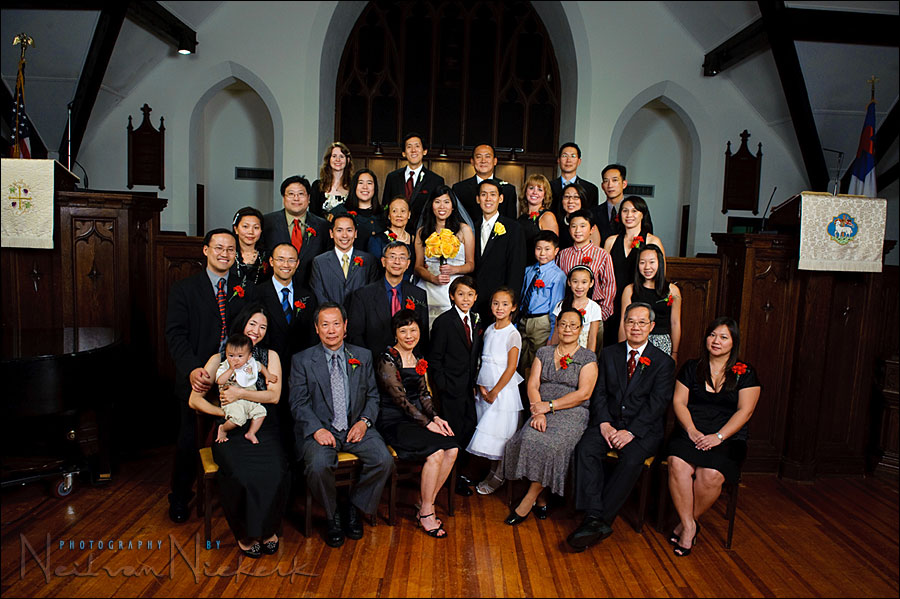 What I wanted to achieve with this article, is show the simplicity of it all – the equipment is set up in a straight-forward way, and used in a straight-forward manner – and giving pleasant results that will please clients .. with a minimum of post-production work.
related articles