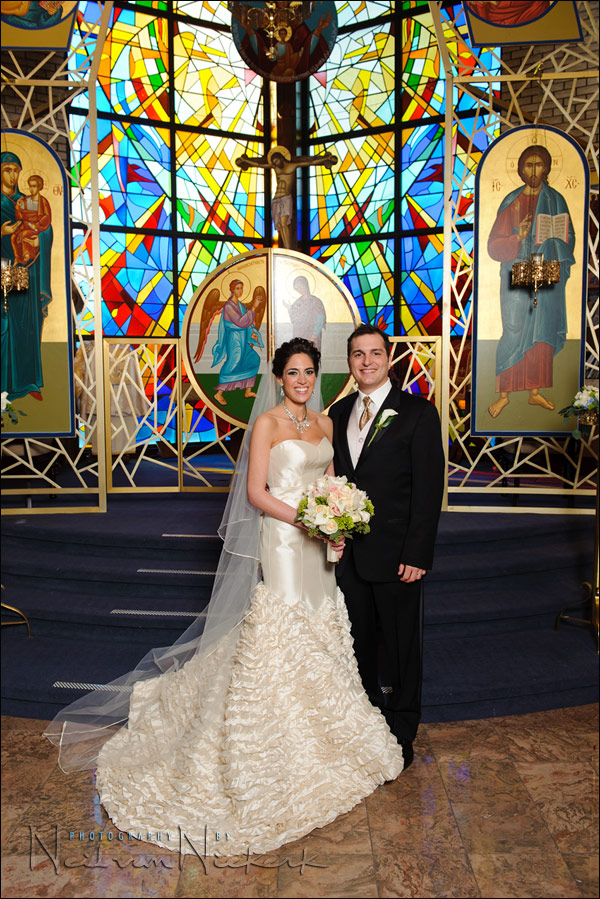 A simple lighting setup for photographing the wedding formals
Photographing a wedding can be pretty hectic at times, especially as it so often becomes the photographer's de facto responsibility to keep everything on track. The formal photo session specifically is a part of the day that many photographers find challenging. The other challenging part of the wedding day is photographing the wedding processional. You have a narrow margin to get things just right. No second chance.
When photographing the family portraits, you can really help yourself by nailing your lighting. Get it down.  Then you can concentrate on getting the groups together, and concentrate on posing the groups. But your lighting works! Much less stress.
I mostly work with the Profoto B1 flash at the moment, because of their versatility and sheer power. However, I often work with a speedlight setup …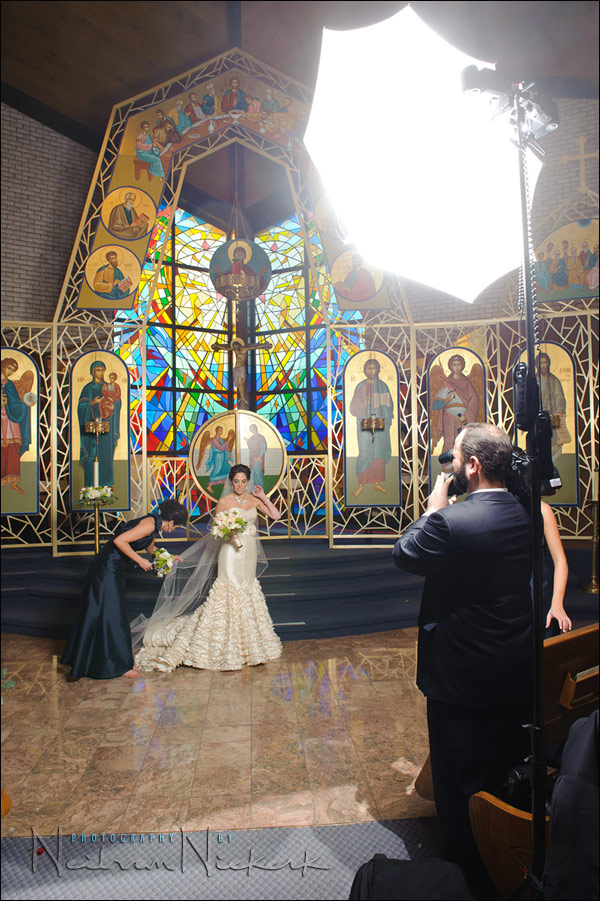 Here is a proper close-up of the photo gear that was used. Anything similar would do well.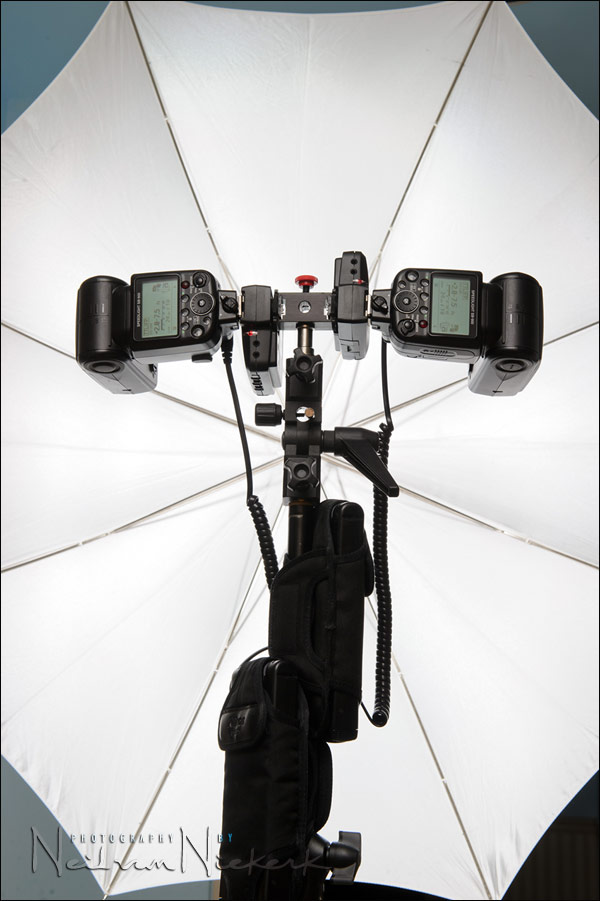 Suggested photo gear to light the wedding formals
Two Speedlights
Here I used two Nikon SB-900 speedlights. They've been updated as the Nikon SB-910 Speedlight (affiliate).
If you're a Canon shooter, then the  Canon 600EX-RT Speedlite (affiliate) is a great choice. But any speedlights would've worked. There are good reasons to use cheaper manual-only speedlights, but I prefer having only the top-end speedlights which offer the flexibility and features I need, such as TTL flash and high-speed flash sync.
I used two speedlights ganged up like this, because they (obviously) give more power than just one – but the impaction is also that if I run them at half power, they recycle much faster than a single speedlight at full power. And of course, if I need more juice, I can push them both to full power.
I like the PocketWizard TT5 units, but since we'll be using manual flash only here, there's a wide variety of radio triggers for flash that would've worked well.
45″ white satin umbrella 
This single shoot-through umbrella disperses the light surprisingly evenly.
You need something to hook the umbrella up to the light-stand, and be able to swivel the umbrella into a specific direction.
You will also need some kind of bracket to hold more than one speedlight, if you decide to go with two or more speedlights:
Battery Packs
For faster recycling, I'd strongly recommend battery packs.  The proprietary battery packs make a lot of sense:
– Nikon SD-9 battery pack
– Canon CP-E4  Compact Battery Pack
But it does make sense to get two speedlights in there for extra power, or for faster recycling. Besides, you have at least two speedlights anyway.
Light-stand
I like the Manfrotto 1004BAC  – tall light-stand (affiliate), but any light-stand that is tall and sturdy, and gives you the confidence it won't topple over, is a good choice.
That about covers the gear you'd need.
Lenses
My workhorse lens for wedding formals is the 24-70mm zoom:
Nikon 24-70mm f2.8G AF-S (affiliate)  /  Canon 24-70mm f/2.8L II (affiliate)
Make sure you step back (as far as possible), and then only zoom for proper framing, to get the best perspective and least spatial distortion!
I bling mine out with Lens Skins. It's an interesting conversation starter with grandparents and flower girls alike. I must seem less scary with a flowery lens.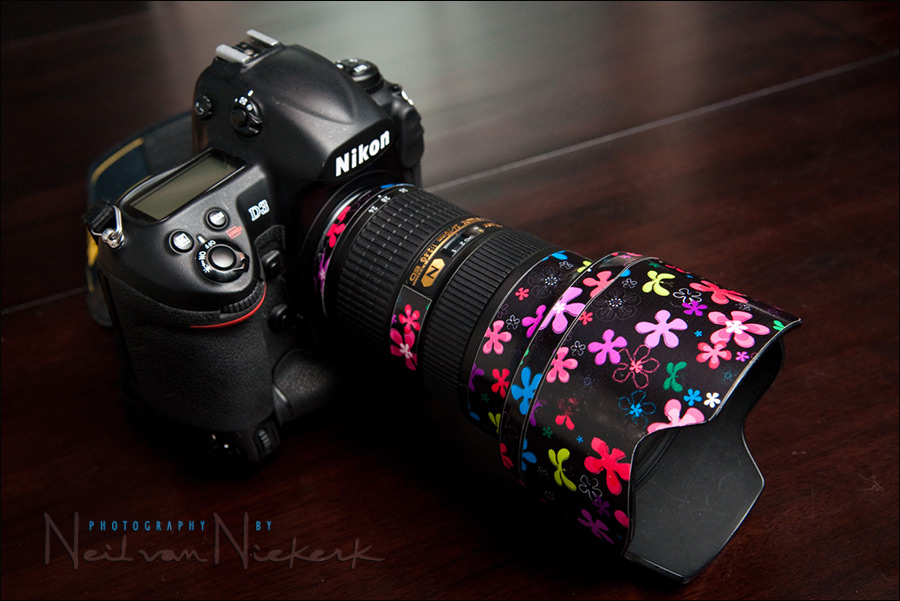 Exposure metering for the flash
I mostly rely on the histogram method of getting accurate exposure with manual flash.
Since the family members will be in a fixed position in relation to the light (on a light-stand), it just makes the most sense to use manual flash. TTL flash will cause too much variation in exposure.  What you need for a faster workflow afterwards, is consistent and accurate exposure. Every frame with exactly the same exposure.
Manual flash exposure is controlled by these 4 factors:
– distance between the light source and subjects (which is fixed)
– power  – the power / output of your speedlights. You need to figure this out, for your chosen aperture and ISO
– ISO  – select a reasonable ISO. I often go as high as 800 ISO with the family photos with a suitable camera. 
 – aperture  – pick a suitable aperture. f5.6 makes sense. f8 makes sense. f2.8 is kinda risky for a group because the depth-of-field is so shallow. Stay with a medium aperture.
My settings for the image at the top were:
1/160 @ 4.5 @ 400 ISO
There was a lot of available light streaming in, so I chose my settings accordingly, and added enough manual flash to give me good exposure for the brides dress.  All other tones fell into place along with this.
For this wedding, in a darker church, I chose:
1/60 @ f5 @ 800 ISO … using exactly the same setup.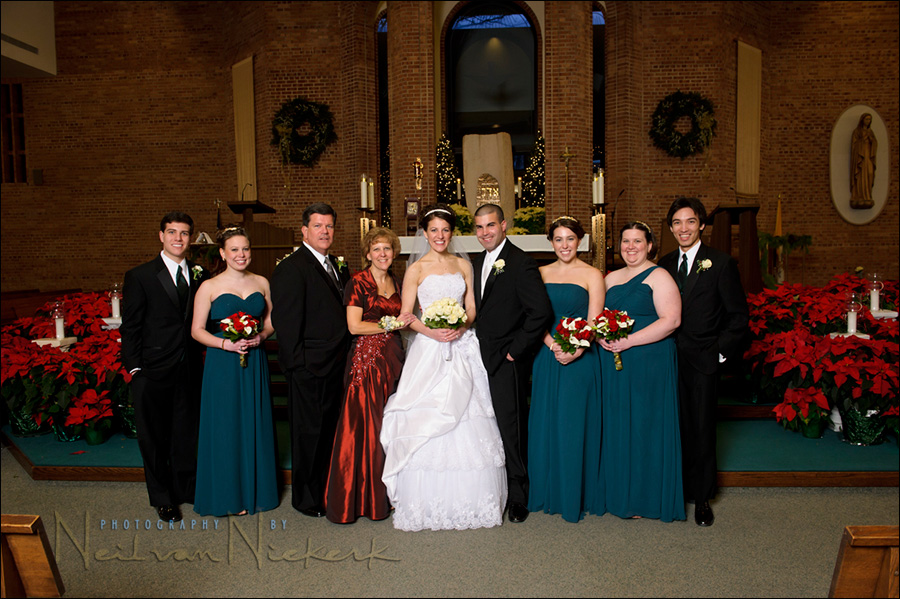 A quick note about focal length – use as long a focal length as you comfortably and practically can. Really resist the urge to zoom wider on a group of people .. really try to rather step back and keep to a longer focal length.
And this is how it comes together for the lighting – using a lighting gear that is easy to use, and gives surprisingly great light for a medium sized umbrella. This way you can take stress off you by having great light with the family formals session.
Related articles