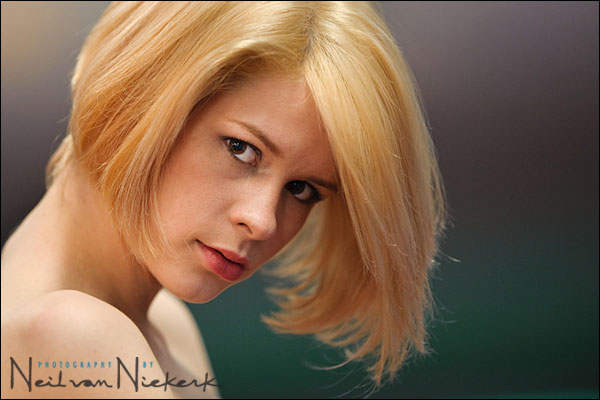 [ Nikon D3;  Nikon 200mm f2 AF-S VR .. 1/100th @ f2 @ 1250 ISO ]
click on the image to see a larger version
My friend Steve Z from Colorado was around for a few days, visiting friends and family here in NJ.  So we got together to do a photo shoot, and I arranged to meet up with Priscilla, a model with whom I've worked before.   I also was fortunate in getting permission to photograph inside the Paterson museum – an interesting historic building.
Steve Z is also into photographic lighting, so we packed up a bunch of gear  – a beauty dish, softboxes, speedlights and video lights.  We were ready for a lot of playing around with lighting.
When we arrived at the museum, my heart sank when I saw the place was flooded with fluorescent light.  In my experience thus far, fluorescent lights = ugly light.   I decided that perhaps this was an opportunity then to get some material for a tutorial page on how to use flash with fluorescent lighting.   When I've dealt with the ugly green look of fluorescent lighting before, I always over-rode it with flash.   Fluorescent lighting often has a green color cast, and the discontinuous spectrum makes it difficult at times to get great skin tones.  Also the lights flicker and the White Balance can even vary as you hit different parts of the cycle.  So I thought this might just be material for a tutorial here …

In order to show that fluorescent lighting can cause that kind of change in WB for a sequence of images, I set an approximate WB via the Kelvin setting on my camera.  With the Nikon D3 set to continuous drive, I fired off 3 bursts of about 8 frames each .. my shutter speed at 1/100th for the one burst, and 1/60th for the other two.
And to my surprise, the lighting looked awesome!  Even light, image after image.
Not even a hint of green. It was warmer than daylight, but looked great.
So for much the entire 2+ hour photo session there, we shot with the available light .. fluorescent lighting!  Knock me over with a feather.
That photo above there is all available light!
In post-processing the RAW file, I reduced some of the yellow in the WB as I recorded it, and also added a touch more magenta to give me a skin tone I liked.  And with the local corrections in ACR / Bridge, I reduced two hot spots, and brightened up her eye a little bit.
I am still surprised that the lighting was so good and so even, especially from fluorescent lighting.  So much for my preconceived idea that fluorescent lighting has to be bad.
Obviously this will depend on the specific fluorescent lights that are used, as well as other influences, such as the age of the bulbs.  But whatever fluorescent tubes they used in the museum, must have had some magic done to it, for the light look surprisingly good.
.



.
Now you may well ask what is that color and shading there in the background.
And then I will have to explain to you that it is actually the USS Holland – the US Navy's first commissioned submarine.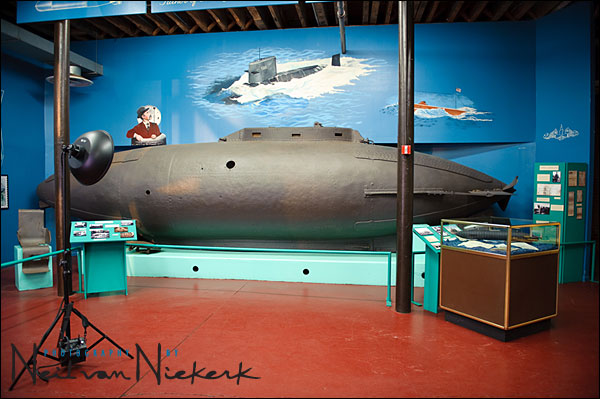 See that grading in the tones and colors on the concave hull?
That is the background at  f2 as shot with the Nikon 200mm f2 AF-S VR lens, (B&H).
You know, looking at that image at the top, I think I just fell in love with this lens again.