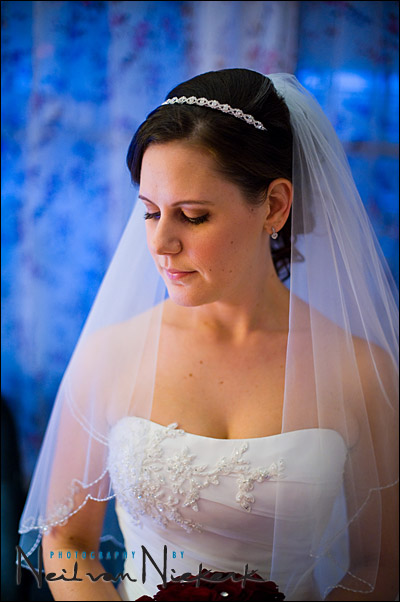 wedding photography – working with incandescent light sources
As a wedding photographer I obviously shoot all the time in ares lit by tungsten / incandescent light sources. With modern D-SLRs and fast lenses it is no problem to actually use tungsten light as my main light source.
The photo above from a recent wedding, is a typical image where I used an existing incandescent / tungsten light source for a beautiful but simple portrait. Here I photographed the bride by the light of a lamp in the living room.  No flash was used – just the lamp and whatever other ambient light existed in the room at the time.
The blue color in the background is the draped window behind her which is lit with light from outside.  With the huge difference in color temperature between the tungsten light and the light from outside – should I correct for the tungsten light (ie, regard that as my neutral light source), then the outside light will be much more blue in appearance.  With this image, I set my WB on my camera to tungsten / incandescent as would be typical here, but still touching up the WB as part of my regular RAW post-production workflow.
When I need more light though in a situation where tungsten already dominates, then I really hesitate to use unfiltered flash.  I nearly always gel my flash for tungsten light in this case – either with a 1/2 CTS filter, or a full CTS filter.
Another option to using gelled flash is to add more tungsten light …
Wedding photographers these days regularly have video lights with them as part of their usual lighting kit. From the same wedding, here are two images where my assistant held up a video light close to the couple, but off to the side. This is to ensure directional light on the couple, adding light that doesn't look mismatched to the scene.  (My assistant on this wedding was my good friend Josh Lynn, who kindly helped me out.)  He was just out of shot to the camera's right in this image …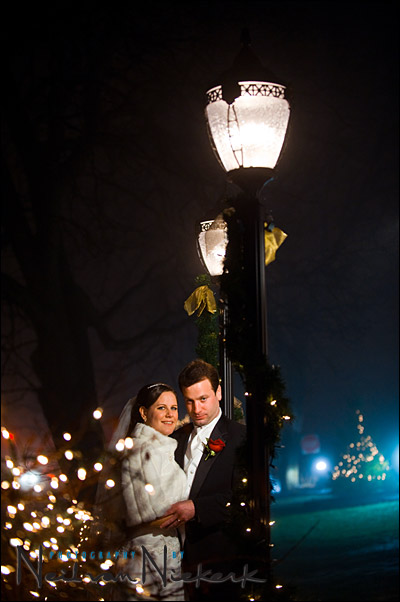 .
… but on the camera's left in this image.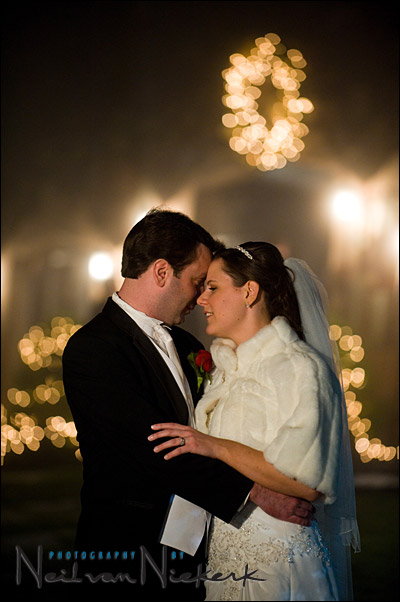 By keeping the light that I'm adding to the setting, very much the same as the existing light, it really does help to enhance the image, and not intrude as a distracting element. Being video light, it's a continuous light source, and it is an easy matter to direct my assistant to move the light exactly as I need it to be.
Here is a listing of the video light set-up that I use, based around the Lowel ID-light.

Quite often with the portrait session at a wedding I shoot with the videographer and use his light.  In shooting from a different angle than the videographer, I will get directional light.  And I also often as the videographer just to move in a little bit to give me more light.  See, as a photographer it isn't necessary to fight with the videographer ;)
Here are two images from another wedding where I specifically asked for the videographer to move his videolight in a specific way to give me the opportunity for specific sequences of images: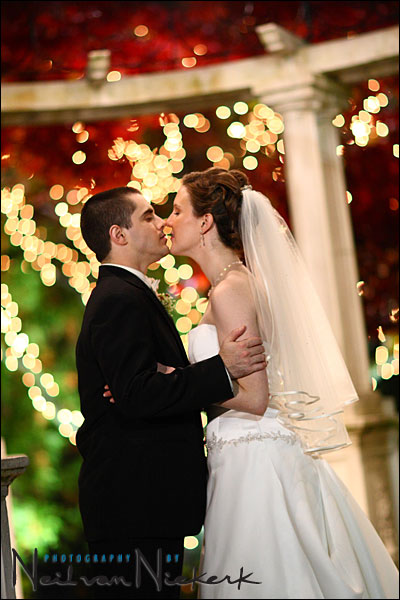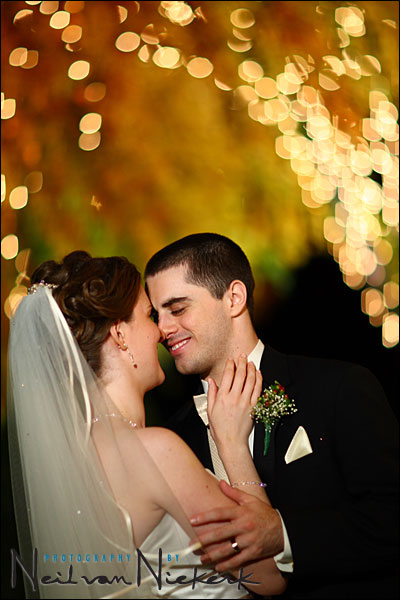 And, as always, I am very careful in placing my subject in relation to the background.  The background is an integral part of the final image.  When I am working with a couple during the portrait session (or any other time where I can direct my subject), I am very specific in my position, my subject's position and the background.

Here is another example where I used the existing lights indoors, without using flash. Fast optics are essential here, as well as cameras that are high-ISO capable.  The combination of those two things open up a whole new world of possibilities in embracing the available light.

When working with these additional tungsten light sources or video lights, I always gel my flash with a full CTS filter .. even if I don't end up using flash during the sequence of images.  Here is an example of how well the flash can blend in with the existing light (from multiple sources).  By gelling my flash and carefully bouncing it, I feel I can really enhance the scenario without intruding on it with an overly flashed look.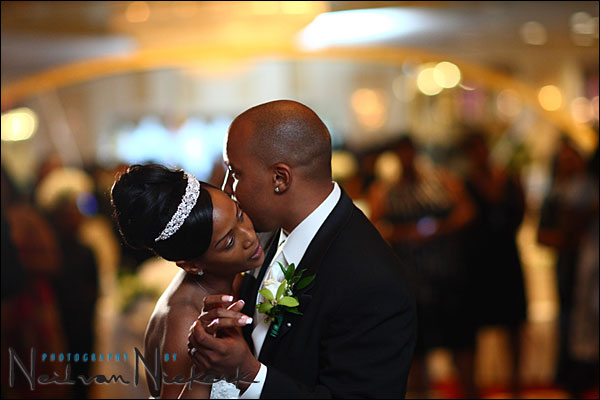 [ click on the photo to see a larger image]

With all this, the intention is to have a flexible approach to lighting, allowing possibilities to open up in what I can achieve in any scenario.
Gelling your flash
Since I frequently gel my flashguns to turn the WB of my flash much warmer (usually for  Incandescent light), I use these gels that I cut up and tape to the top of my speedlight's head. One of these sheets (which aren't expensive), will give you a lifetime supply of these filters. For me, these gels are an invaluable part of flash photography. 
Tape the gels down on your lens hood when not in use.
You can buy gels through these affiliate links: