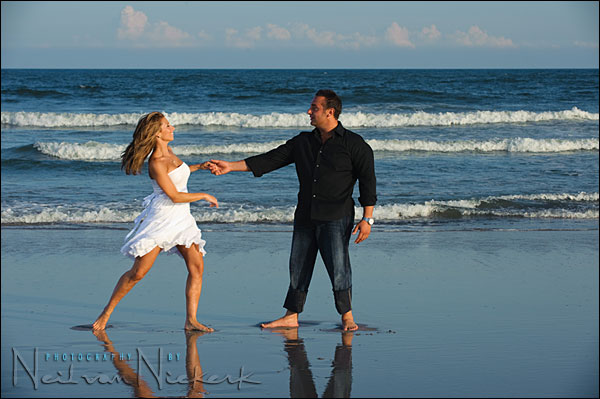 A question that came in regarding material covered in the book on flash photography techniques ..
Sven Pohle asked:
I am reading through your book (second time already) and have a question about metering plus adding the flash. I do meter for a white tone in my image and add +1.7 or 2 (I'm on Nikon) to my exposure. Now without flash my image is exposed correctly. But if I add the flash then the white starts to blow out as it does add flash light to it. So this is there i am confused. Would you rather go and meter for the background to get that right and then just add the flash to bring the subject up ?
I'd like to answer this here, since I am sure this is a widespread question or point of confusion …
First, to anyone who is confused by the question – part of the metering techniques explained in the book, revolves around using your camera's built-in meter.  We use it to calculate ambient exposure by metering off the brightest relevant tone of your subject if they are wearing white.  And in order to do so, we have to adjust our metering so that it places white correctly on the histogram. In other words, we have to correct for our camera's tendency to expose for everything as a medium toned grey, by pushing up our exposure by around +1.7 stops.
Back to the question about adding flash to available light ..
Let's break this up into two broad scenarios:
1. Your subject is shaded and your background is brighter.
In this instance, you would expose for your background. You might expose correctly, or you might allow your background to blow out a bit, or even under-expose for a punchier image. Your choice. You would then expose correctly for your subject, using flash, whether TTL or manual flash.
So in that case, you wouldn't meter off the subject per se. You might meter off your subject to see how much darker he / she is than your background, but you wouldn't meter specifically for the ambient light falling on the subject to get your camera settings. Therefore you wouldn't meter off any white tone the subject might have, such as a white shirt or dress, to determine your base exposure. Instead, you'd look at your background.
Here's an example from a portrait session with a couple yesterday: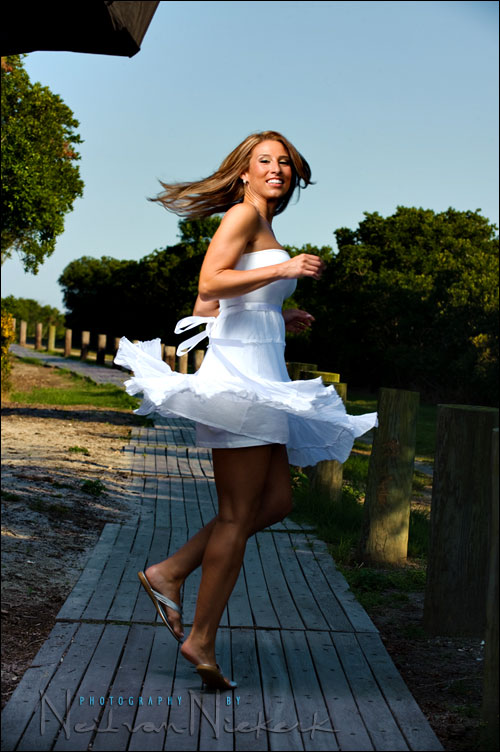 She wanted a few photographs with the pathway leading to the beach, but the light was very uneven with the sun pouring through the trees.  I therefore positioned her in the shade, and used flash (Q-flash in a softbox) to light her to the same level as the background.  So in this case, my background determined my settings.
1/250th @ f11 @ 200 ISO
manual exposure mode on my camera, with manual flash in this case.
(I purposely left the softbox shape in the image here instead of editing it out, to give an idea of the positioning of the softbox.)
How did I figure out my exposure settings here?  By using the Sunny 16 rule as a mental starting point, but keeping in mind the sun was getting lower, and then doing a quick test shot and looking at the back of my LCD.  I then used the histogram method to get my manual flash exposure settings – which are controlled at this point by the distance between my flash and my subject, and the power setting on the flash.  In the end, I had to pull down the exposure in RAW by 1/3rd stop.  A minor tweak.
The next scenario is where it gets interesting:
2. Your subject is well lit, but you want to use flash to bring up some shadow detail.
This is where you'd meter correctly for your subject, with little regard for your background. (Unless you have additional lights for the background. But we're just looking at a simpler scenario where we have one flash and want to light our subject.)
Now, if our subject is already well-lit and properly exposed for, then adding the same amount of light from our flash – ie, "proper" exposure from our flash as if there was little available light – will mean we are adding double the amount of light necessary for proper exposure.
Therefore using getting correct ambient exposure for the subject is the base exposure, and then we'd just add fill-flash .. usually a stop or more under the ambient light.  So, using the histogram method or selective metering with the camera's meter to get correct ambient exposure for the subject works, but we can't just add equal amounts of flash .. instead, we have to decide how much fill-flash to add.
Here is the couple on the beach in direct sunlight. I got to correct exposure for my ambient light here with a combination of checking my histogram on her white dress, and confirming it with the blinking highlights display NOT blinking for her dress.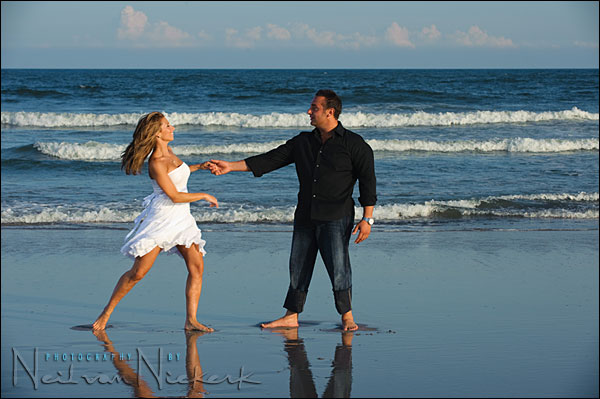 Then all that was needed to bring up exposure on the shadow sides a bit, was to add fill-flash.  In this case, the flash was once again via the Q-flash and softbox held off to the left of the camera.  There is no over-exposure though, since the flash exposure is lower than the ambient exposure.
And as an aside … here is an image where the ambient exposure was purely based on the mood I wanted.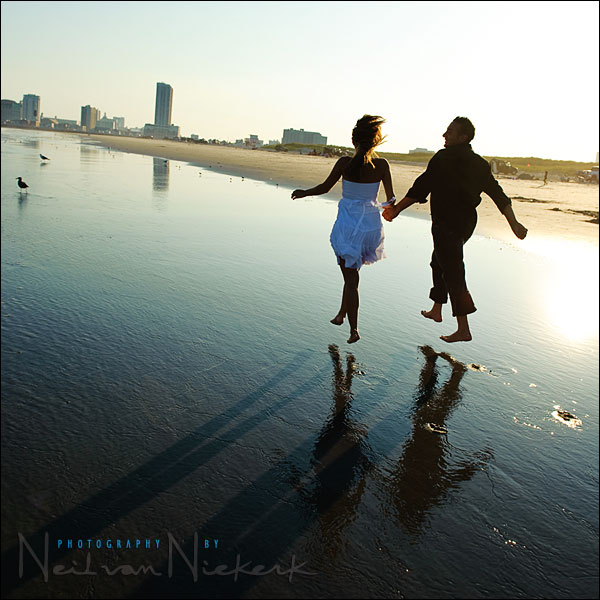 I didn't expose for my subject per se.  However, I did make sure that in my composition they were positioned such that they do stand out from the background.  My exposure was based on the overall scene, and not a specific tone.  I didn't want the bright sun in the viewfinder to affect my exposure, so I once again kept to manual exposure mode, and used my LCD preview to get an idea of whether my settings were good.
1/1000th @ 6/3 @ 200 ISO .. and a bit of juggling of values, and you'll see that I was once again close to Sunny 16 settings.  It's usually a good starting point when working in bright light.