Many photographers who have entered the industry in the last several years aren't readily aware that a number of the digital techniques and special effects available today in Photoshop, are actually based on processes that were available to film shooters of past years.
One effect that seems to be a particular favorite of photographers recently is cross-processing – an effect where colors are made more vivid, and the tonality and contrast are skewed to create a high-fashion or slightly surreal effect.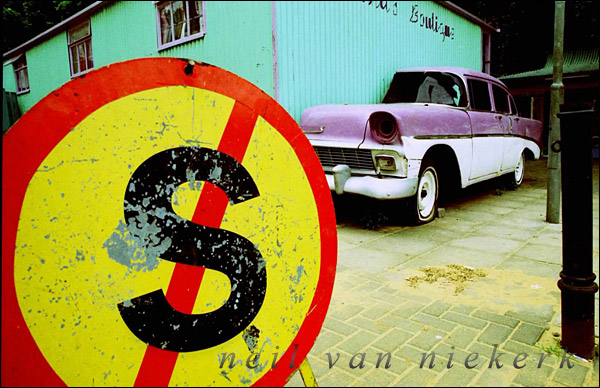 Fuji Sensia 200 exposed at 125 ISO – processed as C41 print film.
Nikon F90 camera;  Nikon 24-120 mm f3.5 – f4.5
Johannesburg, ca 1998
Currently I shoot exclusively in the digital format, but before digital, I used slide film for most of my personal photography. With no darkroom available to me or the inclination to use one, I had very limited options to manipulate the images I got on slide film.  Cross-processing however, is a fairly easy and really amazing technique that is accessible to anyone who uses a one-hour lab.
Cross-processing entails developing film in non-compatible chemistry.  Transparency film uses E6 chemistry and print film uses C41 chemistry.  So with cross-processing you would switch film and chemistry combination's, developing color negatives in E6 and vice-versa.  Hence … cross processing.
If print film (negative film) is developed in E6 (transparency) chemistry instead of the usual C-41 process, then a positive image will appear on the film. In similarly when transparency film is developed with a C41 process (like in a 1-hour lab), then it will produce a negative image – which can then be printed.
Due to the incompatible chemistry required for the two types of films, the contrast and colors go haywire. Wonderfully so!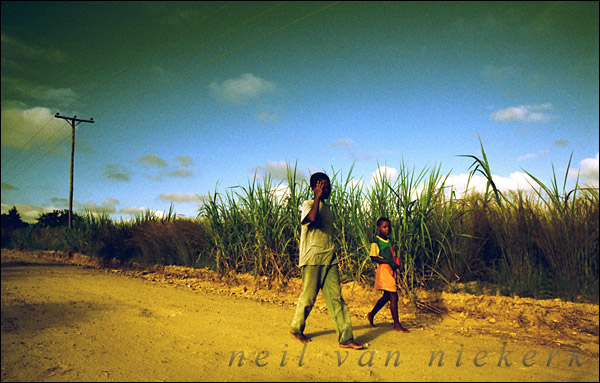 Fuji Sensia 200 exposed at 125 ISO – processed as C41 print film.
Nikon F90 camera;  Nikon 24-120 mm f3.5 – f4.5
Johannesburg, ca 1998
.
For anyone who would like to try this technique, it is still accessible to anyone who uses a film one-hour lab. Simply shoot on E6 (transparency) film and ask your one-hour lab to process it as print film.
Photographs that would look best with cross-processing, are those with a simple and bold composition. Subjects or scenes which are inherently more colorful also tend to work best.
The lighting should preferably also be fairly flat, and not too contrasty, since the highlights will blow out and shaded areas be overly dark. Cross-processing increases the contrast a lot – though you may want to use this for effect.
What helps to retain shadow detail in the negative, is to over-expose the film by a stop.  That extra bit of exposure will also give more color saturation. Push processing isn't recommended, because cross-processing already makes for a very contrasty print, and push-processing may increase contrast too much.
According to some magazine articles, Kodak slide film responds better to cross-processing than Fuji, but I have only tried Fuji slide films – Fuji RD 100 and Fuji Sensia 200 – both with great results.  The results differed between those two films, but as to what is better is difficult to judge, since the results depend on the final filtration and exposure decided on by the mini-lab operator I use.  I always handed my exposed film in at the one-hour lab with clear instructions that I actually do want slide film developed as if it were a print film.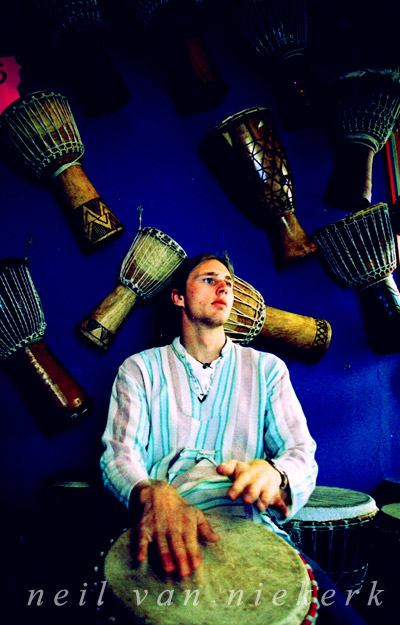 Fuji Sensia 200 exposed at 125 ISO – processed as C41 print film.
Nikon F90 camera;  Nikon 24-120 mm f3.5 – f4.5
Johannesburg, ca 1998
.
The results you get back from the lab will vary greatly from lab to lab and who prints them for you. Since the negs look nothing like normal color negatives, and the filtration to get decent results is vastly different from a normal neg.  So your lab owner needs to like you a lot as well for you to get decent results this way.
Even though the cross-processed effect can also be created digitally – the simple technique here is still valid for film shooters.  The final result with cross-processed film may not be predictable – but because the tonality and color is so different you can't really fail for the results will be surprising and out of the ordinary.