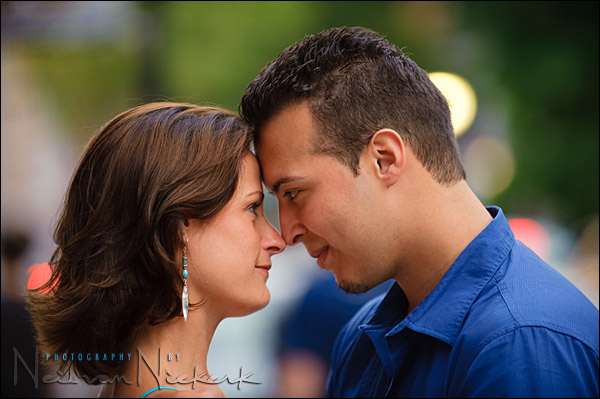 I received a great comment on this image from a recent engagement session I photographed, and I thought I'd expand a little bit on the technique and way of working with a couple.
Jeffrey Steele wrote:
Heck of a capture!  The bokeh is awesome.  Not sure if it was intended but the brightness of the red and yellow lights behind each couples heads has a dramatic play from left to right forcing the eye to center right in on the couple.
I especially enjoy seeing the engagement stuff as its tough to get creative with that sort of thing. These look great, I am sure they are very excited about their upcoming wedding photos.

Now, the way the lights appeared behind them were intentional, but was also accidental in it wasn't quite predictable.  When photographing a couple for their portrait session, I try for a natural look.  Even though the particular spot and placement is directed, I still very much aim for a spontaneous and intimate look.  I want to photograph the couple as *they* appear, and therefore the style is less formally posed and more relaxed.  Much of what we do, is to get some of the way the couple interact with each other.  The session after all should be about trying to show some of their relationship.
With this in mind, during the photo session I allow the couple to talk and cuddle and just be with one another, while I stand back with a 70-200mm lens.  The longer focal length helps isolate them; and then I also use an aperture between f4 and f2.8 – for this sequence, my aperture did vary from f2.8 to f3.5 as I felt needed to.  So in the slide-show you will see some slight variation in exposure.
I chose this spot to photograph the couple when I saw the traffic lights change in the background, knowing that it would appear as large out of focus colored areas in the background. The cars, buses and trucks moving by in the background also meant the background constantly changed.  So I deliberately placed them there on the sidewalk.  And then I would also fluidly change my position by a few inches or a foot or two, just to place the highlights in a specific way in the background.  However, I didn't try to get a static pose and position, since that would work against the style of photography here. On some level this has to be an instinctive response where part of your brain says, "ooh nice!". This also makes it a matter of chance as to precisely what you're going to get in the end.
Here is a slideshow of 19 images from the approximately 40 that I shot here in 2 or 3 sequences.  It will hopefully show some of the technique in how I frame my subjects and move my position to change the background ..
I would go up to the couple every dozen or more frames to show them some images on my camera's LCD. Allowing the couple to see what we're getting is an incredible help since the couple is now even more involved in the process.
As mentioned, since the style of photography isn't formally posed and is more spontaneous, there will be many images where either of them will blink or talk or have an expression caught in a way that isn't flattering. These images are usually ignored during the post-production of the session. Only the images where everything falls into place, are edited in as part of the final selection of images that are presented to the couple.