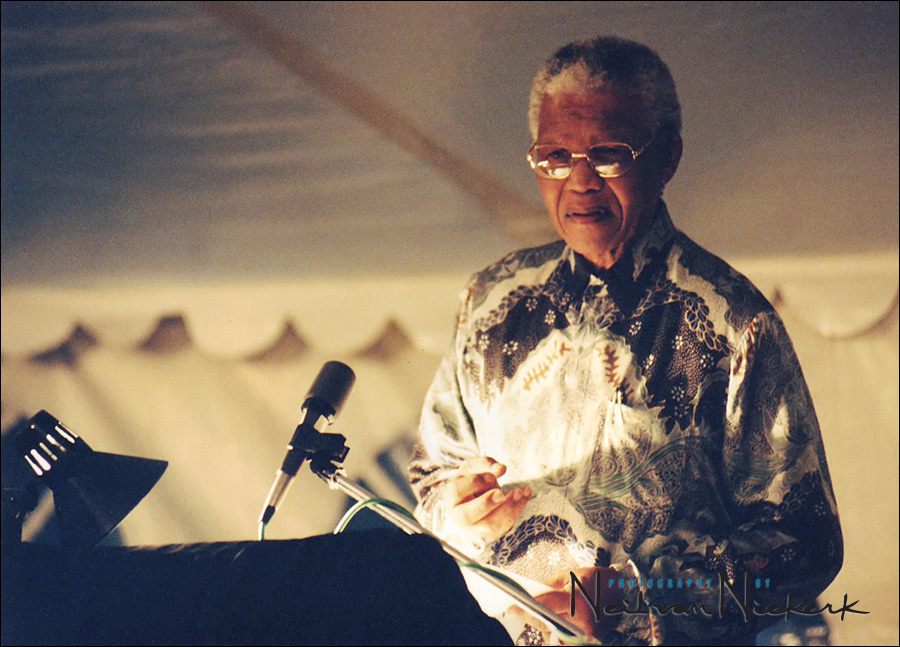 Nelson Mandela / Madiba
To celebrate Nelson Mandela's birthday – July 18th – here are two images from my archives. I had the pleasure of photographing Nelson Mandela, then president of South Africa, at a function in March '98. I was one of several photographers covering the event where he addressed people attending a function.
The challenge with this photo-shoot was that no camera flash was allowed. Which is especially tough inside a dimly lit marquee tent in early evening. This no-flash rule was an attempt not to aggravate eye problems the president experienced. So all photographs were taken with ambient light alone. This was in the pre-digital era. Fortunately I had 800 ISO film with me. I remember being the only photographer there with a tripod.
date:  March '98  –  Johannesburg, South Africa
camera gear:  Nikon F90x;  Nikon AF-D 80-200mm f2.8
camera settings: 1/15th @ f2.8
film:  Fujicolor 800 Super G Plus
President Mandela obviously enjoying the Imilonji Choir, as he dances to their vibrant singing. His warmth and lack of officiousness have endeared him even more to South Africans and people across the world. President Mandela was also affectionately known as Madiba, an honorary title adopted by elders of Mandela's clan. The title came to be synonymous with Nelson Mandela.
date:  March '98  –  Johannesburg, South Africa
camera gear:  Nikon F90;  Nikon AF-D 35-70mm f2.8
camera settings:  handheld  1/8th @  f2.8
film:  Fujicolor 800 Super G Plus
A personal anecdote
On one occasion, I even had the opportunity to shake Mandela's hand – even if it was quite accidental.
This was during the time when Nelson Mandela and the ANC were still in a negotiation with the National Party, (circa '90 – '92) before the first free elections in South Africa in '94. At the time I was still working at the South African Broadcast Corporation's television studios, where on the day I was fixing some equipment in the TV news studio where Mandela was to be interviewed.
When I had finished with my task at hand, I walked briskly out of the studio – just as Mandela turning the corner, walked into the studio. He must have thought that I'm someone of importance there who had purposely walked up to him to greet him – and he held out his hand to shake mine. Completely in surprise, I briefly shook his hand before he continued to walk into the TV news studio.
I was instantly in awe. He really had a presence about him. Unmistakably so, even if somehow you had no idea who he was.