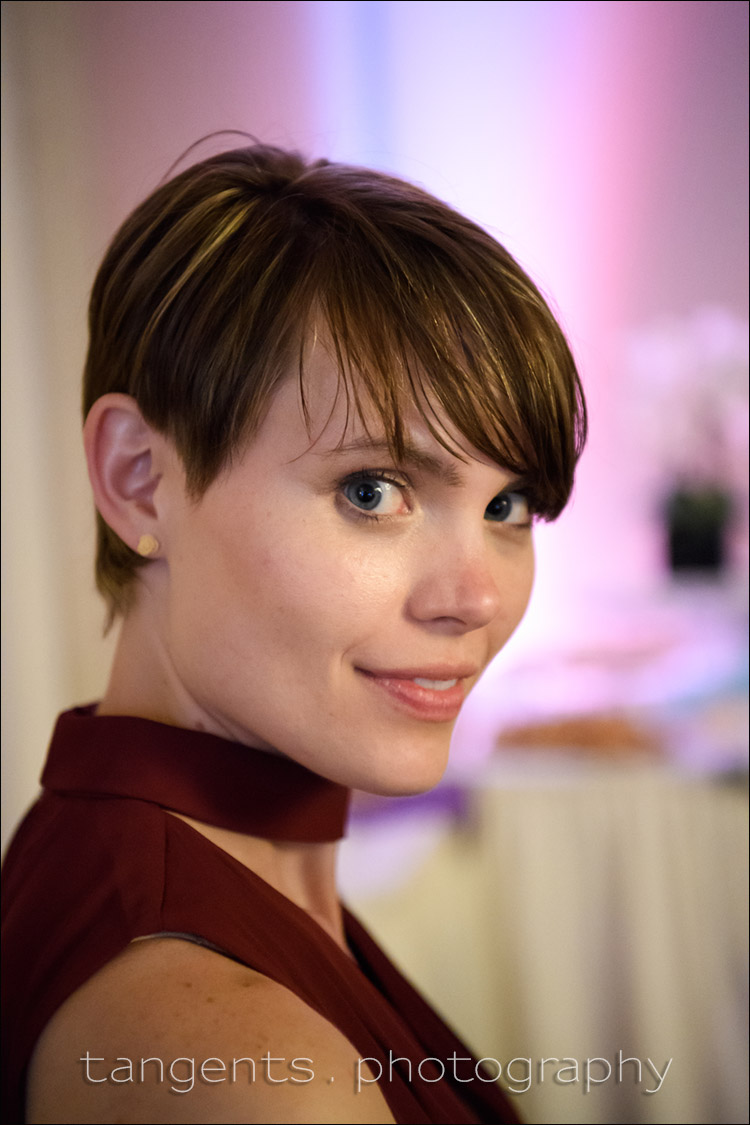 Nikon D5 high ISO noise performance
With the increasing complexity of digital cameras these days, such as the Nikon D5 (B&H / Amazon), it has also become increasingly more difficult to give a comprehensive overview unless it is via a website dedicated to just camera reviews. So I will be rolling out mini-reviews along the way, as I use this and other cameras. The Nikon D5 ups many features and spec from the previous generations – Nikon D4 / D4s – by offering 4K video, higher resolution, improved AF and better high-ISO noise performance. I will do a more specific comparative review in time, but I'm so impressed with the camera so far, that I wanted to share a few images to show the high-ISO noise performance. It's a definite cut above the already impressive D4.
This informal portrait of my friend, Jessica, was taken during a lull at the wedding we photographed. I wanted to impress her with my new camera, and shot a few handheld portraits at crazy settings: 1/40 (handheld) at f/2.8 @ 20,000 ISO. Yes, 20k ISO.
Here is what the 100% crops look like: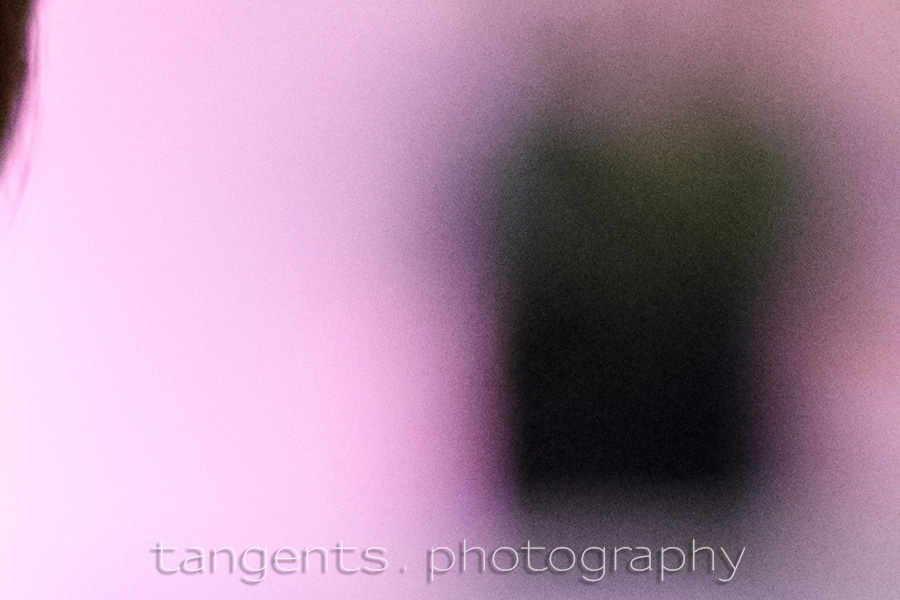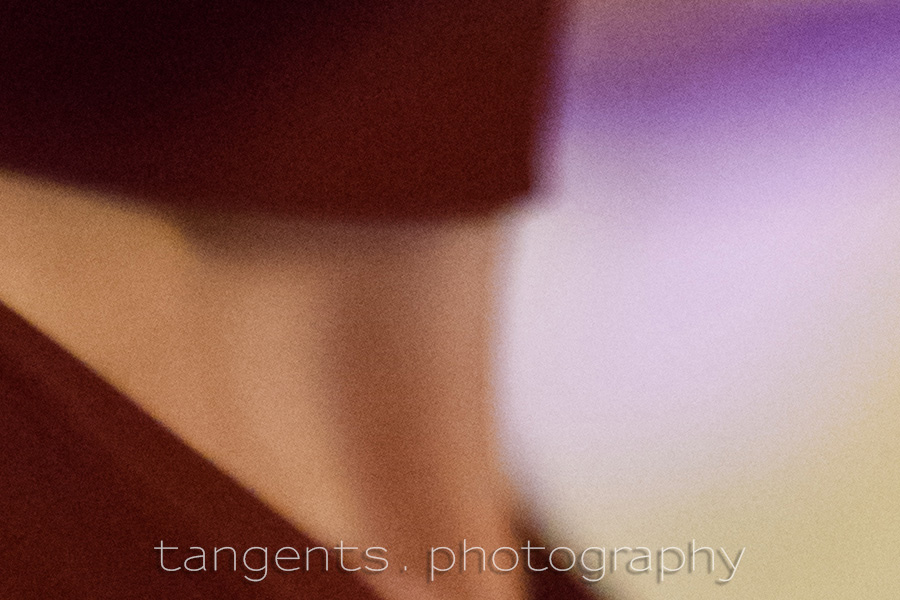 My settings in ACR (which would be the same if you were running Lightroom):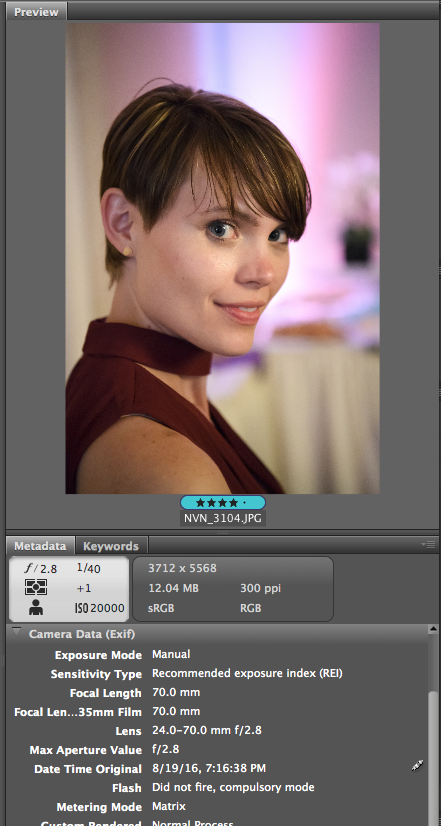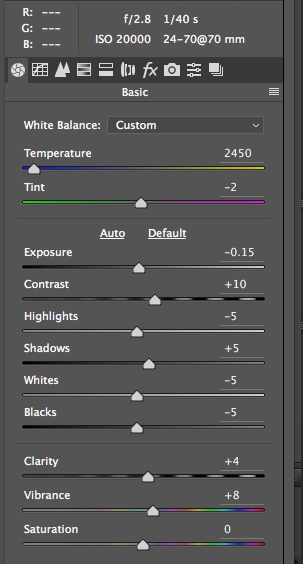 I ran the noise reduction at a higher level than I normally would, set to level 40, instead of the 25 default. Still, the detail is impressive in the final image. What also helped the sharpness at the slow shutter speed, was the Vibration Reduction of the Nikon 24-70mm f/2.8E VR (affiliate). This combination of a stabilized lens and a truly impressive camera, is going to change things for me.
Here is another example from that wedding:
1/80 @ f/5.6 @ 6,400 ISO .. with bounce flash
Here is the 100% crop of a darker area – the groom's tux – to show the high-ISO noise for 6,400 ISO. I'm impressed.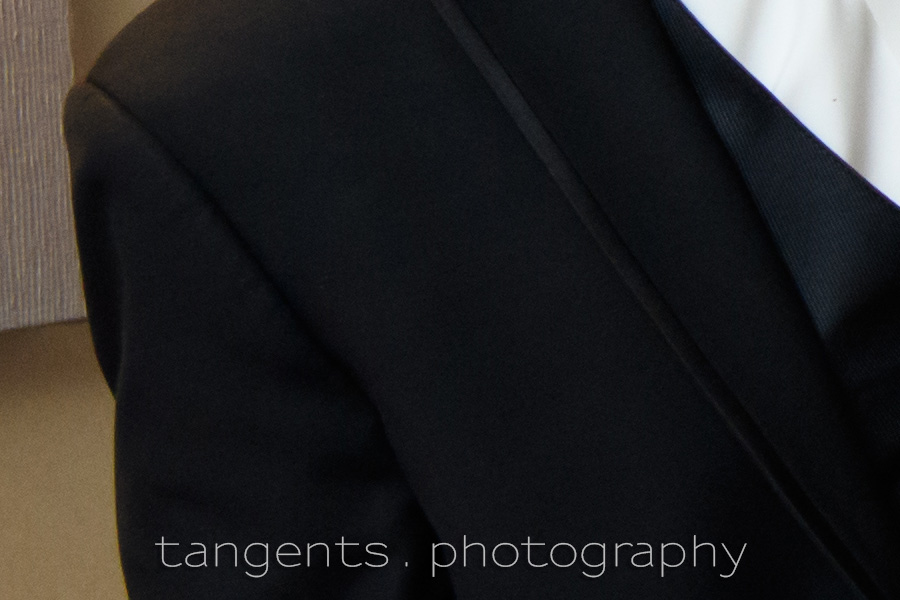 Summary
So far the Nikon D5 has truly impressed me – the shutter is quieter than the D4. The auto-focus is incredible – I sometimes have to double-check if the camera did focus, it is that fast. The high-ISO noise, as you can see here, is also an improvement on already superb spec of previous generations. As I mentioned above, I feel that the Nikon D5 is the kind of camera that will change my photography over time. It's that good.