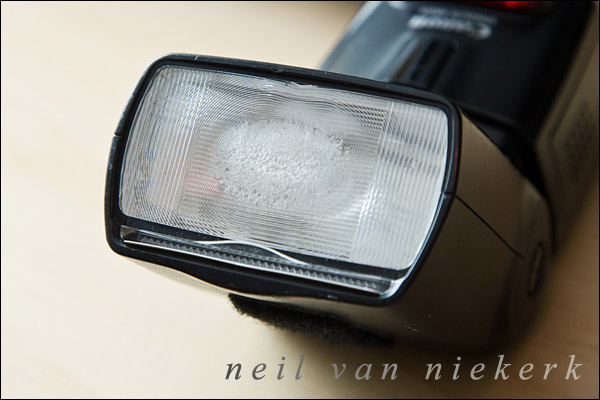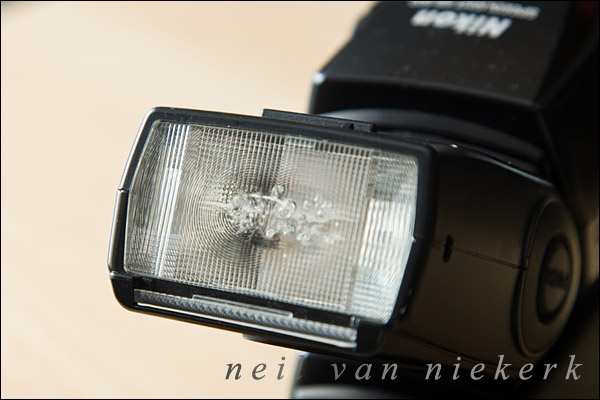 burning out / melting your speedlights & flashes
The obvious question that comes up with bouncing flash behind you, is that they do tend to fire at full power or close to full power. If you shoot events, where you need to take repeated shots with your on-camera flash, they do take a beating and even risk even burning out. I do hammer my speedlights, especially when I use the Quantum 2×2 battery packs.  This doesn't bother me greatly, since I regard my speedlights in a way, as consumable items. They will become unrepairable at some point. Cost of doing business as an event photographer.
For this reason I have numerous speedlights, because there are inevitably at least one or two in for repairs.
My older speedlights tend to look like the two shown in the photos above. The one is a a Canon 580 and the other a Nikon SB-800. All speedlights will do this if fired repeatedly at (close to) full power. They over-heat.
Where my flashes do take the hardest beating, is with events where there is a lot of activity in a short time.  For example, with Jewish weddings and Bar Mitzvahs, you have the Hora which happens very fast  and only for a short time.  And you have to get the shots. The equipment matters less.  Don't fall in love with your equipment and be afraid to use it.
And no, I wouldn't buy a used flashgun from me either. ;)