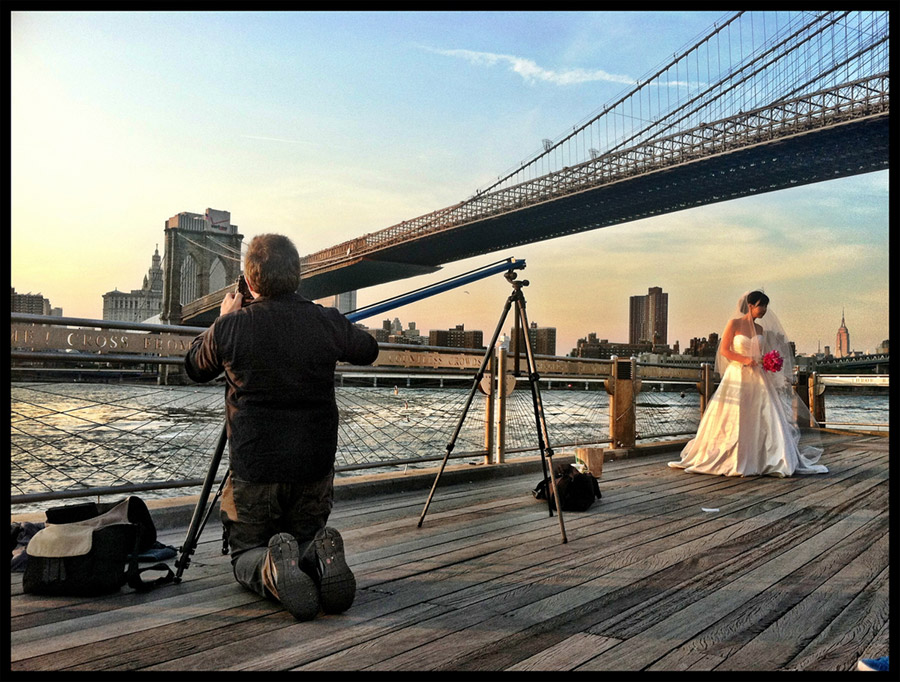 Personal photography projects & goals for 2013
This photo shows me setting up to shoot a time-lapse clip of the New York skyline from Brooklyn. The bride is a model being photographed by someone else. She just looked good as part of the composition of this shot. (photo by Peter Salo) The motive behind shooting time-lapse is no more than it's just to do something creative. You know? Something for the soul. Something to keep the interest in photography alive, and to remain motivated to create something new and interesting.
For those very reasons, I think it is essential for any photographer – in fact, any artist – to keep exploring ideas and avenues.
As this year winds down, and my workload eases up a bit, I've decided that 2013 is the year where I want to devote more time to personal projects of various kinds. I do want to explore HD video further and shoot some short clips. In fact, I've been talking to Anelisa (my favorite model), about doing a video clip centered around her, in a music video / Fashion style. I've also discussed with a friend who does boudoir photography, to do a promotional / instructional clip with her.
I have this intention that during December, I'll figure out a plan – a schedule for 2013 to be posted in my calendar – where I work on several projects during the course of the year. That's the grand scheme. To do more stuff!
let's make it interesting … 
With that, I'd like to hear from others what they have been contemplating or are planning to do as personal photography projects for 2013? What has caught your interest and what has intrigued you enough that you'd like to get into? What themes or ideas or techniques do you want to explore?
So let's make it fun, and inspire each other.

The contest has now closed, and a winner has been selected:
Corey Schwartz – his inspiring story was picked as the best entry: comment #35

To keep it interesting – let's run with this for the next week, and on Monday, Dec 3rd, I'll pick (with the help of a few friends), the one idea that is the most interesting / funny / unique / awesome / endearing.
The winner will get a small prize – a Fujifilm 16102240 Instax Mini 50S Camera (Black) and a box of Fujifilm INSTAX MINI Twin Pack Instant Film to go with it. A fun little camera that gives an instant print that's about the size of a business card.
The rules, as always, are quite simple:
1. I would like to hear from other readers of the Tangents blog – what personal photography projects you are planning or considering, or have been intrigued by.
2. The  most interesting / funny / unique / awesome / endearing / illuminating entry, as posted here on the Tangents blog, chosen on Monday, Dec 3rd, wins.
3. I have final say.
4. No whining allowed.
5. Keep in mind that what you post here, could be used by others (including myself) as inspiration for their own projects.