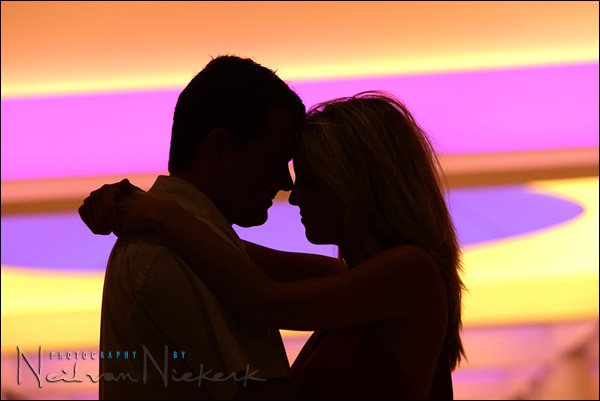 composition: finding the perfect background for photographs
Photographers and clients alike regularly comment on this photograph in my portfolio, and the question invariably asked is whether this is a Photoshop effect.  Far from it – this image is straight out of the camera …
It is an image taken during one of the portrait sessions of Desha and Kyle when I was the photographer for their destination wedding in Aruba.  Their wedding consisted of two parts: The noon-time legal wedding ceremony at the Orangestad courthouse; and afterward later in the evening, the vows ceremony on the beach.   After the wedding ceremony at the courthouse was completed in the early afternoon, I spent some time with Desha and Kyle, photographing them around the colorful city center.  The old colonial buildings offered a beautiful setting for this first set of wedding day portraits.
As we finished up this noon-time session, Desha and Kyle and I agreed to meet again on the beach much later in the evening and we said our goodbyes.  We were walking through a shopping center on the way to the main street to grab taxis to take us to our respective lunchtime destinations … and then I called them back excitedly, and told them to stand in a certain spot in the middle of the shopping center and just snuggle in a bit.
They both looked a bit bemused at my request – after all, it was just a shopping center – but they indulged me.  I lay down on the ground and shot upwards against the neon-lit ceiling.  By throwing the multi-colored neon lights out of focus, I was able to isolate the couple against this background. With a 70-200mm f2.8 zoom, I was able to zoom in close and use a wide aperture, to do exactly that – isolate them against an out of focus background.
It's a photo that I am quite proud of, since it is so striking looking … but also because it is difficult for anyone who wasn't there to figure out the context.
recommended lenses for portrait photography
Again, the lens that is essential here, is a fast 70-200mm zoom.  It is my go-to lens to work at a wider aperture (f3.5 in this example at the top), and a long focal length to help separate your subject(s) from the background.  Both the Nikon and Canon lenses here are stellar.
Nikon 70-200mm f2.8 AF-S VR II (B&H)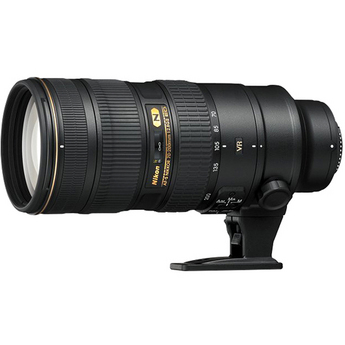 Canon 70-200mm f2.8L IS II (B&H)