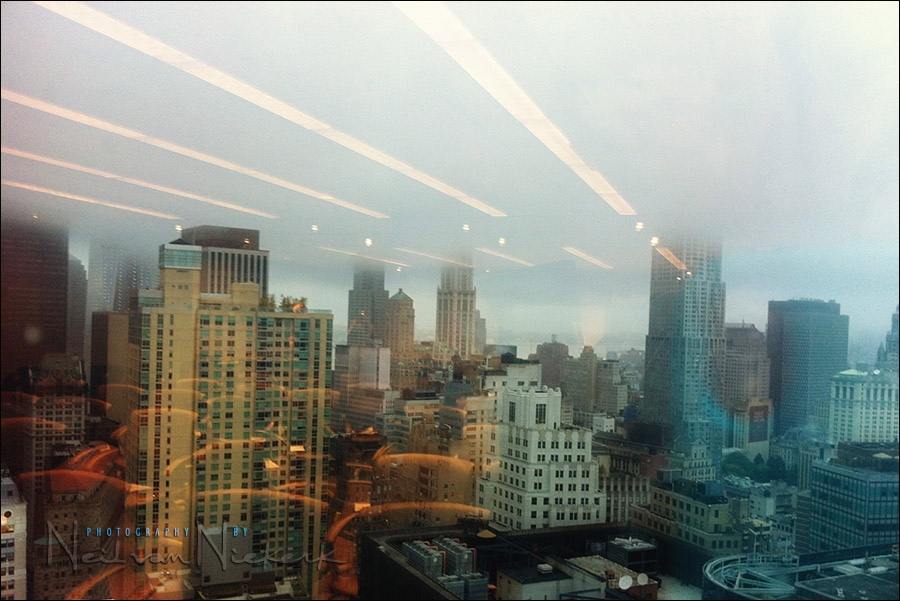 Photography workflow – Back-up plans for the main computer
The photograph above was shot with my iPhone while I was waiting for a corporate photo shoot to commence. The sky over lower Manhattan was grim and rainy. You can see the reflection of the fluorescent lights inside the room. This gave the city scene a Blade-Runner-esque feel. And with that, this image is perhaps suitably Apocalyptic for this topic – what are your plans for catastrophic failure of your main computer?
The idea for this article comes from a discussion with another photographer – she cringed every time I mentioned, "so what happens to your business if your house burns down and your computer is gone?" My other remark that her computer's hard drive most likely will fail at some point, didn't seem to lift her spirits either.
So with that, let's look at those two points:
1. Safe-guarding yourself against catastrophic loss of your computer.
2. Preparing yourself for when your hard drive crashes.
The solutions are fortunately quite simple and elegant …
Disclaimer
– I can find my way around a computer to do my work as a photographer in the digital age. However, I'm not very computer savvy, and I'm not a computer geek with incredible detailed knowledge about the latest in computer hardware and software. So there might well be more sophisticated ways of doing what I'm doing. And there definitely are other ways of doing what I am doing. But I also feel that any digital photographer that strays from these basic ideas, will inevitably face very costly, if not insurmountable problems.
–  We're just going to discuss your actual main computer – not your external hard drives or RAID arrays that hold your photographs. That's another discussion.
My workflow and setup
I distinguish between two parts of my workflow:
My computer (an iMac), on which I have my work files and documents such as Excel spreadsheets, and contracts, etc. My emails and Calendar is also on there.
My photographs, which I keep on external drives – two Drobos
With that, I do slightly different things to each of those parts, to protect myself against catastrophic failure.
---
A. Safe-guarding yourself against catastrophic loss of your computer
This year we saw the unbelievable way that Japan was hit with earthquakes and tsunamis. Devastating! And across the world, the global climate changes seem to affect the frequency and severity of the weather, such as tornados. The Mid-West of the USA saw tornado after tornado this year. And with no warning houses are shredded. Therefore it isn't just scare-mongering to consider the likelihood of your computer being completely destroyed. Then there is always the lurking problem of theft of your computer.
Solution: create an on-line / off-site version of your computer files. 
The idea here is that your computer files – your Word documents, spreadsheets, PDFs .. everything .. is stored as an immediate copy on a website. This is done automatically. You don't have to think about it. Just pay your monthly or annual fee. Simple as that.
 •  Backblaze
For online / cloud back-up there are a number of services. I had a look at Backblaze after reading some glowing recommendations
Backblaze has three immediate advantages for me:
– it's very affordable.  Surprisingly affordable.
–  unlimited capacity.
– should you need your data, they can send it to you on a hard drive for a fee.
It takes quite a while for the initial back-up to Backblaze if you are dealing with huge volumes of data – multiple Terrabytes – but once the initial back-up is done, the incremental backups are quite fast. And then you're all set.
 •  
Dropbox.
I rely heavily on Dropbox to sync files between all my devices.  I have four computers, spread between the studio and home, and one that I use just for travel. There is also my iPhone (which I regard as my office in my hand), and my iPad. With Dropbox I always have the current version of any document, accessible from any device.
There are other options out there as well on the internet. Lots of them.
Here is what I like about Dropbox, explained in how I use Dropbox.
I keep everything of importance that resides on my main hard-drive, in the dropbox folder – contracts, receipts, reference files, presets .. everything. Not the images from weddings and photo sessions. That would take up too much space. But I keepall my work files and documents. Instead of using the Dropbox folder on my computer as a single folder to stuff a bunch of documents in, I created a sensible folder structure within the Dropbox. Here is a screen-grab of part of it to give you an idea. Folders within folders.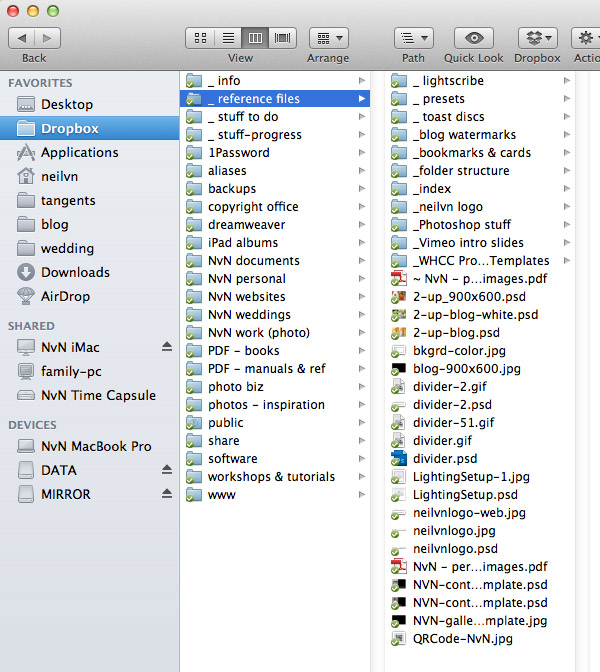 Now, should my house burn down and I lose my computer and data … I can go to the Apple Store and buy a new MacBook Pro again. After setting it up, I would sign into my Dropbox account, and let the on-line version of my computer files sync to my new computer. Barely a day's hiccup compared to what would've been a catastrophe if I had lost all my documents and files.
I should also mention that any back-ups of my programs, such as Mac Mail, Calendar, Contacts, I save in a Dropbox folder. So I can always resuscitate my essential stuff from Dropbox should I lose my main computer. Of course, my Calendar and Contacts are also backed up on iCloud.
Another example of the beauty of using a solution like DropBox:
I might be in London on a trip, and a client emails me and needs a file. I can email or text my assistant at the office to place the file in a Dropbox folder for me on the main computer in the office. A minute later (or less) it is synced on my laptop in my hotel room in London. I can then retouch the photo / make changes to a document / whatever it is that needs to be done. Once I am done and have saved the file, it will automatically sync that file with the same file on my main office computer's dropbox folder. (Same folder structure!) And then my assistant can print it and mail it or take care of it. Elegant!
The Packrat feature of Dropbox:
With Dropbox's "Packrat" feature, they now keep an unlimited number of any files that I may delete or change. Wonderful peace of mind.
While I am recommending must-do stuff, here are two programs that I'd highly recommend – 1Password and Evernote. They will make your life easier.
Here's the best part about Dropbox and 1Password and Evernote – it syncs across devices. So I have the same info on my laptop and main computer and iPad and iPhone. Anything from bus schedules to airplane flight details to client contracts.
 •  
1Password 
You keep all your passwords in one place with a single super-strong password with 1Password. Before you shrug this off, let me explain that you also keep note of your registered username, and registered email address and any pertinent data. Even better, you can store your software keys here. (And again, also your registered username and registered email address and any pertinent data associated with a specific piece of software. Best part – it can sync via Dropbox.
 •  
Evernote
With Evernote, you keep documents and photos and any clippings, all in one place. You can create folders, and you can tag various items. I keep note of everything via Evernote. It may not sound so impressive when described like that, but I am sure that anyone who uses Evernote would agree with me that it quickly becomes an indispensable part of how you work on a computer on the internet, keeping track of stuff you like and want to refer to again.
---
B. Preparing yourself for when your hard drive crashes.
You absolutely *have* to have a rock-solid system in place here, for your hard drive is … well, I don't want to be as dramatically emphatic as saying your hard drive *will* crash at some point, but you know it is quite likely to. And it is easy to be prepared for this.
 •  Super-Duper
My choice: Super-Duper! and an external hard drive.
With Super-Duper you set it up to make a bootable clone of your main hard drive. The "bootable" means that if your main hard drive should crash, you could boot your computer off the cloned drive … and you continue to work. You can take your computer in for repairs a day or so later. You know … when you have time, because *right now* have stuff you have to do and finish up. That it is a bootable clone is extremely important. It isn't just a copy of my files. It is an actual copy of my hard drive as it existed at a specific time the previous day. And I can work on it, just as if it is my actual computer hard drive. (Any difference in the documents that I may have been working on that day, are easily fixed by finding the most current file on Time Machine or Dropbox.)
I like their tagline: Heroic System Recovery For Mere Mortals.
And that is exactly the best part about Super-Duper. I'm a photographer.  I have other* stuff to do than figure out software programs and set them up. Super-Duper is very easy to use. I have Super-Duper set up to make a cloned copy of my hard drive at 3am every night. And I can sleep safe and sound. It's done for me.
 •  Time Machine
Then of course, because I'm paranoid, I also have Time Machine on my two main Mac computers, to keep copies of all my files on a separate hard drive. Redundancy is a good thing!
Near-indestructible  hard drives 
As mentioned,  Super-Duper! creates an exact copy of my hard-drive every night, just in case my main hard drive dies. But this doesn't help me in a devastating calamity such as a fire.
When I saw reviews of the ioSafe, and that it is fire-proof and water-proof, I was hooked. There is also the option of getting the ioSafe with an SSD drive, which is near-indestructible. Not only is it fire-proof and water-proof, it is also shockproof and crush-proof.
Have a look at these astonishing video clips to see they mean exactly that!
– video clip on Gizmodo
– BBC review of the ioSafe
– ioSafe website with more news
Now, that is seriously impressive!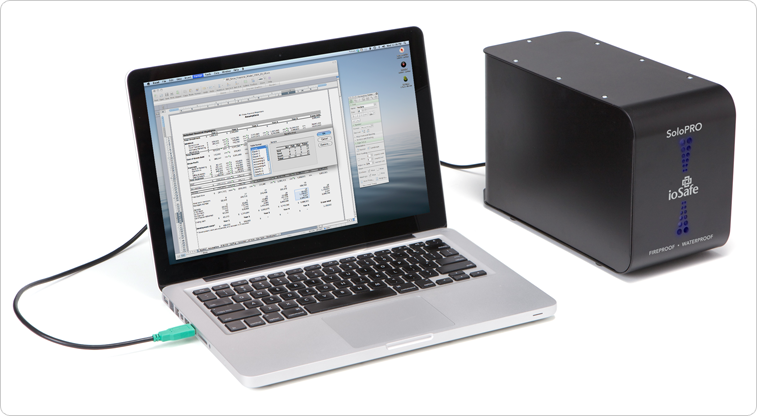 I didn't quite feel that I needed to protect my computer against a tank rolling over it – and with online back-ups of my files via Dropbox and Backblaze, I am fine. But I really like the idea of a very rugged hard drive protecting my data. So I now have an ioSafe SoloPro. There's even a data recovery service built into the price of this hard drive.
For people who distrust online back-ups, something like the ioSafe will be ideal. You can even bolt the hard-drive down to your desk. No one is dragging that puppy anywhere!
---
Summary
As I mentioned at the start of this article – there are other ways of doing this, and other software options. These are what I am using right now to safeguard me from that heart-stopping moment when I realize my computer is gone, or my hard drive is just clicking away, not responding. Right now, these are minor annoyances compared to what could be – devastating loss. I can cope and recover without much drama.
It don't think it is often that I am prescriptive in my advice … well, except when it comes to shooting in RAW, and shooting in manual exposure mode. Aside from that, I know there are many ways of working. Tastes vary. Intended results vary. Artistic intent varies. However …
… I  strongly feel that if you haven't set up something similar to what is described in this article, you are courting disaster. You *have to* do something about this where there is no possible gap where computer failure or loss of a computer is devastating to you as a digital photographer. And you have to do it now. The options are so easy to use, and so seamless, that there is no excuse. You have to.
Related articles