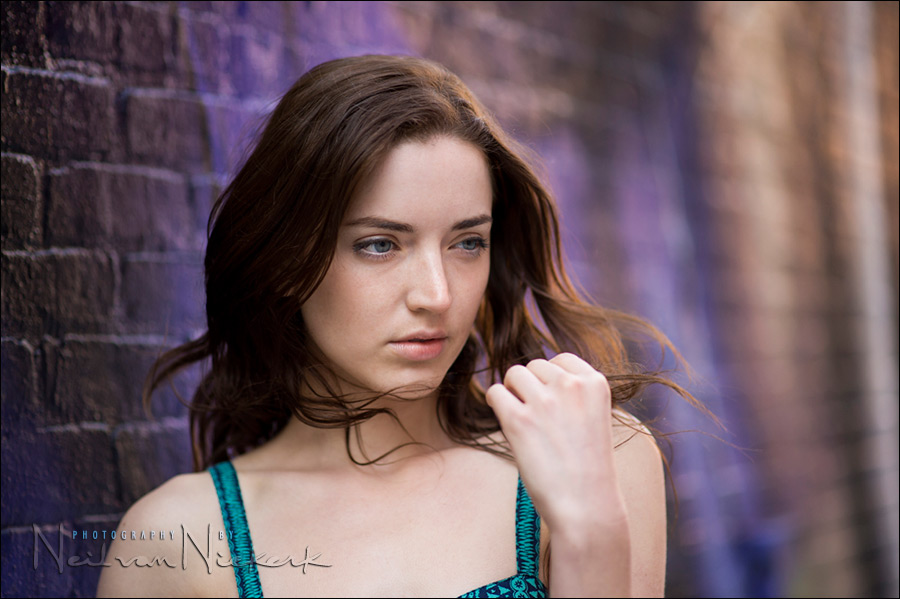 review: Nikon AF-S 85mm f/1.8G lens
At the same time that I photographed Anelisa for the review of the Nikon 28mm f/1.8 AF-S lens, I had the brand-new Nikon AF-S 85mm f/1.8G lens (B&H / Amazon) on my other camera body. For every place that I photographed Anelisa with the 28mm f/1.8 lens, I also shot similar images with the 85mm f/1.8 lens. In a way, these two lenses complement each other, if you like working with a dual prime lens setup. A nice wide-angle view with the one lens, while the 85mm is a sweet portrait lens.
Wanting to show off the shallow depth-of-field, I shot at f/1.8 or f/2.0 throughout this photo session.
I have to remark that in terms of the bokeh alone, this new f/1.8G lens is a superb upgrade to the previous f/1.8D version. The D series lens had harsh bokeh. The G series lens has smoother bokeh. In fact, doing various test shots in my garden the next day, I couldn't distinguish between the bokeh of the Nikon 85mm f/1.4G (affiliate) and the new f/1.8G lens. Couple that with the quiet autofocus and that this new lens is very sharp wide open, the Nikon 85mm f/1.8G  (affiliate) is an excellent choice for the more budget-minded photographer.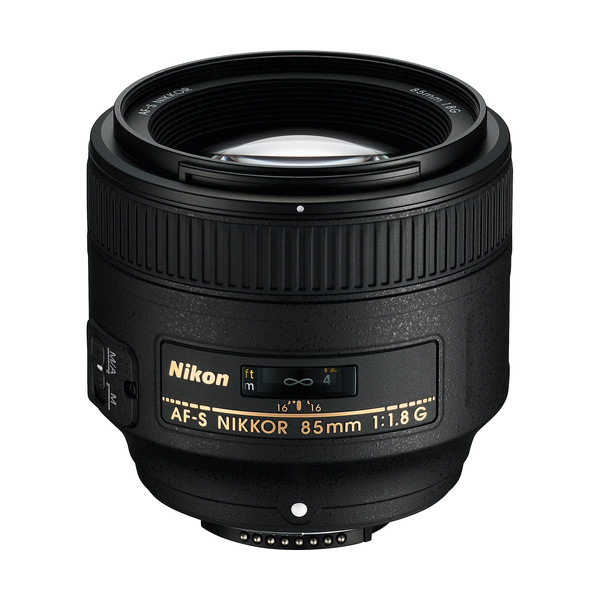 This fast prime lens from Nikon delivers superb image quality. Nikon's Super Integrated Coating (SIC) is a multi-layer lens coating that improves light transmission, provides better color consistency, and minimizes ghost and flare to a negligible level. From the various images I shot, the lens is sharp, and it wasn't easy to get flare. So that is well controlled. As can be expected from any optic, used wide-open, the contrast is reduced, and you will have to adjust for that in post-processing.
Nikon's Silent Wave Motor (SWM) delivers fast and quiet autofocus. Even better, the length of the lens isn't altered as with focusing. The lens responded fast in auto-focusing on my Nikon D4 camera.
This lens has 7 rounded blades of the lens diaphragm which is intended to smoothly render the out-of-focus areas. In other words, the bokeh is smooth and pleasant. (As an aside, shallow depth-of-field is not the same thing as bokeh.)
All the images shown here were shot using just the available light.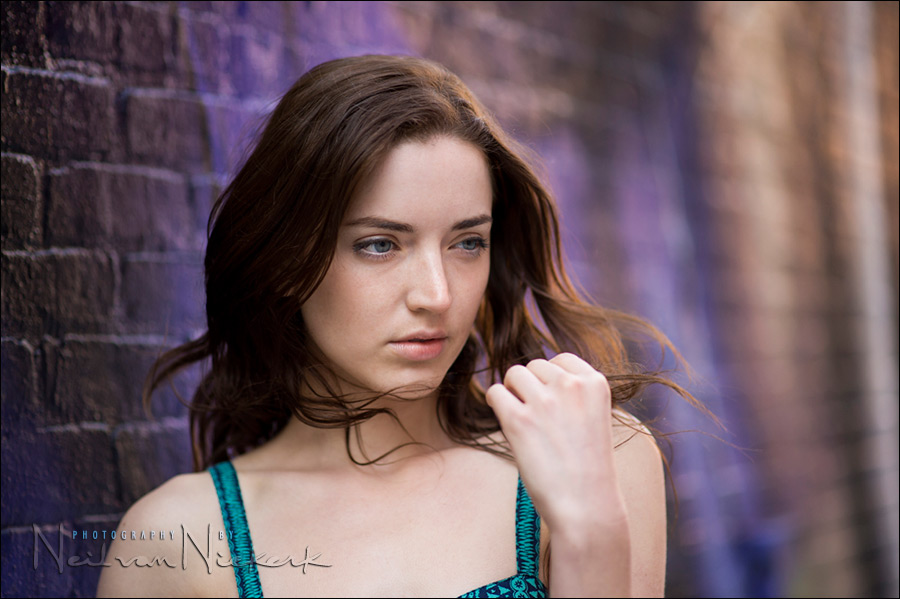 camera settings: 1/400  @  f/1.8  @  400 ISO
The one benefit of using fast primes wide open, is that you get fast shutter speeds without pushing the ISO too high … and then you get that distinctive shallow depth-of-field look to your images.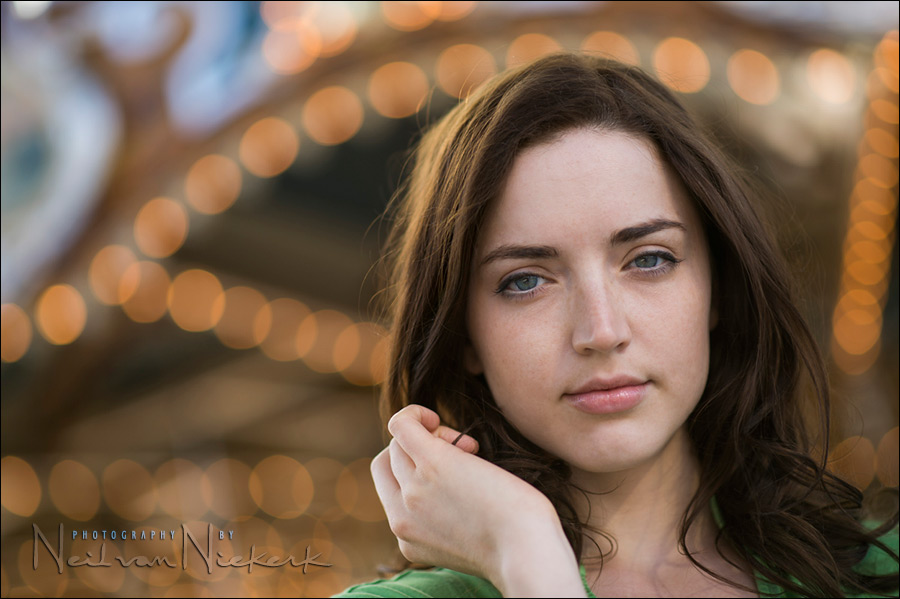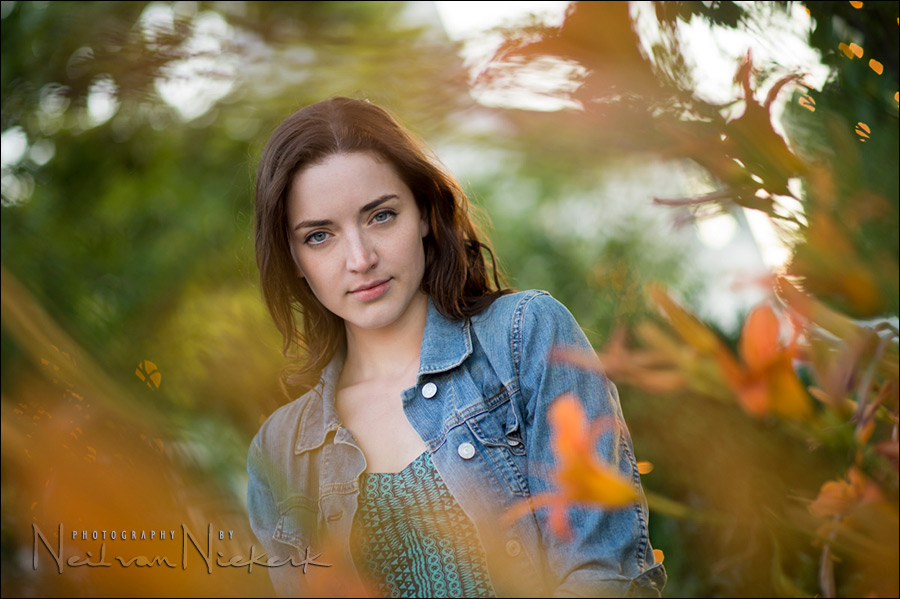 Shooting through flowers, I was able to frame Anelisa with these random splashes of orange. Again, the shallow depth-of-field makes this image.
Here is a pull-back shot, photographed with the Nikon AF-S 28mm f/1.8G (affiliate), to show how I placed myself to get that photograph.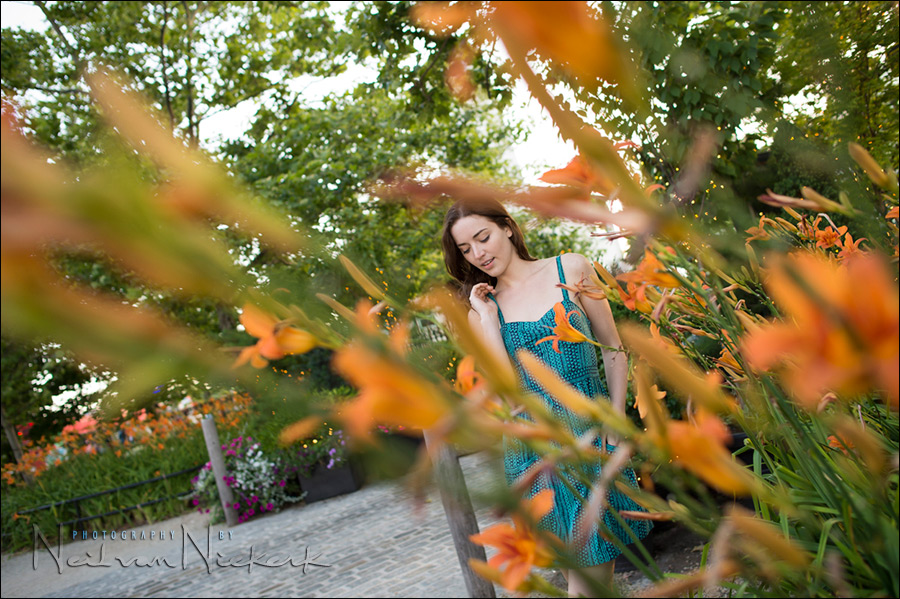 In another location, the pull-back shot to show where we started: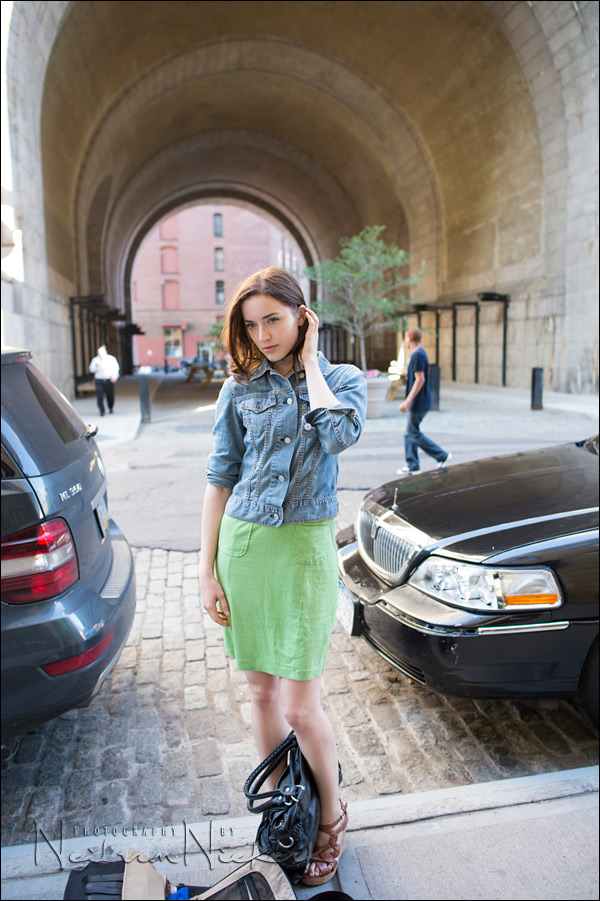 I thought the way this tunnel under the Manhattan Bridge Overpass, would make a terrific natural frame with shallow depth-of-field and the short telephoto.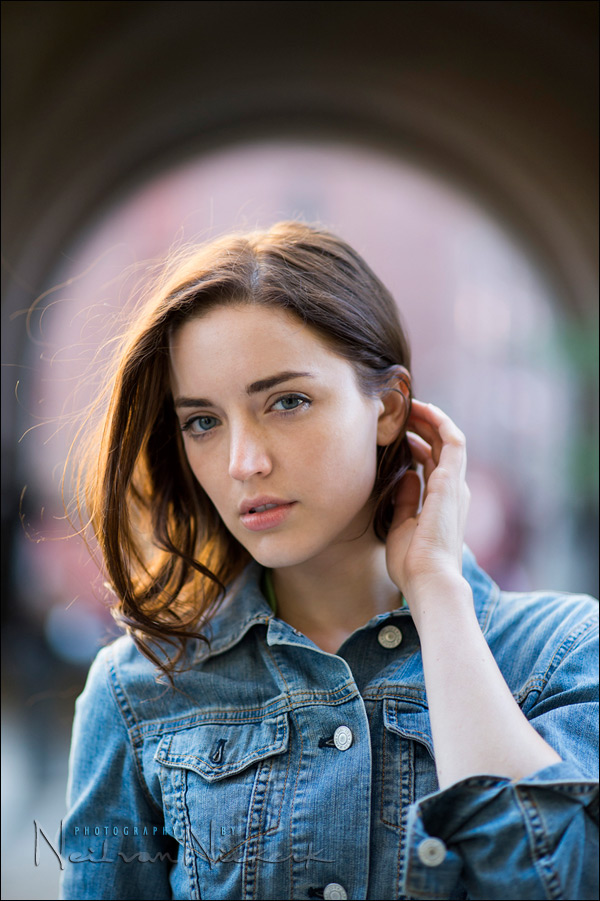 This is the beauty of working wide open with a telephoto lens, even a short one like the 85mm f/1.8 … the background just melts away. Here, Anelisa and I stood in the middle of a road in Brooklyn. The way the background recedes helps accentuate her face.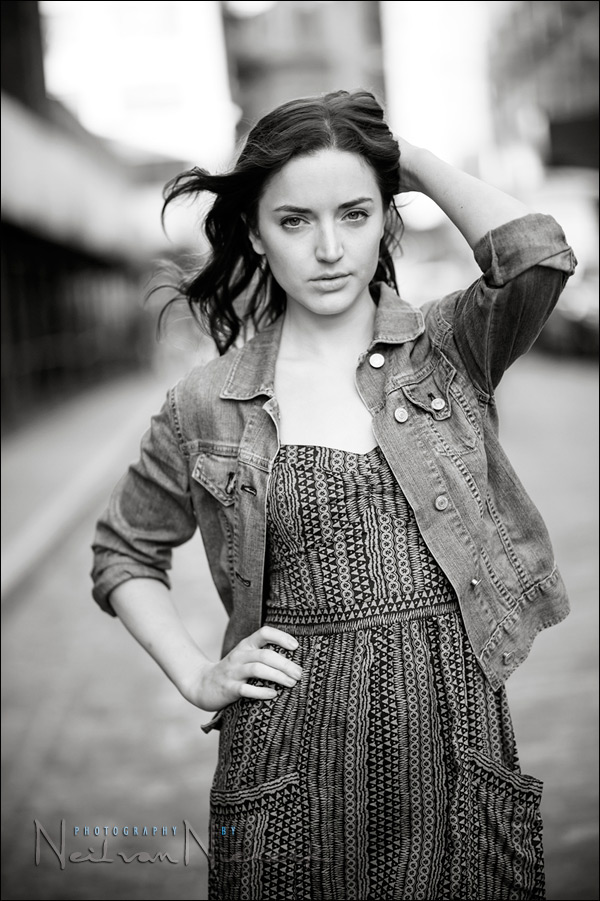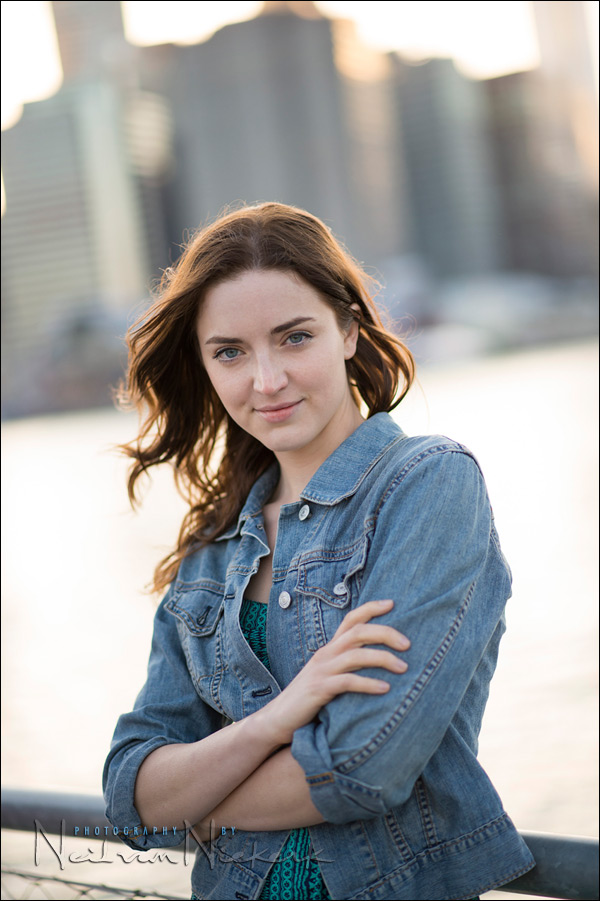 I would highly recommend this lens for any photographer who wants a portrait lens that can be used wide open with confidence. It is small and light-weight and would barely take up space in your camera bag.
You can order the Nikon 85mm f/1.8G lens (B&H / Amazon). Alternately, you can go all-out and get the Nikon 85mm f/1.4G (affiliate link)
Also check out the review of the Nikon AF-S 28mm f/1.8G lens,
and the reviews of other Nikon gear.