Petra Hall, a pretty awesome wedding photographer in Sweden, first posted this incredible story on the Digital Wedding Forum, and she kindly gave me permission to re-post it here.
the Canon 7D might be rugged, but it isn't entirely fire-proof …
Petra's fiance, Erkki, recently bought a new (used) car, just before a planned vacation. They had intended on cruising in the MG convertible and just enjoy the sports car in the summer. They were going to just drive around and take some photographs of the scenery.
The weekend before their vacation started, Erkki was on his way home from work when something in the car exploded and the car caught on fire. Huge flames engulfed the entire car. Erkki's Canon 7D (with a 24-105L) was inside the car, as well his MacBook Air laptop. Everything went up in flames – the car; the camera & lens and the computer.  Luckily no-one was harmed.
Since the car was imported from the UK, the insurance for it hadn't taken effect yet. Therefore nothing will be replaced that went up in flames.
Here's how the camera looks like now.
It's going to hurt.
You might want to look away in case you're the sensitive type …
A computer techie managed to get the hard-drive safely out of the computer, so Erkki could copy all the images that he'd taken since he got the 7D last winter.
The best part of the story though is that the 7D did keep a secret inside its melted body …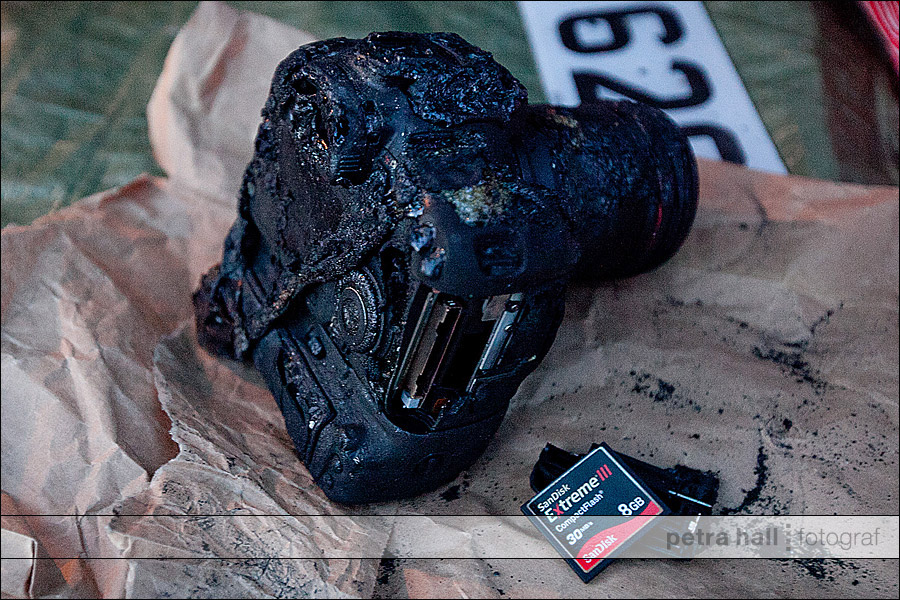 The CF card was completely unharmed!
Not a blemish on it. It didn't even have that smoky smell. Opening the CF card door was a bit tricky, and it doesn't look like the CF card door is going back on again. But all the images were recovered, and Petra even thinks it might possible to use the memory card again!
Do you think though that Canon might accept this as a repair under warranty?