After Dark Photography Education - Dallas, TX – 2012
I've raved here about the After Dark photography conventions before, as being the best photography convention / learning experience that I've attended. So it is with great pleasure that I did several presentations at the After Dark event in Dallas, TX during Feb 27 -29, 2012. I even expanded the range of topics I taught to include a presentation on basic portrait retouching in Photoshop and Lightroom.
Of course, part of the fun of After Dark Edu, is that you can use any of the 10 bays where there are numerous lighting goodies, and photograph one of the models there. So you get to play with gear you wouldn't normally have access to … along with the various Mentors there to help you. Or, if you choose, you can just play around on your own and discover. And this is what I did here when I photographed Madison. I added a beauty dish and an Eyelighter reflector, and a gridded softbox for a bit of a kicker, and another light for the background. Just having fun, seeing what the result would look like. And that's a way to learn. Here's the pull-back shot …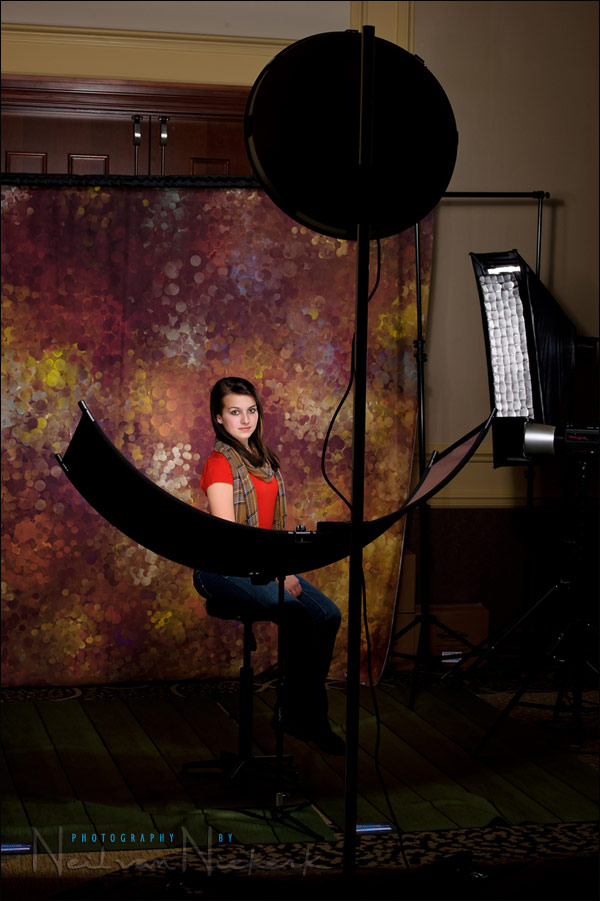 One of the presentations I taught was, as could be expected, about on-camera bounce flash:
Here's the result with one of the models:
(The smaller insert is the photo without flash, just for comparison. And I know I should've fixed her hair for the shot, but I was too intent on explaining at the time.)
Here's the link if you're curious about the specific technique used in bounce flash photography, to get that lighting pattern.
Something I've done at previous After Dark conventions, is to use just the modeling light (with the diffusion of the softbox), as the light-source. It's so easy to see what you're going to get as a result, when you use the continuous light of the modeling light. And with a Nikon D3s, the high-ISO noise is no concern.
Here is my friend Blonnie, who is a wedding photographer in Delaware.
The softbox was huge. (If I recall correctly, it was around 4′ x 5′. So the light is incredibly soft.
Time for a new profile photo for myself for Facebook.
The same light source for both images! However, the light pattern and result is quite different. She sat further back compared to the softbox, so there was a wrap-around effect, giving beautiful soft light. I sat closer to the "front" of the softbox, nearer the camera. So the effect is much more dramatic.
Just a small reminder how the positioning of your subject in relation to your light source, completely changes the light … even with a large light source.
And it is just fun to hang out with people, and chat and watch all the activity. There's always something going on, until deep deep into the night. Three images I captured via my iPhone and Instagram:
One of the young models showing his moves. I tried to time my shots with the other photographer who was firing the flash setup. I'm not sure if that specific idea worked – somehow I expected to get any photo completely blown out when the flash goes off – but, this image worked. I like it.
Jabeen, lit with an incandescent lighting setup.
(Jabeen is married to well-known Dallas wedding photographer, Humza Yasin.)
The station where the models prepped.
Thank you to everyone who attended, and thank you to everyone who follows the Tangents blog and came up to introduce themselves. It's always quite an honor to meet in person.
And anyone who is interested in attending future After Dark Education events, check out their website for more details.
newsletter / forum / workshops & seminars
Stay informed of new articles via the monthly newsletter.
Also join us on the Tangents forum for further discussions.
If you need more direct help or instruction on flash photography,
I do present workshops & seminars and also offer individual tutoring sessions.
If you find these articles interesting and of value, then you can help by
using these affiliate links to order equipment & other goodies. Thank you!