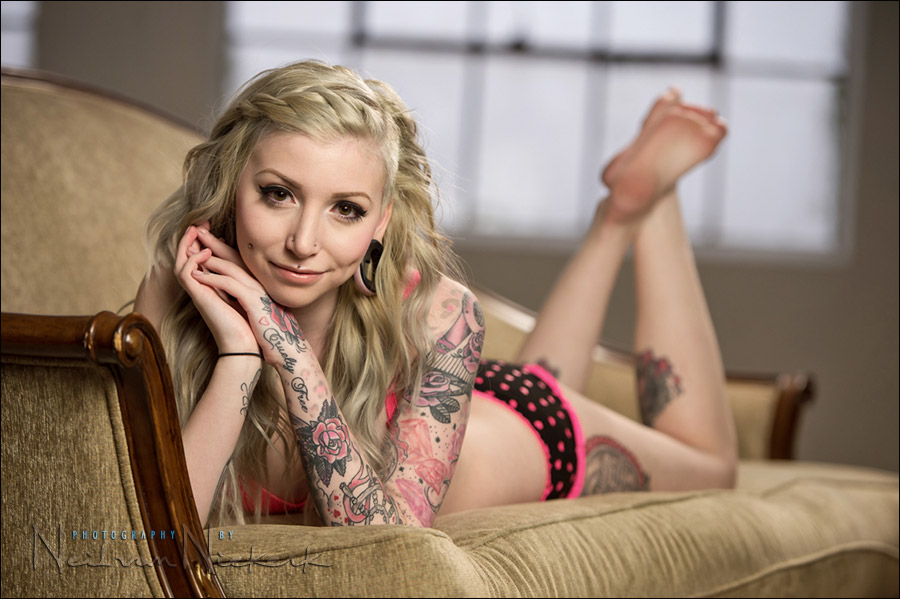 boudoir photo session w/ Westcott Spiderlite TD6 and TD5 (model – Morgan)
When Morgan contacted me, I immediately wanted to do an Inked Magazine style photo session with her. (Check her Model Mayhem portfolio.) We met up in my studio for the shoot to try several ideas.
First, I tried ring-flash, but as usual, disliked the look of ring-flash. I just can't get into it.  A funny thing about style – I like soft light – so I went Westcott Spiderlites (continuous lights) and a large softbox on Morgan, and a Profoto flash head to light up the white paper backdrop. It looked pretty cool. I'll show some images in a later article.
Then, for the final part of the photo session, I continued working with the Westcott Spiderlites, veering more towards a boudoir photo session. Moving the couch to the middle of the carpeted area of my studio, I set up the lights to give a nice flood of light on her. The pull-back shot shows how they were set up …
The main light on Morgan was the Westcott Spiderlite TD6 (B&H) with the large 36″ x 48″ shallow softbox.
I had to pull the main light further back than I normally would, because the light-stand on the dolly was too high to use it closely to Morgan where she was lying on the couch like that. In other words, if I pulled the light closer, then the light came from too high up, and her eyes would be shaded. So I pulled the light further back so that it came in from a better angle. I'll have to fix that for future photo sessions, and bring the light closer to the ground.
Having the light further back like this, then also affected my camera settings. Still, I had intended to shoot with wider apertures.
The background light is a Westcott Spiderlite TD5 (B&H), with the diffuser pulled off. I wanted to give a brighter, more direct light on her from behind, and act as a kind of rim-light. The idea was to mimic daylight flooding in, but my timing was off – the actual daylight was already rapidly fading.
With these lights, I used the Daylight balanced fluorescent lights.
What I love about continuous light, whether the video lights I regularly use on location, or these Westcott Spiderlights, is that you can immediately see what you're getting. And you can adjust your subject's pose subtly if need be. In this instance, because of the slightly elevated position of the main light, I could micro-adjust how she turned her head.
equipment used during this photo session
Nikon D4 (B&H)
Nikon 70-200mm f/2.8 VR II (B&H) used at 125mm
Westcott Spiderlite TD6 Shallow Softbox Daylight Kit (B&H) w/ 3′x4′ softbox
Westcott Spiderlite TD5 (B&H)
camera settings: 1/200 @ f/3.2 @ 800 ISO
related articles
- further articles on boudoir photography
- photography studio rental NJ
newsletter / forum / workshops & seminars
Stay informed of new articles via the monthly newsletter.
Also join us on the Tangents forum for further discussions.
If you need more direct help or instruction on flash photography,
I do present workshops & seminars and also offer individual tutoring sessions.
If you find these articles interesting and of value, then you can help by
using these affiliate links to order equipment & other goodies. Thank you!