~ photo gear ~
cameras | Nikon lenses | Canon lenses
flashguns | lighting accessories | camera sensor cleaning
cleaning your camera's sensor
There's a huge variety of tools and devices available on the market to clean your camera's sensor. I've tried a few of them, but always come back to this simple method which is quite thorough.
First we have to get rid of the dust particles and lint and crap inside the camera's mirror box, and on the sensor itself.
For this, I use a CO2 gas canister, made by American Recorder Technologies. The CO2 gas is inert, and doesn't react with anything. Short soft blasts with this will blow out most of the junk inside your camera.
I bought this from Amazon, and buy the cylinders from Amazon as well.
American Recorder  CO2 Dust and Particle Remover Kit
(Amazon)
American Recorder  CO2 – 6 Pack Replacement CO2 Cylinders
(Amazon)
Next up, we need to dislodge any specs which remain on the sensor and didn't budge with the puff of CO2 gas. Use Eclipse cleaning solution to very lightly moisten the swab with which you are going to clean your sensor.
Eclipse cleaning solution (B&H)
There are several sizes of sensor swabs, depending on your camera's sensor size, whether full-frame, 1.3x crop, or 1.5 / 1.6 crop. I just use the small swab (Type 2) to clean my full-frame camera. I find the bigger swabs which are designed to cover your entire sensor, more difficult to manage inside the camera.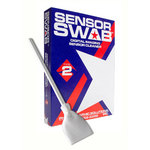 Type 2 sensor swabs (B&H)
For the times that I need to brush something off my sensor, I also use the VisibleDust Arctic Butterfly brush kit.
Arctic Butterfly SD800 Brush Cleaning Kit (B&H)
VisibleDust 3425966 Visible Dust Arctic Butterfly SD800 Professional Brush Cleaning Kit (Amazon)