Anastasia from Neil van Niekerk on Vimeo.
using the Canon EOS 6D in movie mode (model: Anastasia)
To test the Canon EOS 6D  camera (B&H) and the Canon 24-70mm f4.0L IS lens (B&H), I met up with Anastasia Z in New York. She had such presence and confidence, that while shooting stills of her earlier in the day, I had an idea of a video sequence we could do. And with that, here is an overview of how well the Canon 6D fares as a video camera.
So when the light levels starting falling this afternoon, we went to Times Square, which is always insanely lit up by the numerous billboards. An ever-changing flood of light from every direction.
This 30 second clip is an edit from about 12 clips I shot of her. We had to work fast since it was freezingly cold, especially with the wind blowing. We'd work out a sequence while she had her warm jacket on, and then she'd hand it over to my friend, Peter Salo, who assisted us. Then we'd shoot a sequence quickly, before she popped the thicker jacket on again, and tried to warm up a little bit again.
Even with having to shoot fast, and only being able to shoot limited sequences, I am very happy with the results. It definitely shows what an energetic and sensational model, Anastasia Z is. (If you're a New York photographer, check her out on Model Mayhem.)
More techie info about the video clip, and about the Canon 6D …
technical info about the video clip
I shot the sequences at 1/50 @ f/6.3 @ 2000 ISO
I did pull down the exposure ever so slightly (via iMovie) in two of the sequences shown here. The light levels vary so much that you can't truly nail the exposure every time.
I don't really get along with my Glidecam, and it's a constant mission to adjust it. Therefore, quite often, I go with an easier way of getting steady shots while moving – I have the camera on a Manfrotto fluid video monopod (B&H), and then lightly rest the stem of the monopod (just below the head) between the tips of my thumb and two fingers. Then the monopod dangles gently from my fingertips. Inertia will keep it fairly steady, even with me moving. It's a quick work-around that very often gives results comparable to the Glidecam.
I edited this clip in iMovie, with the soundtrack from Triple Scoop Music.
Neither the Canon EOS 6D (B&H) and Canon 5D mark III (B&H) offer continuous AF while shooting video, but that's pretty much standard. Not having continuous AF while shooting video, isn't really a negative – you would most certainly want to control your focus while shooting video. It is quite distracting to watch video and see the focus pop in and out during a static sequence.
For this clip then, I wanted a fair amount of depth-of-field, and with the wide angles used, f6.3 worked fine. The movement masked any focus errors for the most part. At the beginning of the clip, by the time you realize that Anastasia is the subject of the short clip, she is already  in focus.
I prefocused on a distance where our fingertips could touch. We worked with the idea that that is the distance we're going to shoot at for the most part. With Anastasia standing still at that distance, I'd zoom in on her eyes using LiveView. Once I had the camera focused, we'd move. It all worked out pretty well, I think!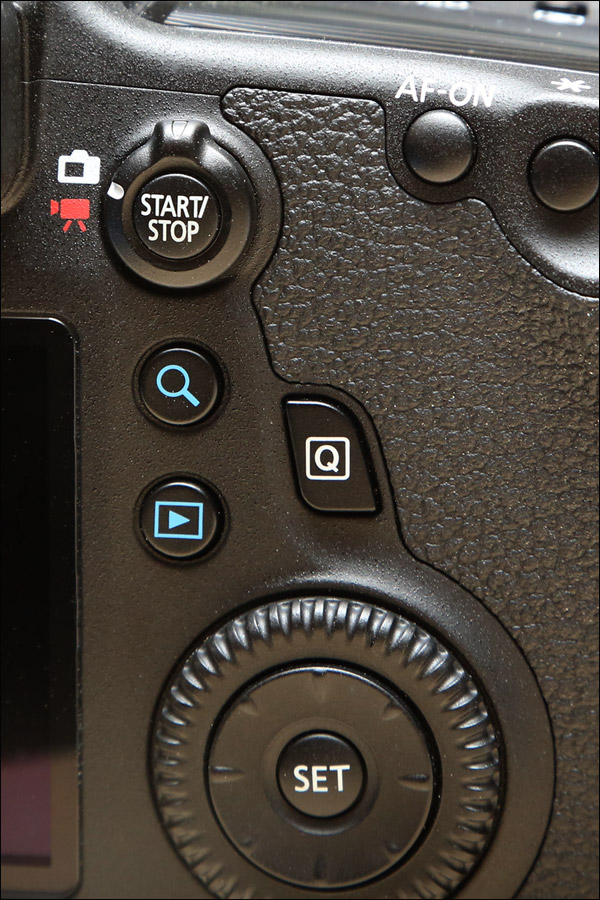 Canon 6D movie mode / video capabilities
user interface / camera controls
The external controls between the Canon 5D mark III (B&H) and the Canon EOS 6D (B&H) are very similar. The stills / movie selector switch are in the same position. However, some are different – the Play button and Zoom button are in a different position on the Canon 6D. The 6D also lacks the joystick … which is now incorporated into the thumbwheel on the back. It took a little getting used to, since it is different that every other Canon DSLR that I've used.
This would mean that someone that switches between the two cameras, will have to get used to the different ergonomics.
shooting video
Shooting video with the Canon 6D is simplicity itself.
Set the LiveView / Movie switch to the movie position, and hit the Start  / Stop button.
Focus before the time, using the enlarge function in LiveView mode. Keep the camera / lens in manual focus.
And of course, you have to decide on your movie settings before-hand, such as whether you want 30 fps or 24fps, and so on.
specifications
The Canon 6D and Canon 5D mark III offer the same specs for video recording.
You have two video encoding choices:
All-I (low compression)
IPB (high compression)
The video files are processed differently in-camera, with the high-compression mode giving you more recording time. The low compression mode (All-I) will give you higher quality video, which makes it a better format to edit with.
Just like the 5D Mark III, the Canon 6D offers full manual control over the video while recording.
The built-in microphone (which I didn't use here) is mono, but there is an external socket for a stereo microphone.
The big differences between the 6D and 5D mark III – the 6D doesn't have a headphone jack to monitor the audio being recorded. This is a huge drawback if you want to use the camera specifically as a video camera.
Please note:  testing the video quality for artifacting and moiré is outside the scope of this review. So you would want to do more research here.
final summary
The Canon 6D is a surprisingly sturdy little camera, and feels good in your hands. It is supremely easy to use. The only drawback that I could see for more serious use as a video camera, is the lack of headphone jack. Other than that, I'd very happily use this camera.
equipment used during this shoot
Canon EOS 6D (B&H);
Canon 24-70mm f4.0L IS (B&H)

Manfrotto 561BHDV-1 fluid video monopod (B&H)
newsletter / forum / workshops & seminars
Stay informed of new articles via the monthly newsletter.
Also join us on the Tangents forum for further discussions.
If you need more direct help or instruction on flash photography,
I do present workshops & seminars and also offer individual tutoring sessions.
If you find these articles interesting and of value, then you can help by
using these affiliate links to order equipment & other goodies. Thank you!