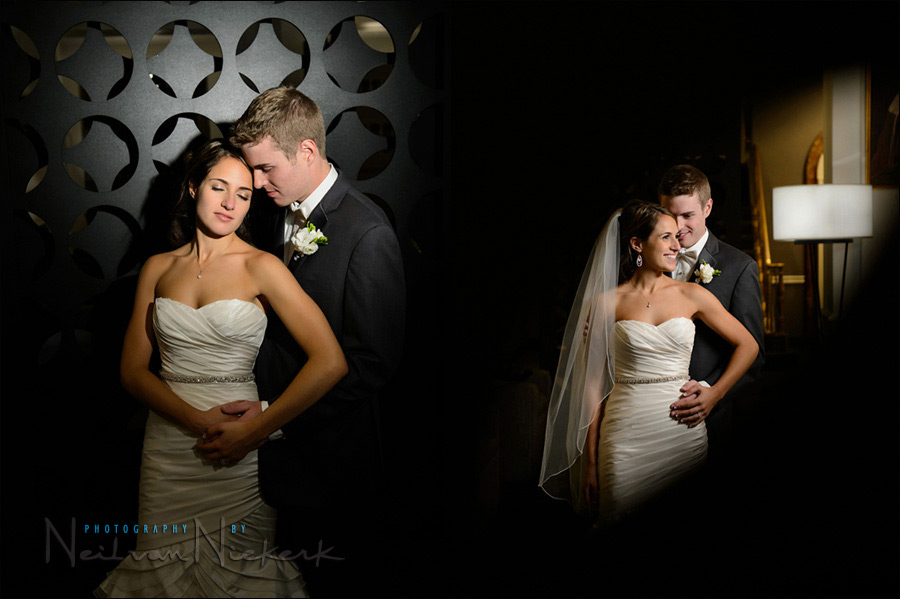 wedding photography: posing and lighting – aiming for a consistent style
The two images were taken about half an hour apart, with entire different lighting setups – yet there is a consistent look.
The photo on the left was shot using video light with an Incandescent white balance. A video light is a small light source, so the lighting is usually quite contrasty – so you need to take care with the posing to have your main subject posing into the light. With a bridal couple, I will nearly always favor the bride for the more flattering light. Hence, I will invariably pose the bride in relation to the light – and then add the groom.
The image on the right was shot with a Profoto B1 portable flash (affiliate), and the Profoto RFi 1'×3' soft box (affiliate). (Check the comments in this article – high-speed flash with the Profoto B1 – to see why the narrow 1×3 soft box is a favorite for on-location portraits. The image on the right was shot through one of those elliptical shaped openings you in the divider screen you see on the left.
When posing a couple, I start with one person first, and then add the second person. This makes it easier to assemble the pose. In the examples here, the pose is quite similar, but changed up because my position (and angle) changed.
Now, back to the theme of this article – how it is entirely possible to aim for a consistent style, even though using a variety of lighting – this is a topic we've explored before. For example, in the article adapting the use of light & flash photography, I emphasized that I do mix up the lighting types, depending on what is needed; what is practical; and what is the best option. Similarly, in the article where I used the Profoto B1 portable flash at a wedding, I added examples of using available light; video light; and on-camera bounce flash. Again, I base what I use on whether it is necessary, or most practical or the best choice.
Even though I mix up the lighting I am using as the wedding day progresses, I want a coherent style to be apparent. It will count in your favor if your work shows diversity, but there's a discipline so that it doesn't look random or hodgepodge.
Let's look at further examples from Nicole & Brad's wedding:
{ 10 comments }