using lens flare for effect
While we often try and avoid lens flare, controlled use of lens flare can enhance the mood of a photograph. The question came up during a workshop last week – how exactly do you get lens flare. It is quite easy to get flare – shoot towards the sun, or any bright light source. Removing any filter will help in not washing out the image. Controlling the flare is more difficult though. Different lenses flare in different ways. The choice of aperture also affects how flare appears.
As an example, one of my favorite lenses, the Canon 24-105mm f4L (B&H), flares in a very interesting way. It creates rainbow streaks which appear and disappear with slight adjustments in position. Since it is so unpredictable, the only way to really use it, is to shoot a lot, and keep changing your angle and position. Out of a sequence of about 20 images, I really liked the one above where the flare was an interesting pattern above her which somehow flowed with the composition of the image. The flare also caused the contrast to be more flat, giving the appearance of lifting the shadow details in her face. The image below shows how it looked without flare, and the image at the bottom shows an example where the flare just blew out the image.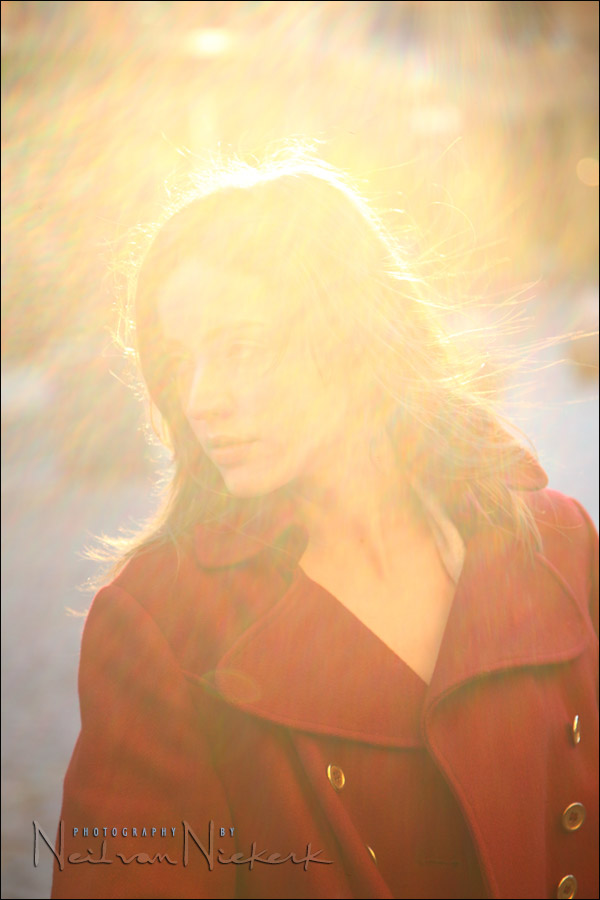 settings for all three images: 1/160 @ f4 @ 200 ISO
(no flash; no reflector; only ambient light)
newsletter / forum / workshops & seminars
Stay informed of new articles via the monthly newsletter.
Also join us on the Tangents forum for further discussions.
If you need more direct help or instruction on flash photography,
I do present workshops & seminars and also offer individual tutoring sessions.
If you find these articles interesting and of value, then you can help by
using these affiliate links to order equipment & other goodies. Thank you!