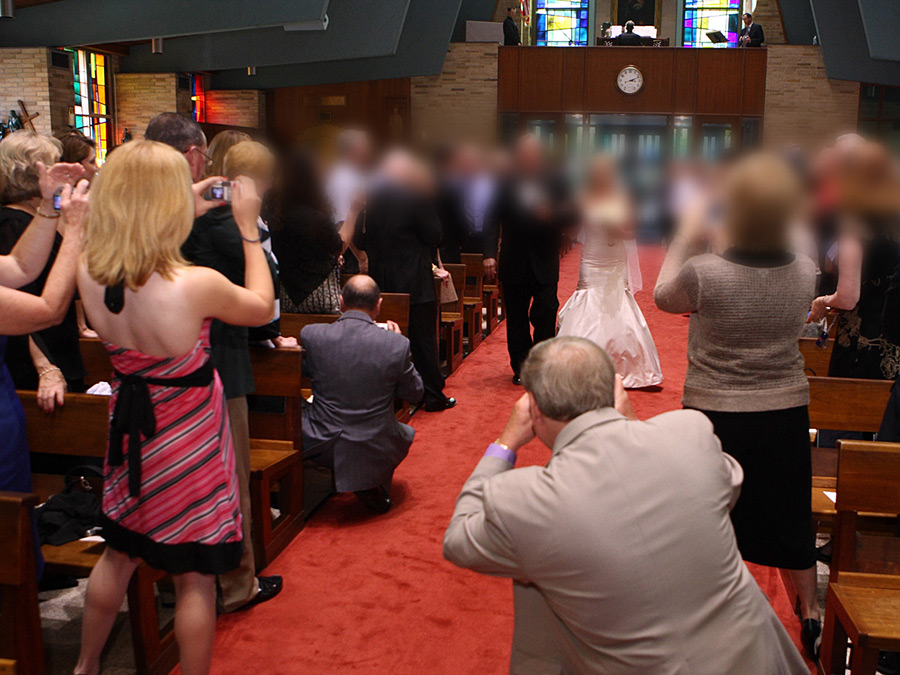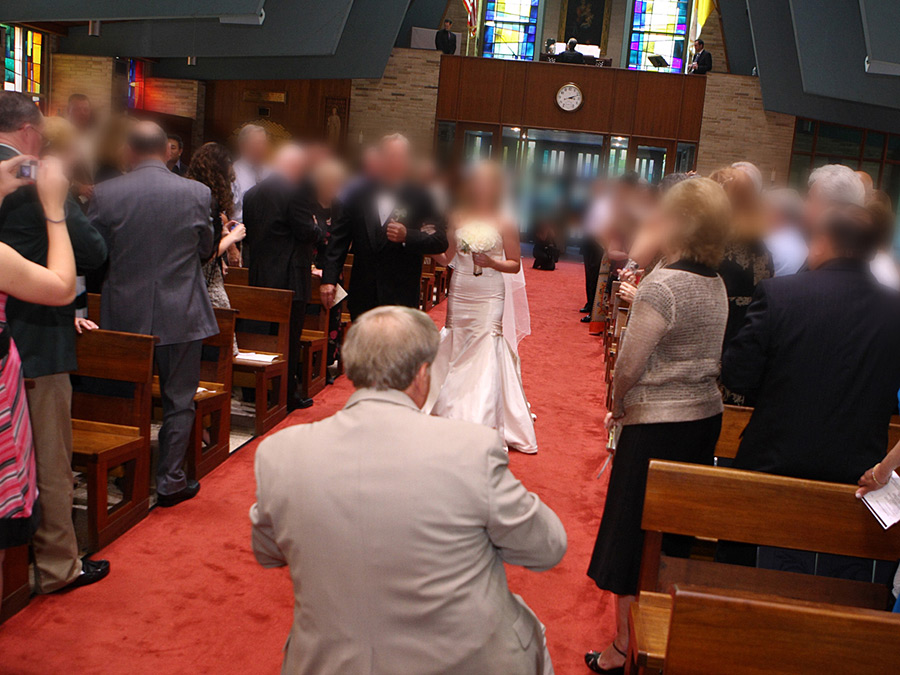 You're a photographer, but at a wedding as a guest?
A recent article on the Off-Beat Bride blog, dealt with the topic of the unplugged wedding. They mention some brides now request guests switch off their cameras, and rather be in the moment and enjoy the wedding. I truly want every photographer, whether professional, amateur, or at any level, to read that article and take it to heart.
If you've been to a wedding and observed the people there, you will surely have noticed the barrage of cameras. It is especially prevalent during key moments such as the bride entering the ceremony with her dad. What you'd also notice is that as soon as the bride has swept past any guest with a camera, they are immediately checking their cameras. Engrossed in the image on the back of their cameras with their heads down, they give the bride and groom only a further glance again as something to photograph.
What spurred me to comment on this now, is a discussion on Facebook between a bunch of photographers (myself included) about this article on Off-Beat Bride. What aggravated me was when one of the photographers said that she *will* take photographs regardless, and the hired professional photographer must just deal with it. Such arrogance! It's now all about the other person's compulsive (?) need to take photographs, rather than it being all about the bride & groom's day.
My perspective as a professional photographer at a wedding
Other people's cameras don't bother me at all. I'm probably one of the friendliest easy-to-chat-to photographers you'll find at any wedding. If you have a camera, come chat to me during a quiet moment at the reception. Similarly, I'm very okay with others taking photographs, but there are a few times that I do insist I get preference, or that I'm the only one taking photographs.
1. With the family portrait session, let the hired professional photographer be the only one taking photos.
It's not a territorial thing when I insist that I should be the only one taking photographs during the portrait session. Rather, it is a practical matter.
For example, if a bridesmaid in a family group gave her camera to a family member to snap the group as well, then it is 99% guaranteed that she will be looking at her camera instead of mine.  This means that everyone will be looking at my camera for the group shot … except her. Strange how the psychology works – I can repeatedly say, "look at my camera!", but the moment I lift my camera, that person will look at her camera instead. My experience with the 600+ weddings I've photographed by now, says this is a near guaranteed thing to happen.
Others taking photos during the formal session also slows things down.
So, I really insist that I am the only one with a camera at the family portraits. As I said, it's not a territorial thing. It's a practical matter.
2. Don't obstruct the hired professional's view of the processional or other key events.
The two photos at the top clearly shows what trouble it can be if a guest blocks the photographer's view. (Yes, I did get a clear shot when they were closer to me.) In this case, the gentleman purposely took a deep squat in the center aisle to block me, took his shots and then slowly checked his camera's preview … only getting up as the bride got closer. He did this on purpose, passive-aggressively blocking me. The reason? When the wedding party started to enter the church, he got up and stood in front of me, and I quietly asked him that he shouldn't stand in front of me. He took affront to this, and there we have it. Beautiful. He somehow got it in his mind that I was competing with him.
You're the guest. The bride and groom hired someone else to document their wedding day. If you interfere in some way with the hired professional photographer, (especially if it is intentional),  it is inconsiderate towards the bride and groom.
3. As a guest, you really don't *have* to take tons of photographs as well.
I've been told this story numerous times by wannabe photographers – how the professional "lost the film", or the professional's camera jammed, or how the professional was so pathetic that "none of the images came out". Of course, the kicker to this story is that the wannabe photographer saved the day. I've heard this so often, that I do think this is more in line with "alligators in the sewers of New York" type of urban legend. This story is then also used as a reason to explain why the guest or family member *has* to take photos. You know, just in case the hired professional's camera jams or "film gets lost".
I can tell you the flip-side of this story, which is much much closer to the truth … for every story about the wannabe photographer saving the day, there has to be thousands of anecdotes about photographer-guests who spoil things. (I wish I could freely post photographs of guests behind the altar, or just intruding in the background with a camera.)
4. Don't put emotional pressure on the bride to get permission to also be a photographer at the wedding.
"My cousin has a camera and would like to take photos. He / she won't get in your way. Is that okay?"
Yes, it is okay, but not ideal.
While you will probably get permission from the bride or groom to also be a wedding photographer (and not even just the guest-with-a-big-camera), they are more than likely just agreeing with your request so they can avoid feeling uncomfortable if they had told you "no". But really, it's not ideal.
5. My advice?  Be the wedding guest, not the photographer.
So you're itching to bring along your camera and some lenses … and you're just itching for all those moments waiting to be captured … but just remember that with the camera in your hand, you're not really part of the wedding day and the day's events. You're now more of an observer. On top of that, you're likely to be a distracting element.
Put your camera away. Be part of the day. Enjoy it. Dance, laugh, have a drink, chat with friends. Make some new friends even. There will be other better opportunities and events to photograph.
Be part of the memories. Be in the photographs!