bokeh – the quality of blur
Bokeh is the term used to describe the quality of background blur in a photo,
i.e. how pleasing the blur looks of the background areas. Since the softness of the background blur is usually more important than how the foreground items are blurred, bokeh usually relates to the background blur.
The bokeh of a lens is influenced by numerous factors, including
– the lens design,
– specifically, how spherical aberrations are corrected,
– the number of blades in the aperture mechanism,
– focusing distance,
– the actual aperture used will also affect bokeh to some extent,
– the distance of the out-of-focus objects,
– and in the case of the Nikon DC lenses, by how certain aberrations are selectively introduced.
Bokeh is usually described as being subjective, and it largely is.  However, when you're able to recognize the difference between good bokeh and poor / harsh bokeh, then it becomes less subjective I believe. When you see good bokeh, you'll recognize it. Same with bad bokeh.
To illustrate how good bokeh appears, and what poor bokeh looks like, I had set up this simple shot.

It isn't art, so don't critique the photography – I wanted those random out-of-focus items in the background.
I used two lenses here, comparing the Nikon 28-105mm f3.5-4.5 with one of the very best lenses that Nikon has .. the 105mm f2 DC. The 105mm DC lens has superb bokeh, so it should be quite apparent in comparison photographs why I didn't like the 28-105mm lens in this respect.
Here's the set-up shot .. my daughter in our backyard, with some back-lighting and arbitrary
out-of-focus clutter in the background. The general photo is reduced in size, but the other two are 100% crops, shot with low sharpening on the D2H, both lenses at f5.6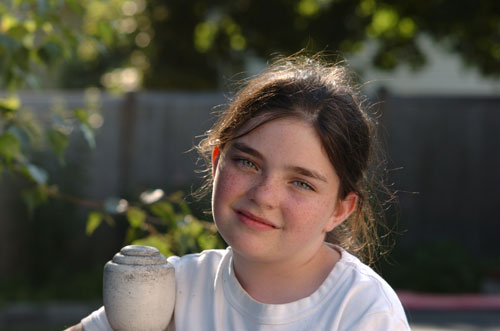 As you should be able to see from these crops, the 28-105mm zoom has a harsh bokeh ..
the out-of-focus areas look 'wiry', whereas the 105mm DC lens has a very smooth looking out of focus background.
The 100% crop from the 105mm f2 DC ..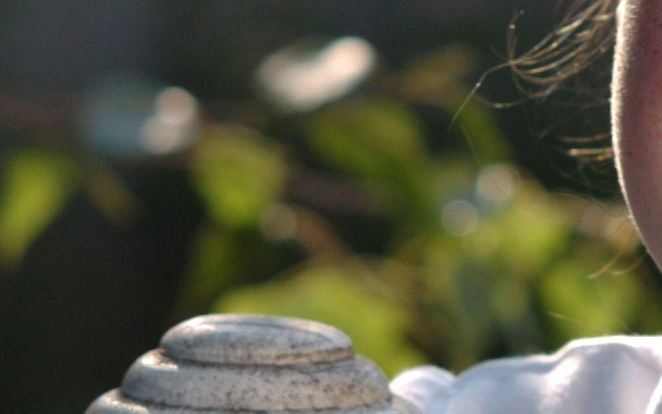 .
.. and the 100% crop from the 28-105mm zoom at 105mm setting ..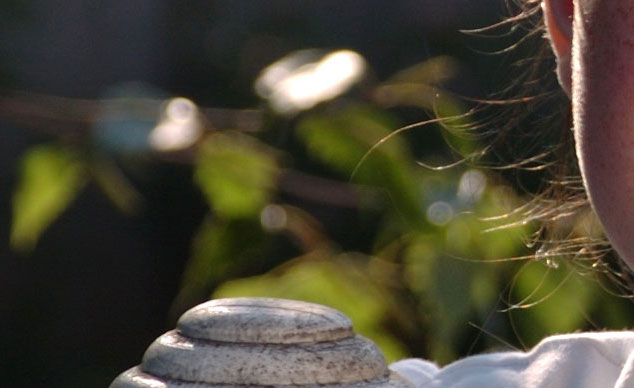 (The part of the railing that is visible, seems to be clearer in the one shot, but that was because she moved slightly and I had to refocus on her eyes. I did try to keep things as consistent as possible, but little kids aren't inanimate. The photos should still serve as a comparison.)
Anyway … this was one of the reasons I sold the 28-105 mm lens.
The bokeh was harsh. And yes, the client might not notice, but I do.
.


bokeh & depth-of-field

I frequently see photographers confuse shallow depth-of-field (DoF), and call it bokeh.  And worse, just because they achieve shallow DoF, talk about "getting more bokeh".  So I would like to emphasize this point .. shallow depth-of-field is NOT the same as bokeh.  Bokeh is about the quality of the background blur, and not directly about the depth-of-field.

Bokeh is a function of the optics, and specifically describes the quality of the out of focus areas – whether it is smooth or harsh. Therefore, you don't get "more bokeh" by going from f5.6 to f2 .. but you do get shallower depth of field.

Also, phrases like "more bokeh"  are nonsensical terms.  A description such as "more pleasing bokeh" .. that makes sense. But, going from f5.6 to f2 doesn't give you "more pleasing bokeh" … it just gives you shallower depth of field.

But .. as someone pointed out to me, this is mostly true.
While it is true that a given lens will maintain certain optical traits across its aperture range – such as how in these examples it renders background highlights – there are some characteristics, usually uncontrolled aberrations, that are only visible at wider apertures: soft corners, coma, vignetting, etc., that can all contribute to what might be considered a "more pleasing bokeh."

Using a different LENS with different characteristics will give you more pleasing bokeh than a lens with harsh bokeh, more so than a change in aperture would.  So it would still be true to say that bokeh isn't the same as shallow depth-of-field.

All of which kills me when people fawn over how awesome the bokeh is of their Canon 50mm f1.4 or Nikon 50mm f1.4 lenses .. both known for poor bokeh. Just because the image was shot at f2 or wider, and with a background so far away and defocused that you don't actually get to see ANY background detail, doesn't automatically give you great bokeh.  You have to see the way the lens handles out-of-focus background areas before making that judgment.

Examples of lenses which will give you great bokeh:
Canon 24-70mm f2.8
Nikon 28-70mm f2.8 and the Nikon 24-70mm f2.8

And then of course, you have the kings of beautiful bokeh:
Nikon 135mm f2 DC
Nikon 200mm f2 VR
Canon 200mm f2 IS
(there are many others)

Lenses that have crap bokeh, no matter what you do:
Nikon 50mm f1.4 AF-D
Canon 50mm f1.4
Nikon 28-105mm 3.5-f4.5
Canon 24-105mm f4