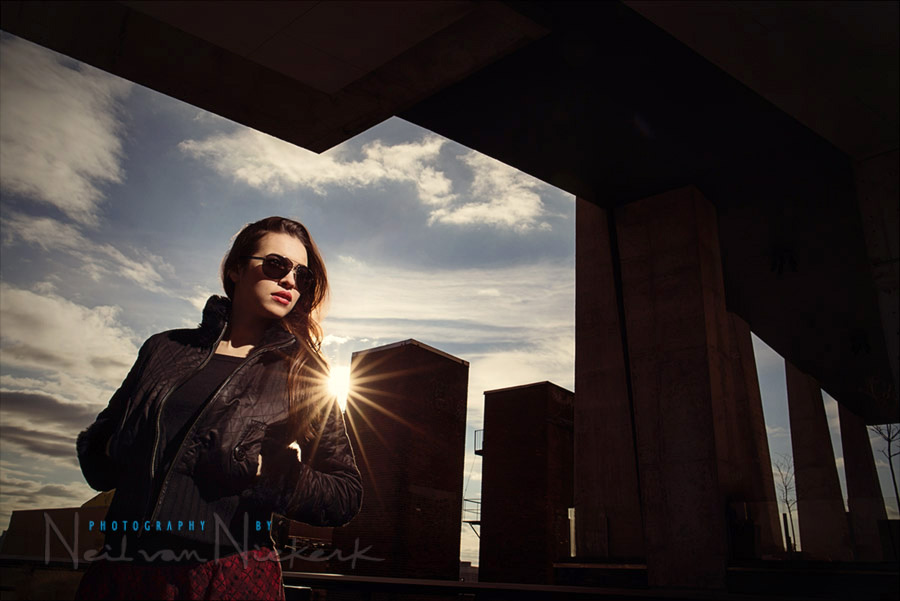 Composition, posing, light & lighting – when it all comes together
I just love this photograph of Anastasia Z, and want to share some of the through-process in how it came together.
To test the Canon 6D camera (affiliate) and the Canon 24-70mm f/4.0L IS lens (affiliate), I met up with Anastasia Z in New York. I scouted this area, while we were waiting for Anastasia who was running a touch late. Just as well I did the scouting earlier on, because it was freezing outside.
I saw the way this building over the Highline in Manhattan was creating this jagged shape with strong lines. I also knew the staggered vertical lines would work well, silhouetted against the winter sky. When we met up with Anastasia, we discussed an approximate plan of where we'd shoot .. including somewhere inside eventually. But I wanted to try this one specific idea first – right here.
So, knowing more or less what I wanted, we walked towards this spot. On our way there, I did try out an idea, but it didn't quite hang together, and I dropped it to get to this place where I knew the idea would work.
So here's how this photograph came together with just three test images …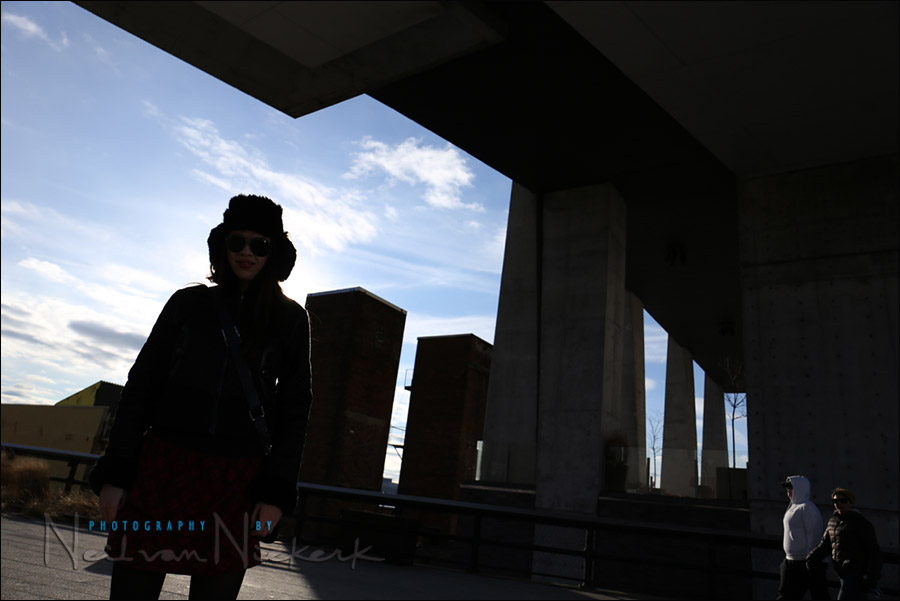 camera settings:  1/180 @ f/11 @ 100 ISO
I had tried shooting with bare flash at high shutter speed earlier on at a spot along the way, but the HSS flash just ate up too much of the flash's juice for the aperture / shutter speed / ISO combination we needed. At 1/4000 @ f/4 the flash had to be really close to her to have the effect I needed … so close that the speedlight would've appeared in the frame. So I knew I would have to work at the maximum flash sync speed of the Canon 6D camera (affiliate), which is 1/180
Now it might sound like a dramatic difference from the 1/200 max flash sync speed of the Canon 5D mark III (affiliate), but in reality it is an incremental difference.
Back to the photo in this sequence – when we arrived here, I positioned Anastasia to show her on the back of the camera more or less what I had envisioned. It is usually easier if your subject is involved in what you're trying to do and have a clear idea of what you're aiming for.
So there's the composition. With Anastasia placed in that corner of the camera's frame, it was just a matter of adding flash to light her up. Full power manual flash to match the bright light in the background.
A specific power setting on your flash, at a certain distance, would imply a specific aperture / ISO combination. Or, the other way to look at it … since I had the aperture / ISO because of how I wanted the background to appear, I had to have my flash at a certain distance (because I was at a specific power setting already – full power.)
More about the line of thought here: getting the most power out of your flash / speedlite / speedlight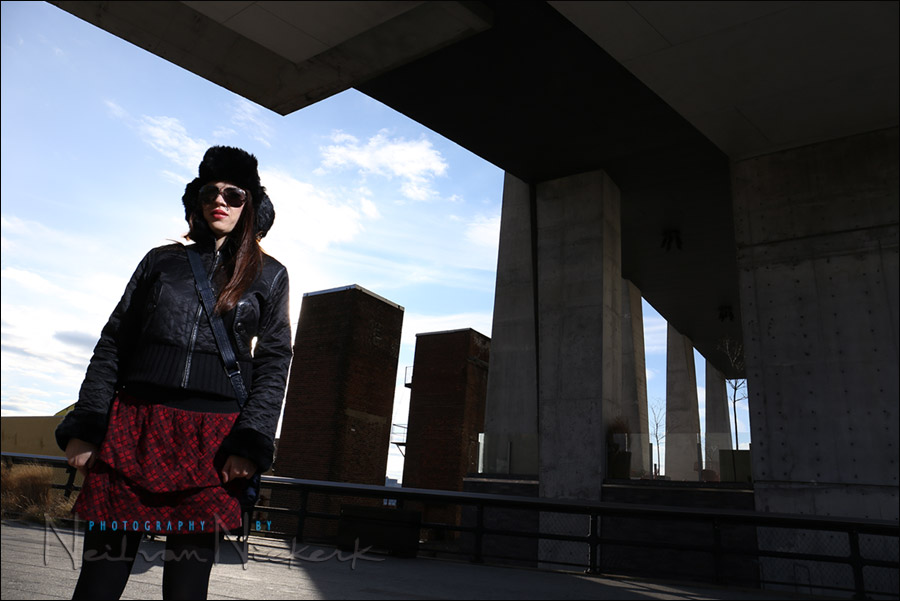 Here is second image:  1/180 @ f/11 @ 100 ISO
The background in this previous photo was a stop too bright for my liking, so I changed to f/16 and had my assistant bring the flash that much closer … to get correct flash exposure on her.
It takes longer to describe this, than to actually do it. It becomes an easy and fast thing to do once you have the routine down.
The thought-process is the same as described in this article: controlling bright daylight w/ direct off-camera flash (model: Molly K)
Then I had to direct Anastasia's pose so that the light fell on her in a pleasant way … and then I changed my own position so that the sun wasn't directly behind her anymore, but intentionally flaring. Dramatic!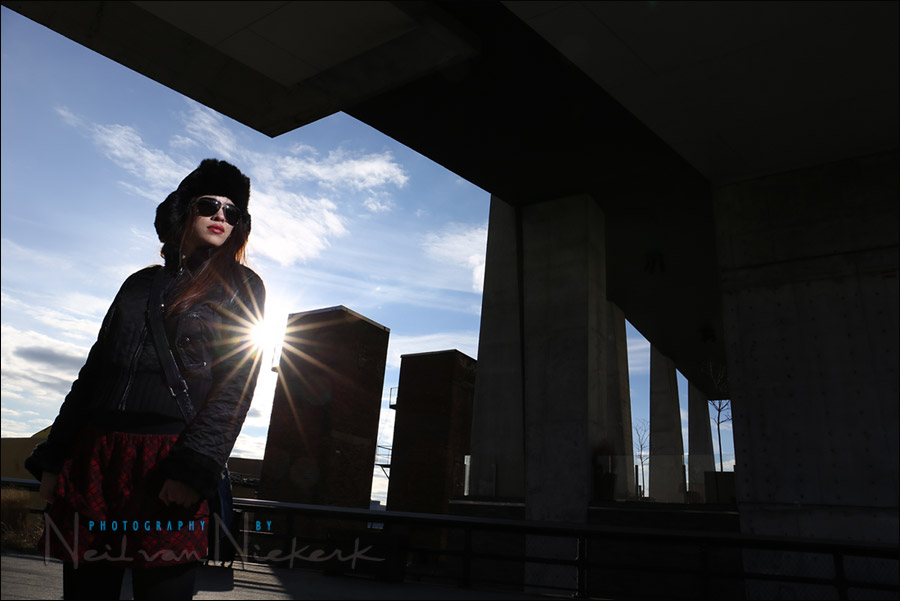 So there we have it in 3 shots. Then I had Anastasia take her hat and bag off, drop into the pose … and get ready for a sequence of images. We had to work fast in the cold, so this methodical way of doing it helped in nailing the final image nearly immediately.
And here is the final image, edited with a combination of Photoshop filters – Nik HDR, Portraiture, Shine-Off. Each of them brought something to the final image.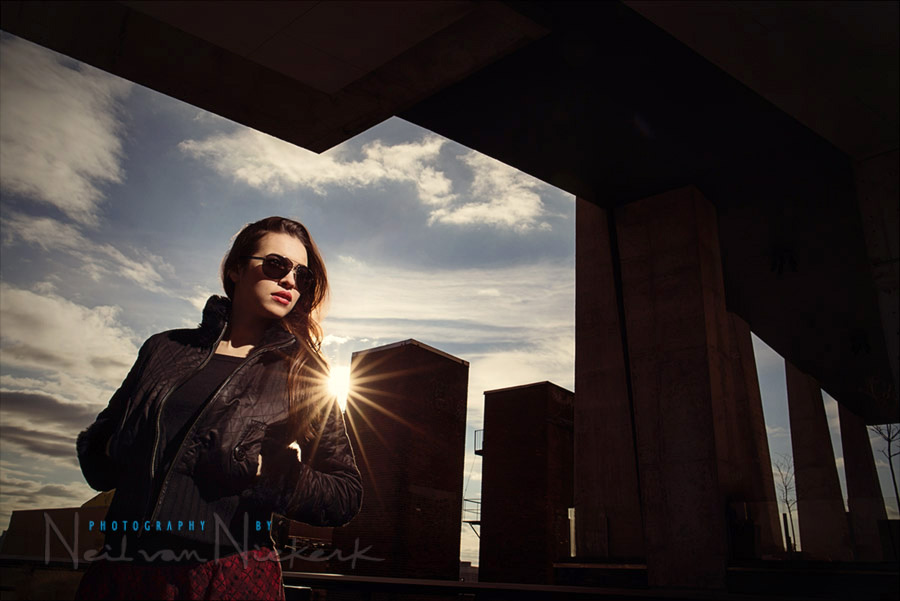 camera settings:  1/180 @ f/16 @ 100 ISO .. full power manual flash.
Here is the pull-back shot to show where the flash was positioned – held up by Peter Salo who was helping me out on this day, enthusiasm undiminished by the cold.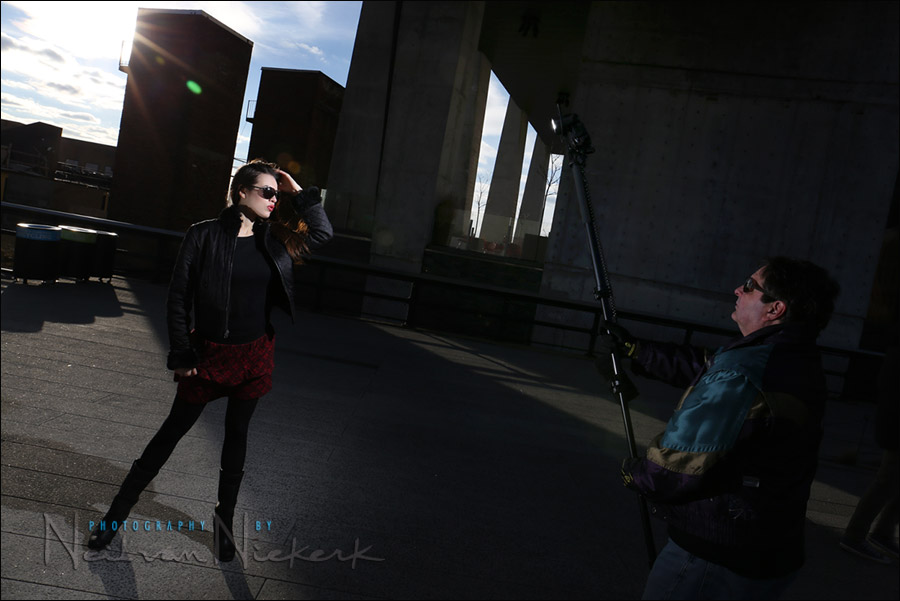 With the photos that I wanted, we needed to get someplace warmer … so we hung out for a while in a restaurant, and then we went to Times Square to work on another idea I had, which would be a quick video clip that just might just work …  Anastasia Z, with a sense of playfulness and allure.
In this way, final images (and also the video clip), are most often an iterative process. Changing a few things along the way to get to something that looks great.
Photo gear used during this shoot
Canon 6D
Canon 24-70mm f/4L IS
Canon 600EX-RT Speedlite   /  Canon ST-E3 Speedlite Transmitter