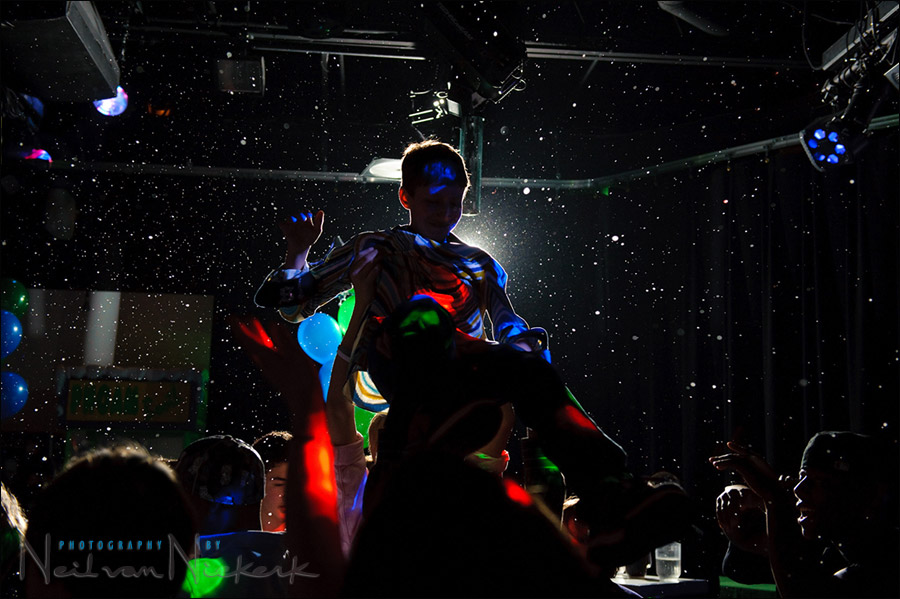 using additional off-camera lighting at events
With the Bar Mitzvah boy lifted on the shoulders of his friends at his party, I ducked and weaved to make sure that I kept one of the additional flashes behind him as the group moved.  I purposely shot faster than my flash could recycle, so that I could get images with my on-camera flash, and without.  It's easier to do it this way and ensure I have both options to choose from in the edit – rather than trying to switch my on-camera flash on & off while shooting fast.
The colored spots are from the DJ's lights.  The white specs in the photo are the reflective flakes they periodically released from the ceiling, which is now backlit by the flash.
More about the lighting …
This particular venue is tough to shoot in.  It has a black floor, black ceiling and black walls and dark drapes. I had to set up two additional flashguns on either side of the room to help give some kind of separation from the background for anyone I photographed on the dance floor.
The two additional flashguns in this case were Quantum T2 units, set up at just over 1/16th full power, and pointed directly at the dance floor. It could've been any kind of speedlight though.  I fired the flashguns with Pocket Wizards.  (They each had the usual Quantum diffuser disc over the front.)
To check the additional lights, I take test shots beforehand, with and without my on-camera flash firing.  Here's a fun test shot where I set up the MC and one of the dancers, using just the two additional flashguns as lighting.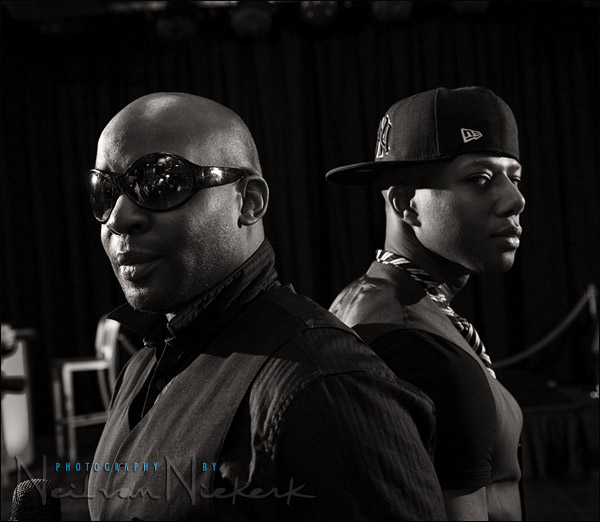 settings:  1/30 @ f4 @ 1600 ISO  …. and this then are the settings I used for the majority of the photographs on the dance floor for the rest of the evening.