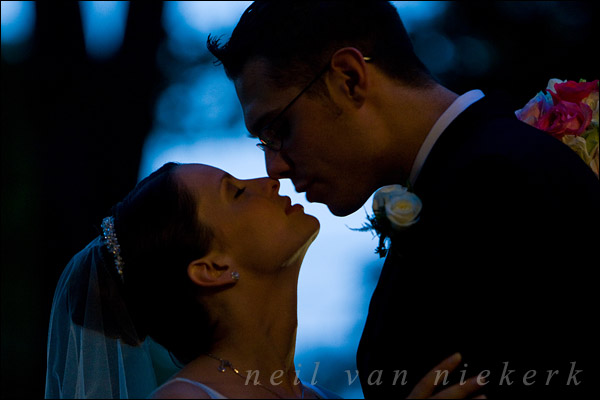 (1/20th @ f2.8 @ 1250 iso)
using slow shutter speeds
I am frequently asked whether I use a tripod at all to help overcome the slow shutter speeds that I often shoot at.  The question also often relates to shooting hand-held, below the arbitrary value of 1/60th of a second.
The choice of shutter speed at which you will get a sharp (enough) image will depend on a number of factors, such as how fast your subject is moving and at what angle compared to your camera, and whether you are panning with your subject.  And also choice of lens, and camera's sensor size, and your own ability to hold a camera steady.  And luck.  And also on how large you want to display the image.
I'm not going to attempt a broad explanation covering every possibility that we'll encounter as photographers, but answer the question in terms of the work that I do – which is primarily as a portrait and wedding photographer here in New Jersey.
My own preference is for 'sharp'. I like crisp images, and don't much like too much motion blur.  But this is a personal artistic choice.  So I tend to shoot at higher shutter speeds where I can.  Part of this is simply because I am not that steady in hand-holding a camera.
And in attaining higher shutter speeds, I tend to use fast optics, or shoot at higher iso settings.  Or I just use flash at times to stop motion blur.   But there are times when I am shooting in low light, and have to use a slow shutter speed …
Now I know this will aggravate many photographers, and perhaps rightly so .. but I rarely use a tripod.  I have two of them that I constantly have in the car (okay, okay .. van) that I travel to shoots with. One of the tripods is a big beast, and the other a super-light carbon-fiber tripod. (Both are made by Manfrotto.)
For most of the photography work that I do, I find that my shooting style is too fast-paced for a tripod, and hampers the fluidity with which I want to work.
So as an alternate to using a tripod, I make do with:
– stabilized lenses,
– being careful in steadying myself, or
– purposely placing my subject such that they are shaded and will be lit by flash.
In this first example, which has appeared elsewhere on these pages:
The piano player is shaded compared to the brighter background.  So he was mostly lit by flash .. and this would've frozen any camera shake.  (The ultra-wide angle lens would also help mask camera shake in this instance.)   Any noticeable camera shake would've been in the out-of-focus background. ie .. you'd never notice.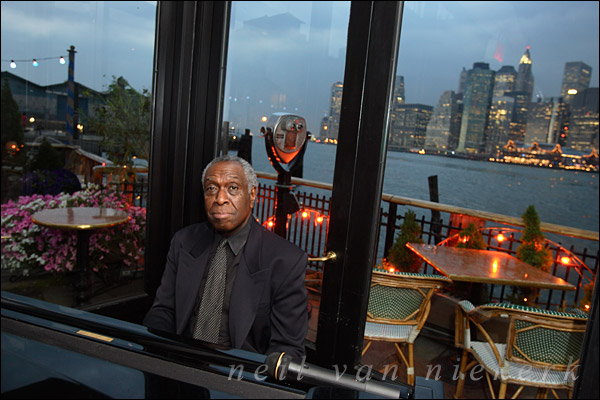 (1/15th @ f4 @ 800 iso)
In fact, I use this idea in how I very often specifically set people up in areas where they are shaded in comparison to the background. I then  use the instantaneous burst of flash to freeze any noticable camera shake.  This next image, an impromptu portrait of my friend Thomas, shows in part how I set out to manipulate such a scenario.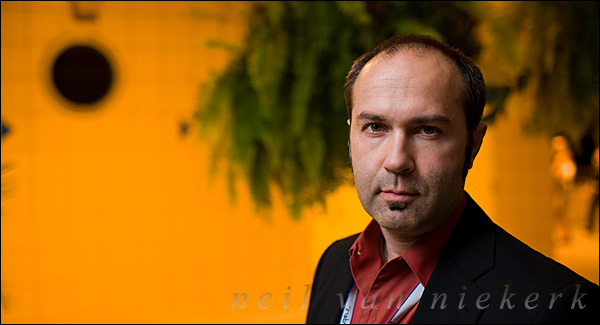 I deliberately positioned him in a darker part outside this venue, and then lit him with bounced flash.  In this case, the shutter speed of 1/100th was fairly high, but the technique would've worked just as well at a much slower shutter speed – simply because the flash would've stopped any noticeable camera shake.
In this image – a candid photo of a mom and her daughter, the flower girl – I was shooting at a slow shutter speed, but knew that the low ambient light would barely register, and therefore flash would stop any camera shake.  (The stabilized lens just clinched the deal.)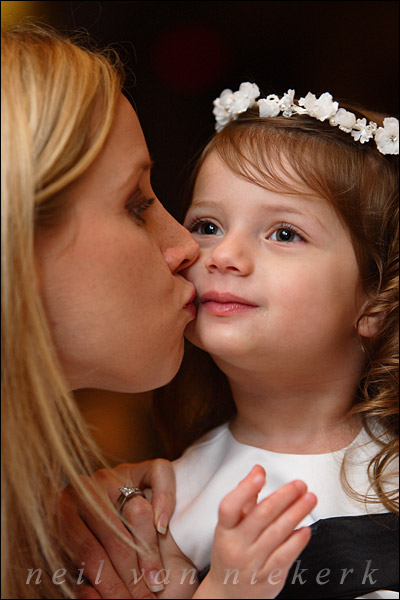 With this photo below, the background was lit by a (manual) Q-flash triggered with a radio slave, and the foreground is light from a bedside table lamp. To enable the tungsten light to spill enough light onto the bride for the camera to register, I had to use a slow shutter speed of 1/40th (@ f2.8).   I controlled how bright my background is, by changing my ISO and aperture … and then I could control how bright the tungsten light would appear in relation to that, by riding my shutter speed.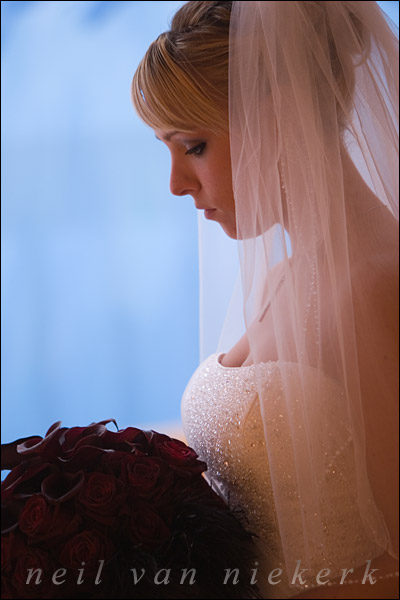 The slow shutter speed here was possible because I used a stabilized lens.  But I also ensured success by shooting a sequence of images. So part of my slow-shutter speed technique, is to make sure I take a series of shots.
Stabilized lenses are essential additions to any camera bag.  It enables you to get sharp images under circumstances that would be difficult otherwise.  With the image at the top of this posting, the slow shutter speed was just due to the low light levels – and the stabilized lens was crucial.
In this engagement session, I was able to get a slow enough shutter speed (1/20th @ f10) to get the New York taxi cabs to streak past. The stabilized lens was essential here.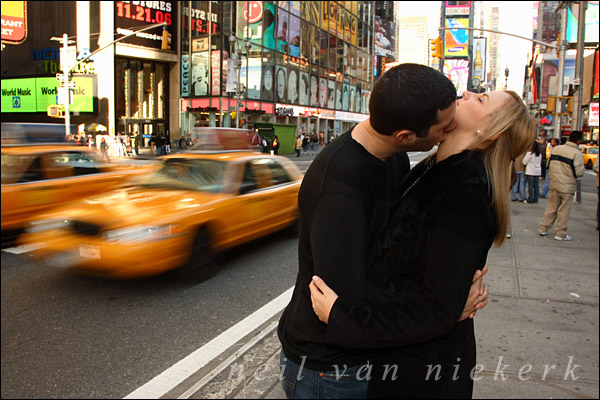 Therefore attaining a usable image at a slow shutter speed, is not just down to a single thing that we could do – but a combination of techniques applied with some thought.