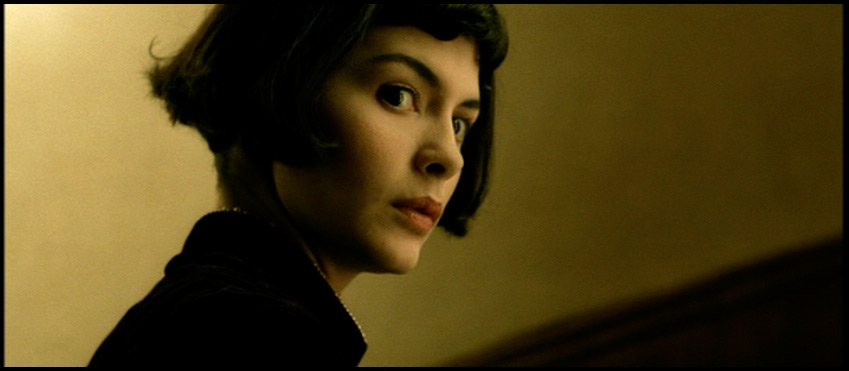 Inspiration from movies – a visual feast for photographers
It would be a rare photographer – in a fact a rare person – who isn't fascinated by other forms of art, whether music, dance, various visual arts, architecture and everything we surround ourselves with. I just can't imagine a photographer not finding inspiration specifically in other visual art forms, whether cartoons & graphic novels, all the way to the classic painters … and of course, movies.
Last night we watched Micmacs, another of the surreal hyper-kinetic movies by director Jean-Pierre Jeunet. Every frame of that movie is a beautifully composed. A work of art. Afterwards I felt that push again that I need to be more creative with my photography.
Micmacs was released in 2010, but before investigating that movie, I'd have to urge you to first watch Jean-Pierre Jeunet's masterpiece – Amelie.
The screen-capture at the top is from Amelie. No words can quite describe what a joy ride of a movie it is. Emotionally over-powering. Exhilirating! With that, I'd also like to mention 10 other movies, all personal favorites, that are visual feasts for photographers …
Before we start, I didn't want to list movies which are great CGI-enhanced spectacles. While a few of these movies mentioned here have obviously had a lot of  computer manipulation done to them, and effects added – I wanted to highlight a few favorite movies where the cinematography itself is just dazzling. So no mention of Inception or Lord of the Rings.
And no, Citizen Kane isn't on my list. I could! just! never! get! past! the exclamatory! narration! It completely put me off a movie that is supposed to have influenced everything since. Well, I suppose I could watch it with the sound off, and some music on Pandora playing instead. Maybe another time.
I'm not going to give an actual review of each movie, or list details. IMDB, Amazon and a horde of other sites are good for that. (I like the reviews on DVD Talk.) So this is more of a nod towards the movies that fascinated me. And still do.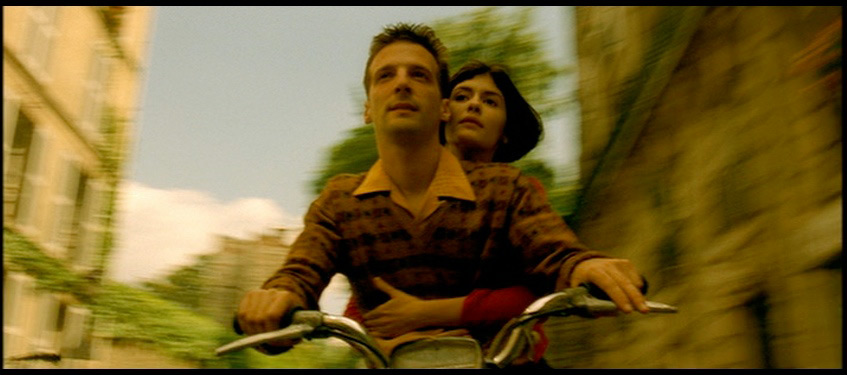 Amelie (2001)
director: Jean-Pierre Jeunet
starring: Audrey Tatou
This movie is simply captivating. Amelie is a shy waitress in Paris, who secretly helps people around her … and in the process, discovers love. There are so many moments of dazzling brilliance, but a favorite for me (about 30 minutes into the movie), is where she helps a blind man across the street. She describes everything around then in an avalanche rush of words, matching the dizzying visuals: "a baby's watching a dog that is watching chickens …", and then she rushes off, leaving you breathless and exhilarated as well.
If you love Amelie, do check out Jean-Pierre Jeunet's other movies as well, including Micmacs, and Delicatessen
Madmen (TV series)
When did television series become so good? Perhaps with the advent of layered non-formulaic story-telling such as The Sopranos. Right now however, the best that television programs have to offer is Madmen. Every frame is beautifully crafted, whether in set design, choreographing the movement of the actors, the subtle and sparse dialogue or the always awesome use of light and lighting on set. Madmen is as good as anything that cinema has ever produced over the years. Staggeringly impressive!  And if you like Madmen, also check out Breaking Bad. I'd rate it just as highly.
With both of these series, don't randomly dip into them. Start with Season 1, disc 1. And then watch, enjoy and study.
The American (2010)
director: Anton Corbijn
starring: George Clooney
Anton Corbijn is the Dutch photographer, famous for his album cover photographs. He has shot musicians as diverse as U2, Depeche Mode, Joy Division, Bjork and Peter Hammill. He is also well-known for having directed music videos for both U2 and Depeche Mode. The American is his first a feature length film. In The American, George Clooney plays the role of an assassin on the run. Unfortunately, this movie was a victim of bad marketing. It was promoted as an action thriller … which it is in part, but it is also a stylishly crafted character study which unfolds at its own tempo. Too slow for audiences expecting Bourne Ultimatum style frenzied action and jump-cuts. The cinematography in The American is superb and a joy to take in.
Collateral (2004)
director: Michael Mann
featuring: Tom Cruise, Jamie Foxx
The director, Michael Mann, uses Los Angeles as a colorful, shifting backdrop to the events. It is fascinating to watch how the long shots are stacked, with multiple levels of color or activity. Just be aware that a grain effect was added to the movie for visual effect. Michael Mann is of is also known for the epic Heat, as well as the recent Public Enemies. Both movies also show tremendous skill in the cinematography and are well worth watching again just for that.
Moulin Rouge (2001)
director: Baz Luhrmann
featuring: Nicole Kidman, Ewan McGregor
Moulin Rouge is an over-the-top, extravagant Musical that will surely divide opinion. You will either love it or hate it. The visuals are over-poweringly busy and colorful, with some scenes as hectic as an acid trip. I'd recommend this movie to anyone, but could not promise that it would be enjoyed. Also check out Baz Luhrmann's modernization of the Romeo + Juliet tale. Just as visually gorgeous.
Lost In Translation (2003)
director: Sofia Coppola
starring: Bill Murray, Scarlett Johannson
With a sparse plot – some may even argue it has none – Lost In Translation has to rely on the visuals, as well as the (unexpectedly) subtle acting from Billy Murray. Tokyo is the setting, and Bill Murray and Scarlett Johannson's characters meet up by chance. Both of them feel increasingly alienated in the strange city, and this forms the basis of an impromptu friendship. Since so much is dependent on the milieu the characters find themselves in, Sofia Coppola had to create a visually arresting movie. Lost In Translation is one of those movies as well which will divide opinion. Regardless of that, I'd whole-heartedly suggest watching it. There is much to be enjoyed in the subtle unfolding of the movie.
Double Life of Veronique (1991)
director: Krzysztof Kieslowski
featuring: Irene Jacob
When I first saw Blue (one part of the Three Colors Trilogy), I was so blown away by the camera work, that Krzysztof Kieslowski instantly became one of my favorite movie directors. Blue has the best music score to any movie I have ever watched. As impressed as I was with Three Colors: Blue at the time, it was Double Life of Veronique that really lingered with me the most when I finally caught up with it. What is the plot about? I still have no clear idea. The movie has an elegiac feel to it. Mystical. Mysterious and confounding. And beautifully shot. You might love it, you might very well be left unimpressed … yet, I still feel that this is one movie that I want to push onto my friends that they *have* to watch.
Brazil (1985)
director: Terry Gilliam
featuring: Jonathan Pryce, Kim Greist, Robert De Niro, Michael Palin, Bob Hoskins
Terry Gilliam is a frustrating director. For all his moments of unparalleled brilliance (for example, Brazil and Twelve Monkeys), he can also come up with some stinkers. (eg, Baron Munchausen). Brazil for me was a complete mind-trip. I remember sitting in the movie house afterwards, with the house lights already on, thinking, "wtf just happened?" Brazil, for me, changed my perception of cinematic possibilities.  Again, the plot is beyond what a mere sentence or two can sum up. And then it still wouldn't describe what Brazil is about … a state of mind. Apparently.
The Illusionist (2006)
director: Neil Burger
featuring Edward Norton, Jessica Biel, Paul Giamatti
I love the story – the romance, intrigue and adventure. Epic. I also love the look of the movie. The post-production they did on this is something that I'd love to be able to emulate in my photographs. The look of the movie is lush and sensual. Just gorgeous to watch.
Snatch (2000)
director: Guy Ritchie
featuring: Jason Statham, Brad Pitt, Benecio Del Toro
I love Guy Ritchie's visual style. Energetic, with great angles, the cinematography is fascinating. If you liked Snatch, do check out RocknRolla too. Also, Layer Cake, a movie by a different director (Matthew Vaughn), has a similar visual appeal.
Angel-A (2005)
director: Luc Besson
starring: Ria Rasmussen, Jamel Debbouze
Luc Besson is well-known for his highly stylized Sci-Fi epic, The Fifth Element. In contrast, Angel-A is a simpler tale, told in sumptuous black and white tones. Jamel Debbouze plays a down-on-his-luck scam artist who learns to love himself with the help of the mysterious Angela. Angel-A is touching and evocative. And visually stunning.
Other movies that were also in the mix :
Dark City
Slumdog Millionaire / Sunshine
Elizabeth / Elizabeth, the Golden Age
Eastern Promises / History of Violence
Children of Men (make sure you watch the making-of supplemental material)
… there's so much out there to be enjoyed, and studied and learnt from!