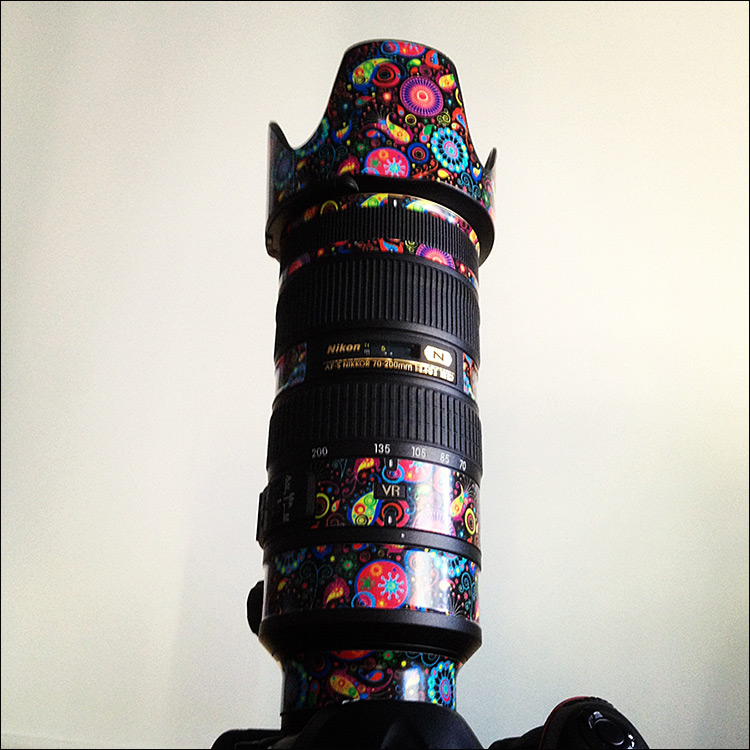 Lens Skins
How to make your 70-200mm f/2.8 zoom lens even more epically sexy than it already is!
I had diverse reaction when I posted photos of how I prettied up my 24-70mm lens with a Lens Skins (affiliate) stick-on decal. Some comments weren't so favorable .. but hey! I'm tough. I can take it.
On weddings and other shoots, the lens skin for my shorter zoom got me a lot of comments. Little flowergirls and grand-dads alike, will approach me at weddings to ask about it. Even on corporate shoots I've had people ask about it. It's an easy point for people to strike up a conversation with me. Part of it is that I think the lens and camera looks less menacing. And with that in mind, I decided to get a psychedelic set for my 70-200mm f2.8 zoom. If there was a lens that made people feel uncomfortable about having it pointed at them, it is this beast.
Interestingly enough, this colorful lens-skin on the larger zoom received even more attention than the smaller lens had. And so far, everyone that I've met has commented favorably … except for one hardcore photo-journo that could barely suppress a smirk. Understandably perhaps. But then, he isn't a client.
If you're interested in seeing the variety of Lens Skins (affiliate) available, check out the affiliate link to see what is available for your lenses.